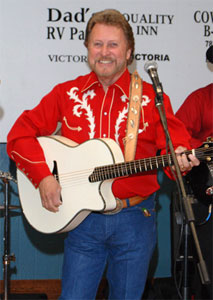 Chanteur Country US né le 30 Avril 1940 à New Jasper Township (Ohio).

Though his initial singles were pop, Darrell McCall was a hardcore country vocalist to the core, singing tough honky tonk during the majority of his career without caring for trends and fashions. After coming to prominence as a member of the Little Dippers in 1960, McCall broke away from the group the following year, and by 1963 his sound had evolved into pure country. He sang both traditional country and honky tonk during the '60s, but he eventually became devoted to roadhouse country. As a result, his sales suffered somewhat. McCall had a few hits over the course of his career, sliding into the charts every few years, whenever hardcore country crossed over into the mainstream, but for the bulk of his career, he essentially remained a semi-popular artist with a die-hard cult following.
Born in and raised in New Jasper, OH, McCall began his musical career by landing a slot as a Saturday morning DJ on a local radio station when he was 15 years old. Around the same time, he was playing local dances and events as a musician. Following his high school graduation, he joined the Army, where he was stationed in Kentucky. After his tour of duty was completed, he and his childhood friend Johnny Paycheck moved to Nashville in 1958. McCall and Paycheck attempted to record as a duo, but they were unsuccessful. Eventually, McCall became a studio harmony vocalist, singing on records by Faron Young, George Jones, and Ray Price, among others. In a short time, the studio work metamorphosed into road work, as he played bass and sang harmony for several different touring bands, including those of Young, Price, and Hank Williams Jr.
During a recording session in 1959, McCall met Buddy Killen, a famous Nashville producer and publisher. Impressed with Darrell's abilities, Killen asked him to join a group he was assembling called the Little Dippers, which also featured Hurshel Wigintin, Delores Dinning, and Emily Gilmore. McCall agreed, and the Little Dippers had one major pop hit, the Top Ten single "Forever," in 1960. The following year, he signed a solo contract with Capitol. During 1961, he released two pop singles for the label, "My Kind of Lovin'" and "Call the Zoo," but both failed miserably, and the label dropped him. In light of his unsuccessful forays into the pop marketplace, McCall returned to country in 1962 and signed a contract with Phillips. In January of 1963, "A Stranger Was Here," his first -- and, as it would turn out, his biggest -- country hit, appeared. Peaking at number 17 on the charts, the single spent eight weeks on the charts and seemed to be a positive beginning to his country career, but he wasn't able to deliver a hit follow-up, even though he sang the theme to the Paul Newman film Hud that same year.
McCall decided to abandoned music for a short while in the mid-'60s, launching an acting career in 1965. That year, he appeared in the film Nashville Rebel, and the following year, he was in Road to Nashville and What Am I Bid. During that time, McCall also worked as a cowboy in the Southwest and appeared in several minor rodeos. He didn't return to recording until 1968, when he joined the roster of the independent label Wayside Records. Over the next two years, he had four minor hits for the label -- "I'd Love to Live With You Again," "Wall of Pictures," "Hurry Up," "The Arms of My Weakness" -- and released one album, 1970's Meet Darrell McCall, which was distributed by Mercury. The contract with Wayside expired in 1971, and McCall didn't immediately sign another recording contract. However, Hank Williams Jr. took McCall's "Eleven Roses" (which he co-wrote with Lamar Morris) to number one, which led to Tree International signing him as a professional songwriter.
McCall didn't reactivate his recording career until 1974, when he signed with Atlantic. His debut single for the label, "There's Still a Lot of Love in San Antone," nearly reached the country Top 50 that year. In 1975, he left Atlantic for Columbia, where he had his greatest period of chart success since the early '60s. Although his first single for the label, "Pins and Needles (In My Heart)," didn't do much better than "There's Still a Lot of Love in San Antone," his second single, "Lily Dale," was a duet with Willie Nelson that cracked the country Top 40. McCall's new success was partially due to the popularity of outlaw country, and how he neatly fit into its rough and ready musical style. "Lily Dale" was named Best Duet of 1977 by Cash Box magazine, and it was followed by "Dreams of a Dreamer," McCall's first solo Top 40 hit since 1963. Of course, the brief McCall renaissance began to lose its luster in 1978, as outlaw country began to lose its stronghold on the country charts. His singles "Down the Roads of Daddy's Dreams" and "The Weeds Outlived the Roses" failed to make the Top 40, and he was soon dropped by Columbia.
In 1980, he signed with Hillside Records, where he had only one hit single -- a duet on "San Antonio Medley" with Curtis Potter. After that reached the lower levels of the country charts in the spring, he switched labels to RCA, where he nearly reached the Top 40 in the fall with "Long Line of Empties." At that time, the tastes of country radio and the genre's audience had shifted completely away from outlaw country and settled on the smooth, rock-influenced textures of urban cowboy. Consequently, McCall's recording career suffered. Over the next four years, he recorded only sporadically, most notably as the uncredited "friend" on Connie Hanson and Friend's minor 1982 hit, "There's Still a Lot of Love in San Antone." Two years later, he had his final charting hit with "Memphis in May," which was released on Indigo Records. In 1986, McCall cut two albums: a record with his old backing group the Tennessee Volunteers called Reunion (released on BGM) and Hot Texas Country, a duet record with Johnny Bush.
Following 1986, McCall essentially retired from recording, though he continued to play the occasional concert and worked constantly for the Muscular Dystrophy Association. McCall spent the remainder of the '80s and most of the '90s at his Texas home with his wife Mona Vary, who used to play in Audrey Williams' band.
http://www.darrellmccallcountry.com/
https://en.wikipedia.org/wiki/Darrell_McCall
Talents : Vocals, Guitar
Style musical : Traditional Country, Honky Tonk, Rock 'n' Roll

https://youtu.be/0LtcYaEzn24
Years in activity :
| | | | | | | | | | | | |
| --- | --- | --- | --- | --- | --- | --- | --- | --- | --- | --- | --- |
| 1910 | 20 | 30 | 40 | 50 | 60 | 70 | 80 | 90 | 2000 | 10 | 20 |
DISCOGRAPHY
Singles
1960
SP STARDAY 34002 (GER)
.

Lonely River Rhine / Accidentally On Purpose

1960
SP STARDAY 34006 (GER)
.

Excuse Me / Your Old Used To Be

03/1961
SP Capitol 4543 (US)
.
Beyond Imagination / My Kind Of Lovin'
08/1961
SP Capitol 4609 (US)
( What'll I Do) Call The Zoo / Lonesome
1961
SP TERRI 5001 (US)
.
WILLIE B. - Bad Mouthin' / This I Gotta See
03/1962
SP PHILIPS 40015 (US)
.
Dear One / I've Been Known
07/1962
SP PHILIPS 40053 (US)
.
I Can Take His Baby Away / A Man Can Change
12/1962
SP PHILIPS 40079 (US)
.

A Stranger Was Here / I'm A Little Bit Lonely

05/1963
SP PHILIPS 40116 (US)
.

Hud / No Place To Hide

1964
SP PHILIPS 40154 (US)
.

Keeping My Feet On The Ground / Got My Baby On My Mind

1964
SP PHILIPS 40233 (US)
.

Step By Step / Hello World

03/1968
SP Wayside 45-1011 (US)
.

I'd Love To Live With You Again / I Love You Baby

07/1968
SP Wayside 45-1021 (US)
.

Wall Of Pictures / I'd Die To See You Smile

06/1969
SP Wayside WSS45-003 (US)
.

Hurry Up / Wedding Band

09/1969
SP Wayside WSS45-005 (US)
.

Hide And Go Cheat / Tiny Ribbons

12/1969
SP Wayside WSS45-008 (US)
.

The Arms Of My Weakness / Big Oak Tree

03/1970
SP Wayside WSS45-011 (US)
.

Sally Bryson / Tiny Ribbons

04/1972
SP AMERICAN HERITAGE AH401-37 (US)
.

Jacques Pierre Bordeaux / The Loser

09/1972
SP AMERICAN HERITAGE AH401-40 (US)
.

I'll Break Out Again / The Loser

04/1973
SP AMERICAN HERITAGE AH401-44 (US)
.

Rainbow At Midnight / The Loser

10/1973
SP AMERICAN HERITAGE AH401-47 (US)
.

Goodbye Of The Year / Here We Go Again

03/1974
SP ATLANTIC CY-4019 (US)
.

There's Still A Lot Of Love In San Antone / A Texas Honky Tonk

07/1974
SP ATLANTIC CY-4200 (US)
.

Where Is That All / If You Don't Know

03/1975
SP AVCO CAV-609 (US)
.

Cold Beer Signs / Face To The Wall

07/1975
SP AVCO CAV-615 (US)
.

Helpless / If You Don't Believe

02/1976
SP COLUMBIA 3-10296 (US)
.

Pins And Needles / Every Girl I See

10/1976
SP COLUMBIA 3-10410 (US)
.

I Come Home To Face The Music / It's Been So Long, Darling

01/1977
SP COLUMBIA 3-10480 (US)
.
Darrell McCALL & Willie NELSON - Lily Dale / Please Don't Leave Me
06/1977
SP COLUMBIA 3-10576 (US)
.

Dreams Of A Dreamer / Sad Songs And Waltzes

12/1977
SP COLUMBIA 3-10653 (US)
.

Down The Roads Of Daddy's Dreams / An Old Memory's Arms

04/1978
SP COLUMBIA 3-10723 (US)
.

Weeds Outlived The Roses / Love Don't Drive My Good Woman Wild

04/1979
SP HILLSIDE HS79-03 (US)
.
Fraulein (Curtis P

otter

& Darrell McCall) / Story Behind The Photograph (Curtis P

otter)

1979
SP HILLSIDE HS79-05 (US)
.
Curtis P

otter

, Ray

Sanders

, Darrell Mc

Call -

Part Time Lover Full Time Heartache / Soft Rain
01/1980
SP HILLSIDE HS80-01 (US)
.
Curtis P

otter

, Ray

Sanders

, Darrell Mc

Call -

San Antonio Medley / Thank God For Country Music
07/1980
SP RCA VICTOR PB-12033 (US)
.

Long Line Of Emptines / I Wonder Which One Of Us Is To Blame

1981
SP JOKER 101 (US)
.

Afternoon Rendezvous / Just Ridin' Through

1982
SP Soundwaves NSD/SW-4692 (US)
.

There Is Still A Lot Of Love In San Antone / Muffy's Going Crazy

1984
SP INDIGO ID45-304 (US)
.

Connie Hanson & Friend (=Darrell McCall) - Memphis May / She Calls Me Crazy

198?
SP LPR LPR-1002 (US)
.
Connie

Hanson

&

Friend

(=Darrell McC

all

) - Saddle The Stallion / Two Steps From The Jukebox
1986
SP STEP ONE SOR-369 (US)
.
Darrell McCall & Johnny BUSH - 24th Hour / I Can't See Texas From Here
1995
SP Artap ? (US)
.

Set Me Down Where Country Music Plays / Reconsider Leaving Me
Unissued Tracks
Albums
1962
LP 12" SESAC A-1501/2 (US)

Pair Of Aces - Roy Drusky & Darrell McCALL WITH THE ANITA KERR SINGERS - Sourwood Mountain / Don't Wait Till Tomorrow / Strange Little Melody / Picture On The Wall / Cindy / Rosewood Casket (with Roy Drusky) / I'll Cry Again Tomorrow (with Roy Drusky) + 5 songs by Roy Drusky

01/1969
LP 12" Wayside WSS-1030 (US)

Meet Darrell McCall - Bury The Bottle With Me / Marionette / First Year / I Love You Baby / Stranger Was Here / Wrong Kind Of Man / Blame Me / I'd Love To Live With You Again / Hurry Up / Wall Of Pictures / I'd Die To See You Smile

1969
LP 12" Wayside WSS 33-000 (US)

Meet Darrell McCall -

Bury The Bottle With Me / The Marionette / The First Year / I Love You Baby / A Stranger Was Here / Wrong Kind Of Man / Blame Me / I'd Love To Live With You Again / Hurry Up / Wall Of Pictures / I'd Die To See You Smile / Likes Of Polly
05/1977
LP 12" Columbia KC-34718 (US)

Lily Dale - Lily Dale (with Willie Nelson) / I Come Home To Face The Music / Dreams Of A Dreamer / Every Girl I See / It's My Lazy Day / Please Don't Leave Me (with Willie Nelson) / The Days When You Were Still In Love With Me / Tennessee / Sad Songs And Waltzes / Pins And Needles (In My Heart)

1980
LP 12" Hillside HSLP 80-101 (US)

Texas Dance Hall Music - Curtis Potter, Ray Sanders, Darrell McCall - San Antonio Medley / Soft Rain / Crazy Arms / It's The Cheating She Loves / One More Rose / Fraulein / Under Your Spell Again / Crazy / Champane Ladies & Blue Ribbon Babies / Beer Drinkin Music

1986
LP 12" STEP ONE SOR-0017 (US)
HOT TEXAS COUNTRY - Darrell McCALL & Johnny BUSH - 24th Hour / Pick Me Up On Your Way Down / Wait Till The Sun Shines Nellie / You Done Me Wrong / If You'll Hold The Ladder / I Can't See Texas From Here / There'll Always Be Honky Tonks In Texas / Just Ridin' Through / Broken Promise Land / Afternoon Randezvous
12/1986
LP 12" BGM LP-123186 (US)

Reunion - Waltz Across Texas / Still A Lot Of Love In San Antone / I'll Break Out Again Tonight / Dreams Of A Dreamer / Down The Road Of Daddy's Dreams / Sally Bryson / Eleven Roses / It's The Water / Pins And Needles (In My Heart) / Fiddlin' Of Jaques Pierre Bardeaux

11/1992
CD Artap ART-071 (US)

All She Did Was Fall In Love - Long Time Ago / Let Me Be The First To Go / All She Did Was Fall In Love / Christmas In Cell No.9 / Be A Good Girl / Gonna Make A Change / Coco Driel / Cherie / The Man I Used To Be / Lonesome Shade Of Blue

07/1995
CD Artap ART-086 (US)

A Way To Survive - Set Me Down Where Country Music Plays / Reconsider Leaving Me / Hide na d Go Cheat / After Texas / I Guess I`m Gettin Tired Of Loving You / Secret Memories / Wall Of Pictures / As Long As I`m Dreaming; / If It Ain`t Broke Don`t Fix It / A Way To Survive

1996
CD Artap ART-090 (US)

Pictures Can't Talk Back - Pictures Can't Talk Back (with Johnny Paycheck) / Nothing To Lose But The Blues / I've Just Lost My Favorite Girl / Just Ask Me For A Lifetime / Farm Boy Blues / While I Dream Of San Antone (with Mona McCall) / So Easy To Forgive Her / Jeannie In A Bottle / Will You Ever Know / Country Girl

09/1996
5 CD BEAR FAMILY BCD-15846 (GER)

THE REAL McCALL :

CD 1 : This Old Heart / Excuse Me (I Think I've Got A Heartache) / Lonely River Rhine / Heat To Heart Talk / Polka On The Banjo / Fallen Angel / Five Brothers / North To Alaska / My Kind Of Lovin' / My Girl / Beyond Imagination / What'll I Do (Call The Zoo) / Loneliness / I Gotta Have You / Dear One / Up To My Ears In Tears / I've Been Known / For Your Sweet Love / A Stranger Was Here / I'm A Little Bit Lonely / I Can Take His Baby Away / More Than Likely / Huckleberry Queen / A Man Can Change / Hud / No Place To Hide / Keeping My Feet On The Ground / Got My Baby On My Mind / Step By Step / Hello World
CD 2 : The Marionette / I Love You Baby / I'd Love To Live With You Again / I'd Die To See You Smile / Wrong Kind Of Man / Blame Me / Hurry Up / Wall Of Pictures / Tiny Ribbons / Big Oak Tree / Bury The Bottle With Me / A Stranger Was Here / Wedding Band / Hide And Go Cheat / New Rich Friend / The First Year / Likes Of Polly / Yours And His / Don't Tell My Wife / The Right To Do Wrong / Sally Bryson / The Arms Of My Weakness / Heart Of Dixie / The Loser / The Fiddlin' Of Jacques Pierre Bordeaux / I'll Break Out Again Tonight / Mixing Memories
CD 3 : It's The Water / Rainbow At Midnight / Eleven Roses / Goodbye Of The Year / I Still Want You / Warm Red Wine (You're My Sunshine) / The Man You're Most Likely To Forget / This Time I Won't Cheat On Her Again / A Loser Never Had A Better Friend / Here We Go Again / There's Still A Lot Of Love In San Antone / A Texas Honky Tonk / Yours And His / I Am Love / Where Is All That Love You Talked About / If You Don't Know Your Roses / The Genuine Healer Of Time / It's The Water / Never Some Night / Eleven Roses / Champagne Ladies And Blue Ribbon Babies / Letting Her Be Free / Face To The Wall / Cold Beer Signs And Country Songs / If You Don't Believe I Love You / She'll Keep Bringin' All Her Love To Me / Helpless
CD 4 : Pins And Needles (In My Heart) / Every Girl I See / Waltz Of The Angels / I Just Destroyed The World / Tennessee / I Come Home To Face The Music / Are You Teasing Me / Sad Songs And Waltzes / Days When You Were Still In Love With Me / Dreams Of A Dreamer / It's My Lazy Day / It's Been So Long Darlin' / Lily Dale / Please Don't Leave Me / Half Beered Up And Drinkin' / The Weeds Outlived The Roses / An Old Memory's Arms / Down The Roads Of Daddy's Dreams / Love Didn't Drive My Good Woman Wild / Willie-B / It Took Us All Night Long To Say Goodbye / Long Line Of Empties / I Wonder Which One Of Us Is To Blame / Married Women / Afternoon Rendezvous / Just Riding Through
CD 5 : Sourwood Mountain / Don't Wait Till Tomorrow / Strange Little Melody / Picture On The Wall / Cindy / Rosewood Casket (with Roy

Drusky

) / I'll Cry Again Tomorrow (with Roy

Drusky

) / If You've Got The Money I've Got The Time / Oh Lonesome Me / Heartbreak Avenue / Peace In The Valley / Release Me / Answer To 'Anymore' / Ages And Ages Ago / Under Your Spell Again / Sweet Dreams / Accidentally On Purpose / Dear One / I Can Take His Baby Away / Another Day, Another Dollar / Stranger Was Here / There's Still A Lot Of Love In San Antone / Helpless / It's The Water / Eleven Roses / Lone Star Beer Commercial / Coors Beer Commercial 1/5 / Bad Mouthin' / This I Gotta See

2005
CD Heart Of Texas HOTR-108 (US)

Old Memories and Wine - Old Memories And Wine / Mary Dear / On This Mountain Top / I Miss You Already (And You're Not Even Gone) / The Deepening Snow / April First / Divorce Me C.O.D. / When Your House Is Not A Home / I Feel Like Crying / May Time My Lady / The French Song / Answer The Phone

12/2006
CD Heart Of Texas HOTR-119 (US)

The Essential - Helpless / Down The Road Of Daddy's Dreams / The Fiddlin Of Jacques Pierre Bordeaux / It Took Us All Night Long To Say Goodbye / It's The Water / I'll Break Out Again Tonight / Mixing Memories / There's Still A Lot Of Love In San Antone / The Loser / Married Women / I Wonder Which Of Us Is To Blame / Long Line Of Empties / Willie B / Eleven Roses / Face To The Wall

2009
CD Heart Of Texas HOTR-4144 (US)

Keepin' With Tradition - Fast As I Can Crawl / What Do You Know About Heartaches? / Hello Out There / The Fall / Speak Well Of Me / That's The Way I Feel / Are You Ever Coming Back To Your Memories? / Wall Of Tears / Most Of All / I'll Never Love No One But You / You're Still Mine / The Kind Of Love

2009
CD CDBABY ? (US)

A Way To Survive / All She Did Was Fall In Love - / A Long Time Ago / Let Me Be the First To Go / All She Did Was Fall In Love / Christmas In Cell #9 / Be A Good Girl / Gonna Make A Change / Coco Driel / Cherie / The Man I Used To Be / Lonesome Shade Of Blue / Set Me Down Where Country Music Plays / Reconsider Leaving Me / Hide And Go Cheat / After Texas / I Guess I'm Getting Tired Of Loving You / Secret Memories (feat. Mona McCall) / Wall Of Pictures / As Long As I'm Dreaming / If It Ain't Broke, Don't Fix It / A Way To Survive

05/2011
CD Heart Of Texas HOTR-4149 (US)

The Survivors - Curtis Potter - Tony Booth - Darrell McCALL - Wasted Words / Your Memory Is Killing Me / Case Of Sorrow / You Can't Take It With You / My Confession / Forever Yours / Down At Ginny's / There She Goes / I'll See You In My Dreams Tonight / Whiskey Man / Love Don't Care / It Is No Secret

2012
CD Heart Of Texas HOTR-6632 (US)

The Survivors II -

Tony

Booth

- Darrell McCALL - Curtis

Potter

- KissingYour Picture / Love Don't See That Side Of You / I Thought I Heard You Calling My Name / Darling Are You Ever Coming Home / She'll Keep Bringing All Her Love To Me / Lucky Me / I Saw My Castles Fall Today / May Time My Lady / Touch My Heart / I'll Keep On Loving You / If This Was Texas / Who Am I
08/2013
CD Heart Of Texas HOTR-4722 (US)

COUNTRY From The Heart - Cold Long Neck Beer / Invitation To The Blues / Florence Jean / Jug / For A Minute There / Hurry Up / The Marionette / Get 'er Back On The Road / Take Me As I Am / She'll Unwine Me / Stone Heart / The Best Of Our Good Times / Just Ask Me (with Guyanne McCall)
© Rocky Productions 13/12/2015