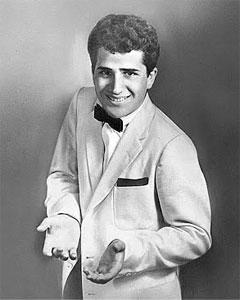 Chanteur Rock 'n' Roll US né Ernest Peter Maresca, le 21 Août 1938 à New York. Ernie Maresca est surtout connu pour avoir écrit ou co-écrit quelques-uns des plus grands succès de Dion, y compris "Runaround Sue" et "The Wanderer". Il est décédé le 8 Juillet 2015.

Ernie Maresca was a fairly successful songwriter in the New York doo wop/rock & roll scene in the first half of the 1960s, most known for writing several of Dion's biggest hits (by himself or in collaboration with Dion): "Runaround Sue," "The Wanderer," "Lovers Who Wander," "A Lover's Prayer," and "Donna the Prima Donna." He also wrote for a great deal of other artists throughout the 1960s, usually in a style that combined doo wop with the developing sounds of girl groups or Dion's boastful Bronx pop/rock; the Regents' modest modern doo wop hit "Runaround" was the biggest of these. Although he didn't think of himself as a singer, and was an average nondescript vocalist at best, he was persuaded to record as a solo artist. In mid-1962, he ended up with his one and only hit under his own name, "Shout Shout (Knock Yourself Out)." A fun if extremely basic rocker that used the same chord pattern that anchored Dion hits like "Runaround Sue" and added the dance-rock energy of bands like Joey Dee & the Starliters, it made number six.
Maresca made an album in 1962, and continued to record, without success, for Seville through 1965 and then for Laurie during the remainder of the 1960s. He kept on writing for plenty of artists, too (often on the Laurie roster), and in that capacity had some modest hits with Reparata & the Delrons ("Whenever a Teenager Cries"), Bernadette Carroll ("Party Girl"), and Jimmie Rodgers ("Child of Clay," co-written with Jimmy Curtiss). While some of his songs for Dion were classics, Maresca was a limited songwriter, many of his compositions limited to variations (or replicas) of the ascending, circular basic doo wop chord structures heard on Dion's "Runaround Sue," "The Wanderer," "Lovers Who Wander," and "Donna the Prima Donna." By the 1970s he was head of Laurie Records' publicity department, which concentrated on reissuing the label's catalog, and as of 2000 was working as a consultant to EMI and administrator for Laurie's publishing.
Talents : Vocals, Songwriter, Record Label Executive
Style musical : Doo Wop, Rock 'n' Roll, Pop
| | |
| --- | --- |
| Shout! Shout! (Knock Yourself Out) (1962) | |
Years in activity :
| | | | | | | | | | | |
| --- | --- | --- | --- | --- | --- | --- | --- | --- | --- | --- |
| 1910 | 20 | 30 | 40 | 50 | 60 | 70 | 80 | 90 | 2000 | 10 |
DISCOGRAPHY
Singles & EP
08/1960
SP SEVILLE 45-107 (US)
.
Lonesome Blues / I Don't Know Why
02/1962
SP SEVILLE 45-117 (US)
.
Shout! Shout! (Knock Yourself Out) / Crying Like A Baby Over You
06/1962
SP SEVILLE 45-119 (US)
Mary Jane / Down On The Beach
10/1962
SP SEVILLE 45-122 (US)
.
Something To Shout About / How Many Times
1962
EP 33 t. SEVILLE SSP-1 (US) (promo)
Shout! Shout! (Knock Yourself Out) / Someday You'll Change Your Ways / Mary Jane / Down On The Beach / How I Cry / What Good Is Living
04/1963
SP SEVILLE 45-125 (US)
.
Love Express / Lorelei
12/1963
SP SEVILLE 45-129 (US)
.
The Rovin' Kind / Please Be Fair
02/1964
SP RUST 5076 (US)
.
The Beetle Dance / Theme From Lily, Lily (instr.)
10/1965
SP SEVILLE 45-138 (US)
.
It's Their World / I Can't Dance
05/1966
SP LAURIE LR 3345 (US)
.
The Good Life / A Bum Can't Cry
10/1966
SP Providence 417 (US)
.
Rockin' Boulevard Street / Am I Better Off Than Them
12/1966
SP ARIOLA 19 192 AT (GER)
Rockin' Boulevard Street / Am I Better Off Than Them
01/1967
SP LAURIE LR 3371 (US)
.
My Son / My Shadow And Me
02/1967
SP ARIOLA 19 322 AT (GER)
My Son / My Shadow And Me
05/1968
SP LAURIE LR 3447 (US)
.
What Is A Marine / The Night My Papa Died
04/1969
SP LAURIE LR 3496 (US)
.
Blind Date / People Get Jealous
09/1969
SP LAURIE LR 3519 (US)
.
The Spirit Of Woodstock / Web Of Love
1978
SP LAURIE LR 3671 (US)
.
The Night My Poppa Died / Please Don't Play Me A Seven
1979
SP Dureco Benelux 41.96 (NL)

Golden Hit-Parade -

Shout Shout (Knock Yourself Out) / Crying Like A Baby Over You
1980
SP LAURIE LR 3698 (US)
.
Medley (BELMONTS) / You're The Only Girl For Me (Ernie MARESCA)
1982
SP COLLECTABLES LDG 2120 (US)
.
Bobby's Girl (Marcie

Blaine

) / Shout, Shout (Knock Yourself Out) (Ernie MARESCA)
1988
SP LAURIE

Double Gold

LDG 120 (US)
.
Bobby's Girl (Marcie

Blaine

) / Shout, Shout (Knock Yourself Out) (Ernie MARESCA)
19??
SP SEVILLE

Great Hits

5N-59057 (US)
.
Bobby's Girl (Marcie

Blaine

) / Shout, Shout (Knock Yourself Out) (Ernie MARESCA)
19??
SP LONDON 5N-59057 (US)
.
Bobby's Girl (Marcie

Blaine

) / Shout, Shout (Knock Yourself Out) (Ernie MARESCA)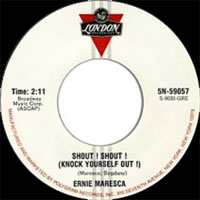 Albums
1962
LP 12" SEVILLE ? (US)

Shout! Shout! (Knock Yourself Out) -

Shout! Shout! Knock Yourself Out / Some Day You'll Change Your Ways / They Don't Know / I Don't Know Why / Down On The Beach / Crying Like A Baby Over You / Mary Jane / What Good Is Living / How I Cry / I'm Gonna Make It Somehow / Subway Blues / Can't Forget About You
07/1999
LP 12" SEVILLE SEL 3 (US)

Shout! Shout! (Knock Yourself Out) -

Shout! Shout! Knock Yourself Out / Some Day You'll Change Your Ways / They Don't Know / I Don't Know Why / Down On The Beach / Crying Like A Baby Over You / Mary Jane / What Good Is Living / How I Cry / I'm Gonna Make It Somehow / Subway Blues / Can't Forget About You / It's Their World
08/2000
CD Ace ‎CDCHD 762 (UK)

The Original Wanderer - The Songs And Sounds Of Ernie Maresca -

The Wanderer (Take 1) (DION) / Please Be Fair (Ernie MARESCA & The DEL SATINS) / Lonesome Boy (The REGENTS) / The Story Of Love (The DESIRES) / Unbelieveable (The RUNAROUNDS) / Child Of Clay (The 1929 DEPRESSION) / I Ask Of You (The DESIRES) / A Fool In Love (The REGENTS) / Happy Guy (NINO & The EBBTIDES) / Shout! Shout! (Knock Yourself Out) (Ernie MARESCA) / Remember Last Summer (The FOUR WINDS) / Donna The Prima Donna (Glen STUART CHORUS) / Runaround Sue (DION) / The Wanderer (FOREIGN INTRIGUE) / Come On, Little Angel (The BELMONTS) / Rockin' Boulevard Street (Ernie MARESCA & The BELMONTS) / Mi-A-Suri Talk (Mike TAYLOR) / Lorelei (Ernie MARESCA) / Runaround (The REGENTS) / When Will We Know (The FOUR GRADUATES) / Dream, Dream, Dream (The CHIFFONS) / Party Girl (Bernadette CARROLL) / Your Big Mistake (The DELRONS) / Whenever A Teenager Cries (The JEANS) / Down On The Beach (Ernie MARESCA) / Lovers Who Wander (Warren GRADUS) / Run, Run, Run (Sal CORRENTE) / Hot Rod City (Vocals) (The HUBCAPS) / You're The Only Girl For Me (Ernie MARESCA) / The Wanderer (song demo) (Ernie MARESCA)
2013
CD Hallmark 714432 (UK)

Shout! Shout! (Knock Yourself Out) -

Shout! Shout! Knock Yourself Out / Some Day You'll Change Your Ways / They Don't Know / I Don't Know Why / Down On The Beach / Crying Like A Baby Over You / Mary Jane / What Good Is Living / How I Cry / I'm Gonna Make It Somehow / Subway Blues / Can't Forget About You
© Rocky Productions 24/07/2015