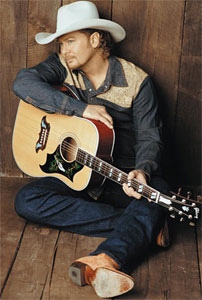 Chanteur Country US né le 27 Janvier 1968 à Atlanta (Texas).

Part of the commercial rise of rock-tinged honky tonk in the early '90s, Tracy Lawrence was one of the decade's most reliable country hitmakers. Born in Atlanta, TX, in 1968, he grew up mostly in Foreman, AR, where he soaked up traditional and outlaw country as well as Southern rock. He started performing in public when he was 15 and was a regular presence on the local honky tonk circuit by 17. After college, he moved to Nashville in 1990 and worked day jobs while winning numerous talent shows. That led to a live radio performance and, in 1991, a showcase gig that netted him a deal with Atlantic.
In May 1991, just prior to the scheduled release of Lawrence's debut album, he was walking a girlfriend back to her hotel room when the two were mugged by several gun-wielding attackers. Lawrence fought back to allow his companion time to escape and was shot four times; two bullets only grazed him, but one had to be surgically removed from his knee, and the other remained deeply embedded in his pelvis. Fortunately, he progressed rapidly through physical therapy, and the album, Sticks and Stones, was released later in the year when Lawrence could return to promotional duties. Its lead single, the title track, went all the way to number one on the country charts, helped out by all the publicity. More hits followed in the Top Tens "Runnin' Behind," "Today's Lonely Fool," and "Somebody Paints the Wall," and Lawrence was on his way to stardom. He arrived there with Alibis, the platinum-selling 1993 follow-up that produced an astounding four chart-topping singles: the title track, "Can't Break It to My Heart," "My Second Home," and "If the Good Die Young."
In 1994, Lawrence contributed the Top Ten hit "Renegades, Rebels and Rogues" to the soundtrack of the movie version of Maverick and also released his third album, I See It Now. "Texas Tornado" became his sixth number one hit, and three more singles — the title track, "As Any Fool Can See," and "If the World Had a Front Porch" — all went to number two. Somewhat lost in all the success was Lawrence's arrest that same year on a weapons charge, but it didn't slow his career momentum at all. He tossed off the Live and Unplugged set in 1995, which compiled acoustic tracks and concert performances with his backing band, Little Elvis. In 1996, he returned with the proper follow-up album Time Marches On. The title track was a huge hit, topping the country charts, and "If You Love Me," "Stars Over Texas," and "Is That a Tear" all went Top Five. His hit streak continued with 1997's The Coast Is Clear, which contained two more Top Five singles in the title track and "Better Man, Better Off."
However, all was not well behind the scenes. In January 1998, Lawrence was convicted on charges stemming from an incident in which his wife accused him of hitting and threatening her; the couple soon divorced. Lawrence laid low for a while, putting his life back together, and returned in 2000 with the uneven but highly personal Lessons Learned. The title track was a Top Five smash, but it was the only major hit from the record, and Lawrence soon parted ways with Atlantic. He subsequently signed with Warner Brothers and debuted for them in 2001 with an album titled simply Tracy Lawrence. Despite some good reviews, it failed to halt his downward commercial momentum. Lawrence released the studio album Strong in 2004 and a greatest-hits set through Dreamworks Nashville a year later. For the Love arrived in the early 2007 on Lawrence's own label, Rocky Comfort Records. Two years later in 2009 the singer was crossing over to the Christian music market with the album The Rock and its lead single "Up to Him."
Lawrence returned to country music in 2011 with The Singer, which was quickly followed by Headlights, Taillights and Radios in 2012. Greatest Hits: Evolution, a collection of re-recorded singles, appeared in 2014. Lawrence began a syndicated country music show called Honky Tonkin' with Tracy Lawrence in 2015, and it continued to air over the next couple years. In November 2017, he released Good Ole Days, a collection in which he re-recorded 11 of his best-known songs as duets with contemporary country stars; among the featured guests were Tim McGraw, Luke Bryan, Dustin Lynch, and Chris Young. Lawrence's second holiday album, Frozen in Time, appeared in late 2018 followed in 2019 by the deeply personal Made in America. Two years later he issued Stairway to Heaven Highway to Hell, the first installment of a three-volume set featuring new material, collaborations, and some of his best-known hits.
https://en.wikipedia.org/wiki/Tracy_Lawrence
Talents : Vocals, Songwriter, Guitar
Style musical : Traditional Country, Contemporary Country, Honky Tonk

https://youtu.be/y3YBNqq7sXY?list=PLt7iaqDceOfjUx-U-brrlfvf_AGvxWnkR
Years in activity :
| | | | | | | | | | | | |
| --- | --- | --- | --- | --- | --- | --- | --- | --- | --- | --- | --- |
| 1910 | 20 | 30 | 40 | 50 | 60 | 70 | 80 | 90 | 2000 | 10 | 20 |
DISCOGRAPHY
Singles & EP
| | | | |
| --- | --- | --- | --- |
| 02/1989 | SP ATLANTIC 34-68584 (US) | . | Sticks And Stones / Paris Tu |
| 03/1993 | SP ATLANTIC 7-87372 (US) | . | Alibis / Somebody Paints The Wall |
| 08/1993 | SP ATLANTIC 7-87330 (US) | . | Can't Break It To My Heart / I Threw The Rest Away |
| 09/1993 | SP ATLANTIC 7-87312 (US) | . | My Second Home / Crying Ain't Dying |
| 08/1994 | SP ATLANTIC 7-87199 (US) | . | I See It Now / God Made Woman On A Good Day |
| 12/1994 | SP ATLANTIC 7-87180 (US) | . | As Any Fool Can See / Texas Tornado |
| 09/1995 | SP ATLANTIC 7-87119 (US) | . | If The World Had A Front Porch / Texas Tornado |
| 07/1996 | SP ATLANTIC 7-87052 (US) | . | Stars Over Texas / Is That A Tear |
| 07/1996 | CD ATLANTIC 87052 | | Stars Over Texas |
| 11/1996 | SP ATLANTIC 7-87020 (US) | . | Is That A Tear / Different Man |
| 02/1997 | SP ATLANTIC 7-83004 (US) | . | Better Man Better Off / Any Minute Now |
| 08/1998 | SP ATLANTIC 7-84166 (US) | . | While You Sleep / Renegades Rebels And Rogues |
| 02/2000 | SP ATLANTIC 7-84414 (US) | . | I'll Never Pass This Way Again / + Gene MILLER |
| 02/2001 | SP ATLANTIC 7-85102 (US) | . | Time Marches On / Unforgiven |
| 04/2004 | SP DREAM WORKS B0002547-21 (US) | . | It's All How You Look At It / Sawdust On Her Halo |
| 06/2005 | CD DREAM WORKS ? (US) | . | Used To The Pain |
| 2006 | CD RHINO ? (US) | | If The World Had A Front Porch / Sticks And Stones / Texas Tornado / Her Old Stompin' Ground / Renegades, Rebels And Rogues |
| 2008 | CD ROCKY COMFORT ? (US) | . | Til I Was A Daddy Too / I'm Gonna Finish Leaving You |
| 2008 | CD Def Cowboy ? (US) | . | You Can't Hide Redneck / What You Want |
Albums
11/1991
CD ATLANTIC 82326-2 (US)
STICKS AND STONES - Runnn' Behind / Sticks And Stones / Somebody Paints The Wall / Dancin' To Sweet Seventeen / Today's Lonely Fool / Paris Tennessee / Froze Over / Between Us / April's Fool / I Hope Heaven Was A Honky Tonk
03/1993
CD ATLANTIC 82483-2 (US)
ALIBIS - I Threw The Rest Away / Can't Break It To My Heart / We Don't Love Here Anymore / Crying Ain't Dying / Alibis / Don't Talk To See Me That Way / It Only Takes One Bar / Back To Back / If The Good Die Young
09/1994
CD ATLANTIC 82656-2 (US)
I SEE IT NOW - I See It Now / Guilt Trip / If The World Had A Front Porch / Texas Tornado / Hillbilly With A Heartache / As Any Fool Can See / God Made Woman On A Good Day / I Got A Feelin' / Cards / I'd Give Anything To Be Your Everything Again
09/1995
CD ATLANTIC 82847-2 (US)
LIVE - Renegades Rebels And Rogues / Runnin' Behind / Somebody Paints The Wall / I See It Now / Today's Lonely / I Threw The Rest Away / Sticks And Stones / Alibis / Can't Break It To My Heart / If The Good Die Young
01/1996
CD ATLANTIC 82866-2 (US)
TIME MARCHES ON - Is That A Tear / If You Loved Me / Time Marches On / Speed Of A Fool / I Know That Hurt By Heart / Somewhere Between The Moon And You / Different Man / Excitable Boy / Stars Over Texas / From What We Give
03/1997
CD ATLANTIC 82985-2 (US)
THE COAST IS CLEAR - Better Man Better Off / Coast Is Clear / Any Minute Now / While You Sleep / How A Cowgirl Says Goodbye / One Step Ahead Of The Storm / In A Moment Of Weakness / Livin' In Black And White / I Hit The Ground Crawlin' / As Lonesome As It Gets
09/1998
CD ATLANTIC 83137-2 (US)
THE BEST OF TRACY LAWRENCE - Time Marches On / If The World Had A Front Porch / Texas Tornado / Stars Over Texas / Her Old Stompin' Ground / Sticks And Stones / While You Sleep / Renegades Rebels And Rogues / I See It Now / Can't Break It To My Heart / Alibis / If The Good Die Young / Is That A Tear / Better Man Better Off
02/2000
CD ATLANTIC 83269-2 (US)
LESSONS LEARNED - Holes That He Dug / Long Wet Kiss / From The Inside Out / Lessons Learned / Man I Was / Lonely / Just You And Me / Steps / From Here To Kingdom Come / Up All Night / Unforgiven
10/2001
CD WARNER BROS. 48187-2 (US)
TRACY LAWRENCE - Crawlin' Again / Life Don't Have To Be So Hard / It's Got You All Over It / Getting Back Up / It's Hard To Be An Outlaw / Meant To Be / That Was Us / She Loved The Devil Out Of Me / Whole Lot Of Lettin' Go / What A Memory / God's Green Earth / I Won All The Battles
03/2004
CD DREAM WORKS B-0001032-12 (US)
STRONG - It's All How You Look At It / Strong / Stones / Paint Me A Birmingham / Everywhere But Hollywood / Far Cry From You / Bobby Darwin's Daughter / What The Flames Feel Like / Sawdust On Her Halo / When Daddy Was A Strong Man / Think Of Me / Questionnaire
10/2005
CD RHINO R2-73246 (US)
COUNTRY CLASSICS - Sticks And Stones / Today's Lonely Fool / Runnin' Behind / If You Loved Me / My Second Home / Better Man, Better Off / As Any Fool Can See / If The Good Die Young / How A Cowgils Says Goodbye / Lessons Learned
10/2005
CD MERCURY 00046130 (US)
THEN AND NOW - THE HITS COLLECTION - Used To The Pain / Paint Me A Birmingham / If I Don't Make It Back / If The World Had A Front Porch / Sticks And Stones / Is That A Tear / Time Marches On / I See It Now / How A Cowgirl Says Goodbye / Alibis / Today's Lonely Fool / Can't Break It To My Heart / Lessons Learned / Texas Tornado / Stars Over Texas / My Second Home / If The Good Die Young
01/2007
CD ROCKY COMFORT 90012 (US)
FOR THE LOVE - Find Out Who Your Friends Are / Just Like Her / You Can't Hide Redneck / For The Love / As Easy As Our Blessings / Speed Of Flight / Rock And A Soft Place / Til I Was A Daddy Too / You're Why God Made Me / Just Like That / Find Out Who Your Friends Are (with Kenny CHESNEY & Tim MCGRAW)
07/2007
CD RHINO 171708 (US)
THE VERY BEST OF TRACY LAWRENCE - Sticks And Stones / Today's Lonely Fool / Runnin' Behind / Somebody Paints The Wall / Alibis / Can't Break It To My Heart / My Second Home / If The Good Die Young / Renegades, Rebels And Rogues / I See It Now / As Any Fool Can See / Texas Tornado / If The World Had A Front Porch / If You Loved Me / Time Marches On / Stars Over Texas / Is That A Tear / Better Man, Better Off / How A Cowgirl Says Goodbye / Lessons Learned / Paint Me A Birmingham
10/2008
CD ROCKY COMFORT 82 (US)

ALL WRAPPED UP IN CHRISTMAS -

All Wrapped Up In Christmas / Winter Wonderland / Let It Snow, Let It Snow, Let It Snow / Have Yourself A Merry Little Christmas / Here Comes Santa Claus / Something In The Air / White Christmas / The Christmas Song / Cold Beer / Frosty The Snowman
06/2009
CD ROCKY COMFORT 1945 (US)
THE ROCK - Dear Lord / Every Prayer / I'm Done / The Book You Never Read / The Rock / Somebody Who Would Die For You / Jesus Come Talk To Your Children / I Know Where Heaven Is / Up To Him / Say A Prayer
06/2011
CD Audio & Video Labs / Lawrence Music 94609 (US)
THE SINGER -

Roswell And Marilyn Monroe / Cloud Of Dust (Featuring Rick HUCKABY) / Saving Savannah / The Singer /Tender Enough / Pills / Hard Times / Jealousy / Heaven For A While / Whole Lotta Me / Paint Me A Birmingham / Find Out Who Your Friends Are

08/2013
CD Lawrence Music / Orchard 6 (US)

Headlights, Taillights and Radios -

Footprints On The Moon / Stop Drop And Roll / Where I Used To Live / Lie / Blacktop / Good Girl / Cecil's Palace / Cloud Of Dust / The Other Side Of 35 / Saving Savannah / Butterfly
12/2014
CD Lawrence Music LMG 000072 (US)

Greatest Hits - Evolution -

Time Marches On / Find Out Who Your Friends Are / Paint Me A Birmingham / If The World Had A Front Porch / Texas Tornado / How A Cowgirl Says Goodbye / Sticks And Stones / Alibis / Can't Break It To My Heart / If You Loved Me / Lessons Learned /Better Man Better Off
11/2017
CD Lawrence Music LMG 000082 (US)

GOOD OLE DAYS - Time Marches On (with Tim McGraw) / Sticks And Stones (with Luke Bryan) / Alibis (with Justin Moore) / Can't Break It To My Heart (with Jason Aldean) / Good Ole Days (with Brad Arnold & Big & Rich) / If The World Had A Front Porch (with Luke Combs) / Texas Tornado (with Dustin Lynch) / Stars Over Texas (with Kellie Pickler) / If The Good Die Young (with Craig Morgan) / Paint Me A Birmingham (with Easton Corbin) / Finally Home (with Craig Morgan)

10/2018
CD Lawrence Music 92 (US)

Frozen in Time - Frozen In Time / Something In The Air / White Christmas / Winter Wonderland / The Christmas Song / Please Come Home For Christmas / Cold Beer / Let It Snow, Let It Snow, Let It Snow / Here Comes Santa Clause / Frosty The Snowman / Have Yourself A Merry Little Christmas / All Wrapped Up In Christmas

08/2019
CD Lawrence Music 10 (US)

Made in America - Made in America / Forgive Yourself / Running Out Of People To Blame / When The Cowboy's Gone / Nothin' Burns Like You / First Step To Leaving / It Ain't You / Givin' Momma Reasons To Pray / Work On My Willie / Chicken Wire / Just The South Coming Out / Stay Back A Hundred Feet

04/2021
CD Lawrence Music 11 (US)

Hindsight 2020, Vol 1 - Stairway to Heaven Highway to Hell - Stairway to Heaven Highway to Hell / Struggle Struggle / Water / Lonely 101 / Whole Lotta Me / Summer Snow / Hard Times / If I Could Give You Anything / Knowing / You Only Get One / Hard Times (unplugged) [acoustic] / Whole Lotta Me (unplugged)
© Rocky Productions 23/06/2021