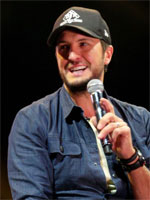 Chanteur Country US né le 17 Juin 1976 à Leesburg (Georgie).

Singer and songwriter Luke Bryan comes by his country influences naturally — he grew up in Leesburg, GA, a small town 100 miles from the Alabama border where his father grew peanuts and sold fertilizer for a living. Bryan helped his family work the farm when he was young, but in his early teens he developed a passion for country music, picking up his influences from his parents' record collection, listening to the likes of George Strait, Conway Twitty, Ronnie Milsap, Alan Jackson, and Merle Haggard. When he was 14, his folks bought Bryan his first guitar, and a year later his playing and singing was strong enough that he started sitting in with local bands at a club featuring live country music. At 16, Bryan starting writing songs with the help of a pair of local tunesmiths who had enjoyed some success in Nashville, and Bryan planned to head to Music City to try his luck after graduating from high school until his brother died in an auto accident. Wanting to offer emotional support to his family, Bryan opted to attend Georgia Southern University instead, though he didn't give up music; Bryan continued writing songs, formed a band and was playing gigs on campus or at nearby watering holes most weekends while pursuing his studies. Bryan recorded a self-released album he sold at shows during this period, but he was reluctant to take the plunge and devote himself to music full-time until he returned home to work in the family business after receiving his degree. Bryan's dad, confident of his son's talent, made him an offer — he could either move to Nashville or be fired.
In the early fall of 2001, Bryan pulled up stakes and relocated to Nashville, where his heartfelt songs of country life earned him a contract with one of the city's many publishing houses. In his free time, Bryan continued to perform at local clubs, and after an A&R man from Capitol Records saw him perform a set of his original material, he was given a record deal. Capitol released Bryan's first widely distributed album, I'll Stay Me, in the summer of 2007, following it with Doin' My Thing in 2009. Doin' My Thing peaked at number two on the country charts -- and at number six on the Top 200 -- and spawned two number one singles in "Rain Is a Good Thing" and "Someone Else Calling You Baby," with "Do I" hitting number two. Bryan returned with his third album, Tailgates & Tanlines, in the summer of 2011, its release being preceded by the single "Country Girl (Shake It for Me)." That song was the first of four Top Five Country singles pulled from the album: "I Don't Want This Night to End" and "Drunk on You" both hit number one, while "Kiss Tomorrow Goodbye" peaked at number three. This success kept Tailgates & Tanlines in the charts well into 2012, and Bryan supported the record with steady touring.
Early in 2013, Bryan compiled his four Spring Break-themed EPs as the album Spring Break...Here to Party; it promptly became his first number one album on the pop charts. Bryan solidified his standing in country music by winning ACM's prestigious Entertainer of the Year award in June. That August, he released his fourth studio album, Crash My Party, which hit number one on the country charts and the pop charts. Each of the first four singles from the album -- the title track, "That's My Kind of Night," "Drink a Beer," and "Play It Again" -- steadily climbed to number one on the country charts during 2013 and 2014. Bryan chose to close out his series of Spring Break EPs in 2015 with the release of the aptly titled Spring Break...Checkin' Out; the collection went to number one on the Billboard country charts and three on the Billboard 200. Next up was Bryan's fifth full-length album, Kill the Lights, which appeared in 2015 as well. Another number one hit on the Billboard 200; it saw Bryan once again working with producer Jeff Stevens (Jody Stevens was also brought aboard as a co-producer), but unlike Crash My Party, the record had a heavy dose of originals from Luke: he received writing credits on roughly half of the album's 13 songs. Kill the Lights debuted at number one and was eventually certified platinum, partially on the strength of the hit singles "Kick the Dust Up," "Strip It Down," "Home Alone," "Huntin', Lovin' and Fishin' Every Day," and "Move." In the autumn of 2016, Bryan embarked on his third Farm Tour and released the EP Farm Tour: Here's to the Farmer to commemorate the occasion. The following February, he sang the National Anthem at the Super Bowl and was announced as the newest judge on American Idol. Later that year, Bryan released the single "Light It Up," which peaked at number one on Billboard's Country Airplay charts. It was the first single from What Makes You Country, which arrived in December. In 2019, Bryan resumed his seat as an American Idol judge, while releasing the singles "Knockin' Boots" and "What She Wants Tonight." Both songs hit number one on the Country Airplay chart and were featured on his next album, Born Here Live Here Die Here, which arrived in August 2020 and debuted at number five on the U.S. Billboard 200 and number one on the U.S. Top Country Albums charts. A deluxe edition of the LP appeared the following year and included the new single "Waves."
https://en.wikipedia.org/wiki/Luke_Bryan
Talents : Vocals, Guitar
Style musical : Contemporary Country

https://www.youtube.com/watch?v=ALV-QtDFpSw
Years in activity :
| | | | | | | | | | | | |
| --- | --- | --- | --- | --- | --- | --- | --- | --- | --- | --- | --- |
| 1910 | 20 | 30 | 40 | 50 | 60 | 70 | 80 | 90 | 2000 | 10 | 20 |
DISCOGRAPHY
Singles
| | | | |
| --- | --- | --- | --- |
| 08/2007 | CD CAPITOL ? (US) | | All My Friends Say |
| 2007 | CD CAPITOL 509995-07352-2-8 (US) (promo) | | We Rode In Trucks (edit) / We Rode In Trucks (edit) / We Rode In Trucks (Hook #1) / We Rode In Trucks (Hook #2) |
| 2008 | CD CAPITOL 509992 68427 2 1 (US) (promo) | | Run Run Rudolph / Run Run Rudolph / Run Run Rudolph |
| 2008 | CD CAPITOL 50992-09091-2-3 (US) (promo) | | Country Man / Country Man (track 1 repeats) / Suggested Research Hook |
| 2011 | CD CAPITOL 509990 98337 2 2 (US) (promo) | . | Spring Break 3... It's A Shore Thing - In Love With The Girl / If You Ain't Here To Party / Shore Thing / Love In A College Town |
| 2013 | CD CAPITOL ? (EUR) (promo) | | Roller Coaster |
| 2014 | CD CAPITOL ? (US) (promo) | . | I See You |
Albums
2006
CD CAPITOL 09463-77086-2-0 (promo) (US)

Introducing Luke Bryan - Country Man / Baby's On The Way / The Car In Front Of Me / Right Back Here To Me (The Sweet Tea Song) / We Rode In Trucks / I'll Stay Me / First Love Song / All My Friends Say / Over The River / You Make Me Want To / Tackle Box

08/2007
CD CAPITOL 63251 (US)
I'LL STAY ME - All My Friends Say / Baby's On The Way / The Car In Front Of Me / Pray About Everything / We Rode In Trucks / I'll Stay Me / First Love Song / Country Man / Over The River / You Make Me Want To / Tackle Box
10/2009
CD CAPITOL 65833 (US)
DOIN' MY THING - Rain Is A Good Thing / Doin' My Thing / Do I / What Country Is / Someone Else Calling You Baby / Welcome To The Farm / Apologize / Every Time I See You / Chuggin' Along / I Did It Again / Drinkin' Beer And Wastin' Bullets
08/2011
CD LIBERTY 70412 (US)
TAILGATES & TANLINES - Country Girl (Shake It For Me) / Kiss Tomorrow Goodbye / Drunk On You / Too Damn Young / I Don't Want This Night To End / You Don't Know Jack / Harvest Time / I Know You're Gonna Be There / Muckalee Creek Water / Tailgate Blues / Been There, Done That / Faded Away / I Knew You That Way
03/2013
CD CAPITOL 410392 (US)
SPRING BREAK... HERE TO PARTY - Suntan City / Just A Sip / Buzzkill / If You Ain't Here To Party / Little Bit Later On / In Love With The Girl / Shore Thing / Sorority Girl / Shake The Sand / Love In A College Town / Wild Weekend / Cold Beer Drinker / Spring Break-Up / Take My Drunk A** Home
08/2013
CD CAPITOL B 001873302 (US)

Crash My Party - That's My Kind Of Night / Beer In The Headlights / Crash My Party / Roller Coaster / We Run This Town / Drink A Beer / I See You / Goodbye Girl / Play It Again / Blood Brothers / Out Like That / Shut It Down / Dirt Road Diary

11/2013
4 CD Universal 361461 (US)

4 Album Collection :

CD 1 : I'LL STAY ME : All My Friends Say / Baby's On The Way / The Car In Front Of Me / Pray About Everything / We Rode In Trucks / I'll Stay Me / First Love Song / Country Man / Over The River / You Make Me Want To / Tackle Box
CD 2 : DOIN' MY THING : Rain Is A Good Thing / Doin' My Thing / Do I / What Country Is / Someone Else Calling You Baby / Welcome To The Farm / Apologize / Every Time I See You / Chuggin' Along / I Did It Again / Drinkin' Beer And Wastin' Bullets
CD 3 : TAILGATES & TANLINES : Country Girl (Shake It For Me) / Kiss Tomorrow Goodbye / Drunk On You / Too Damn Young / I Don't Want This Night To End / You Don't Know Jack / Harvest Time / I Know You're Gonna Be There / Muckalee Creek Water / Tailgate Blues / Been There, Done That / Faded Away / I Knew You That Way
CD 4 : SPRING BREAK... HERE TO PARTY : Suntan City / Just A Sip / Buzzkill / If You Ain't Here To Party / Little Bit Later On / In Love With The Girl / Shore Thing / Sorority Girl / Shake The Sand / Love In A College Town / Wild Weekend / Cold Beer Drinker / Spring Break-Up / Take My Drunk A** Home

03/2015
CD CAPITOL B 0022540-02 (US)

Spring Break... Checkin' Out -

My Ol' Bronco / Games / She Get Me High / Spring Breakdown / Good Lookin' Girl / Checkin' Out / You And The Beach / Night One / Like We Ain't Ever / The Sand I Brought To The Beach / Are You Leaving With Him
08/2015
CD CAPITOL 002281302 (US)

Kill the Lights -

Kick The Dust Up / Kill The Lights / Strip It Down / Home Alone Tonight (Luke

Bryan

feat: Karen

Fairchild) /

Razor Blade / Fast / Move / Just Over / Love It Gone / Way Way Back / To The Moon And Back / Huntin', Fishin' And Lovin' Every Day / Scarecrows
2015
2 CD CAPITOL B0022774-02 (US)

Spring Break... The Set List :

CD 1 : If You Ain't Here To Party / Suntan City / Good Lookin' Girl / She Get Me High / My Ol' Bronco / Spring Breakdown / Games / Little Bit Later On / Buzzkill / Checkin' Out / Just A Sip / Shore Thing / Cold Beer Drinker
CD 2 : Sorority Girl / Shake The Sand / Love In A College Town / Wild Weekend / You And The Beach / Spring Break-Up / Like We Ain't Ever / Night One / In Love With The Girl / Are You Leaving With Him / The Sand I Brought To The Beach / Take My Drunk A** Home

2016
CD + DVD CAPITOL B0025686-00 (US)

Greatest Hits Karaoke Vol. 1 :

CD :

Country Man / All My Friends Say / Rain Is A Good Thing / Country Girl (Shake It For Me) / I Don't Want The Night To End / Play It Again / Drink A Beer / That's My Kind Of Night / Strip It Down / Huntin', Fishin, And Lovin' Everyday

DVD : Country Man / All My Friends Say / Rain Is A Good Thing / Country Girl (Shake It For Me) / I Don't Want This Night To End / Play It Again / Drink A Beer / That's My Kind Of Night / Strip It Down / Huntin', Fishin, And Lovin' Everyday

12/2017
CD CAPITOL 002758902 (US)

What Makes You Country - What Makes You Country / Out Of Nowhere / Light It Up / Most People Are Good / Sunrise, Sunburn, Sunset / Bad Lovers / Drinking Again / Land Of A Million Songs / Like You Say You Do / Hooked On It / She's A Hot One / Hungover In A Hotel Room / Pick It Up / Driving This Thing / Win Life

06/2019
LP 12" CAPITOL 0257785840 (US) (limited edition, red vinyl)

Essentials - Luke Bryan - Knockin' Boots / That's My Kind Of Night / Rain Is A Good Thing / Country Girl (Shake It For Me) / All My Friends / Play It Again / Drunk On You / Huntin', Fishin', And Lovin' Every Day / Most People Are Good / Drink A Beer

10/2019
LP 12" CAPITOL 6 02577 92991 5 (US) (deluxe edition)

Doin' My Thing - Rain Is A Good Thing / Doin' My Thing / Do I / What Country Is / Someone Else Calling You Baby / Welcome To The Farm / Aplogize / Every Time I See You / Chuggin' Along / I Did It Again / Drinkin' Beer And Wastin' Bullets / Ya'll Can Have This Town / Favorite Flowers

08/2020
CD CAPITOL 003177702 (US)

Born Here Live Here Die Here - Knockin' Boots / What She Wants Tonight / Born Here Live Here Die Here / One Margarita / Too Drunk To Drive / Build Me A Daddy / Little Less Broken / For A Boat / Where Are We Goin' / Down To One

11/2020
LP 12" CAPITOL B0032524-01 (US) (limited edition, root beer colored vinyl)

#1's Volume 1 - Rain Is A Good Thing / Someone Else Calling You Baby / Drunk On You / Kiss Tomorrow Goodbye / Drink A Beer / I Don't Want This Night To End / Do I / That's My Kind Of Night / Roller Coaster / Play It Again / I See You / Kick The Dust Up

11/2021
LP 12" CAPITOL B0033657-01 (US) (limited edition, orange vinyl)

#1's Volume 2 -

Huntin', Fishin' And Lovin' Every Day / Sunrise, Sunburn, Sunset / Strip It Down / Home Alone Tonight / Move / What Makes You Country / Most People Are Good / What She Wants Tonight / Light It Up / Knockin' Boots
© Rocky Productions 7/06/2022