Chanteur Rockabilly US né Sidney Erwin, le 15 Octobre 1936 à Denton (Texas). Sid King a débuté en 1953 chez Starday Records de Nashville (Tennessee) sous le nom de "Sid Erwin And The Western Melody Makers". Fin 1954, il signe avec Columbia et début 55, ils prennent le nom de "Sid King And The Five Strings". En tout une vingtaine de titres seront enregistrés sur ce label, la dernière session datant du 9 Septembre 57. Le groupe est dissous fin 1958, Sid continuant seul chez Dot, puis disparaissant du Show Business, pour réapparaître en 1976 chez Rollin' Rock Records. Sid King & les Five Strings étaient un groupe régulier au Big D Jamboree (KRLD, Dallas, Texas).

One of the first white rock & rollers to record for a major label (Columbia), Sidney King (born Sid Erwin) was also one of the first young Southern musicians to go from Western swing to rockabilly in the mid-'50s. Erwin grew up in the Dallas-Fort Worth area. He sang and played guitar at school, and while still in his mid-teens he began appearing on local radio with a friend, Melvin Robinson. The duo eventually took over the program, and Erwin and Robinson (who also played steel guitar and sax) formed a band, bringing in Erwin's brother Billy Joe on lead guitar, Ken Massey on bass, and David White on drums.
The group, by then known as the Western Melody Makers, stuck to playing country and Western swing in their gigs and radio appearances, but they were listening to lots of records by black artists. They were signed to Starday Records in 1954 and recorded a handful of songs, but these yielded no hits. They subsequently got a contract with Columbia Records and rechristened themselves the Five Strings. Erwin, in turn, changed his name to Sid King, all for the sake of a rhyming moniker, Sid King & the Five Strings.
The Columbia sessions show just how far afield from country the group's listening had gotten. Their harmonies, the high-compression beat of their playing, and their choice of songs, coupled with Jim Beck's hard, up-front mixing of the rhythm section, made them, for a time, one of the hotter rockabilly acts outside of Memphis. They weren't as wild as the Sparkletones, but within Columbia Records' stable of artists, their music (along with that of the Collins Kids) constituted a tiny corner of rockabilly validity. Hearing their stuff today, they could have been fair rivals to Bill Haley & His Comets or Carl Perkins, with a sound midway between the two.
Sid King & the Five Strings were featured on the Louisiana Hayride alongside Elvis Presley and Johnny Horton and inherited "Ooby Dooby" from Roy Orbison (competing head to head with the latter's Sun version), but they never had the success of those whose paths they crossed. Their success was still confined to Texas, and by 1957 their Columbia contract had ended. The group's sound had also softened by that time, and their music no longer had the same edge, so by 1958 the band had called it quits.
King saw recording activity on his own in the early '60s on the Dot label through his acquaintance with Pat Boone, a fellow native of Denton whom he'd met years earlier, but by 1965 he was out of the music business. He resumed performing part-time in the 1980s, drawn back to the stage by a new generation of Europeans eager to hear authentic American rockabilly.
He never quite jumped into rock head over heels, nor did he ever break through to a national audience. The only vintage King available on CD domestically is an interesting, but not wholly representative, set of radio broadcasts from the mid-'50s that are closer to hillbilly than rockabilly. His Columbia recordings have been reissued in Germany on Bear Family's Gonna Shake This Shack Tonight.
http://www.thecoolgroove.com/sid.html
Talents : Vocals, Guitar
Style musical : Rockabilly, Western Swing, Country Boogie

https://youtu.be/vMoN3k8e6mA

http://youtu.be/Kv7HrLpLMlg
Years in activity :
| | | | | | | | | | | | |
| --- | --- | --- | --- | --- | --- | --- | --- | --- | --- | --- | --- |
| 1910 | 20 | 30 | 40 | 50 | 60 | 70 | 80 | 90 | 2000 | 10 | 20 |
DISCOGRAPHY
Singles
06/1954
SP STARDAY 45-147 (US)
.
Who Put The Turtle In Myrtle's Girdle (WESTERN MELODY MAKERS) / If Tears Could Cry (Sid ERVIN with The WESTERN MELODY MAKERS)
02/1955
SP COLUMBIA 4-21361 (US)
.
FIVE STRINGS - Put Something In The Pot Boy / I Like It
07/1955
SP COLUMBIA 4-21403 (US)
.
FIVE STRINGS - Drinkin' Wine Spoli Oli / Crazy Little Heart
10/1955
SP COLUMBIA 4-21449 (US)
.
Sid KING & The FIVE STRINGS (The KING BROS.) - Sag, Drag And Fall / But I Don't Care
01/1956
SP COLUMBIA 4-21489 (US)
.
Sid KING & The FIVE STRINGS (The KING BROS.) - Purr, Kitty, Purr / Mama I Want You
03/1956
SP COLUMBIA 4-21505 (US)
.
Sid KING & The FIVE STRINGS (The KING BROS.) - Let 'er Roll / Blue Suede Shoes
05/1956
SP COLUMBIA 4-40680 (US)
.
Sid KING & The FIVE STRINGS (The KING BROS.) - Oobie Doobie / Booger Red
10/1956
SP COLUMBIA 4-21564 (US)
.
Sid KING & The FIVE STRINGS (The KING BROS.) - Gonna Shake This Shack Tonight / Good Rockin' Baby
02/1957
SP COLUMBIA 4-40833-c (US)
.
Sid KING & The FIVE STRINGS (The KING BROS.) - When My Baby Left Me / It's True I'm Blue
10/1957
SP COLUMBIA 4-41019 (US)
.
Sid KING & The FIVE STRINGS - I've Got The Blues / What Have Ya Got To Lose
01/1962
SP DOT 45-16293 (US)
.
Sid KING - Hello There Rockin' Chair / Once Upon A Time
08/1980
SP Soundwaves SW-4612 (US)
.

Sid KING - Back Door Man / I'd Rather Hear Willie

2012
SP Sleazy SR-46 (S)
Sid KING & The FIVE STRINGS - Purr, Kitty, Purr

/

Sag, Drag And Fall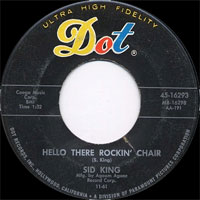 Live Performances
| | | |
| --- | --- | --- |
| 19?? | Radio Performance - (Rollercoaster CD 3018 (#21)) | Coconut Grove |
| 19?? | Radio Performance - (Rollercoaster LP 2006 (#8) / Rollercoaster CD 3018 (#23) / Schoolkids CD 1549 (#8)) | Five Strings Hoedown [live vers. 1] |
| 19?? | Radio Performance - (Rollercoaster CD 3018 (#20)) | Good Deal, Lucille |
| 19?? | Radio Performance - (Rollercoaster LP 2006 (#3) / Rollercoaster CD 3018 (#15) / Schoolkids CD 1549 (#3)) | If Tears Could Cry [live vers. 1] |
| 19?? | Radio Performance - (Rollercoaster LP 2006 (#4) / Rollercoaster CD 3018 (#16) / Schoolkids CD 1549 (#4) | In The Jailhouse Now |
| 19?? | Radio Performance - (Rollercoaster LP 2006 (#2) / Rollercoaster CD 3018 (#14) / Schoolkids CD 1549 (#2)) | Little Willie Boogie |
| 19?? | Radio Performance - (Rollercoaster CD 3018 (#22)) | Rock My Soul [live vers. 1] |
| 19?? | Radio Performance - (Rollercoaster LP 2006 (#1) / Rollercoaster CD 3018 (#13) / Schoolkids CD 1549 (#1)) | Rock The Joint [live vers. 1] |
| 19?? | Radio Performance - (Rollercoaster LP 2006 (#5) / Rollercoaster CD 3018 (#18) / Schoolkids CD 1549 (#5)) | Slowly |
| 19?? | Radio Performance - (Rollercoaster LP 2006 (#7) / Rollercoaster CD 3018 (#17) / Schoolkids CD 1549 (#7)) | That's Allright [live vers. 1] |
| 19?? | Radio Performance - (Rollercoaster LP 2006 (#9) / Rollercoaster CD 3018 (#3) / Schoolkids CD 1549 (#9)) | That's Allright [live vers. 3] |
| 19?? | Radio Performance - (Rollercoaster CD 3018 (#29)) | There's A Big Rock On The Road |
| 19?? | Radio Performance - (Rollercoaster CD 3018 (#27)) | This Ole House |
| 19?? | Radio Performance - (Rollercoaster LP 2006 (#6) / Rollercoaster CD 3018 (#19) / Schoolkids CD 1549 (#6)) | Who Put The Turtle in Myrtle's Girdle [live vers.] |
| 19?? | Radio Performance - (Rollercoaster CD 3018 (#4)) | But I Don't Care [live vers.] |
| 19?? | Radio Performance - (Rollercoaster LP 2006 (#16) / Rollercoaster CD 3018 (#1) / Schoolkids CD 1549 (#16)) | Five Strings Hoedown [live vers. 2] |
| 19?? | Radio Performance - (Rollercoaster CD 3018 (#9)) | Five Strings Hoedown [live vers. 3] |
| 19?? | Radio Performance - (Rollercoaster CD 3018 (#12)) | Five Strings Hoedown [live vers. 4] |
| 19?? | Radio Performance - (Rollercoaster LP 2006 (#15) / Rollercoaster LP 2008 (#8) / Rollercoaster CD 3018 (#11) / Schoolkids CD 1549 (#15)) | Flip, Flop & Fly |
| 19?? | Radio Performance - (Rollercoaster CD 3018 (#8)) | If Tears Could Cry [live vers. 2] |
| 19?? | Radio Performance - (Rollercoaster LP 2006 (#14) / Rollercoaster CD 3018 (#10) / Schoolkids CD 1549 (#14)) | Making Believe |
| 19?? | Radio Performance - (Rollercoaster LP 2006 (#11) / Rollercoaster CD 3018 (#6) / Schoolkids CD 1549 (#11)) | Maybelline |
| 19?? | Radio Performance - (Rollercoaster LP 2006 (#10) / Rollercoaster CD 3018 (#5) / Schoolkids CD 1549 (#10)) | Rock My Soul [live vers. 2] |
| 19?? | Radio Performance - (Rollercoaster CD 3018 (#2)) | Rock The Joint [live vers. 2] |
| 19?? | Radio Performance - (Rollercoaster LP 2006 (#13) / Schoolkids CD 1549 (#13)) | There She Goes |
| 19?? | Radio Performance - (Rollercoaster LP 2006 (#12) / Rollercoaster CD 3018 (#7) / Schoolkids CD 1549 (#12)) | Wildwood Flower |
Live Recordings
| | | |
| --- | --- | --- |
| 1956 | Live Recording - (Dragon Street CD 70100 (#37) / Rollercoaster CD 3018 (#24) / Rollercoaster CD 3042 (#18)) | Booger Red [live vers.] |
| 1956 | Live Recording - (Rollercoaster CD 3018 (#26)) | Oobie Doobie [live vers.] |
| 1956 | Live Recording - (Rollercoaster CD 3018 (#25)) | When My Baby Left Me [live vers.] |
| 19?? | Live Recording - (Dragon Street CD 70102 (#10)) | You're Always Breaking Hearts [live vers.] |
Unissued Tracks
19??
Unissued - (Rollercoaster CD 3018 (#31))
Another Love [vers. 1]
19??
Unissued - (Rollercoaster CD 3018 (#40))
Another Love [vers. 2]
19??
Unissued - (Rollercoaster CD 3018 (#44))
Crazy Little Heart [alt. vers.]
19??
Unissued - (Rollercoaster CD 3018 (#49))
Cry Albert
19??
Unissued
Flip Flop & Fly
19??
Unissued - (Rollercoaster CD 3018 (#46))
Gonna Love You Forever
19??
Unissued - (Bear Family CD 15535 (#25) / Rollercoaster CD 3018 (#39))
Good Rockin' Baby [alt. vers.]
19??
Unissued - (Rollercoaster CD 3018 (#45))
How About You
19??
Unissued - (Bear Family CD 15535 (#23) / Rollercoaster CD 3018 (#37))
How Easy Was It Dear
19??
Unissued - (Bear Family CD 15535 (#22))
I Cried
19??
Unissued - (Rollercoaster CD 3018 (#42))
I Love And I Always Will
19??
Unissued - (Rollercoaster CD 3018 (#41))
I've Got These Tears
19??
Unissued - (Rollercoaster CD 3018 (#47))
It Hurt Me So
19??
Unissued - (Rollercoaster CD 3018 (#48))
Johnny Lee
19??
Unissued - (Rollercoaster CD 3018 (#34))
Little Mama
19??
Unissued - (Rollercoaster CD 3018 (#30))
Lovey Dovey
19??
Unissued - (Buffalo Bop CD 55093 (#26))
Maybelline
19??
Unissued - (Rollercoaster CD 3018 (#35)
My Baby Loves A Big Man
19??
Unissued - (Bear Family CD 15535 (#21))
Oh What You Do To Me
19??
Unissued - (Rollercoaster CD 3018 (#36))
Shake, Rattle & Roll
19??
Unissued - (Rollercoaster CD 3018 (#28))
That's Allright [live vers. 2]
19??
Unissued - (Rollercoaster CD 3018 (#32))
That's How I Want It To Be
19??
Unissued - (Bear Family LP 15048 (#16) / Bear Family CD 15535 (#20))
Twenty One
19??
Unissued - (Bear Family LP 15048 (#11)
Bear Family CD 15535 (#18))
Warmed Over Kisses, Left Over Love
19??
Unissued - (Bear Family CD 15535 (#24) / Rollercoaster CD 3018 (#38))
When My Baby Left Me [alt. vers.]
19??
Unissued - (Rollercoaster CD 3018 (#43))
When You Make Me Cry
19??
Unissued - (Rollercoaster CD 3018 (#33))
You're Always Breaking Hearts
Albums
1980
LP 12" BEAR FAMILY BFX 15048 (GER)
GONNA SHAKE THIS SHACK TONIGHT -

S

id

King & T

he

Five Strings -

Good Rockin' Baby / Put Something In The Pot Boy / Drinking Wine Spoli Oli / When My Baby Left Me / Gonna Shake This Shack Tonight / It's True, I'm Blue / Crazy Little Heart / Mama, I Want You / I Like It / But I Don't Care / Warmed Over Kisses - Left Over Love / What Have Ya Got To Lose / I've Got The Blues / Oobie Doobie / Booger Red / Twenty One / Sag, Drag And Fall / Blue Suede Shoes / Let 'er Roll / Purr, Kitty, Purr
1980
LP 12" JIMBO JLP-1001 (AUS)

18 Rockabilly Classics 1955-7 - Sid King & The Five Strings - I Like It / Crazy Little Heart / Put Something In The Pot Boy / Drinkin' Wine Spoli Oli / When My Baby Left Me / Good Rockin' Baby / Gonna Shake This Shack Tonight / It's True I'm Blue / But I Don't Care / Mama I Want You / Purr, Kitty, Purr / Sag, Drag And Fall / Blue Suede Shoes / Let 'Er Roll / Booger Red / Oobie-Doobie / I've Got The Blues / What Have Ya Got To Lose

12/1983
LP 12" ROLLERCOSTER ROLL-2006 (UK)

Rockin' On The Radio - Sid King & The Five Strings - Rock The Joint [live vers. 1] / Little Willie Boogie / If Tears Could Cry [live vers. 1] / In The Jailhouse Now / Slowly / Who Put The Turtle In Myrtle's Girdle [live vers.] / That's Allright [live vers. 1] / Five Strings Hoedown [live vers. 1] / That's Allright [live vers. 3] / Rock My Soul [live vers. 2] / Maybelline / Wildwood Flower / There She Goes / Making Believe / Flip, Flop & Fly / Five Strings Hoedown [live vers. 2]

1987
LP 12" ROCKHOUSE RHLP-8701 (NL)
LET'S GET LOOSE -

S

id

King -

House Of Blue lights / One More Time / If You Really Want Me To I'll Go / Share What You Got With Me / Boogie Woogie Country Girl / Lets Get Loose / Decoy Baker / Don't Get Above Your Raisin / It Hurts Me So (To See Love Go) / Rockabilly Music / Drinkin Wine Spoli Oli
11/1991
CD BEAR FAMILY BCD 15535 (GER)
GONNA SHAKE THIS SHACK TONIGHT -

S

id

King & T

he

Five Strings -

I Like It / Crazy Little Heart / Put Something In The Pot Boy / Drinkin' Wine Spo-Dee-O-Dee / But I Don't Care / Mama, I Want You / Purr, Kitty, Purr / Sag, Drag And Fall / Blue Suede Shoes / Let 'Er Roll / Booger Red / Ooby Dooby / When My Baby Left Me / Good Rockin' Baby / Gonna Shake This Shack Tonight / It's True, I'm Blue / I've Got The Blues / Warmed Over Kisses, Left Over Love / What Have Ya Got To Lose / Twenty One / I Cried / Oh What You Do To Me / Hello There Rockin' Chair / Once Upon A Time / Who Put The Turtle In Myrtle's Girldle / If Tears Could Cry / How Easy Was It Dear / When My Baby Left Me / Good Rockin' Baby
03/1996
CD SCHOOLKIDS CD-1549 (US)
ROCKIN' ON THE RADIO -

S

id

King & The Five Strings -

Rock The Joint / Little Willie Boogie / If Tears Could Cry / In The Jailhouse Now / Slowly / Who Put The Turtle In Myrtle's Girdle / That's All Right / Five String Hoedown / That's All Right / Rock My Soul / Maybelline / Wildwood Flower / There She Goes / Making Believe / Flip, Flop & Fly / Five String Hoedown
2001
2 CD ROLLERCOSTER RCCD-3018 (UK)
ROCKIN' ON THE RADIO -

S

id

King & The Five Strings

:

CD 1 : Live on KTAE, Texas, 1955: Five String Hoedown / Rock The Joint / That's All Right / KTAE annoucement / RC Cola comercial / But I Don't Care / Rock My Soul / Maybelline / Wildwood Flower / If Tears Could Cry / KTAE Station ID: Five String Hoedown / There She Goes / Who Put The Turtle In Myrtle's Girdle / Making Believe - Flip Flop & Fly / Five String Hoedown / Buddy Durham Record / Faygo Root Beer cmmerci. / Live On KDNT, Texas, 1954: Rock The Joint / Little Willie Boogie / If Tears Could Cry / In T Jailhouse Now / That's All Right / L & M commercial / Slowly / Good Deal Lucille / Easter Tablecloth commercial : Coconut Grove / Rock My Soul / Five String Hoedown / Mechants Green Stamps / Hardrock / Budweiser com.
CD 2 : Live On The Gig 'D' Jamboree 1956:Introduction To Big D Jamoree 1956 / Booger Red / When My Baby Left Me / Ooby Dooby Dooby / End Announcement Big D Jamoree 1954 / This Ol'House / That's All Right / B J Snuff Commercial / There's A Big Rock In The Road / Closing Annoucement & Thanks / Studio Recordings : Lovey Dovey / Another Love / That's How I Want It To Be / You're Always Breaking Hearts / Little Mama/My Baby Loves A Big Man / Shake Rattle & Roll / How Easy Was It Dear / When My Baby Left Me / Good Rockin' Baby / Another Lover / I've Got These Tears (To Remind Me Of You) / I Love You And I Always Will / Why You Make Me Cry / How About You? / Gonna Love You Forever / It Hurts Me So / Johnny Lee / Cry Albert

02/2019
CD JASMINE JASCD 1004 (UK)

Sag, Drag, and Fall - Singles As & Bs 1954-1961 ...Plus - Sid King & The Five Strings - Who Put The Turtle In Myrtle's Girdle (Sid Ervin & The Western Melody Makers) / If Tears Could Cry (Sid Ervin & The Western Melody Makers) / I Like It (Five Strings) / Put Something In The Pot, Boy (Five Strings) / Drinkin' Wine Spo-De-O-Dee (Five Strings) / Crazy Little Heart (Five Strings) / Sag, Drag And Fall (Sid King & The Five Strings / I Don't Care (Sid King & The Five Strings) / Purr, Kitty, Purr (Sid King & The Five Strings) / Mama I Want You (Sid King & The Five Strings) / 11. Blue Suede Shoes (Sid King & The Five Strings) / 12. Let 'er Roll (Sid King & The Five Strings) / Ooby Dooby (Sid King & The Five Strings) / Booger Red (Sid King & The Five Strings) / Good Rockin' Baby (Sid King & The Five Strings) / Gonna Shake This Shack Tonight (Sid King & The Five Strings) / When My Baby Left Me (Sid King & The Five Strings) / It's True I'm Blue (Sid King & The Five Strings) / I've Got The Blues (Sid King & The Five Strings) / What Have Ya Got To Lose (Sid King & The Five Strings) / Hello There, Rockin' Chair (Sid KING) / Once Upon A Time (Sid KING) / Warned Over Kisses, Left Over Love (Sid King & The Five Strings) / Number One (instr.) (Sid King & The Five Strings)
© Rocky Productions 11/05/2019