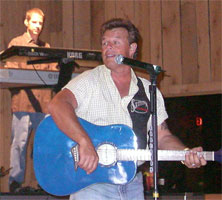 Chanteur Country US né le 24 Février 1958 à Kaplan (Louisiane). Sammy Kershaw est un des cousins du fiddler Doug Kershaw.

Sammy Kershaw rode in on the new traditionalist wave in the early '90s, finding success with a penchant for ballads and a blend of updated honky tonk (especially the Vocals stylings of George Jones), Southern rock, and a hint of Cajun flavor. But as his career progressed, Kershaw moved farther and farther into crossover-minded country-pop, which actually eroded his early following. He was born in 1958 in Kaplan, Louisiana, in the heart of Cajun country; in fact, his third cousin was legendary Cajun fiddler Doug Kershaw. He got his first electric guitar at age 11 from his grandfather, but sadly, his father passed away not long after, forcing Kershaw to get professional as quickly as he could. He debuted at age 12 with local bandleader J.B. Perry and often worked for Perry as both a musician and roadie during his teenage years, touring the Southern club and honky tonk circuit.
In 1980, Kershaw moved to Oklahoma with his wife and worked a day job while singing in local bands. However, his marriage fell apart two years later, and he returned to Louisiana, where he went through a succession of day jobs, remarried in 1985, and joined a touring club band called Blackwater in the mid-'80s. Unfortunately, the honky tonk lifestyle took its toll on Kershaw, who developed major problems with drugs and alcohol. In order to save his marriage, he quit everything cold turkey in 1988 -- including the music business, taking a full-time job at Wal-Mart as a supervisor of store remodeling. However, his songwriter friend Barry Jackson convinced him to submit a demo tape to Mercury Records in 1990, and after a showcase performance, Kershaw finally landed the record deal he'd spent so long pursuing.
Kershaw's debut album, Don't Go Near the Water, was released in 1991 and spawned the breakout hit single "Cadillac Style," which reached number three on the country charts the following year. The title cut and "Yard Sale" both charted in the Top 20, and "Anywhere but Here" became his second Top Ten hit in 1993, helping the album go platinum. Later that year, Kershaw issued his second album, Haunted Heart, which many critics and fans still regard as his finest. The lead single, "She Don't Know She's Beautiful," became Kershaw's first number one hit, and its three follow-ups -- the title track, "Queen of My Double Wide Trailer," and "I Can't Reach Her Anymore" -- all went Top Ten; plus, the album became his second straight million-seller. Building on that commercial success, Kershaw began his shift away from hard honky tonk and toward more radio-friendly contemporary country with his next effort, 1994's Feelin' Good Train. He scored two number two hits with the anthem "National Working Woman's Holiday" and a cover of the Amazing Rhythm Aces' country-rock hit "Third Rate Romance"; plus, the album featured a duet with his longtime idol George Jones on "Never Bit a Bullet Like This." At the end of the year, Kershaw released a holiday album, Christmas Time's a Comin'.
Kershaw returned in 1996 with Politics, Religion and Her, which found his sales beginning to slip a bit. Even so, he managed two Top Ten hits off the album: "Meant to Be" and the novelty song "Vidalia." 1997's Labor of Love was a ballad-heavy affair that returned Kershaw to the Top Ten of the country album charts; its "Love of My Life" became Kershaw's last big hit to date, peaking at number two. Even so, Kershaw's albums were growing increasingly uneven and pushing him farther into adult contemporary territory. That was especially true on 1999's Maybe Not Tonight, which found him covering '70s soft rocker Leo Sayer's "More Than I Can Say"; he also duetted on the Top 20 title track with Lorrie Morgan, who became his third wife in 2001. That year, they teamed up for the duet album I Finally Found Someone. Neither it nor Kershaw's last solo album produced any big-time hits, and he wound up parting ways with Mercury in the aftermath. He went on to sign with Koch subsidiary Audium, a newly established home for many country veterans of the '80s and '90s. His first album for the label, I Want My Money Back, was released in 2003 and the title track made it into Billboard's Country Top 40, but the record soon slipped down the charts. Audium closed a little while after the release of I Want My Money Back and Kershaw moved over to Category 5 in 2006, where he released Honky Tonk Boots in June of that year; it generated no hits and the label folded in 2007.
After these two records, Kershaw spent some time pursuing a political career, running for lieutenant governor of Louisiana as a Republican in that state's 2007 primary. He came in second in the election; he attempted to run again in 2010 and came in second that year, as well. Also in 2010, Kershaw returned to music, releasing the Buddy Cannon-produced Better Than I Used to Be album on Big Hit Records that summer. Two years later, he released his second holiday album -- A Sammy Klaus Christmas appeared on MRI that October -- and in 2013, Kershaw set out on the road with Joe Diffie and Aaron Tippin on a tour called All in the Same Boat; the trio released an accompanying album of the same name in May. In 2014, Kershaw paid homage to one of his heroes and greatest influences with the album Do You Know Me? A Tribute to George Jones, which featured 13 classic tunes associated with the country icon as well as one new composition from Kershaw, "The Route That I Took." In 2016, Kershaw returned with a new solo album, I Won't Back Down, which marked the first time he produced his own sessions. The album included covers of hits by R.B. Greaves ("Take a Letter Maria") and Tom Petty (the title song), as well as a celebration of barbecuing, "Grillin' and Chillin'."
https://en.wikipedia.org/wiki/Sammy_Kershaw
Talents : Vocals, Guitar
Style musical : Contemporary Country, Traditional Country, Honky Tonk

http://youtu.be/iQ6T8UCJRDc
Years in activity :
| | | | | | | | | | | | |
| --- | --- | --- | --- | --- | --- | --- | --- | --- | --- | --- | --- |
| 1910 | 20 | 30 | 40 | 50 | 60 | 70 | 80 | 90 | 2000 | 10 | 20 |
DISCOGRAPHY
Singles
1980
SP MASTER TRAK 3005 (US)
.

Oklahoma / We Just Can't Get Alone

1986
SP MASTER TRAK 3047 (US)
.

The Flame Has Gone Out / Business Is Pleasure

1986
SP MASTER TRAK 3053 (US)
.
Sammy KERSHAW & Tammy LYNN - Must It Be This Way / Diggy Liggy Lo
1986
SP MASTER TRAK 3054 (US)
.

The Likes Of Texas / I Just Ended Up Hurtin Myself

10/1991
SP MERCURY 868 812-7 (US)
.
Cadillac Style / Harbor For A Lonely Heart
1991
CD MERCURY CDP 511 (US) (promo)
Cadillac Style / Introducing Sammy

Kershaw

... (Special interview with TNN Host Cathy

Matindale

)
01/1992
SP MERCURY 866 324-7 (US)
.
Don't Go Near The Water / Every Third Monday
05/1992
SP MERCURY 866 754-7 (US)
.
Yard Sale / What Am I Worth
09/1992
SP MERCURY 864 316-7 (US)
.
Anywhere But Here / Real Old Fashioned Broken Heart
1992
SP PAULA 457 (US)
.

I Just Ended Up Hurting Myself / ?

02/1993
SP MERCURY 864 854-7 (US)
.
She Don't Know She's Beautiful / I Buy Her Roses
04/1993
SP MERCURY 862 096-7 (US)
.
Haunted Heart / Cry Cry Darlin'
1993
CD MERCURY 862 179-2 (NL)

She Don't Know She's Beautiful / Cry, Cry Darlin' / Anywhere But Here

08/1993
SP MERCURY 862 600-7 (US)
.
Queen Of My Double Wide Trailer / A Memory That Just Won't Quit
01/1994
SP MERCURY 858 102-7 (US)
.
I Can't Reach Her Anymore / What Might Have Been
06/1994
SP MERCURY 858 722-7 (US)
.
National Working Woman's Holiday / Heart That Time Forgot
08/1994
SP MERCURY 858 922-7 (US)
.
Third Rate Romance / Paradise From 9 To 1
11/1994
SP MERCURY 856 408-7 (US)
.
Christmas Time's A Comin' / Up On The Housetop
1994
CD MERCURY CDP 1366 (US) (promo)
Southbound
11/1994
SP MERCURY 856 410-7 (US)
.
Southbound / Better Call A Preacher
03/1995
SP MERCURY 856 686-7 (US)
.
If You're Gonna Walk I'm Gonna Crawl / If You Ever Come This Way Again
08/1995
SP MERCURY 852 208-7 (US)
.
Your Tattoo / Still Lovin' You
03/1996
SP MERCURY 852 874-7 (US)
.
Meant To Be / Vidalia
10/1996
SP MERCURY 578 612-7 (US)
.
Politics Religion And Her / Here She Comes
03/1997
SP MERCURY 574 182-7 (US)
.
Fit To Be Tied Down / For Years
07/1997
SP BNA 64914-7 (US)
.
Sammy KERSHAW & Lorrie MORGAN - Go Away / Maybe Not Tonight
1997
CD MERCURY MNCD 190 (US) (promo)

Love Of My Life / Love Of My Life / Love Of My Life

10/1997
SP MERCURY 568140-7 (US)
.
Love Of My Life / Roamin' Love
03/1998
SP MERCURY 568524-7 (US)
.
Matches / Thank God You're Gone
07/1998
SP MERCURY 566052-7 (US)
.
Honky Tonk America / One Day Left To Live
02/1999
SP BNA 65729-7 (US)
.
Sammy KERSHAW & Lorrie MORGAN - Maybe Not Tonight / Go Away
09/1999
SP MERCURY 172 112-7 (US)
.
Me And Maxine / Louisiana Hot Source
1999
SP MERCURY 172 130-7 (US)
.
When You Love Someone / How Can I Say Now
| | |
| --- | --- |
| | |
Albums
10/1991
CD MERCURY 314 510 161-2 (US)
DON'T GO NEAR THE WATER - Real Old Fashioned Broken Heart / Don't Go Near The Water / I Buy Her Roses / Cadillac Style / Kickin' In / What Am I Worth / Yard Sale / Anywhere But Here / Every Third Monday / Harbor For A Lonely Heart
07/1992
CD MASTER TRAK MTE-5044 (US)
BUSINESS IS PLEASURE - Business Is Pleasure / Flame Has Gone Out, Likes Of Texas / I Just Ended Up Hurting Myself / I Still Hear Them Playing Our Song / Let's Go All The Way / It's Only Make Believe / She's Gone / Oklahoma / That's When I Miss You Most Of All
03/1993
CD MERCURY P2-14332 (US)
HAUNTED HEART - Memory That Just Won't Quit / Queen Of My Double Wide Trailer / Still Lovin' You / She Don't Know She's Beautiful / I Can't Reach Her Anymore / Haunted Heart / Neon Leon / What Might Have Been / You've Got A Lock On My Love / Cry Cry Darlin'
06/1994
CD MERCURY 314 522 125-2 (US)
FEELIN' GOOD TRAIN - Feelin' Good Train / Third Rate Romance / If You Ever Come This Way Again / National Working Woman's Holiday / Southbound / Better Call A Preacher / Paradise From Nine To One / Too Far Gone To Leave / If You're Gonna Walk I'm Gonna Crawl / Heart That Time Forgot / Never Bit A Bullet Like This (with George JONES)
10/1994
CD MERCURY 314 522 638-2 (US)
CHRISTMAS TIME'S A COMING - We Three Kings Of Orient Are / Christmas Time's A Comin' / White Christmas / Please Come Home For Christmas / Rudolph The Red Nosed Reindeer / Frosty The Snowman / Daddy Stuff / Winter Wonderland / All I Want For Christmas Is You / Christmas Won't Be Christmas / Up On The Housetop / We Three Kings 2
09/1995
CD MERCURY 314 528 536-2 (US)
THE HITS / CHAPTER 1 - Cadillac Style / Don't Go Near The Water / Anywhere But Here / She Don't Know She's Beautiful / Haunted Heart / Queen Of My Double Wide Trailer / I Can't Reach Her Anymore / National Working Woman's Holiday / Third Rate Romance / Your Tattoo / Still Loving You
05/1996
CD MERCURY 314 528 893-2 (US)
POLITICS, RELIGION AND HER - Vidalia / Meant To Be / Fit To Be Tied Down / Politics Religion And Her / Chevy Van / Same Place / Little Bitty Crack In Her Heart / These Flowers / I Saw You Today / Memphis Tennessee / For Years / Here She Comes
08/1996
2 CD POLYGRAM 532601 (US)
THE LEGEND OF HANK WILLIAMS - READ BY SAMMY KERSHAW :

CD 1 : Introduction / Beginning / Log Train / Meeting Audrey / Move It On Over / Lovesick Blues / I'm So Lonesome I Could Cry / Long Gone Lonesome Blues / Cold Cold Heart
CD 2 : Part Two / How To Write Folk & Western Music To Sell / There's A Tear In My Beer / Apology / Jambalaya / Please Make Up Your Mind / It Just Don't Matter Now / Kaw-Liga / Your Cheatin' Heart / Trip To Canton / Angel Of Death

11/1997
CD MERCURY 314 536 318-2 (US)
LABOR OF LOVE - Honky Tonk America / Shootin' The Bull / One Day Left To Live / Cotton County Queen / Matches / Labor Of Love / Thank God You're Gone / Little Did I Know / Arms Length Away / Roamin' Love / Love Of My Life
04/1999
CD MERCURY 314 538 889-2 (US)
MAYBE NOT TONIGHT - Maybe Not Tonight (with Lorrie MORGAN) / Me And Maxine / Without Strings / More Than I Can Say / Love Me Loving You / I've Never Gone This Far Before / When You Love Someone / Ouch / How Can I Say No / Look What I Did To Us / Louisiana Hot Sauce / How Much Does The World Weigh
06/2000
CD MERCURY 088 170 149-2 (US)
COVERS THE HITS - Thrid Rate Romance / More Than I Can Say / If I Fell / Chevy Van / Fire And Rain / Memphis Tennessee / Angie / I Got A Name / I Know A Little / Little Bit More
04/2001
CD BNA 07863-67004-2 (US)
I FINALLY FOUND SOMEONE - Sammy KERSHAW & Lorrie MORGAN - I Finally Found Someone / Big Time / I Can't Think Of Anything But You / Be My Reason / 29 Again / He Drinks Tequila / What A Wonderful World / Sad City / That's Where I'll Be / Sugar / I Must Be Gettin' Older / Three Seconds
05/2001
CD MERCURY 088 170 141-2 (US)
THE HITS CHAPTER TWO - Love Of My Life / Vidalia / Politics Religion And Her / Matches / Louisiana Hot Sauce / Maybe Not Tonight (with Lorrie MORGAN) / Meant To Be / Southbound / Me And Maxine / When You Love Someone / Honky Tonk America
03/2003
CD UNIVERSAL 088 170 365-2 (US)
THE MILLENNIUM COLLECTION - THE BEST OF SAMMY KERSHAW - Cadillac Style / Don't Go Near The Water / Anywhere But Here / She Don't Know She's Beautiful / Haunted Heart / Queen Of My Double Wide Trailer / I Can't Reach Her Anymore / National Working Woman's Holiday / Third Rate Romace / Meant To Be / Vidalia / Love Of My Life
03/2003
CD AUDIUM AUD-CD-8167 (US)
I WANT MY MONEY BACK - I Want My Money Back / Miss What's Her Name / Metropolis / Sunday Morning On Bourbon Street / Stitches / Beer Bait And Ammo / 28/83 (She Ain't In It For The Love) / Gone For Good Goodbye / I've Never Been Anywhere / Paper Heart / Are You Having Fun Yet
06/2004
CD MCA B0002330-02 (US)

The Definitive Collection - Cadillac Style / Don't Go Near The Water / Anywhere But Here / Yard Sale / She Don't Know She's Beautiful / Haunted Heart / Queen Of My Double Wide Trailer / I Can't Reach Her Anymore / National Working Woman's Holliday / Third Rate Romance / If You're Gonna Walk, I'm Gonna Crawl / Southbound / Meant to Be / Vidella / Politics, Religion And Me / Fit To Be Tied Down / Love Of My Life / Matches / Honky Tonk America / One Day Left To Live / Maybe Not Tonight / When You Love Someone / Me And Maxine

06/2006
CD

Category

5 5001 (US)

Honky Tonk Boots - Tennessee Girl / Honky Tonk Boots / One Step At A Time / Evangeline / Leavin' Made Easy / Baby's Got Her Blue Jeans On / High Society / The Battle / Mama's Got At Tattoo / Cantaloupes On Mars

03/2008
CD Humphead HUMP 016 (GER)

The Definitive Collection -

Me And Maxine / When You Love Someone / Maybe Not Tonight (Sammy K

ershaw

feat: Lorrie MORGAN) / One Day Left To Live / Honky Tonk America / Matches / Love Of My Life / Politics, Religion And Her / Vidalia / Meant To Be / Southbound / If You're Gonna Walk I'm Gonna Crawl / Third Rate Romance / National Working Woman's Holiday / I Can't Reach Her Anymore / Queen Of My Double Wide Trailer / Haunted Heart / She Don't Know She's Beautiful / Anywhere But Here / Yard Sale / Cadillac Style / Don't Go Near The Water
08/2010
CD Big Hit BHR 101201 (US)

Better Than I Used To Be - That Train / Better Than I Used To Be / Saltwater Cowboy / Everybody Wants My Girl / Through the Eyes Of A Woman / The Snow White Rows Of Arlington / Ain't Fallin' For That / Like I Wasn't Even There / The Cover Of The Rolling Stone / I See Red / Takin' The Long Way Home

10/2011
CD MERCURY B0016183-02 (US)
ICON - Anywhere But Here / She Don't Know She's Beautiful / Third Rate Romance / Don't Go Near The Water / I Can't Reach Her Anymore / Cadillac Style / Yard Sale / National Working Woman's Holiday / Love Of My Life / Queen Of My Double Wide Trailer / If You're Gonna Walk, I'm Gonna Crawl
10/2012
CD Big Hit BHR 00121 (US)

A SAMMY KLAUS CHRISTMAS - 'Twas The Night Before Christmas / Santa Claus Is Coming To Town / Jingle Bells / That Spirit Of Christmas / The Twelve Days Of Christmas / Here Comes Santa Claus / Let It Snow! Let It Snow! Let It Snow! / Silent Night / Up On The Housetop / Have A Holly Jolly Christmas / Santa Claus Is Back In Town / 'Twas The Night Before Christmas [Cajun version]

05/2013
CD Big Hit BHR 00131 (US)
ALL IN THE SAME BOAT - JOE DIFFIE / SAMMY KERSHAW / AARON TIPPIN -

All In The Same Boat /

Kiss This / Heart Of Gold /

She Don't Know She's Beautiful / The Way You Look Tonight /

On And On / The Route I Took / I'm Hangin' On / Misery Loves Country / I Love To Work / He Believed / Old Friends
11/2013
CD Big Hit BHR 00132 (US)
BIG HITS - VOLUME ONE - Don't Go Near The Water / She Don't Know She's Beautiful / Yard Sale / Vidalia / Haunted Heart / The Middle / Cadillac Style / Love Of My Life / Third Rate Romance / Louisiana Hot Sauce / Queen Of My Doublewide Trailer / Can't Put My Finger On It
07/2014
CD Big Hit BHR 00141 (US)
Do You Know Me? - A Tribute to George Jones - The Grand Tour / Once You've Had The Best / She Thinks I Still Care / Why Baby Why / Walk Through This World With Me / When The Grass Grows Over Me / Window Up Above / White Lightning / Near You (Sammy

Kershaw

feat: Georgette

Jones

) / He Stopped Loving Her Today / The Race Is On / Who's Gonna Fill Their Shoes / Do You Know Me? / The Route That I Took
06/2015
CD Cleopatra CLP-CD-2235 (US)

I Won't Back Down -

Take A Letter Maria / Lay Back Down / Grillin' And Chillin' / Fixer Upper / Groove / I Won'T Back Down / I Had To Give That Up Too / I Can't Wait To Waste A Little Time / Send In The Rodeo Clowns / Don't Move / Why You Wanna Do Me This Way / Let's Lay Here Forever
05/2016
CD Big Hit 161 (US)

The Blues Got Me -

The Blues Got Me / That Train / Ain't My Cross To Bear / Where'd The Money Go / Big Legged Woman / I'm Gone / No Money Down / I'm Your Huckleberry / I'm Going Crazy / Hot Night In Kaplan / No Money Blues
© Rocky Productions 23/05/2016