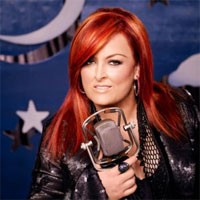 Chanteuse Country US née Christina Ciminella le 30 Mai 1964 à Ashland (Kentucky). Wynonna Judd a débuté en 1983 avec sa mère Naomi dans le duo "The Judds".

As one half of the Judds, Wynonna Judd became one of the most popular and respected female country stars of her time. On her own since the early '90s, Judd demonstrated an eclecticism that increasingly confounded hardcore country fans and radio programmers but also helped her retain a core of admiring followers. Her solo records might stick with Judds-style country-pop or delve into roots rock, blues, gospel, adult contemporary pop, folk, or Southern R&B.
Judd was born Christina Ciminella in Ashland, KY, on May 30, 1964. Her mother, Naomi (then known by her birth name, Diana), was still in high school at the time, and her biological father abandoned the family almost immediately; Naomi married another man, Michael Ciminella, to create a traditional family unit. In 1968, they moved to Los Angeles, but the marriage disintegrated in 1972. Wynonna spent parts of the next few years living on welfare and returned to Kentucky with her mother in 1976. They lived in a mountain home with no phone or television, and listening to country music on the radio was a major source of entertainment. Wynonna learned to play guitar after receiving one as a gift and was soon singing close harmony with her mother. By the time she was a teenager, her Vocals talents were apparent, and in 1979, the family moved to Nashville to try their luck in the music business. Naomi and Wynonna landed a contract with RCA in 1983, and over the remainder of the '80s, they became the biggest-selling duo in country music history (a title that would later be taken over by Brooks & Dunn). Wynonna wasn't always as career-minded as her mother, who effectively ran the group, and was growing ever more rebellious when, in 1990, Naomi was diagnosed with hepatitis C; she retired from performing after a farewell tour in 1991.
Wynonna was at first unsure whether she wanted to carry on without her mother but quickly decided to embark on a solo career, signing with MCA. Her first album on her own, Wynonna, was released in 1992 and was an instant smash, selling over three million copies; it also topped the country charts, reached the Top Five on the pop side, and earned many positive reviews as well. Her first three solo singles — "She Is His Only Need," "I Saw the Light," and "No One Else on Earth" — all went to number one on the country charts, and "My Strongest Weakness" also made the Top Five. Judd's 1993 follow-up, Tell Me Why, was another platinum-selling, number one country/Top Five pop album; it gave her five more Top Ten hits in the title track, "Only Love," "Girls with Guitars," "Rock Bottom," and "Is It Over Yet." However, Judd's career hit a snag when it was revealed that, like her mother before her, she had become pregnant out of wedlock. The tabloids had a field day, and more conservative country fans attacked her as being an immoral role model.
Judd eventually married her son's father, Nashville businessman Arch Kelly, in 1996, and that year she finally released her third album, Revelations. It was a more introspective affair that gave her a number one single in "To Be Loved by You" and eventually went platinum despite not producing any further Top Ten hits. For the follow-up, 1997's The Other Side, Judd refashioned her sound into a bluesy, rock-driven roots music blend that often recalled Bonnie Raitt. It reached the country Top Five yet failed to sell a million copies for the first time in Judd's solo career, prompting her to split with MCA and move to Mercury. By this point, Judd had also had a second child, but her marriage fell apart in 1998; instead of releasing another solo album right away, Judd reunited with her mother for a New Year's Eve concert to ring in the year 2000. They embarked on a full-fledged tour together in 2000, and four new Judds songs were released on an exclusive bonus disc with Wynonna's Mercury debut, New Day Dawning. Her most eclectic effort to date (and her first as a co-producer), the album featured covers of Joni Mitchell and the Fabulous Thunderbirds, and while it didn't spawn any major hit singles, it again climbed into the Top Five on the country album charts.
Judd returned to her country roots in 2003 with What the World Needs Now Is Love, which found her reuniting on one track ("Flies on the Butter") with her mother. The live Her Story: Scenes from a Lifetime, released on DVD and CD, arrived in 2005, hitting number two on the Top Country Album charts, and the next year, just in time for the holiday season, the singer released Classic Christmas. An album of covers and standards, Sing: Chapter 1, appeared in 2009.
https://en.wikipedia.org/wiki/Wynonna_Judd
Talents : Vocals, Guitar, Harmonica
Style musical : Contemporary Country, Soft Rock, Traditional Country

http://youtu.be/u_wVWPdaVAE
Years in activity :
| | | | | | | | | | | | |
| --- | --- | --- | --- | --- | --- | --- | --- | --- | --- | --- | --- |
| 1910 | 20 | 30 | 40 | 50 | 60 | 70 | 80 | 90 | 2000 | 10 | 20 |
DISCOGRAPHY
Singles
01/1992
SP CURB / MCA MCAS7-54320 (US)
.

She Is His Only Need / No One Else On Earth

05/1992
SP CURB / MCA MCAS7-54407 (US)
.

I Saw The Light / When I Reach The Place I'm Goin'

1992
CD CURB 658220 2 (AUS)

I Saw The Light / When I Reach The Place I'm Goin' / My Strongest Weakness

08/1992
SP CURB / MCA MCAS7-54449 (US)
.

No One Else On Earth [dance remix] / No One Else On Earth [album version]

12/1992
SP CURB / MCA MCAS7-54516 (US)
.

My Strongest Weakness / What It Takes

04/1993
SP CURB / MCA MCAS7-54606 (US)
.

Tell Me Why / A Little Bit Of Love

1993
CD CURB MCA5P-54606 (US) (promo)

Tell Me Why

1993
CD CURB CUBC004 (UK)

Tell Me Why / Father Sun / I Saw The Light

1993
CD CURB CUR 7501-5 (GER)

Tell Me Why / A Little Bit Of Love (Goes A Long, Long Way) / I Saw The Light

1993
CD CURB CUR 7789-5 (GER)

Father Sun (radio edit) / Just Like New / Father Sun (album version)

05/1993
SP RCA 62503-7-R (US)
.
Bad Goodbye (with Clint BLACK) / Hard Way (Clint BLACK)
08/1993
SP CURB / MCA MCAS7-54689 (US)
.

Only Love / Just Like New

10/1993
SP CURB / MCA MCAS7-54754 (US)
.

Is It Over Yet / That Was Yesterday

02/1994
SP CURB / MCA MCAS7-54809 (US)
.

Rock Bottom / Girls With Guitars

05/1994
SP CURB / MCA MCAS7-54875 (US)
.

Girls With Guitars / I Just Drove By

1994
CD Dino Music ‎DMCS 2128 (EUR)

Girls With Guitars / Father Sun

10/1994
SP CURB NR-76928 (US)
.

Healing (with Michael English) / + Michael English

1994
CD CURB CUBS 001 (UK)

No One Else On Earth '94 / When I Reach The Place I'm Goin'

1994
CD CURB CUBCP 010 (UK) (promo)

Let's Make A Baby King / Girls With Guitars / Only Love

12/1995
SP CURB / MCA MCAS7-55084 (US)
.

To Be Loved By You / Freebird

04/1996
SP CURB / MCA MCAS7-55194 (US)
.

Heaven Help My Heart [single version] / Heaven Help My Heart [album version]

1996
CD CURB CUBC 13 (UK) (promo)

Heaven Help My Heart (single mix) / Heaven Help My Heart (alternate single mix) / Heaven Help My Heart (album version)

08/1996
SP CURB / MCA MCAS7-55252 (US)
.

My Angel Is Here / Change The World

10/1996
SP CURB / MCA MCAS7-55286 (US)
.

Somebody To Love You [single version] / Somebody To Love You [club mix]

1996
CD CURB ‎0078215CUR (GER)

To Be Loved By You (radio edit) / To Be Loved By You (album version) / Change The World

1997
CD CURB CUBC 21 (UK)

Making My Way (single version) / To Be Loved By You / Change The World / No One Else On Earth (club mix)

09/1997
SP CURB / MCA MCAS7-56095 (US)

When Love Starts Talkin' / The Other Side

1997
CD CURB CUBC 29 (UK)

When Love Starts Talkin' / The Other Side

11/1999
SP MERCURY 172141-7 (US)
.

Can't Nobody Love You / Help Me

12/1999
CD UPTOWN / UNIVERSAL 56101 (US)
.
Love Like That
2000
CD CURB MRNR-02028-2 (US) (promo)

Without Your Love... I'm Going Nowhere

06/2000
SP MERCURY 172155-7 (US)
.

I'm Going Nowhere / Who Am I Trying To Fool

2001
CD Silvertone JDJ-42983-2 (US) (promo)
Huey

Lewis

& The

News

Duet with

Wynonna

- I'm Not In Love Yet

2003
CD CURB 5050467-8008-2-3 (UK)

I Want To Know What Love Is (edit) / I Want To Know What Love Is (Piper mix edit)

2005
CD CURB CURBD 1932 (US) (promo)

Rescue Me

2005
CD CURB CURBD 1942 (US) (promo)

Attitude / Attitude (Call-Out Hook)

2005
CD CURB CURBD 1955 (US) (promo)
.
Natalie

Grant

with

Wynonna

‎–

Bring It All Together

2009
CD CURB CURBD 2113 (US) (promo)
.

Sing (Radio Edit)

2009
CD CURB CURBD 2119 (US) (promo)
.

I Hear You Knocking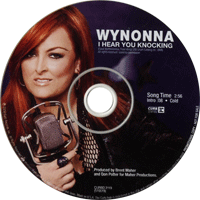 Albums
03/1992
CD MCA MCAD-10529 (US)
WYNONNA - What It Takes / She Is His Only Need / I Saw The Light / My Strongest Weakness / When I Reach The Place I'm Goin' / No One Else On Earth / It's Never Easy To Say Goodbye / Little Bit Of Love (Goes A Long Long Way) / All Of That Love From Here / Live With Jesus
05/1993
CD MCA MCAD-10822 (US)
TELL ME WHY - Tell Me Why / Rock Bottom / Only Love / Let's Make A Baby King / Is It Over Yet / Father Sun / Girls With Guitars / Just Like New / I Just Drove By / That Was Yesterday
02/1996
CD MCA MCAD-11090 (US)
REVELATIONS - To Be Loved By You / Somebody To Love You / Change The World / Don't Look Back / Old Enough To Know Better / Heaven Help My Heart / Love By Grace / Free Bird / My Angel Is Here / Dance Shout
1996
CD MCA MCA3P-3666 (US) (promo)

A Collection From Three Important Works - Sampler - Somebody To Love You / Heaven Help My Heart / No One Else On Earth (remix version) / Remix [uncredited] / My Strongest Weakness / I Saw The Light / Tell Me Why / She Is His Only Need / Live With Jesus / Old Enough To Know Better / Dance! Shout! / Never Easy To Say Goodbye / To Be Loved By You / That Was Yesterday / Father Sun / Free Bird

04/1997
CD MCA MCAD-11583 (US)
COLLECTION - Heaven Help My Heart / I Saw The Light / She Is His Only Need / Only Love / No One Else On Earth / Is It Over Yet / Tell Me Why / My Strongest Weakness / To Be Loved By You / Rock Bottom / Girls With Guitars
10/1997
CD CURB CUD-53061 (US)
THE OTHER SIDE - When Love Starts Talkin' / Other Side / Love Like That / Kind Of Fool Love Makes / Troubled Heart And A Troubled Mind / Don't You Throw That Mojo On Me / Come Some Rainy Day / Love's Funny That Way / Wyld Unknown / Why Now / We Can't Unmake Love / Always Will
02/2000
CD MCA 170103 (US)
NEW DAY DAWNING - Going Nowhere / New Day Dawning / Can't Nobody Love You (Like I Do) / Chain Reaction / Help Me / I've Got Your Love / Tuff Enuff / Who Am I Trying To Fool / Lost Without You / He Rocks / Learning To Live With Love Again / I Can't Wait To Meet You / Stuck In Love / Big Bang Boogie / That's What Makes You Strong / 90's Was The 60's Turned Upside Down
07/2003
CD CURB D2-78812 (US)
WHAT THE WORLD NEEDS NOW IS LOVE - What The World Needs / Heaven Help Me / It All Comes Down To Love / Flies On The Butter / I Will Be / I Want To Know What Love Is / It's Only Love / Sometimes I Feel Like Elvis / Burnin' Love / Who Am I Supposed To Love / Your Day Will Come / (No One's Gonna) Break Me Down / You Are / Rescue Me
09/2005
2 CD CURB D2-78920 (US)
HER STORY : SCENES FROM A LIFETIME :

CD 1 : Dream Chaser / A Girls Night Out / Love Is Alive / Maybe Your Baby's Got The Blues / Young Love / Let Me Tell You About Love / Love Can Build A Bridge / She Is His Only Need / Tell Me Why / No One Else On Earth / That Was Yesterday / I Want To Know What Love Is / Is It Over Yet
CD 2 : Shining Star / To Be Loved By You / Help Me / Don't You Throw That Mojo On Me / I'm The Only One / Sometimes I Feel Like Elvis / Burnin' Love / Peopel Get Ready / I Can Only Imagine / What The World Needs / The Best / Peace In This House / When I Reach The Place I'm Going / Attitude

10/2006
CD CURB D2-78955 (US)
A CLASSIC CHRISTMAS - The Christmas Song / Winter Wonderland / White Christmas / I'll Be Home For Christmas / Santa Claus Is Coming To Town / Have Yourself A Merry Little Christmas / Ave Maria / O Come, O Come, Emmanuel / O Holy Night / Silent Night / It's The Messiah
06/2008
CD CURB D2-79070 (US)
REVELATIONS - WHAT THE WORLD NEEDS NOW IS LOVE - To Be Loved By You / Somebody To Love You / Change The World / Don't Look Back / Old Enough To Know Better / Heaven Help My Heart / Love By Grace / Free Bird / My Angel Is Here / Dance Shout / What The World Needs / Heaven Help Me / It All Comes Down To Love / Flies On The Butter / I Will Be / I Want To Know What Love Is / It's Only Love / Sometimes I Feel Like Elvis / Burnin' Love / Who Am I Supposed To Love / Your Day Will Come / (No One's Gonna) Break Me Down / You Are / Rescue Me
08/2008
CD CURB D2-79048 (US)
WYNONNA COLLECTOR'S EDITION - What It Takes / She Is His Only Need / I Saw The Light / My Strongest Weakness / When I Reach The Place I'm Going / No One Else On Earth / It's Never Easy To Say Goodbye / A Little Bit Of Love (Goes A Long, Long Way) / All Of That Love From Here / Live With Jesus / Tell Me Why / Rock Bottom / Only Love / Let's Make A Baby King / Is It Over Yet / Father Sun / Girls With Guitars / Just Like New / I Just Drove By / That Was Yesterday / To Be Loved By You / Somebody To Love You / Change The World / Don't Look Back / Old Enough To Know Better / Heaven Help My Heart / Love By Grace / Free Bird / My Angel Is Here / Dance And Shout
02/2009
CD CURB D2-79133 (US)
WYNONNA SING - CHAPTER 1 - That's How Rhythm Was Born / I'm So Lonesome I Could Cry / Women Be Wise / I Hear You Knockin' / Till I Get It Right / Are The Good Times Really Over / The House Is Rockin' / Ain't No Sunshine / I'm A Woman / Anyone Who Had A Heart / When I Fall In Love / Sing
05/2010
CD CURB D2-79183 (US)

Love Heals -

She Is His Only Need / No One Else On Earth / My Strongest Weakness / Tell Me Why / Only Love / Rock Bottom / What The World Needs / Come Some Rainy Day / Is It Over Yet / Let Your Light Shine / Sing [radio mix] / When I Fall In Love [radio edit]
2015
CD CURB 79412 (US)
Love Can Build a Bridge: Songs of Faith, Hope & Love - WYNONNA & THE JUDDS - Love Can Build A Bridge / Testify To Love / I Can Only Imagine / Grandpa (Tell Me 'bout The Good Old Days) / What The World Needs / Only Love / Rescue Me / Change The World / I Want To Know What Love Is / Heaven Help My Heart / I Know Where I'm Going / Bring It All Together (feat: Natalie

Grant

)
02/2016
CD CURB 79430 (US)

Wynonna & The Big Noise

- Ain't No Thing / Cool Ya' / Things That I Lean On / You Make My Heart Beat Too Fast / Staying In Love / Keeps Me Alive / Jesus And A Jukebox / I Can See Everything / Something You Can't Live Without / You Are So Beautiful / Every Ending (Is A New Beginning) / Choose To Believe
© Rocky Productions 12/02/2016