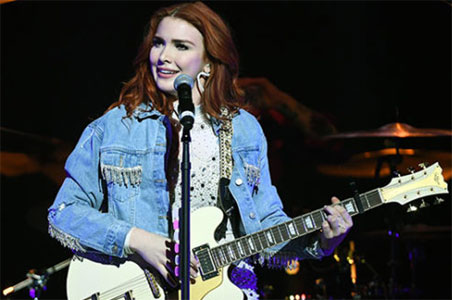 Chanteuse Country US née Caylee Anna Hammack, le 17 Mars 1994 à Ellaville (Georgie).

US Country singer born Caylee Anna Hammack, le March 17, 1994 in Ellaville (Georgia).
Blessed with a soulful, supple voice and a gift for sharp, evocative lyrics -- talents that power her 2019 debut single "Family Tree" -- Caylee Hammack hails from a small town but makes distinctly modern country music. Hammack draws from her rural Georgia heritage for her vividly etched songs, but her execution relies as much on stylish blends of R&B and electronic-tinged pop as it does earthy country.
A native of Ellaville, Georgia, Hammack began playing music when she was 13. She started cutting her teeth on the local circuit, playing gigs whenever she could land them, sometimes using a fake ID to get her inside bars. Hammack launched her first band when she was 16, the same age that saw her battling a two-pound tumor that attached itself to her spinal muscle. She successfully recovered and continued to play through the Southeast.
Hammack's first big break came through Luke Bryan, whose mother heard Hammack and had her famous son give her a listen. Bryan became a fan and encouraged the Georgian to move to Nashville. Hammack was 17 at the time and sat on the idea for a while. Shunning a college scholarship so she could follow Bryan's advice when she was 19, she lived in a car until she began to cobble together performances on Broadway, eventually signing a publishing deal with Universal Music Group in 2016. Not long afterward, she became part of ASCAP's GPS program, a membership that paved the way for her to take home the organization's Sammy Cahn Award -- an honor bestowed on promising lyricists -- in 2016; previous winners include Lori McKenna, Josh Ritter, Nicole Atkins, and John Mayer.
Hammack signed a record deal with UMG Nashville in 2018, then set out to record an album. "Family Tree" -- a song she co-wrote with Gordie Sampson and Troy Verges -- became her debut single in 2019. She supported the song by opening for Lanco, Miranda Lambert, Dierks Bentley, and the Brothers Osborne over the course of 2019. "Family Tree" cracked the Billboard Country Airplay Top 40, peaking at 32, thereby setting the stage for the August 2020 release of Hammack's debut album, If It Wasn't for You.
https://www.cayleehammack.com/
https://en.wikipedia.org/wiki/Caylee_Hammack
https://www.facebook.com/cayleehammack/
Talents : Vocals, Guitar
Style musical : Contemporary Country, Country-Pop

https://youtu.be/9L9obo3cuas
Years in activity :
| | | | | | | | | | | | |
| --- | --- | --- | --- | --- | --- | --- | --- | --- | --- | --- | --- |
| 1910 | 20 | 30 | 40 | 50 | 60 | 70 | 80 | 90 | 2000 | 10 | 20 |
DISCOGRAPHY
EP
| | | |
| --- | --- | --- |
| 2019 | CD Capitol ? (US) (promo) | Advance Sampler - Family Tree / Just Friends / Looking For A Lighter / Preciatcha / Small Town Hypocrite / Redhead |
Album
| | | | |
| --- | --- | --- | --- |
| 08/2020 | CD Capitol B0031781-02 (US) | | If It Wasn't For You - Just Friends / Redhead / Looking For A Lighter / Preciatcha / Sister / Just Like You / King Size Bed / Forged In The Fire / Family Tree / Mean Something / Small Town Hypocrite / Gold / New Level Of Life |
© Rocky Productions 15/08/2020