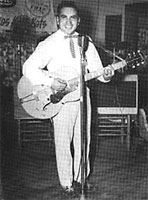 Chanteur Rockabilly US né Rudolph Paiz Jimenez, le 8 Juin 1933 à Saspamco (Texas). Rudy Grayzell a débuté à l'orée des années cinquante en enregistrant des Hillbillies pour Capitol Records et dès 1955, il devient la vedette du Louisiana Hayride de Shreveport (Louisiane). Multi labels, Rudy a aussi enregistré pour Abbott (53-54), Starday (56-57), Mercury (57), Sun (58), Award (59) et Ocean Records. Rudy Grayzell fut surnommé "Tutti". Il est mort le 26 Novembre 2019.

Rudy Grayzell was born in June 8, 1933 in Saspamco, TX, just outside of San Antonio. He grew up listening to the regional mix of Tex-Mex and country music, but had his sights set on being a baseball player. That is, until in his early teens, Rudy figured out that being a musician was a much quicker route to the women's hearts. His first C & W combo, the Silver Buckles, evolved into the Texas Kool Kats in the early '50s. The Kool Kats (which included an 11-year old Doug Sahm) were good enough to land a daily radio show out of San Antonio and regular gigs throughout the Southwest, all under the sponsorship of Pearl Beer. This quickly led to Rudy hooking up with Abbott Records out of Louisiana, where he cut 3 country-tinged 45s between 1953 and 1954. Tour dates expanded to include higher-profile shows in Nashville and eventually the Louisiana Hayride, where Rudy shared the bill with a soon-to-be-famous Elvis Presley. "The nickname Rudy "Tutti" was given to me by the King, Elvis, in Tulsa OK during a concert" says Rudy. "I traveled with Elvis for about 1 1/2 years - wow, I was always in a trance - Elvis was a top cat .
As rockabilly began to "evolve", Rudy made the jump from Abbott to Capitol. Rudy says "I was more into the rockabilly thing, man. I needed to rock!" Three singles were released in 1955, including "Hearts of Stone" b/w "There's Gonna Be a Ball". Ironically, Otis Williams & the Charms released their stepped-up faster version of "Hearts of Stone" just a month after Rudy, and had a huge hit. "Baby, I lost a million bucks!" laments our hero. In 1956, Rudy signed on with Starday Records, where he cut his most rockin' records like "Let's Get Wild", "You're Gone" and one of the seminal rockabilly tracks, "Duck Tail" (written by Rudy), which became a regional Top 10 hit out of Houston. He then moved over to the famous Sun label who released "Judy" in 1957. Then it was on to Award Records and the 1958 single, "FBI Story", which ultimately ended up being Rudy's last rock & roll recording for over 30 years. Rudy crossed paths with Jerry Lee Lewis, Buddy Holly and Ritchie Valens while touring through the late 1950s, but opted to relocate to Portland, OR in 1960. Rudy spent much of the last 30 years as an "entertainer", but never really lost his rockin' edge. "When you're young and you have a manager pushin' you in one direction, it's hard to resist baby. It was a mistake, I admit it. If I could do it again, I'd never have quit makin' the kinda music I like. Rock & Roll music!" reflects Mr. Grayzell.
With a renewed interest out of Europe in the 1980s in his rockabilly sides, Rudy contemplated a return to his roots. Full of energy and enthusiasm, and after some well-received European tours, Rudy cut a 4-song EP for Norton Records in 1991, backed by the A-Bones. He started gigging on a more regular basis, including opening some shows for Wanda Jackson and was ready to go all over again. In Spring'98, Rudy approached Burnside Records about doing a full-length rock & roll record for their new roots imprint, Sidebum. By June, Rudy was in the Studio in Springfield, MO with the Skeletons, where they knocked out 14 tracks for "Lets Get Wild" in less than three days. The energy and spontaneity of the sessions comes through loud & clear, and Rudy is singing at the top of his game.
Rudy Grayzell died on November 26, 2019.
https://en.wikipedia.org/wiki/Rudy_Grayzell

Talents : Vocals, Guitar
Style musical : Rockabilly, Traditional Country
Years in activity :
| | | | | | | | | | | | |
| --- | --- | --- | --- | --- | --- | --- | --- | --- | --- | --- | --- |
| 1910 | 20 | 30 | 40 | 50 | 60 | 70 | 80 | 90 | 2000 | 10 | 20 |
DISCOGRAPHY
78 t., Singles & EP
09/1953
78 t. ABBOTT 145 (US)
.
Rudy GRAYZELL - Looking At The Moon And Wishing On A Star / The Heart That Once Was Mine
09/1953
SP ABBOTT 145-45 (US)
.
Rudy GRAYZELL - Looking At The Moon And Wishing On A Star / The Heart That Once Was Mine
11/1953
78 t. ABBOTT 147 (US)
.
Rudy GRAYZELL - I'm Gone Again / Bonita Chiquita
11/1953
SP ABBOTT 147-45 (US)
.
Rudy GRAYZELL - I'm Gone Again / Bonita Chiquita
03/1954
78 t. ABBOTT 157 (US)
.
Rudy GRAYZELL - It Ain't My Baby / Ocean Paradise
03/1954
SP ABBOTT 157-45 (US)
.
Rudy GRAYZELL - It Ain't My Baby / Ocean Paradise
10/1954
78 t. CAPITOL 2946 (US)
.
Rudy GRAY - There's Gonna Be A Ball / Hearts Made Of Stone
10/1954
SP CAPITOL F2946 (US)
.
Rudy GRAY - There's Gonna Be A Ball / Hearts Made Of Stone
02/1955
78 t. CAPITOL 3044 (US)
.
Rudy GRAY - You Better Believe It / Ca-Razy
02/1955
SP CAPITOL F3044 (US)
.
Rudy GRAY - You Better Believe It / Ca-Razy
06/1955
78 t. CAPITOL 3149 (US)
.
Rudy GRAY - Please, Big Mama / My Spirit Is Willing
06/1955
SP CAPITOL F3149 (US)
.
Rudy GRAY - Please, Big Mama / My Spirit Is Willing
03/1956
SP STARDAY 45-229 (US)
.
Rudy GRAYZELL - The Moon Is Up / Day By Day
05/1956
SP STARDAY 45-241 (US)
.
Duck Tail / You're Gone
11/1956
SP STARDAY 45-270 (US)
.
Rudy "Tutti" GRAYZELL & The IMPERIALS - Jig-Ga-Lee-Ga / You Hurt Me So
06/1957
SP MERCURY / STARDAY 71138x45 (US)
.
Rudy GRAYZELL - Let's Get Wild / I Love You So
09/1957
SP STARDAY 45-321 (US)
.
Let's Get Wild / I Love You So
05/1958
SP SUN 290 (US)
.
Rudy GRAYZELL - Judy / I Think Of You
07/1959
SP AWARD AW129/30 (US)
.
Rudy GRAYZELL & His THUNDERBIRDS Accompanied By The SPARKLES - F-B-I Story / You'll Be Mine
199?
EP NORTON 45-011 (US)
Rudy "Tutti"

Grayzell

& The

A-Bones

- TEXAS KOOL KAT - Judy / Why Why Why / Your'e Gone / One Mile
Unissued Tracks
| | | |
| --- | --- | --- |
| 1957 | SUN unissued - (Emusic/Rock-A-Billy MP 12691427 (#11) / Sunjay CD 70601 (#26)) | I Won't Be The Fool |
| 1957 | SUN unissued - (Charly CD 8137 (#27) / Emusic/Rock-A-Billy MP 12691427 (#13) / Emusic/Rock-A-Billy MP 12791524 (#17) / Sunjay CD 70601 (#25) / TRG CD 505 106 (#26)) | Remember When |
| 1958 | SUN unissued - (Charly CD 8118 (#20) / Starday LP 1321 (#9) / Sun (England) LP 1029 (#2) / Sunjay CD 70601 (#23) / RG CD 505 106 (#24)) | Judy [alt. vers.] |
Need Info
| | | |
| --- | --- | --- |
| 195? | Need info - (TRG CD 505 106 (#21)) | Let's Get Wild [alt vers.] |
Albums
1988
LP 12" STARDAY LP 1321 (US)
LET'S GET WILD - Let's Get Wild / I love You So / Ducktail / You're Gone / Jig-Ga-Lee-Ga / You Hurt Me So / Rockin' And Flyin' / Judy / Judy (take 2) / I Think Of You / F.B.I. Story / You'll Be Mine / The Moon Is Up / Day By Day / There's Gonna Be A Ball
1988
LP 12" STARDAY LP 1321 (US)
LET'S GET WILD - Let's Get Wild / I love You So / Ducktail / You're Gone / Jig-Ga-Lee-Ga / You Hurt Me So / Rockin' And Flyin' (instr.) (Buddy DEE) / Judy / Judy (take 2) / I Think Of You / F.B.I. Story / You'll Be Mine / The Moon Is Up / Day By Day / There's Gonna Be A Ball
1996
CD HOUND TRG-505106 (UK)
DUCKTAIL - Looking At The Moon / The heart That Once Was Mine / Bonita Chiquita / I'm Gone Again / It Ain't My Baby, (And I Ain't Gonna Rock It) / Ocean Paradise / There's Gonna Be A Ball / Hearts Of Stone / Ca-Razy / You Better Believe It / Please Big Mama / My Spirit Is Willing / The Moon Is Up / Day By Day / Ducktail / You're Gone / Jig-Ga-Lee-Ga / You Hurt Me So / Let's Get Wild / I love You So / Let's Get Wild / Judy / I Think Of You / Judy / Let's Get Wild / Remember When / F-B-I Story / You'll Be Mine
11/1998
CD SIDEBURN 1001 (US)
LET'S GET WILD - You're Gone / Judy / Why Why Why / Duck Tail / One Mile / If You Want To See Me Cry / Hearts Of Stone / FBI Story / There's Gonna Be A Ball / Let's Get Wild / Will You Love Me / Do The Rudy Tutti / Big Blon' Baby / Tell Her I'm Gone
05/2010
CD BEAR FAMILY BCD 16837 (GER)
LET'S GET WILD - Let's Get Wild

[version]

/ I Love You So / You're Gone / Duck Tail / Jag-Ga-Lee-Ga / You Hurt Me So / Please Big Mama / Yes Daddy Yes / There's Gonna Be A Ball / You Better Believe It / Ca-Razy! / My Spirit Is Willing / Hearts Made Of Stone / Be Mine Forever / Judy

[version]

/ Remember When / Judy

[version]

/ I Won't Be The Fool / Judy

[version]

/ I Think Of You / You'll Be Mine (Rudy GRAYZELL & His THUNDERBIRDS) / It Ain't My Baby (And I Ain't Gonna Rock It) / The Moon Is Up (The Stars Are Out) / Ocean Paradise / Bonita Chiquita / I'm Gone Again / The Heart That Once Was Mine / Looking At The Moon And Wishing On A Star / Day By Day / Should I Ever Love Again (Rudy GRAYZELL & His THUNDERBIRDS) / Jag-Ga-Lee-Ga

[version]

/ F.B.I. Story
© Rocky Productions 25/02/2014