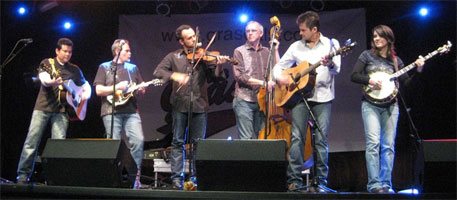 Groupe Bluegrass US formé en 2004 par des musiciens professionnels de Nashville et composé de Terry Eldredge et Jamie Johnson (de l'Indiana), Danny Roberts et Jimmy Mattingly (du Kentucky), Terry Smith (de Caroline du Nord) et du Canadien David Talbot. Ils ont eu plusieurs changement de 2006 a 2008 : Jeremy Abshire a remplacé Jimmy Mattingly en 2008, Kristin Scott Benson (IBMA's 2008 et 2009 Banjo Player of the Year) a remplacé Aaron McDaris (qui est maintenant avec Rhonda Vincent, ou il remplace Kenny Ingram). Aaron McDaris avait remplacé David Talbot en 2006.



The Grascals are a contemporary bluegrass band formed in 2004 by seasoned Nashville musicians who also happened to be great friends. Each of the band's six original members had been performing bluegrass music for roughly two decades before forming the Grascals, and knew each other either from childhood or through professional gigging with artists like the Osborne Brothers, Dolly Parton, Reba McEntire, and Jimmy Martin, among many others.
The group originally consisted of Indiana natives Terry Eldredge (guitar and vocals) and Jamie Johnson (guitar and vocals), Kentucky natives and childhood friends Danny Roberts (guitar) and Jimmy Mattingly (fiddle), North Carolina-born Terry Smith (bass), and Canadian-born banjo player David Talbot (who met Eldredge while performing with Larry Cordle). The band gained national attention when it toured with Dolly Parton in 2004. The Grascals released a three-song EP in late 2004, which featured guest vocals from Parton on a cover of "Viva Las Vegas," and their self-titled full-length debut arrived via Rounder Records in 2005. Long List of Heartaches arrived in the summer of 2006, followed by Keep on Walkin' in 2008; the latter introduced new fiddler Jeremy Abshire, who joined the group in 2007.
Ace banjo player Kristin Scott Benson joined the group for its fourth album, The Famous Lefty Flynn's, which appeared in 2010. One year later, an association with the Cracker Barrel eatery chain produced the restaurant-exclusive release The Grascals & Friends: Country Classics with a Bluegrass Spin. Also arriving in 2011 was the EP Dance Til Your Stockings Are Hot & Ravelin': A Tribute to the Music of The Andy Griffith Show. A new full-length, Life Finds a Way, followed in 2012, and was the group's first album for Mountain Home Records, with When I Get My Pay following in 2013. That year also saw the debut of new bandmember Adam Haynes, who replaced Jeremy Abshire on fiddle. In 2015, founding member Jamie Johnson exited the Grascals, and guitarist and singer John Bryan joined the group in his place. In January 2016, the Grascals released their eighth album, And Then There's This..., with a steady stream of concert dates booked in support.
Talents : Terry Eldredge : Guitar, Vocals - Jamie Johnson : Guirar, Vocals - Danny Roberts : Guitar, Mandolin - Jimmy Mattingly : Fiddle - Terry Smith : Upright Bass / Vocals - David Talbot : Banjo - New membres : Aaron McDaris : Banjo - Jeremy Abshire : fiddle - Kristin Scott Benson : Banjo
Style musical : Bluegrass
Years in activity :
| | | | | | | | | | | |
| --- | --- | --- | --- | --- | --- | --- | --- | --- | --- | --- |
| 1910 | 20 | 30 | 40 | 50 | 60 | 70 | 80 | 90 | 2000 | 10 |
DISCOGRAPHY
Single
Albums
02/2005
CD ROUNDER 610549 (US)
THE GRASCALS - Leavin's Heavy On My Mind / Mourning Dove / Me And John And Paul / Bevans Lake Crossing / Some Things I Want To Sing About / Teardrops In My Eyes / Where I Come From / My Saro Jane / Where Corn Don't Grow / Sally Goodin / Lonely Street / Viva Las Vegas (with Dolly PARTON) / Sweet By And By
08/2006
CD ROUNDER 11661 (US)
LONG LIST OF HEARTACHES - Home / Long List Of Heartaches / You Don't Have Very Far To Go / Will You Be Loving Another Man / Being Me / Did You Forget God Today / Hard Times / Cut Your Wheels / Don't Tell Mama / Roll Muddy River / My Night To Howl / Keep Me From Blowing Away / Hoedown In Motown
07/2008
CD ROUNDER 610608 (US)
KEEP ON WALKIN' - Feeling Blue / Sad Wind Sights / Choices / The Only Daddy That Will Walk The Line / Indiana / Rollin' In My Sweet Baby's Arms / Today I Started Loving You Again / Can't You Hear That Whistle Blow / Remembering / Keep On Walkin' / Happy Go Lucky / Farther Along
03/2010
CD ROUNDER 10641 (US)

THE FAMOUS LEFTY FLYNN'S -

Last Train To Clarksville / Son Of A Sawmill Man / Satan And Grandma / Everytime / Out Comes The Sun / Blue Rock Slide / The Famous Lefty Flynn's / My Baby's Waiting On The Other Side / My Old Friend The Blues / Up This Hill And Down / I'm Blue, I'm Lonesome / Give Me Jesus
01/2011
CD CRACKER BARREL ? (US)
COUNTRY CLASSICS WITH A BLUEGRASS SPIN - Tiger By The Tail / Folsom Prison Blues / Pain Of Lovin' You / I Am Strong / Louisiana Saturday Night / The Year That Clayton Delaney Died / White Lightning / The Devil Went Down To Georgia / Leavin' Louisiana In Broad Daylight / Mr. Bojangles / Hank Williams Jr. Medley : Born To Boogie - All My Rowdy Friends Are Comin / Cracker Barrel Swing / I Am Strong
06/2011
CD Time / Life 26514 (US)

Dance Til Your Stockings Are Hot & Ravelin' - A Tribute to the Music of The Andy Griffith Show -

Dooley / Boil Them Cabbage Down / Stay All Night (Stay A Little Longer) / Ol' Joe Clark / Leaning On The Everlasting Arms / Mayberry's Finest Theme / Boy, Giraffes Are Selfish
04/2012
CD Mountain Home 1390 (US)

Life Finds a Way -

Life Finds A Way / Hello Mr. Sunshine / Still They Call Me Love / Mystery Train / Pretty Melody / Pass It On / Bartender / Lay That Hammer Down / Sweet Baby James / You Can Mark It Down / Honky Tonk Lullaby / Eleven Eleven / Road To Surrender
11/2013
CD Mountain Home 1485 (US)

When I Get My Pay -

When I Get My Pay / American Pickers (G

rascals

feat: Dierks BENTLEY) / Two Boys On A Dirt Road / Are You Up For Getting Down Tonight / When I Fall In Love Again / Bluegrass Melodies / Mister Fix It / When Your Rock Turns To Stone / Roll On Big Mama / It Won't Break My Heart / Headin' South / Silver Strands / Five Miles To Milan
01/2016
CD Mountain Home 1643 (US)

And Then There's This... - I Know Better / Road Of Life / Sweet Little Mountain Girl / True Hearts / Old Friend Of Mine / Warm Wind / If You Want Me To / Delta Queen / I Like Trains / Autumn Glen / A Place To Hang My Hat / Highway Of Sorrow

09/2017
CD Mountain Home 1687 (US)

Before Breakfast - Sleepin' With The Reaper / Demons / Delia / I've Been Redeemed / Lonesome / Beer Tree / Pathway Of Teardrops / Lynchburg Chicken Run / He Took Your Place / Lost And Lonesome / There Is You / Clear Corn Liquor
© Rocky Productions 1/10/2017