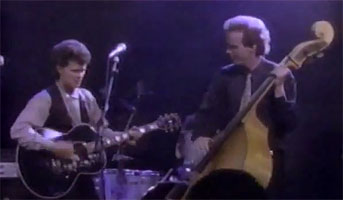 Duo Country US composé de Bill Smith et Terry Smith (né le 15 Juin 1960 à Reidsville (Caroline du Nord)). Terry à accompagné des légendes comme Jimmy Martin, Wilma Lee Cooper et les Osborne Brothers. Il a rejoint les Grascals en 2004.

US Country duo composed of Bill Smith and Terry Smith (born on June 15, 1960 in Reidsville (North Carolina)). Terry moved to Nashville in his early teens, where he began in a family band with his mother (Hazel Smith), father Patrick Smith and brother, Billy Smith. Terry has even played with such legends as Jimmy Martin, Wilma Lee Cooper, and the Osborne Brothers.
Terry and his brother, Billy, recorded an album for CBS, which a number one video on CMT. This was followed by the 1992's Grass Section, and tributes to Bill Monroe and the Grateful Dead (Long Live the Dead) in 1996. In 1999, the brothers released Voices of the Mountains. After touring with Grand Ole Opry member Mike Snyder, Terry joined the Grascals.
http://www.myspace.com/billyboonesmith
Style musical : Bluegrass, Traditional Country

https://youtu.be/EbmkHpq1r1I
Years in activity :
| | | | | | | | | | | | |
| --- | --- | --- | --- | --- | --- | --- | --- | --- | --- | --- | --- |
| 1910 | 20 | 30 | 40 | 50 | 60 | 70 | 80 | 90 | 2000 | 10 | 20 |
DISCOGRAPHY
Singles
| | | |
| --- | --- | --- |
| 1990 | SP EPIC 34-73497 (US) | Blues Stay Away From Me / The John Deere Letter |
| 1991 | SP EPIC 34-73680 (US) | Ease My Troubled Mind / If Life Was That Way |
Albums
1992
CD RED CLAY RC-CD 111 (US)
THE GRASS SECTION -

Blue field

/

Hard On My Heart (Easy On My Eyes)

/

He'll Take You In

/

Righteous Prayer

/

There'll Always Be A Rocking Chair

/

Grandpa's Mandolin

/

Can't Stay Here Anymore

/

His Child On Earth

/

Hobo Blues

/

Lonely Side Of Love

/

In My Dreams

/

Giving My Soul Back To Him

/

Stallion

/

Darling Corey

/

Bluefield

01/1997
CD K-TEL 3642-2 (US)
BILL MONROE TRIBUTE - Mule Skinner Blues / Put My Little Shoes Away / Jerusalem Ridge / Uncle Pen / Thank God For Kentucky / Walk Softly On My Heart (with Bill MONROE) / He'll Take You In / Scotland / Wicked Path Of Sin / Blue Moon Of Kentucky
1997
CD K-TEL 3452-2 (US)
LONG LIVE THE DEAD - A TRIBUTE TO THE GRATEFUL DEAD - Friend Of The Devil / U.S. Blues / Uncle John's Band / Sugar Magnolia / Touch Of Grey / Casey Jones / Ripple / Truckin' / Sugaree / Alabama Getaway
1999
CD RED CLAY RC-115 (US)
VOICES OF THE MOUNTAIN - On The Lonesome Wind / Demon In My Bottle / Dead Dog (On The Side Of The Road) / Sunday Afternoon (As Far As I Can See) / A Child Again / You Are Everything / Never Looking Back / To Be Your Man / Crazy Heart / Hurtin' Hauntin' Memory / Get Right Or Get Left / Voices Of The Mountain
© Rocky Productions 10/09/2018