Chanteur Country US né le 3 Septembre 1933 à Spalding (Nebraska), Tompall Glaser a débuté au milieu des années cinquante, en compagnie de ses deux frères Chuck et Jim, sous le nom des "Glaser Brothers". En 1958, les 3 frères montent à Nashville (Tennessee) et enregistrent chez Robbins, Decca et Rich Records. Ils passent ensuite chez MGM en 1966 et se séparent en 1973, Tompall enregistrant son premier album solo. Adhérant ensuite au mouvement Outlaw, il signe avec ABC en 1977, puis chez Elektra en 1980. Tompall Glaser est décédé le 13 Août 2013 à Nashville (Tennessee).

Outlaws, by definition, operate outside the system. By that criteria, there was no greater outlaw in country music during the '70s than Tompall Glaser, a running partner of Waylon Jennings and Willie Nelson who never quite managed to play the game and become a star, or even have that many hits despite being showcased on the era-defining 1976 compilation Wanted! The Outlaws, and despite chasing after outlaw cash whenever the opportunity arrived. Such contradictions were inherent within Tompall Glaser, whose attitude was quintessentially outlaw -- tales of feuds and fallouts ran rife in his career -- but he would try to bend his music to fit the times, all in hopes of scoring that one elusive hit single. Hits are only one yardstick of impact and it's undeniable that Tompall was a major player, both as a member of the Glaser Brothers and as a solo act in the '60s and '70s, providing a musical template -- and with his Hillbilly Central studio, a place for outlaws to record just outside of the mainstream of Nashville, an opportunity Waylon seized for the game-changing Honky Tonk Heroes -- and the ornery temperament that forever became known as outlaw country.
Before he struck out on his own, Tompall was the oldest member and lead singer of the Glaser Brothers, a family trio from Spaulding, Nebraska. As a child, Glaser taught his younger brothers Chuck and Jim how to sing harmony to his lead, laying the seeds for their professional debut in the late '50s as Tompall & the Glaser Brothers. While Tompall was in the military in 1956 and 1957, Jim and Chuck had a radio show in Hastings, Nebraska and their father Louis helped his boys score spots in local shows. All this work began to pay some dividends in the back half of 1957, beginning with an appearance on Arthur Godfrey's radio show, a performance that earned the attention of Marty Robbins. The singer signed the brothers to his label, Robbins Records, releasing the single "Five Penny Nickel" to little attention and then selling their contract to Decca Records in 1959. By that time, the brothers had relocated to Nashville, but Music City couldn't quite figure out a way to market the sibling singers, attempting to fashion them as a folk group to little success. In the meantime, the Glaser Brothers picked up a lot of studio work as backing singers, most notably appearing as support for Marty Robbins; Jim was one of the harmony Vocals on Marty's big hit "El Paso."
The next big phase in the Glaser Brothers' career arrived after Chuck returned from a stint in the Army from 1959-1961, when Johnny Cash hired the group as a supporting touring act. This connection led to the attention of Jack Clement, a songwriter and producer who often worked with Johnny. Clement brought the Glaser Brothers to MGM Records, which signed the group in 1966. By the end of the year, the group cut "Streets of Baltimore," a Tompall original co-written with Harlan Howard that turned into a standard, but not a hit for the Glasers; instead, Bobby Bare took it up the charts within the year. The Glaser Brothers continued to record steadily with Clement, often cutting songs written by the producer, songs with cinematic scope and an intriguing blend of folk storytelling, country melodies, and pop productions. As distinctive as these singles were, the Glaser Brothers had a rough time reaching the upper portions of the country charts; "California Girl (And the Tennessee Square)" managed to get to number 11, but most of their singles of the late '60s -- including "Gone, on the Other Hand," "Through the Eyes of Love," "The Moods of Mary," and "One of These Days" -- stalled in the middle of the charts. Even if they weren't turning into stars, the Glaser Brothers were working their way into the business of Nashville, opening up a publishing company -- spurred on by Chuck's discovery of singer/songwriter John Hartford, best known for "Gentle on My Mind" (the Glasers cut the song early in 1967) -- and starting a studio, while Jim started to gain attention as a songwriter, co-authoring Gary Puckett's number four hit from 1968, "Woman, Woman."
The Glaser Brothers had their first Top Ten hit in 1971 with "Rings," a cover of a light AM pop hit by Cymarron, a somewhat ironic situation because instead of getting poppier, the group was getting a little looser, with Tompall sketching out the blueprint for his outlaw country sound on the singles "Faded Love," "Sweet, Love Me Good Woman," and "A Girl Like You." As the music was shifting, so were relationships between the brothers, leading to a familial fallout in 1973. The brothers went their separate ways, with Chuck opting to operate a booking agency while Jim and Tompall pursued their own careers. Jim never managed to gain much traction but Tompall carved out a niche as a cult artist, shaping the sound of country music in the '70s as a performer and through his studio, Hillbilly Central, which he inherited in the split. Tompall and friends, including Waylon Jennings and Billy Joe Shaver, recorded albums there, creating the earthy, lived-in sound of outlaw country. Although it was credited to the Glaser Brothers, Glaser's first solo album was 1973's Charlie, and it and its singles, including its title track, were modest hits, but its 1974 follow-up, Tompall Glaser Sings the Songs of Shel Silverstein, gave Tompall some momentum thanks to the single "Put Another Log on the Fire (Male Chauvinist National Anthem)," a cheerfully offensive tune that peaked at 21, making it Glaser's biggest hit.
This, along with his prominent position on the 1976 compilation Wanted! The Outlaws -- Waylon Jennings pushed for his inclusion on what would be the first country album to sell a million copies -- seemed to set Tompall Glaser up for stardom, but it didn't quite turn out that way. He delivered one more album for MGM, 1975's The Great Tompall and His Outlaw Band, before leaving for ABC, where he delivered the confusingly titled Tompall Glaser and His Outlaw Band in 1977, following it later that year with Wonder of It All. These two records sounded slicker than any of his MGM work, yet that didn't help him gain a larger audience. Soon enough, Tompall blew whatever money he had from Wanted!, fell out with Waylon, and patched up his relationship with his siblings, and the Glaser Brothers signed with Elektra's new Nashville branch in 1978.
Three years later, the Glaser Brothers released their comeback Lovin' Her Was Easier (Than Anything I'll Ever Do Again), which unexpectedly gave them their biggest hit ever in the form of its title track, which went all the way to number two on the charts. Its commercial success signaled that the album had a more commercial sound; Lovin' and its 1982 sequel After All These Years were the opposite of Tompall's unkempt outlaw years and, for the first time, the group's commercial gambit paid off. After this success, the group split again, with Jim going off to a solo career. Chuck and Tompall briefly replaced him with Shaun Nielsen, a veteran of Elvis Presley's supporting group the Imperials, but soon the Glaser split for good. Tompall released one last solo album in 1986 -- the slick Nights on the Borderline, containing revivals of both "Streets of Baltimore" and "Put Another Log on the Fire" -- before selling Hillbilly Central and retreating from the spotlight. He died in Nashville in August of 2013.
http://www.glaserbrothers.com/
https://en.wikipedia.org/wiki/Tompall_Glaser
Talents : Vocals, Guitar
Style musical : Traditional Country, Outlaw Country, Rock 'n' Roll

https://youtu.be/DBpeK9yaONQ
Years in activity :
| | | | | | | | | | | | |
| --- | --- | --- | --- | --- | --- | --- | --- | --- | --- | --- | --- |
| 1910 | 20 | 30 | 40 | 50 | 60 | 70 | 80 | 90 | 2000 | 10 | 20 |
DISCOGRAPHY
Singles
| | | | |
| --- | --- | --- | --- |
| 1958 | SP ROBBINS 45-1001 (US) | . | Tompall GLASER & The GLASER BROTHERS - You're In My Heart Again / Five Penny Nickel |
| 03/1958 | SP ROBBINS 45-1003 (US) | . | Tompall GLASER & The GLASER BROTHERS - I Want You / Baby Be Good |
| 07/1958 | SP ROBBINS 45-1006 (US) | . | TOMPALL & The GLASERS - Yakety-Yak / Sweet Lies |
| 01/1959 | SP DECCA 9-30805 (US) | . | GLASER BROTHERS & TOMPALL - Lay Down The Gun / Oh Little Mary (Let Me Be) |
| 05/1959 | SP DECCA 9-30900 (US) | . | TOMPALL & The GLASER BROTHERS - She Loves The Love I Give Her / Ooie-Gooie |
| 11/1959 | SP DECCA 9-31011 (US) | . | TOMPALL & The GLASER BROTHERS - I'll Never Tell / Twenty-One Miles From Home |
| 03/1960 | SP DECCA 9-31051 (US) | . | TOMPALL & The GLASER BROTHERS - Careless Love Goodbye / Alibi |
| 11/1960 | SP DECCA 9-31180 (US) | . | TOMPALL & The GLASER BROTHERS - Same Old Memories / Sweet Love Goodbye |
| 02/1961 | SP RICH 1004 (US) | . | TOMPALL & The GLASERS - Yakety-Yak / Cry Of The Wild Goose |
| 05/1961 | SP DECCA 31258 (US) | . | TOMPALL & The GLASER BROTHERS - Judy's Grown Up / Words Come Easy |
| 11/1961 | SP DECCA 31322 (US) | . | TOMPALL & The GLASER BROTHERS - Let Me Down Easy / Tired Of Crying For You |
| 05/1962 | SP DECCA 31398 (US) | . | TOMPALL & The GLASER BROTHERS - I'm Losing Again / I Can't Remember |
| 12/1962 | SP DECCA 31447 (US) | . | TOMPALL & The GLASER BROTHERS - False Hearted Lover / Odds And Ends (Bits And Pieces) |
| 05/1963 | SP DECCA 31494 (US) | . | TOMPALL & The GLASER BROTHERS - Stand Beside Me / Trackin' Me Down |
| 10/1963 | SP DECCA 31551 (US) | . | TOMPALL & The GLASER BROTHERS - Mr Lonesome / Blow Out The Candles |
| 06/1964 | SP DECCA 31632 (US) | . | TOMPALL & The GLASER BROTHERS - A Girl Like You / I've Got Troubles |
| 02/1965 | SP DECCA 31736 (US) | . | TOMPALL & The GLASER BROTHERS - Winner Takes All / Baby They're Playing Our Song |
| 06/1965 | SP DECCA 31809 (US) | . | TOMPALL & The GLASER BROTHERS - Teardrops Till Down / Back In Each Other's Arms Again |
| 06/1966 | SP MGM K 13531 (US) | . | TOMPALL & The GLASER BROTHERS - Last Thing On My Mind / More Or Less |
| 11/1966 | SP MGM K 13611 (US) | . | TOMPALL & The GLASER BROTHERS - Gone On The Other Hand / Streets Of Baltimore |
| 06/1967 | SP MGM K 13754 (US) | . | TOMPALL & The GLASER BROTHERS - Through The Eyes Of Love / She Loved The Wrong Man |
| 01/1968 | SP MGM K 13880 (US) | . | TOMPALL & The GLASER BROTHERS - No End Of Love / Moods Of Mary |
| 06/1968 | SP MGM K 13954 (US) | . | TOMPALL & The GLASER BROTHERS - Where Has All The Love Gone / One Of These Days |
| 02/1969 | SP MGM K 14036 (US) | . | TOMPALL & The GLASER BROTHERS - All That Keeps Ya' Goin' / California Girl |
| 06/1969 | SP MGM K 14064 (US) | . | TOMPALL & The GLASER BROTHERS - Wicked California / Eve Of Parting |
| 11/1969 | SP MGM K 14096 (US) | . | TOMPALL & The GLASER BROTHERS - Walk Unashamed / Gonna Miss Me |
| 03/1970 | SP MGM K 14113 (US) | . | TOMPALL & The GLASER BROTHERS - Theme From Tick Tick Tick (Set Yourself Free) / All That Keeps You Goin' |
| 10/1970 | SP MGM K 14169 (US) | . | TOMPALL & The GLASER BROTHERS - Gone Girl / I'll Say My Words |
| 04/1971 | SP MGM K 14249 (US) | . | TOMPALL & The GLASER BROTHERS - Faded Love / Pretty Eyes |
| 07/1971 | SP MGM K 14291 (US) | . | TOMPALL & The GLASER BROTHERS - Rings / That's When I Love You The Most |
| 11/1971 | SP MGM K 14339 (US) | . | TOMPALL & The GLASER BROTHERS - Stand Beside Me / Sweet Love Me Good Woman |
| 05/1972 | SP MGM K 14390 (US) | . | TOMPALL & The GLASER BROTHERS - Ain't It All Worth Living / Blue Ridge |
| 1972 | SP MGM 236 (US) | . | TOMPALL & The GLASER BROTHERS - Rings / Ain't It All Worth Living For |
| 11/1972 | SP MGM K 14462 (US) | . | TOMPALL & The GLASER BROTHERS - A Girl Like You / Delta Lost |
| 04/1973 | SP MGM K 14516 (US) | . | TOMPALL & The GLASER BROTHERS - Charlie / Lovin' You Again |
| 08/1973 | SP MGM K 14622 (US) | . | TOMPALL & The GLASER BROTHERS - Bad Bad Bad Cowboy / Let It Be Pretty |
| 12/1973 | SP MGM K 14663 (US) | . | Chuck GLASER - Gypsy Queen / That's When I Love You The Most |
| 01/1974 | SP MGM M 14701 (US) | . | Tompall GLASER - Texas Law Sez / Pass Me On By |
| 07/1974 | SP MGM M 14740 (US) | . | Tompall GLASER - Musical Chains / Grab A Hold |
| 03/1975 | SP MGM M 14800 (US) | . | TOMPALL - Put Another Log On The Fire (Male Chauvinist National Anthem) / Mendocino |
| 03/1976 | SP POLYDOR PD 14314 (US) | . | TOMPALL & His OUTLAW BAND - T For Texas / Broken Down Mama |
| 03/1977 | SP ABC AB-12261 (US) | . | Tompall GLASER - It'll Be Her / Sweethearts Or Strangers |
| 09/1977 | SP ABC AB-12309 (US) | . | Tompall GLASER - It Never Crossed My Mind / Easy On My Mind |
| 01/1978 | SP ABC AB-12329 (US) | . | Tompall GLASER - Drinking Them Beers / Duncan And Bradley |
| 05/1978 | SP ABC AB-12366 (US) | . | Tompall GLASER - Bad Times / Carry Me On |
| 03/1980 | SP ELEKTRA E 46595 (US) | . | TOMPALL & The GLASER BROS. - Feelin' The Weight Of My Chains / Ballad Of Lucy Jordan |
| 10/1980 | SP ELEKTRA E 47056 (US) | . | TOMPALL & The GLASER BROTHERS - Sweet City Woman / Tryin' The Outrun The Wind |
| 04/1981 | SP ELEKTRA E 47134 (US) | . | TOMPALL & The GLASER BROS. - Loving Her Was Easier / United We Fall |
| 09/1981 | SP ELEKTRA E 47193 (US) | . | TOMPALL & The GLASER BROTHERS - Just One Time / Feelin' The Weight Of My Chains |
| 11/1981 | SP ELEKTRA E 47230 (US) | . | Silver Bells (TOMPALL & The GLASER BROTHERS) / Please Come Home For Christmas (Johnny LEE) |
| 1981 | SP ELEKTRA ELK 12.585 (NL) | | TOMPALL & The GLASER BROTHERS - Silver Bells / Blue Christmas |
| 1981 | SP ELEKTRA ELK 12601 (NL) | | TOMPALL & The GLASER BROTHERS - Lovin' Her Was Easier (Than Anything I'll Ever Do Again) / Feelin' The Weight Of My Chain |
| 01/1982 | SP ELEKTRA E 47405 (US) | . | Tompall GLASER - It'll Be Her / Mansion On The Hill |
| 05/1982 | SP ELEKTRA E 47461 (US) | . | TOMPALL & The GLASER BROTHERS - I Still Love You (After All These Years) / Feelin' The Weight Of My Chains |
| 10/1982 | SP ELEKTRA 7-69947 (US) | . | TOMPALL & The GLASER BROTHERS - Maria Consuela / I Can Never Live Alone Again |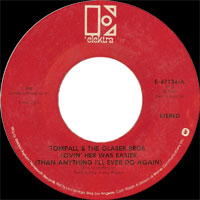 Albums
1960
LP 12" DECCA DL-4041 (mono) / DL-74041(stereo) (US)
THIS LAND - TOMPALL & The GLASER BROTHERS - She Loves The Love I Give Her / Sylvie / Lay Down The Gun / Twenty One Miles From Home / Chilly Winds / Down The Mountain / I Never Will Marry / Careless Love Goodbye / Alibi / Wreck Of The Old No 9 / Erie Canal
1966
LP 12" UNITED ARTISTS UAS 6540 (US)
BALLAD OF NAMU THE KILLER WHALE - Tom GLASER - The Ballad Of Namu The Killer Whale (Live And Let Live) / The Froggie Song / Henry Martin / Brennan / The Golden Vanity / The Keeper / The Rifle / The Greenland Whale / The Ballad Of Davy Crockett / The Sinking Of The Titanic / Blow Ye Winds / The High Barbaree
04/1967
LP 12" MGM E-4465 (mono) / SE-4465 (stereo) (US)
TOMPALL AND THE GLASER BROTHERS - TOMPALL & The GLASER BROTHERS - Gone On The Other Hand / No End Of Love / El Paso / Gonna Miss Me / Gentle On My Mind / Last Thing On My Mind / She Loved The Wrong Man / More Or Less / Big Brother / Bob / Streets Of Baltimore
1967
LP 12" VOCALION VL-3807 (mono) / VL-73807 (stereo) (US)
COUNTRY FOLKS - TOMPALL & The GLASER BROTHERS - Judy's Growin' Up / Sweet Love Goodbye / I'll Never Tell / Blow Out The Candles / Tired Of Crying Over You / Oh Little Mary / Mr Lonesome / Let Me Down Easy / Same Old Memories / Ooie-Gooie
01/1968
LP 12" MGM E-4510 (mono) / SE-4510 (stereo) (US)
THROUGH THE EYES OF LOVE - TOMPALL & The GLASER BROTHERS - You Only Pass This Way One Time / Moods Of Mary / What Does It Take / I Chose You / Great El Tigre / Through The Eyes Of Love / Where Has All The Love Gone / Woman Woman / How Are You Brown Eyes / That's How A Woman's S'pose To Be / I'm Sorry Roseanna
06/1968
LP 12" MGM SE-4577 (US)
THE WONDERFUL WORLD OF THE GLASER BROTHERS - One Of These Days / Home Country / Got Leavin' On Her Mind / Instinct For Survival / Recipe For A Me / Way That We Are Living Now / Home's Where The Hurt Is / Guess Things Happen That Way / Money Cannot Make The Man / Why Do You Do Me Like You Do / Is My Love Coming On Too Strong
07/1969
LP 12" MGM SE-4620 (US)
NOW COUNTRY - TOMPALL & The GLASER BROTHERS - Wicked California / Proud Mary / Gonna Miss Me / But You Know I Love You / Molly Darling / Homeward Bound / California Girl / This Eve Of Parting / All That Keeps Ya Goin' / Walk Unashamed / Those Were The Days
03/1970
LP 12" MGM SE-4667 (US)
TICK... TICK... TICK... - TOMPALL & The GLASER BROTHERS - Theme From Tick Tick Tick / California Girl / Why Do You Do Me Like You Do / All That Keeps Ya' Going / Where Has All The Love Gone / Woman Woman / What Does It Take / Home's Where The Hurt Is / Walk Unashamed / Gentle On My Mind
1971
LP 12" MGM SE-4775 (US)
AWARD WINNERS - TOMPALL & The GLASER BROTHERS - What Is A Woman What Is A Man / Help Me Make It Through The Night / Girl I Used To Know / Bye Bye Love / Me And Bobby McGee / Snowbird / That's When I Love You The Most / Stand Beside Me / I See His Love All Over You / single Thing As Love / Faded Love
02/1972
LP 12" MGM SE-4812 (US)
RINGS AND THINGS - TOMPALL & The GLASER BROTHERS - Rings / Lovin' You Again / Delta Lost / Days When You Were Still In Love With Me / Leave That For Memories / Sweet Love Me Good Woman / Blue Ridge Mountains / Back In Each Other's Arms Again / You're In Carolina / Phoney World / Pretty Eyes
02/1973
LP 12" MGM SE-4888 (US)
GREAT HITS FROM TWO DECADES - TOMPALL & The GLASER BROTHERS - Woman Woman / But You Know I Love You / Homeward Bound / Proud Mary / Those Were The Days / Gentle On My Mind / Snowbird / El Paso / Help Me Make It Through The Night / Streets Of Baltimore / What Does It Take
09/1973
LP 12" MGM SE-4918 (US)
CHARLIE - Tompall GLASER Of The GLASER BROTHERS - Charlie / Mr Lonesome / Ode To My Notorious Youth / Loneliest Man / I'll Fly Away / Cowboys And Daddys / Big Jim Colson / Bad Bad Bad Cowboy / Gideon Bible / Let It Be Pretty / Sold American
1974
LP 12" MGM M3G-4946 (US)
GREATEST HITS - TOMPALL & The GLASER BROTHERS - Rings, Faded Love / Gone Girl / Through The Eyes Of Love / All That Keeps Ya Goin' / Moods Of Mary / California Girl / Walk Unashamed / Wicked California / Gone On The Other Hand / Girl Like You
1974
LP 12" POLYDOR 24602 340 (UK)

Take The Singer With The Song - Tompall GLASER - Texas Law Sez / Broken Down Momma / Pass Me On By / Willy The Wandering Gypsy And Me / Lay Down Beside Me / Take The Singer With The Song / Honey Don't You Know / The Good Lord Knows I Tried / Breakdown (A Long Way From Home) / I'll Fly Away Medley (I Saw The Light - I'll Fly Away - Love Lifted Me

1974
LP 12" POLYDOR 2391 487 (IR)

More Of Tompall And The Glasers

- Sweet Love Me Good Woman / Molly Darling / Wicked California / Home Is Where The Hurt Is / Rings / Woman Woman / Gonna Miss Me / The Moods Of Mary / Phoney World / Gone On The Other Hand / Pretty Eyes / Lovin' You Again / Blue Ridge Mountain / Gone Girl
02/1975
LP 12" MGM M3G-4976 (US)
Vocals GROUP OF THE DECADE - TOMPALL & The GLASER BROTHERS - Loving Her Was Easier / Christian / Freedom To Stay / Tin Cup Chalice / Life Has Its Little Ups And Downs / Velvet Wallpaper / She's Sweet She's Kind And She's Mine / She's Never Been This Gone Before / Didn't We Have Ourselves Some Kind Of Summer / Don't Call Me Your Only Sunshine
02/1975
LP 12" MGM M3G-4977 (US)
SONGS OF SHEL SILVERSTEIN - Tompall GLASER - I Ain't Lookin' For The Answers Anymore / Roll On / Mendocino / Country Gospel Goodbook Rock'n Roll / Put Another Log On The Fire / Musical Chairs / Grab A Hold / Echoes / Old New Orleans Custom / If I'm There / Oleander
01/1976
LP 12" RCA VICTOR APL1-1321 (US)
WANTED THE OUTLAWS - Waylon JENNINGS, Willie NELSON, Jessi COLTER & Tompall GLASER - THE ORIGINAL : My Heroes Have Always Been Cowboys (Waylon JENNINGS) / Honky Tonk Heroes (Waylon JENNINGS) / I'm Looking For Blue Eyes (Jessi COLTER) / You Mean To Say (Jessi COLTER) / Suspicious Minds (WAYLON & JESSI) / A Good Hearted Woman (WAYLON & WILLIE) / Heaven And Hell (WAYLON & WILLIE) / Me And Paul (Willie NELSON) / Yesterday's Wine (Willie NELSON) / T For Texas (Tompall GLASER & BAND) /

Put Another Log On The Fire (Male Chauvinist National Anthem)

(Tompall GLASER & BAND)
01/1976
LP 12" MGM M3G-5014 (US)
THE GREAT TOMPALL AND HIS OUTLAW BAND - Tompall GLASER - Wild Side Of Life / We Live In Two Different Worlds / I Can't Remember / When It Goes It's Gone Girl / Hunger / Time Changes Everything / If I'd Only Come And Gone / Good Hearted Woman / West Centerbury Subdivision Blues / Tompall In D On The Ukulele / Broken Down Mama
01/1977
LP 12" ABC AB-978 (US)
TOMPALL AND HIS OUTLAWS BAND - Tompall GLASER - You Can Have Her / Release Me / Tennessee Blues / Come Back Shane / It'll Be Her / Look What Thoughts Will Do - Pretty Words - It Ain't Fair That It Ain't Right / Sweethearts Or Strangers / Let My Fingers Do The Walking / I Just Want To Hear The Music
10/1977
LP 12" ABC AB-1036 (US)
THE WONDER OF IT ALL - Tompall GLASER - It Never Crossed My Mind / Bad Times / What Are We Doin' With The Rest Of Our Lives / How I Love Them Old Songs / On Second Thought / Drinking Them Beers / My Mother Was A Lady / Duncan And Brady / Easy On My Mind / Wonder Of It All
09/1981
LP 12" ELEKTRA 5E-542 (US)
LOVING HER WAS EASIER - TOMPALL & The GLASER BROTHERS - Loving Her Was Easier / It'll Be Her / Busted / Feelin' The Weight Of My Chains / Just One Time / Last Thing On My Mind / United / Drinking Them Beers / Tryin' To Outrun The Wind / Mansion On The Hill
07/1982
LP 12" ELEKTRA E1-60148-1 (US)
AFTER ALL THESE YEARS - TOMPALL & The GLASER BROTHERS - I Still Love You / Can't Live With 'em / Rosali / Naked Emotions / Happy Hour Blues / Oh America / Can I Sleep Here Tonight / Stay Young / I Could Never Live Alone Again / Maria Consuela
03/1983
LP 12" MCA / DOT MCA-39051 (US)
NIGHTS ON THE BORDERLINE - Tompall GLASER - Nights On The Borderline / Mamma Don't Let Your Big Boy Play Outside / I Cried A Mile / Put Another Log On The Fire / Up Where We Belong / I Don't Care Anymore / Auction / Lovely Lucy / Streets Of Baltimore / Till The Right One Comes Along
1988
CD COUNTRY STORE CST-27 (UK)
COUNTRY STORE COLLECTION - TOMPALL & The GLASER BROTHERS - Gentle On My Mind / Wild Side Of Life / We Live In Two Different Worlds / Faded Love / When It Goes It's Gone Girl / Hunger / Good Hearted Woman / Take The Singer With The Song / Time Changes Everything / If I'd Only Come And Gone / Broken Down Mama / Charlie / I Can't Remember / Lay Down Beside Me
1992
CD BEAR FAMILY BCD 15596 (GER)
THE ROGUE - Tompall GLASER - The Rogue / Tears On My Pillow / Forever And Ever / Shackles And Chains / My Pretty Quadroon / Lean On Me / I'll Hold You In My Heart / True Love / Open Arms / I Love You So Much It Hurts / Chattanooga Shoeshine Boy / You Can't Borrow Back Any Time / Like An Old Country Song / Sad Country Songs / What A Town / Don't Think You're Too Good For Country Music / Unwanted Outlaw / Man You Think You See / When I Dream / Burn Georgia Burn / Billy Tyler / Carry Me On
1992
CD BEAR FAMILY BCD 15605 (GER)
THE OUTLAW - Tompall GLASER - It Never Crossed My Mind / Bad Times / What We Are Doing With The Rest Of Our Lives / How I Love Them Old Songs / On Second Thought / Drinking Them Beers / My Mother Was A Lady / Duncan And Brady / Easy On My Mind / Wonder Of It All / Storms Never Last / You Can Have Her / Release Me / Tennessee Blues / Come Back Shane / It'll Be Her / Look What Thoughts Will Do - Pretty Words - It Ain't Fair / Sweethearts Or Strangers / Let My Fingers Do The Walking / I Just Want To Hear The Music / My Live Would Make A Damn Good Country Song
1996
CD RCA ‎07863 66841-2 (US)
WANTED THE OUTLAWS -

1976-1996 20th Anniversary -

Waylon JENNINGS, Willie NELSON, Jessi COLTER & Tompall GLASER - THE ORIGINAL : My Heroes Have Always Been Cowboys (Waylon JENNINGS) / Honky Tonk Heroes (Waylon JENNINGS) / I'm Looking For Blue Eyes (Jessi COLTER) / You Mean To Say (Jessi COLTER) / Suspicious Minds (WAYLON & JESSI) / A Good Hearted Woman (WAYLON & WILLIE) / Heaven And Hell (WAYLON & WILLIE) / Me And Paul (Willie NELSON) / Yesterday's Wine (Willie NELSON) / T For Texas (Tompall GLASER & BAND) /

Put Another Log On The Fire (Male Chauvinist National Anthem)

(Tompall GLASER & BAND) / THE LOST : Slow Movin' Outlaws (Waylon JENNINGS) / (I'm A) Ramblin' Man (Waylon JENNINGS) / If She's Where You Like Livin' (You Won't Feel At Home With Me) (Jessi COLTER) / It' Not Easy (Jessi COLTER) / Why You Been Gone So Long (Jessi COLTER) / Under Your Spell Again I Ain't The One (WAYLON & JESSI) / You Left A Long, Long Time Ago (Willie NELSON) / Healing Hands Of Time (Willie NELSON) / THE NEW : Nowhere Road (WAYLON & WILLIE)
04/2002
CD COLLECTOR'S CHOICE CCM-248-2 (US)
THE BEST OF TOMPALL GLASER & THE GLASER BROTHERS - Streets Of Baltimore / Gone On The Other Hand / Gentle On My Mind / Through The Eyes Of Love / Moods Of Mary / One Of These Days / California Girl / All That Keeps Ya Goin' / Walk Unashamed / Wicked California / Gone Girl / Faded Love / Rings / Sweet Love Me Good Woman / Ain't It All Worth Living For / Girl Like You / Charlie / Bad Bad Bad Cowboy / Texas Law Sez / Musical Chairs / Put Another Log On The Fire / Wild Side Of Life / T For Texas (Blue Yodel No 1) / Lovin' Her Was Easier
01/2006
CD BEAR FAMILY BCD 16187 (GER)
MY NOTORIOUS YOUTH, HILLBILLY CENTRAL #1 - Tompall GLASER - Charlie / Mr Lonesome / An Ode To My Notorious Youth / Loneliest Man / I'll Fly Away Medley (I'll Fly Away - I Saw The Light / Cowboys And Daddies / Big Jim Colson / Bad Bad Bad Cowboy / Gideon Bible / Let It Be Pretty / Sold American / Texas Law Sez / Broken Down Momma / Pass Me On By / Willy The Wandering Gypsy And Me / Lay Down Beside Me / Take The Singer With The Song / Honey Don't You Know / The Good Lord Knows I Tried / Breakdown (A Long Way From Home) / I'll Fly Away Medley (I Saw The Light - I'll Fly Away - Love Lifted Me / Love Stoned / Will The Circle Be Unbroken
01/2006
CD BEAR FAMILY BCD 16520 (GER)
ANOTHER LOG ON THE FIRE, HILLBILLY CENTRAL #2 - Tompall GLASER - I Ain't Lookin' For The Answers Anymore / Roll On / Mendocino / Country Gospel Good Book Rock 'n' Roll / Put Another Log On The Fire / Musical Chairs / Grab A Hold / Echoes / Old New Orleans Custom / If I'm There / Oleander / The Wild Side Of Life / We Live In Two Different Worlds / I Can't Remember / When It Goes, It's Gone Girl / The Hunger / Time Changes Everything / If I'd Only Come And Gone / Good Hearted Woman / West Canterbury Subdivision Blues / Tompall In 'D' On The Ukulele / Broken Down Mama (Polydor) / Loving You Again / T For Texas
04/2012
CD Hux HUX 129 (UK)

The Award Winners / Rings and Things -

TOMPALL & The GLASER BROTHERS - What Is A Woman, What Is A Man / Help Me Make It Through The Night / A Girl I Used To Know / Bye Bye Love / Me And Bobby McGee / Snowbird / That's When I Love You The Most / Stand Beside Me / I See His Love All Over You / A Simple Thing As Love / Faded Love / Rings / Lovin' You Again / Delta Lost / The Days When You Were Still In Love With Me / Leave That For Memories / Sweet Love Me Good Woman / Blue Ridge Mountains / Back In Each Other's Arms Again / You're In Carolina / Phoney World / Pretty Eyes
10/2013
CD Real Gone 400205

Lovin' Her Was Easier / After All These Years

- TOMPALL & The GLASER BROTHERS - Lovin' Her Was Easier (Than Anything I'll Ever Do Again) / It'll Be Her / Busted / Feelin' The Weight Of My Chains / Just One Time / The Last Thing On My Mind / United We Fall / Drinkin' Them Beers / Tryin' To Outrun The Wind / A Mansion On The Hill / I Still Love You (After All These Years) / Can't Live With 'Em (Can't Live Without 'Em) / Rosali / Naked Emotions / Happy Hour Blues / Oh, America / Can I Sleep Here Tonight / Stay Young / I Could Never Live Alone Again / Maria Consuela
© Rocky Productions 26/01/2014