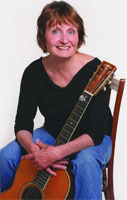 Chanteuse Bluegrass US née le 8 Juillet 1934 à Seattle (Washington).

The daughter of trained classical musicians, Alice Gerrard didn't grow up with bluegrass or folk music. Her earliest musical memories are of singing along with family members and friends around the living room piano. Gerrard's albums with West Virginia-born folksinger Hazel Dickens, however, rank among the most influential recordings in folk music history. Gerrard's first exposure to folk music came while she was attending Antioch College in Ohio. Inspired by the folk songs played by dorm-mates, Gerrard abandoned the piano and became absorbed with the more rural sounds that she heard on such albums as The Anthology of American Folk Music.
Moving to Washington, D.C., to complete her college co-op experience, Gerrard encountered a thriving bluegrass scene. Hanging out in her spare time at the Famous Restaurant in D.C., Gerrard met numerous bluegrass and old-timey musicians, including Mike Seeger of the New Lost City Ramblers, who introduced her to Dickens. With their mutual love of traditional American music, Gerrard and Dickens became close friends. Developing a unique harmony style that combined the alto-below-lead of the Carter Family and the tenor-above-lead of Bill Monroe, the two vocalists soon became frequent performers in the folk clubs and coffeehouses of the D.C. region. Their repertoire continued to expand as they studied sheet music at the Library of Congress and taped old-timey musicians at folk festivals.
Gerrard and Dickens' debut album, Who's That Knocking, released in 1965, was recorded for 75 dollars at the First Unitarian Church in Washington and featured accompaniment by David Grisman (mandolin), Lamar Grier (banjo), and Chubby Wise and Billy Baker (fiddles). Although their second album, Won't You Come and Sing for Me, featuring the same musicians, was recorded the same year, it wasn't released until 1973. Gerrard and Dickens' first two albums were later combined and released as Pioneering Women of Bluegrass in 1996. The 26 tunes on the reissued album include six Carter Family songs, five Monroe tunes, three original songs by Dickens, and Gerrard's hard-hitting satire of sexist attitudes toward women, "Custom Made Woman Blues."
Gerrard and Dickens' Get Acquainted Waltz was released in 1975 and featured accompaniment by Seeger, who was at the time Gerrard's husband, and his New Lost City Ramblers bandmate Tracy Schwartz. Gerrard subsequently recorded two albums with Seeger -- Mike & Alice Seeger in Concert in 1970 and Alice Gerrard & Mike Seeger in 1980 -- and one solo collection, Pieces of My Heart, in 1994. Starting in 1987, Gerrard published The Old Time Herald, a quarterly magazine devoted to the preservation of old-timey music, and continued as its editor-in-chief until 2003.
In 2004, she released Calling Me Home on the Copper Canyon label. She continued to perform solo and as part of Tom, Brad & Alice, with Tom Sauber and Brad Leftwich, as well as with the Herald Angels and Beverly Smith. It took eight years and a Kickstarter campaign to release Bittersweet, Gerrard's universally acclaimed debut of all original material, through her Spruce and Maple label. It was issued in 2013. In 2014 Gerrard returned to the studio with Hiss Golden Messenger's M.C. Taylor as producer; the end result, Follow the Angel, was released by Tompkins Square in September of that year.
https://en.wikipedia.org/wiki/Alice_Gerrard
Talents : Vocals, Banjo, Guitar,
Style musical : Bluegrass, Old-Timey, Folk, String Band, North American Traditions, Appalachian

http://youtu.be/VxnVtvK-FVI
Years in activity :
| | | | | | | | | | | | |
| --- | --- | --- | --- | --- | --- | --- | --- | --- | --- | --- | --- |
| 1910 | 20 | 30 | 40 | 50 | 60 | 70 | 80 | 90 | 2000 | 10 | 20 |
DISCOGRAPHY
Albums
1965
LP 12" Verve Folkways ‎FV 9005 (US)

Who's That Knocking? And Other Bluegrass Music

- Hazel

Dickens

& Alice

Foster -

Walkin' In My Sleep / Can't You Hear Me Calling / Darling Nellie Across The Sea / Difficult Run / Coal Miner's Blues / Gabriel's Call/ Just Another Broken Heart / Take Me Back To Tulsa / Who's That Knocking? / Cowboy Jim / Long Black Veil / Lee Highway Blues / Lover's Return / Gonna Lay Down My Old Guitar / I Hear A Sweet Voice Calling
1973
LP 12" Folkways FTS 31034 (US)

Won't You Come & Sing For Me? -

Hazel

Dickens

& Alice

Foster

- I Just Got Wise / Please Mommy Please / T.B. Blues / Sugar Free Stomp (instr.) / Memories Of Mother & Dad / Train On The Island / Won't You Come & Sing For Me? / A Tiny Broken Heart / A Distant Land To Roam / John Henry (instr.) / Weary Lonesome Blues / The One I Love Is Gone
1973
LP 12" Rounder 0027 (US)

Hazel & Alice -

Hazel

Dickens

& Alice

Gerrard -

Mining Camp Blues / Hello Stranger / The Green Rolling Hills Of West Virginia / A Few More Years Shall Roll / Two Soldiers / The Sweetest Gift A Mother's Smile / Tomorrow I'll Be Gone / My Better Years / Custom Made Woman Blues / Don't Put Her Down You Helped Put Her There / You Gave Me A Song / Pretty Bird / Gallop To Kansas
1976
LP 12" Rounder 0054 (US)

Hazel Dickens And Alice Gerrard -

When I Loved You / Working Girl Blues / West Virginia My Home / Mama's Gonna Stay / Montana Cowboy / Mean Papa Blues / Nice Like That / Mary Johnson / Ramblin Woman / Beaufort County Jail / Banjo Picking Girl / James Alley Blues / True Life Blues
1978
LP 12" Folkways FTS 31055 (US)

Who's That Knocking? - Bluegrass Country Music -

Hazel

Dickens

& Alice

Gerrard -

Walkin' In My Sleep / Can't You Hear Me Calling / Darling Nellie Across The Sea / Difficult Run / Coal Miner's Blues / Gabriel's Call / Just Another Broken Heart / Take Me Back To Tulsa / Who's That Knocking? / Cowboy Jim / Long Black Veil / Lee Highway Blues / Lover's Return / Gonna Lay Down My Old Guitar / I Hear A Sweet Voice Calling
1979
LP 12" Guimbarda ‎GS11043 (S)

Hazel And Alice -

Hazel

Dickens

& Alice

Gerrard -

Minin Camps Blues / Hello Stranger / The Green Rolling Hills Of West Of Virginia / A Few More Years Shall Roll / Two Soldiers / The Sweetest Gift A Mother's Smile / Tomorrow I'll Be Gone / My Better Years / Custom Made Woman Blues / Don´t Put Her Down You Helped Put Her There / You Gave Me A Song / Pretty Bird / Gallop To Kansas
1980
LP 12" Greenhays GR704 (US)

Alice Gerrard & Mike Seeger -

Bowling Green / St. Louis Blues / Fugitive's Lament / Oh Blue / Old Bunch Of Keys / Sugar Baby / Dear Companion / Doggin' In The U.S. Mail / Quiero Decir Gracias / Love Was The Price / Needmore / Pretty Polly / Gone To View That Land / New Freedom March
1994
CD Copper Creek CCCD-0134 (US)

Pieces of My Heart -

Ruben (And Ruby) / Belle Of The Ball / Jeweled Heart / Light At The River / Agate Hill / Dying Ranger / Rocky Road Blues / Flame In My Heart / There Ain't No Ash Will Burn / Walt Aldridge / Whole Lot Of Used To Be / Love's Not The Answer Sometimes / Names / Life's Other Side Coming Down / When I Grow Too Old To Dream
05/1996
CD Smithsonian Folkways SFWCD 40065 (US)
Pioneering Women of Bluegrass -

Hazel Dickens & Alice Gerrard -

T.B. Blues / The One I Love Is Gone / Who's That Knocking? / Walkin' In My Sleep / Won't You Come And Sing For Me? / Can't You Hear Me Callin' / Darling Nellie Across The Sea / Coal Miner's Blues / Sugar Tree Stomp / Train On The Island / Cowboy Jim / Lee Highway Blues / Memories Of Mother And Dad / Long Black Veil / Gonna Lay Down My Old Guitar / Difficult Run / Mommy, Please Stay Home With Me / Gabriel's Call / Just Another Broken Heart / A Distant Land To Roam / John Henry / I Just Got Wise / Lover's Return / A Tiny Broken Heart / Take Me Back To Tulsa / I Hear A Sweet Voice Calling
07/2004
CD Copper Creek 225 (US)

Calling Me Home - Songs Of Love And Loss -

Calling Me Home / Farewell My Home / Girl Of Constant Sorrow / Old Virginia Hills / Galax Waltz / When I Stop Dreaming / The Little Dove / When My Ship Came Back To Shore / Memories Of Mother And Dad / Weary Blues From Waiting / Another Cheater (Just Lost The Game Again) / Worn Out Getting Wise / If I Play With Fire / Skipping School / Long, Lonesome Way
2006
CD 5-String Productions 5SP-CD06003 (US)

The Road To Agate Hill -

Alice,

Gail &

Sharon -

Alice GERARD, Gail

Gillespie

& Sharon

Sandomirsky

- Molly And The Traveling Man / Greasy Meat / Kicking Mule / Shady Grove / Brown's Dream / I Walked That Pretty Girl Home / Sometimes I Feel Like A Motherless Child / Bob Taylor's March / June Apple / Drunkard's Dream / Feather Bed / Devil In The Straw Stack / Fly Around / Wild Hog In The Woods / Fanny Hill / Meadows Of Dan / Rabbit Up A Gum Stump / Bonaparte Crossing The New River / Coal Creek Waltz / Agate Hill
11/2008
CD 5-String Productions 8003 (US)

Bowling Green - Alice Gerrard & Mike Seeger -

Bowling Green / St. Louis Blues / Fugitive's Lament / Oh Blue / Old Bunch Of Keys / Sugar Baby / Dear Companion / Doggin' In The Us Mail / Quiero Decir Gracias / Love Was The Price / Needmore / Pretty Polly / Gone To View That Land / New Freedom March / In My Dear Old Southern / Coal Miner's Blues / Victory Rag / Black Waters / Private John Q / Buckdancer's Choice / Sunny Side Of Life / You Done Me Wrong / The Death Of Queen Jane / Sometimes I Feel Like A Motherless Child / Sweet Sunny South / Flatwoods
07/2013
CD Spruce And Maple 1008

Bittersweet -

Lonely Night / Bittersweet / Sweet South Anna River / Tell Me Their Story / Somebody Have Mercy / Maybe This Time / Unexpected Love / Borderland / The Stranger / Play Me A Song I Can Cry To / Payday At The Mill / My Once True Love / Sun Keep Shining On Me
09/2014
CD Tompkins Square TSQ 5050 (US)

Follow the Music -

Bear Me Away / Strange Land / Wedding Dress / You Take Me For Granted / Follow The Music / Boll Weevil / Love Was The Price / Teardrops Falling In The Snow / Foolish Lovers Waltz / The Vulture / Goodbyes
© Rocky Productions 3/10/2014