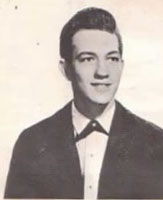 Chanteur et producteur US né Donald W. Gant le 24 Octobre 1942. Avec Tupper Saussy , à la fin des années 1960 , Don Gant a formé "The Neon Philharmonic", Don au chant et Tupper sur les claviers. Ils ont enregistré pour Warner Bros Records entre 1969 et 1971 .Leur plus grand succès de The Neon Philharmonic était "Morning Girl" qui a fait le top 20 en 1969.
À Nashville (Tennessee), Don Gant a travaillé chez Acuff - Rose Music en tant que compositeur et en tant que dirigeant . Il a écrit un certain nombre de chansons lui-même et co-écrit avec Joe Melson. Gant a aussi produit des disques pour Jimmy Buffett, Lefty Frizzell, Eddy Raven, et d'autres et a finalement rejoint ABC Records.
Don Gant est décédé le 15 Mars 1987.

Donald W. Gant (October 24, 1942 - March 15, 1987) was an American singer, songwriter and record producer.
With Tupper Saussy, in the late 1960s he formed "The Neon Philharmonic." Singing Vocals, with Saussy on the keyboards, they recorded for Warner Bros. Records between 1969 and 1971. The albums were: The Moth Confesses (1968) and the eponymous Neon Philharmonic in 1969. The Neon Philharmonic's biggest hit was "Morning Girl" which made the top 20 in 1969.
In Nashville, Tennessee he worked at Acuff-Rose Music as a songwriter and as an executive. He wrote a number of songs himself and co-wrote with Joe Melson. Songwriter Mickey Newbury said of Gant that there are "A lot of songwriters you'd never have heard of if it wasn't for Don Gant." Gant also produced records for singers Jimmy Buffett, Lefty Frizzell, Eddy Raven, and others and eventually joined ABC Records.
Don Gant died unexpectedly at the age of 44 in Nashville of complications following a serious boating accident in Florida.
https://en.wikipedia.org/wiki/Don_Gant
Talents : Vocals, Songwriter Records Producer
Style musical : Rock 'n' Roll, Psychedelic Rock
Years in activity :
| | | | | | | | | | | |
| --- | --- | --- | --- | --- | --- | --- | --- | --- | --- | --- |
| 1910 | 20 | 30 | 40 | 50 | 60 | 70 | 80 | 90 | 2000 | 10 |
Singles
| | | | |
| --- | --- | --- | --- |
| 1962 | SP COLPIX CP 618 (US) | . | Hello, Mrs. Brown / Sugar Love |
| 1962 | SP COLPIX CP 637 (US) | . | Femininity / Sad Eyes |
| 08/1962 | SP COLPIX CP 652 (US) | . | Daydream (Of You) / Don't Take Her From Me |
| 1963 | SP COLPIX CP 675 (US) | . | Hello, Mrs. Brown / Only On Weekends |
| 05/1963 | SP COLPIX CP 688 (US) | . | Barbara / Everyone But You |
| 03/1964 | SP HICKORY 45-1246 (US) | . | Are Girls Getting Prettier / Little Dutch Village |
| 03/1965 | SP HICKORY 45-1297 (US) | | Early In The Morning / Don't Ya Even Try |
| 08/1965 | SP HICKORY 45-1317 (US) | . | High Hoss Baby / The Luckiest Guy In The World |
| 01/1969 | SP Warner BROS. / Seven Arts 7261 (US) | . | The Neon Philharmonic - Brilliant Colors / Morning Girl |
| 07/1969 | SP Warner BROS. / Seven Arts 7311 (US) | . | The Neon Philharmonic - No One Is Going To Hurt You / You Lied |
| 11/1969 | SP Warner BROS. / Seven Arts 7355 (US) | . | The Neon Philharmonic - Clouds / Show |
| 03/1970 | SP Warner BROS. / Seven Arts 7380 (US) | . | The Neon Philharmonic - Heighdy-Ho Princess / Don't Know My Way Around My Soul |
| 07/1970 | SP Warner BROS. / Seven Arts 7419 (US) | . | The Neon Philharmonic - Flowers For Your Pillow / To Be Continued |
| 01/1971 | SP Warner BROS. / Seven Arts 7457 (US) | . | The Neon Philharmonic - Something To Believe In / Little Love |
| 05/1971 | SP Warner BROS. / Seven Arts WB 7497 (US) | . | The Neon Philharmonic - Got A Feelin' In My Bones / Keep The Faith In Me |
| 1972 | SP TRX 45-T-5039 (US) | . | The Neon Philharmonic - Annie Poor / Love Will Find A Way |
| 1975 | SP LONDON L 2577 (CAN) | . | The Neon Philharmonic - Long Distance Love Affair / Making Out The Best I Can |
| 1975 | SP LONDON L 2584 (CAN) | . | The Neon Philharmonic - So Glad You're A Woman / Making Out The Best I Can |
| 1975 | SP MCA 40158 (US) | . | The Neon Philharmonic - So Glad You're A Woman / Making Out The Best I Can |
| 1975 | SP LONDON L 2608 (CAN) | . | The Neon Philharmonic - Lovin' You / Don't Look Back |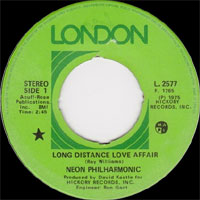 Albums
1968
LP 12" Warner BROS. / Seven Arts WS-1784 (US)

The MoNth Confess -

Tupper SAUSSY & The

Neon Philharmonic

- Brilliant Colors / Cowboy / The New Life Out There / Morning Girl / Midsummer Night / Little Sparrow / The Last Time I Saw Jacqueline / Morning Girl, Later
1968
LP 12" Warner BROS. / Seven Arts WS-1804 (US)

The Neon Philharmonic

- Are You Old Enough To Remember Dresden? / Forever Hold Your Peace / You Lied / Harry / No One Is Going To Hurt You / Long John The Pirate / F. Scott Fitzgerald And William Shakespeare / The Mordor National Anthem
10/1994
CD SUNDAZED SC-6084 (US)

The MoNth Confess -

Tupper SAUSSY & The

Neon Philharmonic

- Brilliant Colors / Cowboy / The New Life Out There / Morning Girl / Midsummer Night / Little Sparrow / The Last Time I Saw Jacqueline / Morning Girl, Later / Heighdy-Ho Princess / Don't Know My Way Around My Soul / Flowers For Your Pillow / Clouds / Snow / To Be Continued
2003
2 CD Rhino Handmade RHM2 7844 (US)

Brilliant Colors - The Complete Warner Bros. Recordings

:

CD 1 : The Moth Confesses : Brilliant Colors; Cowboy / The New Life Out There / Morning Girl / Midsummer Night / Little Sparrow / The Last Time I Saw Jacqueline / Morning Girl, Later / The Neon Philharmonic : Are You Old Enough To Remember Dresden? / Forever Hold Your Peace / You Lied; Harry / No One Is Going To Hurt You / Long John The Pirate / F. Scott Fitzgerald And William Shakespeare (The Mordor National Anthem)

CD 2 : The Singles: Morning Girl (mono single version) / Brilliant Colors (mono single version) / No One Is Going To Hurt You (mono single version / You Lied (mono single version / The Non-LP Single Tracks : Clouds / Snow / Heighdy-Ho Princess / Don't Know My Way Around My Soul / Flowers For Your Pillow / To Be Continued / Something To Believe In / A Little Love / Got A Feelin' In My Bones / Keep The Faith In Me / Unreleased Tracks Recorded In Fall 1970 : Better Times / Jody / Letters Crossing / Radio Spots : Radio Spot 1 / Radio Spot 2 / Radio Spot 3 / Radio Spot 4 / Radio Spot
© Rocky Productions 14/12/2013