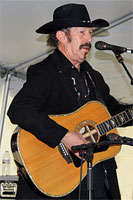 Chanteur Country US né Richard F. Friedman le 1er Novembre 1944 ŕ Rio Duckworth, Palestine (Texas).

Who else could have written a country song about the Holocaust ("Ride 'Em Jewboy"), or about a human being kept in a cage as part of a circus "Wild Man From Borneo"? Outrageous and irreverent but nearly always thought-provoking, Kinky Friedman wrote and performed satirical country songs during the 1970s and has been hailed as the Frank Zappa of country music. The son of a University of Texas professor who raised his children on the family ranch, Rio Duckworth, he was born Richard F. Friedman. He studied psychology at Texas and founded his first band while there. However, King Arthur & the Carrots -- a group that poked fun at surf music -- recorded only one single, in 1966. After graduation, Friedman served three years in the Peace Corps; he was stationed in Borneo, where he was an agricultural extension worker.
By 1971 he had founded his second band, Kinky Friedman & the Texas Jewboys. In keeping with the group's satirical songs, each member had a deliberately politically incorrect name: they called themselves Little Jewford, Big Nig, Panama Red, Rainbow Colors, and Snakebite Jacobs. Friedman got his break in 1973 thanks to Commander Cody, who contacted Vanguard Music on behalf of the acerbic young performer. That was the year he and his group made their debut album, Sold American, featuring John Hartford and Tompall Glaser. The title track, a bitter tale of a forgotten country singer dying an alcoholic death, barely made it onto the charts, but Friedman did attract enough attention to be invited to the Grand Ole Opry. In 1974, he recorded an eponymously titled album for ABC Records. Produced by Los Angeles pop helmsman Steve Barri, the album dissolved whatever pure country listenership Friedman might have had but delighted his growing hard core of fans with satirical pieces such as his response to anti-Semitism, "They Ain't Making Jews like Jesus Anymore." Along with the satires Friedman offered quieter sketches of American hard luck such as "Rapid City, South Dakota." In the mid-'70s, Friedman and his band began touring with Bob Dylan & the Rolling Thunder Revue. In 1976 he made his third album, Lasso From El Paso, featuring Dylan and Eric Clapton. The Texas Jewboys disbanded three years later, and Friedman moved to New York, where he often appeared at the Lone Star Cafe. In 1983, he released Under the Double Ego for Sunrise Records.
After that, Friedman turned primarily toward writing, although he continued to make occasional nightclub appearances. He has written for Rolling Stone and Texas Monthly magazines and, most famously, has become a writer of unique and outrageous mystery novels such as Greenwich Killing Time, A Case of Lone Star, and The Mile High Club. Equal parts whimsy and metaphysics, the books blur fiction and reality. They feature a Jewish country singer turned Greenwich Village private eye named Kinky Friedman, who sometimes returns to his native Texas; other characters are drawn from Friedman's circle of friends in both New York and Texas. Many of Friedman's songs of the 1970s and early '80s were collected on two CD compilations, Old Testaments and New Revelations (1994) and From One Good American to Another (1995). In 1999, the likes of Willie Nelson, Tom Waits, and Lyle Lovett covered Friedman's music on the tribute album Pearls in the Snow: The Songs of Kinky Friedman, and a second tribute volume was planned. In 2003 Friedman appeared in a nude, cigar-smoking triplicate on the cover of the Dallas Observer magazine, in a parody of the Dixie Chicks' nude Entertainment Weekly pose of that year. Vanguard released a 30th anniversary edition of Sold American (which included a couple of bonus tracks) in 2003. Mayhem Aforethought appeared in June of 2005, followed by They Ain't Making Jews Like Jesus Anymore later that October.
https://www.kinkyfriedman.com/
https://en.wikipedia.org/wiki/Kinky_Friedman
Talents : Vocals, Songwriter, Author, Guitar
Style musical : Country Rock, Country Comedy, Outlaw Country
Years in activity :
| | | | | | | | | | | | |
| --- | --- | --- | --- | --- | --- | --- | --- | --- | --- | --- | --- |
| 1910 | 20 | 30 | 40 | 50 | 60 | 70 | 80 | 90 | 2000 | 10 | 20 |
Singles
06/1973
SP VANGUARD VRS-35173 (US)

Sold American / Western Union Wire

03/1975
SP ABC

ABC-12073 (US)

Autograph / Lover Please

06/1975
SP ABC

ABC-12107 (US)

Popeye The Sailor Man / Wild Man From Borneo

09/1976
SP EPIC

8-50299 (US)

Catfish / Dear Abbie

1983
SP SUNRISE 101 (US)
Boogie Man / People Who Read People Magazine
1983
SP SUNRISE S-201 (US)
Twirl / Hello, Good Mornin'
Albums
02/1973
LP 12" VANGUARD VSD-79333 (US)

SOLD AMERICAN -

We Reserve The Right To Refuse Service To You / Highway Café / Sold American / Flyin' Down The Freeway / Ride 'Em Jewboy / Get Your Biscuits In The Oven And Your Buns In The Bed / High On Jesus / Ballad Of Charles Whitman / Top Ten Commandments / Western Union Wire / Silver Eagle Express
12/1974
LP 12" ABC

ABCD-829 (US)

KINKY FRIEDMAN - Rapid City, South Dakota / Popeye The Sailor Man / Homo Erectus / Lover Please / Wild Man From Borneo / Before All Hell Breaks Loose / Somethin's Wrong With The Beaver / When The Lord Closes The Door (He Opens A Little Window) / Miss Nickelodeon / Autograph / They Ain't Makin' Jews Like Jesus Anymore
09/1976
LP 12" EPIC

PE-34304 (US)

LASSO FROM EL PASSO -

Sold American / Twinkle / Ahab The Arab - Dear Abbie / Kinky / Lady Yesterday / Catfish / Men's Room, L.A. / Bananas And Cream / Ol' Ben Lucas / The Ballad Of Ira Hayes / Waitret, Please, Waitret
1983
LP 12" Bruno Dean Entertainment BD-349

(US)

Live From The Lone Star Cafe -

Wabash Cannonball / Wheels / Good-Hearted Woman / London Homesick Blues / Twirl / Western Union Wire / Rollin' In My Sweet Baby's Arms / Cotton-Eyed Joe / Up Against The Wall Redneck Mother / Okie From Muskogee / Luckenbach, Texas / Get Your Biscuits In The Oven And Your Buns In The Bed / Jambalaya / Put Another Log On The Fire / Sold American / Are You Sure Hank Done It This Way / Before All Hell Breaks Loose / Orange Blossom Special / Keep On The Sunnyside
1983
LP 12" SUNRISE S-41200 (US)

UNDER THE DOUBLE EGO -

People Who Read People Magazine / Marilyn And Joe / The Take-It-Easy Trailer Park / Skatin' On Thin Ice / The Gospel Accordin' To John / Hello, Good Mornin' / Twirl / Nashville Casualty And Life / Keep On The Sunny Side
12/1992
CD FRUIT OF THE TUNE CD-777 (US)
OLD TESTAMENTS & NEW REVELATIONS - We Reserve The Right To Refuse Service To You / Western Union Wire / Highway Cafe / Get Your Biscuits In The Oven And Your Buns In The... / High On Jesus / Sold American / Ballad Of Charles Whitman / Silver Eagle Express / Flying Down The Freeway / Why Do You Bob Your Nose, Girl? (Second Hand Nose) / Old Ben Lucas / Men's Room, L.A. / Waitret, Please, Waitret / Tramp On The Street / Nashville Casualty And Life / Homo Erectus / Asshole From El Paso / Wild Man From Borneo / Ride 'Em Jewboy / Schwinn Twenty-Four / They Ain't Makin' Jews Like Jesus Anymore
09/1995
CD FRUIT OF THE TUNE CD-1111 (US)
FROM ONE GOOD AMERICAN TO ANOTHER - Rock And Roll Across The USA / Shield Of Abraham / The Boogie Man / Ramblin' Boy / Old Shep / Pretty Boy Floyd / The Ballad Of Ira Hayes / Hobo's Lullaby / Amelia Earhart's Last Flight / Rapid City, South Dakota / They Ain't Makin' Jews Like Jesus Anymore / Cherokee Shuffle / Miss Nickelodeon / Somethin's Wrong With The Beaver / Lover Please / Mama, Baby, Mama Let Me Jump In Your Pajamas / Carrying The Torch / Father Let Thy Blessings / Ride Em' Jewboy / God Bless John Wayne(The People Who Read People Ma
06/2000
CD SPHINCTER 001120D (US)
CLASSICS SNATCHES FROM EUROPE - Kinky FRIEDMAN & Little JEWFORD - Dylan's Dream / The Story Of Mankind / Dead American Heroes / We Reserve The Right To Refuse Service To You / Craft Of The Songwriter / Guinness Beer / K.D. Lang / Get Your Biscuits In The Oven And Your Buns In The Bed / Lyle Lovett / First Jewish Justice Of The Peace / Ol' Ben Lucas / The Germans / Good Luck Plectrum / Wealthy Texas Rancher / Ringo Starr / Men's Room L.A. / Cuban Cigars / Peace Corps / Willie Nelson's Latent Homosexual Silver Concho Belt / Homo Erectus / Invitation To The White House / Roadkill Reading / Asshole From El Paso / Little Jewford's Treasured Collection / Idiot Savant / Only Surviving Jewboy / I Haven't Been Listening / I'll Sign Anything / Texans And Jews / Waitret, Please, Waitret / Joseph Heller's Favorite Country Song / They Ain't Makin' Jews Like Jesus Anymore
11/2002
2 CD SPHINCTER SRI-00512D (US)
LIVE FROM DOWN UNDER - Billy Joe SHAVER & Kinky FREIDMAN :

CD 1 : Coin Toss / Good News Blues / Georgia On A Fast Train / Honky Tonk Heroes / Western Union Wire / Get Your Biscuits In The Oven And Your Buns In The Bed / Before All Hell Breaks Loose / First And Last Time / Star In My Heart / Woman Is The Wonder Of The World / Rapid City, South Dakota / Marilyn & Joe / Homo Erectus / Black Rose / Old Chunk Of Coal / When Fallen Angels Fly / Thunderbird / Sold American / Wild Man From Borneo
CD 2 : Asshole From El Paso / Ride Me Down Easy / I Couldn't Be Me Without You / Because You Asked Me To / Live Forever / You Wouldn't Know Love If You Fell In It / Ride 'Em Jewboy / They Ain't Making Jews Like Jesus Anymore / Keep On The Sunny Side / Old Five And Dimers / Try, Try Again / Thanks And Goodbye

09/2003
CD VANGUARD 79731-2 (US)

SOLD AMERICAN -

30TH ANNIVERSARY EDITION - We Reserve The Right To Refuse Service To You / Highway Café / Sold American / Flyin' Down The Freeway / Ride 'Em Jewboy / Get Your Biscuits In The Oven And Your Buns In The Bed / High On Jesus / Ballad Of Charles Whitman / Top Ten Commandments / Western Union Wire / Silver Eagle Express
02/2005
CD GEEZINSLAW GEEZ CD 2004-01 (US)
THE ECLECTIC HORESMEN - The GEEZINSLAWS with WIllie NELSON & Kelly WILLIS & Kinky FRIEDMAN) - Put Another Log On The Fire / Big Harlan Taylor / Stairway To Heaven / I Gave Her My Ring / Doo Wacka Doo / My Way / It's In The Freezer / Thank You Miss Audrey (For Breaking Hanks Heart) / Copenhagen / Jesus Was A Capricorn / Marilyn & Joe / Twirl / Here Comes That Rainbow Again / If No News Is Good News
06/2005
CD SPHINCTER SRI-00712D (US)

MAYHEM AFORETHOUGHT - AUGUST 19, 1973 - YOU ARE THERE - Kinky FRIEDMAN & The TEXAS JEWBOYS - Introduction / We Reserve the Right to Refuse Service To You / Amelia Earhart's Last Flight / Western Union Wire / Highway Cafe / Get Your Biscuits In The Oven And Your Buns In The Bed / Schmucker's Jam / High On Jesus / Band Introduction / Lover Please / Nashville Casualty & Life / Sold America / Carryin' The Torch / The Ballad Of Charles Whitman / Ride 'Em Jewboy

08/2005
CD BEAR FAMILY BCD 16755 (GER)
THEY AIN'T MAKING JEWS LIKE JESUS ANYMORE - They Ain't Makin' Jews Like Jesus Anymore / Rapid City South Dakota / Popeye The Sailor Man / Homo Erectus / Lover Please / Wild Man From Borneo / Before All Hell Breaks Loose / Somethin's Wrong With The Beaver / When The Lord Closes The Door (He Opens...) / Miss Nickelodeon / Autograph / Sold American / Twinkle / Ahab The Arab / Dear Abbie / Kinky / Lady Yesterday / Catfish / Men's Room, L.A. / Bananas And Cream / Ol' Ben Lucas / Ballad Of Ira Hayes / Waitret Please Waitret / Kasey / If I Never Have Another Hit
09/2006
CD SHOUT! 10155 (US)
THE LAST OF THE JEWISH COWBOYS - THE BEST OF KINKY FRIEDMAN - Sold American / Before All Hell Breaks Loose / The Ballad Of Charles Whitman / Waitret, Please Waitret / Get Your Bescuit In The Oven & Your Buns In The Bed / Asshole From El Paso / People Who Read People Magazine / Something's Wrong With The Beaver / We Reserve The Right To Refuse Service To You / Homo Erectus / Ride 'em Jewboy / The Take-It Easy Trailer Park / Rock And Roll Across The USA / Ol' Ben Lucas / They Ain't Makin' Jews Like Jesus Anymore
09/2006
CD Sustain 001105 (US)

Why The Hell Not… The Songs Of Kinky Friedman -

Get Your Biscuits In The Oven / Sold American / Wild Man From Borneo / Rapid City, South Dakota / The Gospel According To John They Ain't Makin' Jews Like Jesus Anymore / Lady Yesterday / Ride 'Em Jewboy / Homo Erectus; Autograph
07/2007
CD New West NW6124 (US)

Live From Austin, TX -

Earhart's Last Flight / Rapid City, South Dakota / Homo Erectus / Men's Room L.A. / Highway Cafe / Wild Man From Borneo / Carryin' The Torch / Miss Nickelodian / Lover Please / Rock 'n' Roll Across The U.S.A. / Mama Baby Mama / Arseholde From El Paso / They Ain't Making Jews Like Jesus Anymore / Ride 'em Jewboy
2007
5 CD Random House Audio ‎0178705RDH (GER)

Kinky Friedman Gelesen Von Wiglaf Droste

‎-

Greenwich Killing Time :

CD 1 : Ich Hielt / Die Bullen / Ich Verschwendete / Es War Ein / Monkeys / Als Ich / Nina / Das Telefon / Ich / Selbst Ein / Ich Hatte
CD 2 : Das / Nina / Ich Ging / Mit Der / Es War / Es Goss / Das Village / Ich Erwachte / Als Ich / Es War / Wenn Meine
CD 3 : Als Ich / Ein Taxi / Es War / Es War Ein / Ich Betrat / Ich Kam / Es War / Ich Spendierte / Ich Wusste / Als / Ich Nahm / Wenn
CD 4 : Auf / Es Blieb / Pünktlich / Ich / Als Wir / Ich / Western Union / Kurz Vor / Ich Ging / Wir Befanden / Der / Samstag
CD 5 : Mit Einem / Ich Klopfte / Es War / Eines Grimmen / Ich Betrachtete / Sir, Ihr / Es War An / Eines / Untitled

09/2012
CD Avenue A / CD Baby 5637989831 (US)

Kinky Friedman's Bi-Polar Tour - Live From Woodstock -

We Reserve The Right To Refuse Service To You / Nashville Casualty & Life / Autograph / Waitret Intro / Waitret, Please, Waitret / Biscuits And Buns Intro / Get Your Biscuits In The Oven And Your Buns In The Bed / Yom Kippur Clipper / Wild Man From Borneo / Rapid City, South Dakota / The Ballad Of Charles Whitman / Kevin Barry Intro / The Ballad Of Kevin Barry / Tom Friedman The Navigator / Sold American / They Ain't Making Jews Like Jesus Anymore
© Rocky Productions 28/11/2013