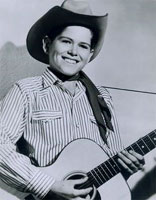 Chanteur Country US né Dallas June Frazier, le 27 Octobre 1939 à Spiro (Oklahoma). Dallas Frazier est décédé le 14 Janvier 2022.

One of country's most enduring songwriters, Dallas Frazier was born on October 27, 1939, in Spiro, OK. Raised in Bakersfield, CA, he was skilled on a number of musical instruments by the age of 12; while still in his teens, he became a featured member of Ferlin Husky's band, cutting his first solo single, "Space Command," in 1954. Soon after, he was named a regular on the Hometown Jamboree program, where he was often paired with fellow teen star Molly Bee.
In 1957, Frazier scored a hit with a cover of the Hollywood Argyles' "Alley Oop." When Hometown Jamboree was canceled at the end of the decade, he moved to Nashville to work as a songwriter, composing Husky's 1964 hit "Timber I'm Falling." Two years later, his career caught fire; in addition to releasing his own debut album, Elvira, he penned three huge hits — Jack Greene's "There Goes My Everything," Connie Smith's "Ain't Had No Lovin'," and George Jones' "I'm a People." In 1967, Frazier released Tell It Like It Is, although his biggest success came on the pop charts, via Engelbert Humperdinck's rendition of "There Goes My Everything."
As the decade drew to a close, Frazier's songs remained popular fodder for other artists; in addition to supplying more hits for Jones, Greene, and Smith, his compositions were recorded by the likes of Willie Nelson, Brenda Lee, Charley Pride, and Merle Haggard, who included three Frazier songs on his 1968 LP The Legend of Bonnie & Clyde. His success only increased in the 1970s; in addition to generating a pair of solo records — 1970's Singing My Songs and the following year's My Baby Packed Up My Mind and Left Me — Frazier became one of Nashville's most sought-after writers, composing hits for Elvis Presley, Moe Bandy, Roy Head, Rodney Crowell, and Ronnie Hawkins as well as frequent collaborators like Husky, Pride, and Greene. In 1972, he joined Smith for three cuts on her LP If It Ain't Love (& Other Great Dallas Frazier Songs).
Frazier's songs continued to hit the charts well into the 1980s; his "Elvira" was a tremendous crossover smash for the Oak Ridge Boys, while Emmylou Harris topped the charts with "Beneath Still Waters." Even younger artists like George Strait, Randy Travis, and Patty Loveless found success with his compositions. In 1988, however, Frazier retired from songwriting, leaving Nashville to pursue a career in the ministry.
Dallas Frazier died on January 14, 2022.
https://en.wikipedia.org/wiki/Dallas_Frazier
Talents : Songwriter, Vocals, Guitar
Style musical : Rock 'n' Roll, Traditional Country, Honky Tonk, Nashville Sound

https://www.youtube.com/watch?v=dpHz0SQ3-UE
ELVIRA (1965)

Alley Oop (1966)

HOME IN MY HAND (1967)
Years in activity :
| | | | | | | | | | | | |
| --- | --- | --- | --- | --- | --- | --- | --- | --- | --- | --- | --- |
| 1910 | 20 | 30 | 40 | 50 | 60 | 70 | 80 | 90 | 2000 | 10 | 20 |
DISCOGRAPHY
Singles & EP
| | | | |
| --- | --- | --- | --- |
| 05/1954 | SP CAPITOL F 2813 (US) | . | Ain't You Had No Bringin' Up At All / Space Command |
| 08/1954 | SP CAPITOL F 2895 (US) | . | Love Life At Fourteen / I'm Gonna Move Over Yonder |
| 11/1954 | SP CAPITOL F 2956 (US) | . | Jimmie-O The Brownie / My Birthday Comes On Christmas |
| 10/1956 | EP CAPITOL EAP 1035 (UK) | | My Birthday Comes On Christmas / Jingle Bells / Jingle-O The Brownie / Up On The House-Top |
| 10/1959 | SP JAMIE 1135 (US) | . | When You Got Love / Can't Go On |
| 1961 | SP MUSIKRON 106 (US) | . | She Made Me Cry / There Goes My Bride |
| 1962 | SP AUDAN 126 (US) | | Farther Along / Keep On Preachin' |
| 05/1964 | SP MERCURY 72279 (US) | . | Money Greases The Wheels / My Little Swing Broke Down |
| 06/1965 | SP CAPITOL 5444 (US) | . | King Of The Jungle / Make Believe You're Here With Me |
| 12/1965 | SP CAPITOL 5560 (US) | . | Elvira / There Ain't No Stuff |
| 06/1966 | SP CAPITOL 5670 (US) | . | Just A Little Bit Of You / Walkin' Yonder |
| 11/1966 | SP CAPITOL 5728 (US) | . | Especially For You / Tennessee Stuff |
| 1966 | EP CAPITOL EAP 120 817 (F) | | Just A Little Bit Of You / Walkin' Wonder / Elvira / That Ain't No Stuff |
| 04/1967 | SP CAPITOL 5862 (US) | . | My Woman Upt' And Gone / Clawhammer Clive |
| 10/1967 | SP CAPITOL 2011 (US) | . | Only A Fool / Everybody Oughta Sing A Song |
| 03/1968 | SP CAPITOL 2133 (US) | . | The Sunshine Of My World / Lonelier And More In Love |
| 09/1968 | SP CAPITOL 2257 (US) | . | I Hope I Like Mexico Blues / I Just Thought I Loved Her |
| 01/1969 | SP CAPITOL 2402 (US) | . | The Conspiracy Of Homer Jones / Sundown Of My Mind |
| 10/1969 | SP RCA VICTOR 74-0259 (US) | . | California Cotton Fields / Sweetheart Don't Throw Yourself Away |
| 03/1970 | SP RCA VICTOR 47-9820 (US) | . | She Wants To Be Good / Harbor Girl |
| 07/1970 | SP RCA VICTOR 47-9881 (US) | . | The Birthmark Henry Thompson Talks About / If My Heart Had Windows |
| 01/1971 | SP RCA VICTOR 47-9950 (US) | . | Big Mable Murphy / White Fences And Evergreen Trees |
| 05/1971 | SP RCA VICTOR 47-9991 (US) | . | My Baby Packed Up My Mind And Left Me / I'm Finally Over You |
| 11/1971 | SP RCA VICTOR 74-0569 (US) | . | Common Broke Elastic / High Steppin' Mama |
| 07/1972 | SP RCA VICTOR 74-0748 (US) | . | North Caroline / The Last Time I Called Somebody Darling |
| 03/1973 | SP RCA VICTOR 74-0903 (US) | . | Lonesome Fiddle Man / This Time The Hurtin's On Me |
| 1975 | SP 20TH CENTURY FOX TC-2171 (US) | . | Cash On Delivery Smith / Watchin' My World Walk Away |
| 1975 | SP 20TH CENTURY FOX TC-2199 (US) | . | Heaven Hanging Over My Head / Liberal Acres |
| 1975 | SP 20TH CENTURY FOX TC-2233 (US) | . | Harvey / I'm Sorry If My Love Got In Your Way |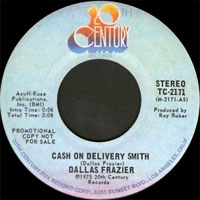 Albums
| | | | |
| --- | --- | --- | --- |
| 06/1966 | LP 12" CAPITOL T-2552 (mono) / ST-2552 (stereo) (US) | | ELVIRA - Elvira / Especially For You / Just A Little Bit Of You / She's A Yum Yum / Whoop It On 'Um / Alley Oop / Walkin' Wonder / Done Made Up My Mind / Mohair Sam / Baby Ain't That Fine / That Ain't No Stuff / Been Rained On |
| 07/1967 | LP 12" CAPITOL T-2764 (mono) / ST-2764 (stereo) (US) | | TELL IT LIKE IT IS ! - Don't Come Knocking On My Door / Write That Down / Tell It Like It Is / My Woman Up't And Gone / Honk'n Tonk / Hard Working Days Are On Their Way For Nannie Mae / Ain't Nothin' Shakin' / Green Green Grass Of Home / Clawhammer Clyde / Ain't Had No Lovin' / Hurtin' From The Hunger For Your Love / Home In My Hand |
| 05/1970 | LP 12" RCA VICTOR LSP-4338 (US) | | SINGING MY SONGS - There Goes My Everything / California Cottonfields / All I Have To Offer You Is Me / Lord Is That Me / If My Heart Had Windows / Son Of Hickory Holler's Tramp / Sweetheart Don't Throw Yourself Away / I'm So Afraid Of Losing You Again / I Just Got Tired Of Being Poor / Will You Visit Me On Sundays / She Wants To Be Good |
| 07/1971 | LP 12" RCA VICTOR LSP-4569 (US) | | MY BABY PACKED UP MY MIND AND LEFT ME - My Baby Packed Up My Mind And Left Me / I'm Finally Over You / Where Is My Castle / White Fences And Evergreen Trees / Touching Home / Big Mable Murphy / Got My Mind On The Border Of Mexico / She Wakes Me With A Kiss Every Morning / Ode To A Child Of The Wind / Where Did They Go Lord |
| 02/2008 | CD RAVEN 262 (AUS) | | THE R&B SESSIONS - ELVIRA / TELL IT LIKE IT IS ! - Elvira / Especially For You / Just A Little Bit Of You / She's A Yum Yum / Whoop It On 'Um / Alley Oop / Walkin' Wonder / Done Made Up My Mind / Mohair Sam / Baby Ain't That Fine / That Ain't No Stuff / Been Rained On / Don't Come Knocking On My Door / Write That Down / Tell It Like It Is / My Woman Up't And Gone / Honk'n Tonk / Hard Working Days Are On Their Way For Nannie Mae / Ain't Nothin' Shakin' (But The Leaves) / Green, Green Grass Of Home / Clawhammer Clyde / Ain't Had No Lovin' / Hurtin' From The Hunger For Your Love / Home In My Hand / Tennessee Sue / King Of The Jungle / Make Believe You're Here With Me |
| 20?? | CD ? (US) | | Writing and Singing Again - B.B Baker / The Carousel Girl / Bogie And Bacall / Goodbye Ringing In My Ears / Beulah Mae's Cafe / If You Don't Like The Way This Cowboy Rides / Connected To My Vine / Big Mable Murphy / Hang A Hanky In Your Window (If Your Momma's Gone) / Eye Witness Blues / Soul Food / My Heart Could Use A Shine |
© Rocky Productions 23/11/2013