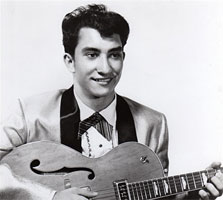 Guitariste et chanteur Rock 'n' Roll US né Johnny Sudetta, le 18 Mars 1943 à Warren (Ohio). Johnny Fortune est décédé le 8 Janvier 2006 à son domicile de Rialto (Californie).

Session performer, bassist, and guitarist Johnny Fortune has been in the music business a long time. In the early years, he did session work for big names like Sam Cooke, Barbara George, Glen Campbell, and he even toured with the Beach Boys.
In 1963, when Fortune was only 16, he recorded Soul Surfer under the Park Avenue Records label. The album held popular surf tracks like "Sunset" and "Surf Rider." Sax player Jim O'Keith and ten-year-old drummer Joey Sudetta both lent their talents to the album. Soul Surfer received good reviews and earned Fortune a marvelous invitation from Johnny Burnette to tour through England. Unfortunately, because of his young age, Fortune was not able to go.
Switching over to country music, Fortune was nominated for a Nashville Music Trailblazer award in 1997. Working under the Media Records label, he recorded Life Goes On. The album, with tracks like "What Do You Think About That," "I Got a Woman," and "She Just Don't Care," was released in 1999.
Talents : Guitar, Vocals
Style musical : Rock 'n' Roll, Surf, Country Rock, Contemporary Country
Years in activity :
| | | | | | | | | | | | |
| --- | --- | --- | --- | --- | --- | --- | --- | --- | --- | --- | --- |
| 1910 | 20 | 30 | 40 | 50 | 60 | 70 | 80 | 90 | 2000 | 10 | 20 |
DISCOGRAPHY
Singles
| | | |
| --- | --- | --- |
| 1959 | SP EMMY E 1001 (US) | If You Love Me / Alone And Crying |
| 04/1960 | SP EMMY E 1001 (US) | Alone And Cryin' / If You Love Me (I Want To Know Tonight) |
| 04/1960 | SP EMMY E 1002 (US) | I'm In Heaven / Gee, But I Miss You |
| 1962 | SP ARHAVEN 1001 (US) | I'm A Fool For You / Gee But I Miss You |
| 1963 | SP ARENA 102 (US) | Gee But I Miss You / I'm A Fool For You |
| 05/1963 | SP PARK AVENUE PA-103 (US) | Surfer's Trip / Soul Travler |
| 1963 | SP PARK AVENUE PA-104 (US) | Need You / One Less Angel |
| 1963 | SP PARK AVENUE PA-110 (US) | Soul Surfer [instr.] / Midnight Surf |
| 1963 | SP PARK AVENUE PA-130 (US) | Dragster [instr.] / Siboney [instr.] |
| 1964 | SP CURRENT 101 (US) | Say You Will Love Me / Come On And Love Me |
| 1964 | SP CRUSADER 104 (US) | Gee But I Miss You / If You Love Me |
| 04/1965 | SP CURRENT 105 (US) | I'm Lonely For You / I'll Never Let You Go |
| 1965 | SP UNITED ARTISTS 720 (US) | Juarez / It Ain't Necessarily So |
| 1965 | SP UNITED ARTISTS 780 (US) | Don't Stay Out After Midnight / Don't Lie To Me |
| 1966 | SP RPR R-112 (US) | SWEET SOULS - I Wanna Make It With You / Your Baby |
| 04/1966 | SP BEAVER 111 (US) | Stay One More Day / I'm Requesting A Love Song |
| 1970 | SP VAULT 954 (US) | Tell Me Your Love Me / Your True Love |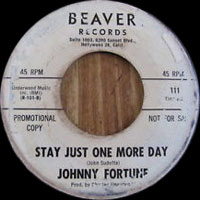 Albums
| | | | |
| --- | --- | --- | --- |
| 1963 | LP 12" PARK AVENUE 401 (US) | | SOUL SURFER - Soul Surfer / Midnight Surf / Chinese Surfers / Surfer's Trip / Lone Surfer / Wild Weekend / Surf Rider / Sunset / Soul Traveler / Moonglow - Theme From "Picnic" / Siboney / Dragster |
| 1999 | CD V & R 15870 (US) | | LIFE GOES ON - I Got A Woman / Runnin' From A Love / That's All Over Now / I See The Storm / She Just Don't Care / Thirty Something / Won't Be No More / I Can't Let Go / Love Those Girls / What Do You Think About That / I Hope That You're Happy / Country Rockin' Roll / I Can't Stop Thinking About You / What's The Cost Of Lovin' You / Eyes As Big As Dallas |
© Rocky Productions 18/04/2006