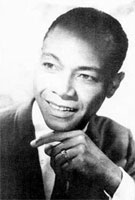 Chanteur Rock 'n' Roll US né Melvin J. Moore, le 13 Janvier 1934 à Houston (Texas). Johnny Flamingo a enregistré pour Caddy, Canton, Aladdin, Specialty, Pico, Malynn, Dub-Tone, Diadon, Donna et Whirlybird Records. Il a fait parti du duo Jack & Jill avec sa première femme Juanita. Il est décédé le 24 Décembre 2000.

Johnny Flamingo was a smooth, popular Los Angeles balladeer who recorded during the 1950s with The Dots and with various anonymous Vocals groups under his own name. With The Dots he shared lead Vocals with his girlfriend and later wife, Jeanette Baker.
He was born Melvin J. Moore in Houston, Texas, on January 13, 1934, and later took the last name of his stepfather, Broxton. Los Angeles disk jockey Dick "Huggy Boy" Hugg claims that he's the one who dubbed the singer Johnny Flamingo, namng him for the Flamingo Hotel in Las Vegas.
After getting his start in an Air Force Vocals group called The Criterions, Melvin returned to Los Angeles in 1956 and joined The Dots, who were signed to Huggy Boy's Caddy label. But Huggy Boy quickly saw greater possibilities in the burgeoning teen market for the handsome, light-skinned baritone, and so the career of Johnny Flamingo began.
Though they stopped recording in the early '60s, Flamingo and Jeanette Baker remained a popular act at clubs around Los Angeles, best known for dueting on "Hey Boy, Hey Girl," which Jeanette had originally recorded with Oscar McLollie for Class Records in 1958. (The song was recorded in the '60s by Louis Prima and Keely Smith for a movie of the same name.) Johnny and Jeanette performed at several Doo-Wop Society shows, including our March 4, 2000, Tribute to Hunter Hancock (which also featured Vernon Green in his final appearance).
Coincidentally, Johnny Flamingo and Vernon Green both died on Christmas Eve, 2000.
https://en.wikipedia.org/wiki/Johnny_Flamingo
Talents : Vocals
Style musical : Rock 'n' Roll, Doo Wop

http://youtu.be/cYPj1H9b-DE
Years in activity :
| | | | | | | | | | | | |
| --- | --- | --- | --- | --- | --- | --- | --- | --- | --- | --- | --- |
| 1910 | 20 | 30 | 40 | 50 | 60 | 70 | 80 | 90 | 2000 | 10 | 20 |
DISCOGRAPHY
78 t., Singles & EP
1955
SP COMBO 45-108 (US)
.
Chuck HIGGINS & His MELLOTONES - Flip Top Box / The Blacksmith Blues (Vocals Johnny

Flamingo

)
1956
SP CADDY 101 (US)
.
The DOTS - I Confess / I Wish I Could Meet Her
03/1957
SP CADDY 105 (US)
.
Roller Coaster (Chuch HIGGINS) / So Long (Johnny FLAMINGO)
05/1957
SP CADDY 107 (US)
.
The DOTS - Johnny / I Lost You
1957
SP CANTON 1785 (US)
.
I / It Were You
08/1957
SP ALADDIN 45-3385 (US)
.
When I Lost You / My Teenage Girl
1957
SP CADDY 107 (US)
.
JACK & JILL - No One To Talk To / Record Hop
10/1957
SP IMPERIAL X5464 (US)
.
JACK & JILL - No One To Talk To / Record Hop
1957
SP CADDY 105 (US)
.

So Long (Johnny Flamingo) / Roller Coaster (Chuck HIGGINS & His ORCHESTRA)

1957
SP CADDY 108 (US)
.

Chuck HIGGINS With His ORCHESTRA - Flip-Top Box / The Blacksmith Blues (Vocals Johnny Flamingo)

11/1957
SP CADDY 112 (US)
.
Teenage Theme / Make Me A Present Of You
12/1957
SP ALADDIN 45-3406 (US)
.
So Long / Make Me A Present Of You
1958
SP CADDY 114 (US)
.
My Girl / I'll See You In My Dreams
04/1958
EP CADDY 115 (US)
Eternally (Twilighters) / I Confess (

Dots

) / All Night Long (Joe HOUSTON) / So Long (Johnny

Flamingo

)
1958
SP SPECIALTY 640 (US)
.
Paradise Hill / Will She Think Of Me
1959
SP PICO 2800 (US)
.
I / Summertime
1959
SP MALYNN 101 (US)
.
United / I Just Cry
1960
SP CADDY 4175 (US)
.
Is It A Dream / You're Mine
1961
SP DUB-TONE 2580 (US)
.
I Just Cry / Is It A Dream
12/1961
SP DIADON 103 (US)
.
This Was Really Love / If You Say Please Go No
1961
SP DIADON 138 (US)
.
No More Doggin' / All Aboard
1962
SP DONNA 1357 (US)
.
You're Mine / Is It A Dream
12/1963
SP WHIRLYBIRD 2001 (US)
.
Drive Slow / And This Was Really Love
12/1965
SP CADDY 1710 (US)
.
I Got Loaded / Raindrops In My Eyes
04/1967
SP VAULT V-O-8 (US)
.
I (Who Have Nothing) / Summertime
197?
SP GOOD OLD GOLD 084 (US)
.

Come On Little Angel (BELMONTS) / I (Johnny FLAMINGO)

????
SP Old Sound 1005 A (US)
So Long (Johnny FLAMINGO) / I'm Bewildered (Richard BERRY)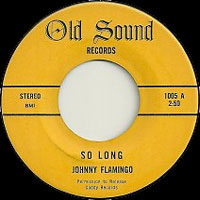 Albums
| | | | |
| --- | --- | --- | --- |
| 1961 | LP 12" DIADON DLP 201 (US) | | JOHNNY FLAMINGO SINGS IN THE WEE SMALL HOURS - In The Wee Small Hours Of The Morning / Secret Love / You Go To My Head / Almost Like Being In Love / Early Autumn / Around The World / What Do You See In Him / Autumn Leaves / Day In, Day Out / Canadian Sunset / Goodbye |
| 2003 | CD FLAMINGO CDFLAM1001 (US) | | JOHNNY FLAMINGO & FRIENDS - You're Mine / Is It A Dream / I / Summer Time / All Aboard / No More Doggin / It Were You / Just Cry / United / Drive Slow / This Was Really Love / Paradise Hill / Will She Think Of Me / When I Lost You / My Teenage Girl / My Girl / I'll See You In My Dreams / Make Me A Present Of You / So Long / No One To Talk To (JACK & JILL) / Part Time (JACK & JILL) / I Wish (The DOTS) / I Confess (The DOTS) / Johnny (The DOTS) / I Lost You (The DOTS) / Heartsick And Lonely (The DOTS) / Good Luck To You (The DOTS) / Moon Beam (Jeanette BAKER) / He Really Belongs To Me (Jeanette BAKER) / Hey Girl (Oscar McLOLLIE & Jeanette BAKER) / Good Bye |
© Rocky Productions 1/10/2013