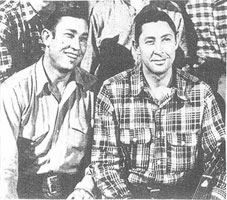 Duo Country US comprenant : Hugh Farr (né le 6 Décembre 1903 à Llano (Texas), décédé le 17 Avril 1980) et Karl Farr (né le 25 Avril 1909 à Rochelle (Texas), décédé le 20 Septembre 1961). Les Farr Brothers ont fait parti des Sons of the Pioneers.

Hugh and Karl Farr were the most important fiddle-and-guitar duo in the history of country & western music, a team of brother virtuosos who brought the vocabulary and dexterity of the best jazz into the confines of country and cowboy songs for more than 25 years. That they aren't better known as a duo stems from the fact that their work from the mid-'30s onward was largely confined to membership in the Sons of the Pioneers.
Hugh was born in Llano, TX, on December 6, 1903. Karl was born April 25, 1909, in Rochele, TX. Their father and mother were both part-time musicians, when he wasn't working as a building contractor and she wasn't raising a family, playing local dances as a fiddle-and-guitar duo. Hugh took up the guitar at age seven, mastered it quickly, and within a year was playing local dances as part of a duet with his father, playing songs like "Texas Crapshooter," "The Arkansas Traveler," and "Fire in the Mountain." His father wanted a fiddle player, however, and by age nine Hugh had not only learned the instrument but also knew how to play every song in their repertory. By 1916 Karl was playing with Hugh and their brother Glen on the mandolin. Hugh's fiddle style, as it developed in the late teens and early '20s, was influenced heavily by the jazz of the era, especially the work of the Kansas City Nite Hawks. Karl had started out learning the mandolin and then picked up the banjo and finally the guitar.
The three Farr brothers continued to play together after their father moved the family to California in early 1925. Hugh had landed a gig with a local combo at a place called Mammy's Shack, and by 1928, when the group broke up, he was ready to pursue music as a permanent career. Karl later followed suit, after he and his brothers made their first appearance on radio in Los Angeles. Hugh and Karl joined Len Nash and His Country Boys, a Los Angeles country music group which hosted the program Len Nash and His Country Boys' Barn Dance. The program lasted from 1929 until 1933, during which time Hugh appeared on several Len Nash records, among them "On the Road to California," "Going Down to Town," and "Kelly Waltz." In 1933, the group moved to a new dancehall in Anaheim, which was unsuccessful, and they broke up. Hugh and Karl then formed a group, the Haywire Trio, with fellow bandmember Ira McCullough.
Hugh joined Jack LeFevre and His Texas Outlaws, while Karl worked as a staff musician at radio station KFOX. It was while playing with LeFevre's group on Los Angeles radio station KFWB that Hugh made the acquaintance of a group of musicians called the Pioneer Trio. Sometime in late 1933 or early 1934, Hugh was asked by Pioneers Leonard Slye, Bob Nolan, and Tim Spencer to join, and the quartet was renamed the Sons of the Pioneers. In addition to playing the fiddle, Hugh also sang the bass parts on their records. Meanwhile, Karl continued playing with different groups around Los Angeles. The Pioneers, however, knew that they needed a proper guitar player who could handle lead parts; Hugh proposed his brother, and in 1935 Karl joined the group. While Nolan and Spencer were brilliant songwriters and Slye was a great performing talent, the Farrs brought an instrumental dexterity that was extraordinary. The brothers were also improvisers capable of coming up with material to fill time on radio shows on a moment's notice.
The Farr brothers remained with The Pioneers for more than 20 years, sacrificing some of the recognition that they might've received on behalf of the group. Karl could easily have been another Merle Travis or Chet Atkins -- he was that good -- and was sufficiently well-known within professional music circles to have been given one of Fender's very first Telecasters in 1949. For Hugh, however, the lack of recognition created tension, particularly as its membership went through massive line-up changes during the mid-'50s, and he left the group late in 1957. Karl remained with the Sons of the Pioneers until a show in Massachusetts on September 20, 1961, when a string broke on his guitar in the middle of a solo and, while struggling to change it, he collapsed and died of a heart attack.
After leaving The Pioneers, Hugh tried for a time to lead his own version of the Sons of the Pioneers, claiming ownership of the name as the last active member of the original quartet. Farr's group failed to find an audience, however, and disbanded soon after it was organized. He played with singing cowboy star Jimmy Wakely and later co-founded the Country Gentlemen with Pat Patterson, Kenny Baker, and Jimmie Widener, who broke up after a short but successful performing career and recording one album. Farr spent the 1960s playing with different groups and passed away on April 17, 1980.
Talents : Hugh : Vocals, Songwriter, Fiddle - Karl : Vocals, Songwriter, Guitar
Style musical : Singing Cowboy; Traditional Country
Years in activity :
| | | | | | | | | | | | |
| --- | --- | --- | --- | --- | --- | --- | --- | --- | --- | --- | --- |
| 1910 | 20 | 30 | 40 | 50 | 60 | 70 | 80 | 90 | 2000 | 10 | 20 |
DISCOGRAPHY
78 t.
| | | |
| --- | --- | --- |
| 01/1947 | 78 t. RCA VICTOR 20-2101 (US) | Farr-Away Blues / South In My Soul |
| 04/1947 | 78 t. RCA VICTOR 20-2242 (US) | The Farr Brothers Stomp / Texas Skiparoo |
| 1949 | 78 t. CORAL 64009 (US) | HUGH & SHUG'S RADIO PALS - Are You From Dixie? / Five Foot Two, Eyes Of Blue |
Albums
1977
LP 12" Cattle LP-1 (GER)

South In My Soul

- Cow Across The Road / South In My Soul / Blues In E / Jack Of Diamonds / Gambler's Blues / Boggy Road To Texas / Over The Santa Fe Trail / Long Long Ago / A Rag / Fire Alarm Blues / Tom And Jerry / Kelly Waltz / Spanish Cavalier / Indiant Scout / Riddle Rhythm / Churnin' Butter / Outlaw / Carlen Stomp / Cagen Stomp / Darkness On The Delta / Limehouse Blues
1978
LP 12" JEMF 107 (US)

TEXAS CRAPSHOOTER -

Deed I Do / Fine Time At Our House / Farr Into Night / Old Maderis Waltz / Bye Bye Blues / Skinner's Sock / Main Street / Oom Pah Rag / Lazy River / Bon Ton Schottische / Tom And Jerry / Ragtime Annie / Now Ot Never / Bluebird Blues / Prairie Reverie / Soldier's Joy / Alabamy Stomp / Seaside Schottische / Rye Whiskey Waltz / Desert Hokus / Karlen Stomp / Whing Ding / Texas Crapshooter

1992
CD Country Routes RFD-CD-11 (UK)
Hot 'n' bluesy Duets -

Fiddle/Guitar and Twin Guitar Duets

1934-1940 - HUGH & KARL FARR - Blues In / Main Street / Buglers Blues / Bluebird Rhythm / Fire Alarm Blues / Milenberg Joys / Cajun Stomp / St. Louis Blues / Kilocycle Stomp / Outlaw Rag / Riddle Rhythm / 'Deed I Do / Lazy River / Now Or Never / Swingin' The Bow / Cricket Hop / Dance Of The Dogies / Cactus Swing / Heart To Heart / I Said Goodbye / Comin' Thru The Rye / Memories In Blue / Dark Eyes / Texas Stomp / Farr Away Stomp / The Knock Me Over Easy Mama - Don't Take All My Spending Money - I'll Buy That New Car For You Blues
1992
LP 12" Cowgirlboy LP-5088 (GER)
The Sons Of The Pioneers & Friends In The Studio - One More River To Cross (Sons Of The Pioneers) / I Hang My Head And Cry (Sons Of The Pioneers) / New Worried Mind (Roy ROGERS) / Melody Of The Plains (Roy ROGERS) / Dangerous Ground (Roy ROGERS) / I'm Restless (Roy ROGERS) / Farr-Away Blues (instr) (

Farr Brothers

) / South In My Soul (instr) (

Farr Brothers

) / Farr Brothers Stomp (instr) (

Farr Brothers

) / Texas Skiparoo (instr) (

Farr Brothers

) / Tumbling Tumbleweeds (solo version) (Bob NOLAN) / Manhunt (Dragnet Closing In On Me) (Bob NOLAN) / An Angel In The Choir (Bob NOLAN) / The Mystery Of His Way (Bob NOLAN) / As Long As Got My Horse (Gene AUTRY with

T

he

Sons Of The Pioneers) / The Dude Ranch Cowhands (Gene AUTRY with

T

he

Sons Of The Pioneers)
© Rocky Productions 8/09/2013