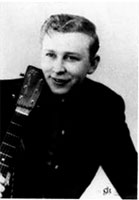 Chanteur Rockabilly US né Elmer Ray Doggett, le 6 Août 1936 à Big Spring (Texas). Il a enregistré pour les labels Spade, Decca, Kix, Pearl, TNT, Ken-Lee et Top Rank Records. Depuis le début des années soixante, Ray Doggett était producteur chez Big H Sound Distributors de Houston (Texas). Il est décédé le 16 Mars 2002 à Nashville (Tennessee).

Ray Doggett (born: Elmer Ray Doggett) was determined to find his niche in country music. Although none of his late-1950s singles were successful, he went on to pen tunes for Bob Denton, Ace Ball, Johnny Guidry, Jan Moore, Darrell Rhodes and Bruce Chanel. As Elmer Ray, he co-wrote "On My Mind Again" and "Rakin' And Scrapin'" with Slim Willet and Dean Beard.
Doggett's greatest success came as producer of country superstar Kenny Rogers's debut recording, "We'll Always Have Each Other", in 1958. Going on to produce recordings for Tommy Clay, the Counts, Huey Meaux and Lelan Rogers, in the 1960s, he ran Houston-based Big H Sound Distributors in the 1980s.
Succumbing to a heart attack, in Nashville, Doggett died on March 16, 2002.
Talents : Vocals, Guitar, Writer, Producer
Style musical : Rockabilly, Rock 'n' Roll
Years in activity :
| | | | | | | | | | | | |
| --- | --- | --- | --- | --- | --- | --- | --- | --- | --- | --- | --- |
| 1910 | 20 | 30 | 40 | 50 | 60 | 70 | 80 | 90 | 2000 | 10 | 20 |
DISCOGRAPHY
Singles
Album
| | | | |
| --- | --- | --- | --- |
| 1989 | LP 12" HYDRA BLK 7709 (GER) | | DOGGONE IT DOGGETT - Go Go Heart / Falling Teardrops / It Hurts The One Who Loves You / That's The Way Love Is With Me / Love Is Made Of This / Now It's Over / High School Wedding Ring / Whirlpool Of Love / Beach Party / So Lonely Tonight / No Doubt About It / I'm Afraid / Restless Heart / Can I Be The One |
© Rocky Productions 26/02/2009