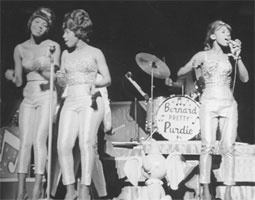 Girl Group US formé en 1963 à New Orleans (Louisiane). Les Dixie Cups étaient composées de Joan Marie Johnson (née le 15 Janvier 1945), Barbara Ann Hawkins (née le 23 Octobre 1943) et Rosa Lee Hawkins (née le 24 Septembre 1944) . Elles ont enregistré chez Red Bird et ABC-Paramount et se sont séparées en 1966.

A '60s girl group, the Dixie Cups consisted of one cousin (Joan Marie Johnson) and two sisters (Barbara Ann Hawkins and Rosa Lee Hawkins). All three young ladies were from New Orleans, as was producer and singer Joe Jones, who discovered the talented threesome and took them to New York.
The trio was almost known as the Meltones -- or worse, Little Miss and the Muffets -- but the name Dixie Cups was settled on by 1964. That was the year the girls recorded the well-remembered song "Chapel of Love" on the Red Bird Records label. The number was written by Phil Spector, Ellie Greenwich, and Jeff Barry, and intended to be released by the Ronettes, Darlene Love, or the Crystals. That one single was enough to carry the group into music history. It became the Dixie Cups' biggest success, a million-seller, and a worldwide hit. A few other hits followed through 1964 and into 1965, like "You Should Have Seen the Way He Looked at Me," "Little Bell," "Iko Iko," and "People Say." A year later, Red Bird Records was out of the picture. The trio moved to ABC-Paramount, but there were no more hits, and 1966 saw the end of the Dixie Cups. There had been other singles, like "Gee the Moon Is Shining Bright" and "Girls Can Tell," but there weren't enough fans to back the releases.
In 1974, Rosa Lee and her sister Barbara Ann left New York behind to return to New Orleans and found work as models for awhile. When the sisters began to sing and tour again, their cousin Joan Marie declined to join in, so her spot was filled by Dale Mickle.
http://www.history-of-rock.com/dixie_cups.htm
Style musical : Girl Groups, Brill Building Pop

https://youtu.be/6MV62ZcIguw
CHAPEL OF LOVE (1964)

AIN'T THAT NICE (1964)

YOU SHOULD HAVE SEEN THE WAY HE LOOKED AT ME (1964)

PEOPLE SAY (1964)
Années en activité :
| | | | | | | | | | |
| --- | --- | --- | --- | --- | --- | --- | --- | --- | --- |
| 1910 | 20 | 30 | 40 | 50 | 60 | 70 | 80 | 90 | 2000 |
DISCOGRAPHY
Singles & EP
04/1964
SP RED BIRD 10-001 (US)
.
Chapel Of Love / Ain't That Nice
1964
SP VOGUE HV 2018 (NL)
Chapel Of Love / Ain't That Nice
07/1964
SP RED BIRD 10-006 (US)
.
Girls Can Tell / People Say
07/1964
SP VOGUE DV 14160 (DE)
10/1964
SP RED BIRD 10-012 (US)
.
No True Love / You Should Have Seen The Way He Looked At Me
11/1964
SP RED BIRD 10-017 (US)
.
Another Boy Like Mine / Little Bell
1964
EP RED BIRD ? (US)
Chapel Of Love / Ain't That Nice / You Should Have Seen The Way He Looked At Me / No True Love
1964
EP RED BIRD RBEV 28001 (F)
Chapel Of Love / Ain't That Nice / Shine On Harvest Moon (Jersey RED) / No Other Baby (Jersey RED)
1964
EP RED BIRD RBEV 28002 (F)
People Say / Girls Can Tell / + JELLY BEANS
03/1965
SP RED BIRD 10-024 (US)
.
Iko Iko / Gee Baby Gee
03/1965
SP RED BIRD 10-024 (US)
.
Iko Iko / I'm Gonna Get You Yet
06/1965
SP RED BIRD 10-032 (US)
.
GeeThe Moon Is Shinning Bright / I'm Gonna Get You Yet
1965
EP RED BIRD RBEV 28006 (F)
You Should Have Seen The Way He Looked At Me / No True Love / Gee Baby Gee / Another Boy Like Mine
06/1965
SP ABC-PARAMOUNT 45-10692 (US)
.
That's Where It's At / Two-Way-Poc-A-Way
09/1965
SP ABC-PARAMOUNT 45-10715 (US)
.
What Goes Up, Must Come Down / I'm Not That Kind Of Girl
12/1965
SP ABC-PARAMOUNT 45-10755 (US)
.
A-B-C Song / That's What The Kids Said
10/1966
SP ABC-PARAMOUNT 45-10855 (US)
.
Love Ain't So Bad (After All) / Daddy Said No
1966
SP LANA 144 (US)
.
12/1976
SP CHARLY CEP 100 (UK)

Chapel Of Love / People Say / Iko Iko / Little Bell

1978
SP GOLDISC G 3082 (US)
.
Iko Iko (DIXIE CUPS) / New York's A Lonely Town (

TRADEWINDS)

1987
SP ANTILLES AN 707 (US)

Iko Iko (DIXIE CUPS) / Hey Hey (Indians Comin') (WILD TCHOUPITOULAS)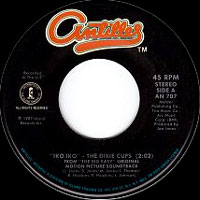 Albums
04/1964
LP 12" RED BIRD RB 20-100 (mono) / RBS 20-100 (stereo) (US)
CHAPEL OF LOVE - Chapel Of Love / Gee The Moon Is Shining Bright / I'm Gonna Get You Yet / Ain't That Nice / Thank You Mama Thank You Papa / Another Boy Like Mine / Gee Baby Gee / Iko Iko / Girls Can Tell / All Grown Up / People Say
1965
LP 12" ABC-PARAMOUNT ABC 525 (mono) / ABCS 525 (stereo) (US)
RIDING HIGH -

What Goes Up, Must Come Down / Two- Way-Poc-A-Way / That's Where It's At / Sugar That I Need / I'm Not The Kind Of Girl (To Marry) / I've Got To Get That Boy / Danny Boy / Chances Are / Here It Comes Again / I'll Never Let The Well Run Dry / Promises, Promises

1965
LP 12" RED BIRD RB 20-103 (US)
IKO IKO -

Iko Iko / Chapel Of Love / Gee The Moon Is Shining Bright / I'm Gonna Get You Yet / Ain't That Nice / Thank You Mama, Thank You Papa / Gee Baby Gee / Another Boy Like Mine / Girls Can Tell / All Grown Up / People Say

04/1980
LP 12" CHARLY CRM 2004 (US)
TEEN ANGUISH - VOLUME ONE -

I'm Gonna Get You Yet / Little Bell / Chapel Of Love / Iko Iko / All Grown Up / Gee The Moon's Shining Bright / Thank You Mama Thank You Papa / Another Boy Like Mine / Wrong Direction / Gee Baby Gee / People Say

1985
LP 12" BACK-TRAC BT-1001 (US)
THE BEST OF THE DIXIE CUPS - Iko Iko / Chapel Of Love / Gee The Moon Is Shining Bright / Ain't That Nice / Thank You Mama Thank You Papa / Another Boy Like Mine / Girls Can Tell / All Grown Up / People Say / Wrong Direction / Gee Baby Gee / Little Bell
1986
CD CHARLY 38 (UK)
THE DIXIE CUPS MEET THE SHANGRI-LAS - DIXIE CUPS & SHANGRI-LAS - Chapel Of Love / I'm Gonna Get You Yet / All Grown Up / Gee The Moon Is Shining Bright / Gee Baby Gee / Another Boy Like Mine / Iko Iko / Wrong Direction / Ain't That Nice / Thank You Mama, Thank You Papa / Little Bell / People Say / + The SHANGRI-LAS
1992
CD MARGINAL 077 (B)
IKO IKO - Gee The Moon Is Shining Bright / Girls Can Tell / Chapel Of Love / Gee Baby Gee / Iko Iko / All Grown Up / Another Boy Like Mine / Little Bell / People Say / Ain't That Nice / Wrong Direction / Thank You Mama, Thank You Papa / You Should Have Seen The Way He Looked At Me / True True Love (No True Love) / I'm Gonna Get You Yet / What Goes Up, Must Come Down / Two-Way-Pac-Away / That's Where It's At / Sugar That I Need / I'm Not The Kind Of Girl (To Marry) / I've Got To Get That Boy / Danny Boy / Chances Are / Here It Comes Again / I'll Never Let The Well Run Dry / Promises Promises
05/1997
CD LASERLIGHT 12659 (DE)
THE BEST OF THE DIXIE CUPS -

Chapel Of Love /Girls Can Tell / I'm Gonna Get You Yet / All Grown Up / Ain't That Nice / Gee Baby Gee / Iko Iko / Another Boy Like Mine / Poeple Say / Thank You Mama Thank You Papa / Gee The Moon Is Shining Bright / Little Bell / Wrong Direction / No True Love / You Should've Seen The Way He Looked At Me

01/1999
CD COLLECTABLES 6024 (US)
THE VERY BEST OF DIXIE CUPS - CHAPEL OF LOVE - Chapel Of Love / People Say / Iko Iko / Thank You Mama, Thank You Papa / Girls Can Tell / I'm Gonna Get You Yet / Gee The Moon Is Shining Bright / Another Boy Like Mine / Gee Baby Gee / Ain't That Nice / All Grown Up / No True Love / You Should Have Seen The Way He Looked At Me / Little Bell / People Say / Iko Iko
08/2002
CD VARESE 066375 (US)
THE COMPLETE RED BIRD RECORDINGS - Chapel Of Love / Gee The Moon Is Shining Bright / I'm Gonna Get You Yet / Girls Can Tell / All Grown Up / Iko Iko / Gee Baby Gee / Ain't That Nice / People Say / Little Bell / No True Love / You Should Have Seen The Way He Looked At Me / Another Boy Like Mine / Thank You Mama, Thank You Papa / Wrong Direction / Gee The Moon Is Shining Bright [mono single version] / People Say [alternate version] / Iko Iko [a cappella alternate version]
2011
CD NOT ON LABEL IRI 01 (US)

DOING IT OUR WAY - Stand By Me / Chapel Of Love / Proud Mary / New Orleans Ladies / Will You Love Me Tomorrow / You Shoulda Seen / People Say / Iko Iko Medley
© Rocky Productions 17/03/2013