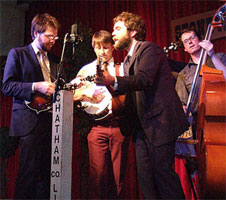 Groupe Bluegrass US formé à Raleigh (Caroline du Nord) en 1999. Composé de Dave Wilson, John Teer, Chandler Holt et Greg Readling.

Merging a traditional bluegrass sound and first-class picking with pithy songwriting that often confronts personal issues and political matters head on, Chatham County Line are a North Carolina foursome who first came together in 1999. In the mid-'90s, guitarist Dave Wilson was a member of a country-rock band called Stillhouse, whose sound merged Gram Parsons and Neil Young, when he met Greg Readling, a pedal steel player who could also handle upright bass. Both were interested in the possibility of forming an acoustic country band, and fiddle and mandolin master John Teer and banjo player Chandler Holt were Stillhouse fans interested in making music with a purer sound. The four friends began jamming together in 1999, and within a year they were playing out occasionally as Chatham County Line.
By this time, Stillhouse had broken up and Wilson and Readling were doing double duty with Tift Merritt's backing band, the Carbines. Chatham County Line were occasionally opening shows for Merritt, and at one such gig in 2003 they were seen by producer and Southern pop icon Chris Stamey, who liked their sound and offered to produce their first album; he also helped the band score a deal with the influential North Carolina-based indie label Yep Roc Records. Stamey also produced Chatham County Line's second album, 2005's Route 23, while Brian Paulson stepped in behind the board for 2006's Speed of the Whippoorwill. Meanwhile, Chatham County Line began earning accolades for their inventive take on bluegrass music, having been named the Best New Bluegrass Band at the 2004 RockyGrass Competition in Lyons, CO, while receiving similar honors at the 2006 Indie Music Awards. IV appeared from Yep Roc in 2008, with Stamey taking the production reins once again. Their fifth full-length offering, Wildwood, appeared in 2010. The group returned in 2012 with a live album, Sight & Sound, recorded in traditional bluegrass fashion with the band huddled around a single microphone; the show was also videotaped and released on DVD. Chatham County Line spent much of 2013 writing and demoing fresh material, then taking the new songs into the studio for their sixth studio effort, 2014's Tightrope. While the meticulous approach they took on Tightrope shone a light on their wonderfully detailed arrangements, their next release, 2016's Autumn, was a far more casual and loose affair.
http://www.chathamcountyline.com/
Talents : Dave Wilson : Vocals, Songwriter - John Teer : Fiddle, Mandolin - Chandler Holt : Guitar, Banjo - Greg Readling : Bass
Style musical : Bluegrass, Alternative Country, Folk

http://www.youtube.com/watch?v=i-nUcbm68Zs
Years in activity :
| | | | | | | | | | | | |
| --- | --- | --- | --- | --- | --- | --- | --- | --- | --- | --- | --- |
| 1910 | 20 | 30 | 40 | 50 | 60 | 70 | 80 | 90 | 2000 | 10 | 20 |
DISCOGRAPHY
Albums
06/2003
CD BONFIRE 8002 (US)
CHATHAM COUNTY LINE - Closing Town / WSM (650) / Tennessee Valley Authority / Wichita Central / Sightseeing / Bacon In The Skillet / Brings My Tears / Stella Mae / The Legend Of Old 99 / Butterwheel / Song For John Hartford / I Shall Be Released / There's A Light
02/2005
CD YEP ROC 2087 (US)
ROUTE 23 - Nowhere To Sleep / Dark Clouds / Route 23 / Louisiana Freight Train / Gunfight In Durango / Engine No. 709 / Parlour Light / Arms Of The Law / Sun Up / Take Heed / Ruination / Make Some Pay / Saro Jane / Born To Be With You
05/2006
CD YEP ROC 2113 (US)
SPEED OF THE WHIPPOORWILL - Company Blues / Rock Pile / Speed Of The Whippoorwill / They Were Just Children / By The Riverside / Day I Die / Savoy Special / Confederate Soldier / Waiting Paradise / Coming Home / Lonesome In Caroline / All The Ladies In The Town / Come Back To Me
10/2007
CD Sony 1186493 (NW)

Amerikabesok Med Ekstra Koffert - JONAS FLELD - CHATHAM COUNTY LINE -

Mister And Mississippi / Nowhere To Sleep / Hun Kom Som En Engel / Lonesome In Carolina / Den Svarte Elva / When Morning Comes To America / Single Engines / Gunfight In Durango / Bacon In The Skillet / Konnerud / Sigve / Sun Up / One More Shot / Born To Be With You / Engler I Sneen / Last Thing On My Mind / Whippoorwil / Waiting Paradise / Vinterbarn
03/2008
CD YEP ROC 2157 (US)
IV - Chip Of A Star / The Carolinian / Let It Rock / One More Minute / Birmingham Jail / Sweet Eviction / I Got Worry / Clear Blue Sky / She / Whipping Boy / Paige / Country Boy - City Boy / Thanks
02/2009
CD RCA / Sony 88697432302 (NW)

Brother of Song - JONAS FLELD - CHATHAM COUNTY LINE -

Paying Back / Stein Ove / Brother Of Song / Fool No More / Blue In The Morning / Dark As The Night / The River / Ready To Love You / No Answer / Valley / Soaked To The Skin / Fall River / End Of The Line / De to Gamle
07/2010
CD YEP ROC 2221 (US)
WILDWOOD - Wildwood / Alone In New York / Saturdays & Sundays / Crop Comes In / Porcelain Doll / Out Of The Running / Heart Attack / Ghost Of Woody Guthrie / Honeymoon / Ringing In My Ears / Blue Jay Way / End Of The Line
07/2012
2 CD YEP ROC YEP 2234 (US)
SIGHT & SOUND :

CD 1 :

Alone In New York / Crop Comes In / Nowhere To Sleep / Birmingham Jail / By The Riverside / Route 23 / Gunfight In Durango / Whipping Boy / Rock Pile / Speed Of The Whippoorwill / The Carolinian / Clear Blue Sky / Closing Town / Wildwood / Chip Of A Star / Let It Rock

CD 2 :

Crop Comes In / Gunfight In Durango / One More Minute / The Carolinian / Speed Of The Whippoorwill / Birmingham Jail / Clear Blue Sky / Closing Town / Blue Jay Way / Chip Of A Star / Let It Rock / Porcelain Doll / End Of The Line

10/2013
CD Columbia 88883777801 (NW)

Western Harmonies - JONAS FLELD - CHATHAM COUNTY LINE -

Boy / Skulle Jeg Bli Blind / Railroad / Pelle / Hallingkast Breakdown / Brevet / Gitar / Som I Gresset / En Gammel Mann / Tilbake / Time Takes Me
05/2014
CD YEP ROC CDYEP2387 (US)

Tightrope -

The Traveler / Should Have Known / Any Port In A Storm / Girl She Used To Be / Tightrope Of Love / Sixteen Years / Love I Found / Hawk / Ships At Sea / Will You Still Love Me / Final Reward
09/2016
CD YEP ROC CDYEP 2482 (US)

Autumn - You Are My Light / Bon Ton Roulet / Siren Song / Rock In The River / Jackie Boy / All That's Left / Bull City Strut / Dark Rider / Moving Pictures Of My Mind / If I Had My Way / Show Me The Door

03/2019
CD YEP ROC YEP-2653 (US)

Sharing The Covers - I Got You (At The End Of The Century) / People Gonna Talk / Walk Don't Run / My Baby's Gone / Bumblebee / Think I'm In Love / You Don't Know How It Feels / Girl On The Billboard / Think Of What You've Done / Watching The Wheels / Tear Down The Grand Ole Opry / The Last Time / Gonna Lay Down My Old Guitar

09/2019
CD Cleopatra ‎CLO 1560 (US)

Winter Stories - Judy Collins & Jonas Fjeld with special guests Chatham County Line - Northwest Passage / Mountain Girl / Winter Stories / Bury Me With My Guitar On / River / Sweet Refrain / The Fallow Way / Angels In The Snow / Highwayman / Frozen North / The Blizzard

05/2020
CD YEP ROC 2704 (US)

Strange Fascination - Oh Me Oh My / Station To Station / Strange Fascination / Free Again / The Eagle And The Boy / Leave This World / Quiter (For Guy Clark) / Queen Anne's Song / Nothing
© Rocky Productions 16/05/2020