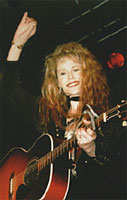 Chanteuse Country US née le 11 Octobre 1952 à Northfield (Minnesota). Paulette Carlson a fait parti du groupe Highway 101.

Paulette Carlson was born October 11, 1952, in Northfield, MN. A talented singer and guitar player, Carlson built a large local following before heading to Nashville. Once in Music City, Carlson found work as a staff writer with the Oak Ridge Boys' Silverline/Goldmine music-publishing syndicate, and wrote songs for Tammy Wynette, among others. In early 1983, she secured a solo recording contract. But despite promising critical praise for her early singles, Carlson was back in Minnesota by 1985.
There she was rediscovered two years later by Nitty Gritty Dirt Band manager Chuck Morris, who promptly built a band around her that included guitarist Jack Daniels, drummer Cactus Moser, and bassist/mandolin player Curtis Stone. As Highway 101, the quartet debuted in 1987 with the Carlson-penned number four country single "The Bed You Made for Me." A self-titled LP was issued that same year, and the release spawned two more successful singles.
In 1988, Carlson and Highway 101 released Highway 101, Vol. 2. The album was essentially a rewrite of their debut, with rollicking country-rock singles the order of the day. Nevertheless, the album was a hit. A year later, Paint the Town arrived. By now, the formula had become a bit tired, and the album didn't do as well on radio. Carlson parted ways with Highway 101 in 1990, embarking once again on a solo career. 1992 saw the release of Love Goes On, which contained the Top 20 smash "I'll Start With You." However, Carlson couldn't capitalize on her success, and in 1995 she rejoined Highway 101 for the band's ten-year reunion. A year later, Reunited appeared. Of its 12 tracks, four were re-recordings of the group's past hits. Latest & Greatest followed in 1997; both were issued through Kardina/Intersound. In 1998, Carlson exited Highway 101 yet again, but her star seemed to fade a bit, and her only credits through 2003 were as a backing vocals for artists such as Michael Martin Murphey.
https://en.wikipedia.org/wiki/Paulette_Carlson
Talents : Vocals, Songwriter, Guitar
Style musical : Contemporary Country

http://youtu.be/hGo4Vi7po24
Years in activity :
| | | | | | | | | | | | |
| --- | --- | --- | --- | --- | --- | --- | --- | --- | --- | --- | --- |
| 1910 | 20 | 30 | 40 | 50 | 60 | 70 | 80 | 90 | 2000 | 10 | 20 |
DISCOGRAPHY
Singles
1983
SP RCA

PB-13546 (US)

You Gotta Get To My Heart (Before You Lay A Hand On Me) / With A Friend Like You (Who Needs A Lover)

1983
SP RCA

JK 13546 (US) (promo)

You Gotta Get To My Heart (Before You Lay A Hand On Me) / You Gotta Get To My Heart (Before You Lay A Hand On Me)

08/1983
SP RCA

PB-13599 (US)

I'd Say Yes / Sweeter The Love

06/1983
SP RCA

JK 13599 (US) (promo)

I'd Say Yes / I'd Say Yes

02/1984
SP RCA

PB-13745 (US)

Can You Fool /

I Go To Pieces
02/1984
SP RCA

JK 13745 (US) (promo)

Can You Fool / Can You Fool

04/1987
SP WARNER BROS. 7-28372 (US)

Highway 101 featuring Paulette Carlson - Whiskey, If You Were A Woman / I'll Take You (Heartache And All)

04/1987
SP WARNER BROS. 7-28372 (US) (promo)
Highway 101 featuring Paulette

Carlson

- Whiskey, If You Were A Woman
04/1992
CD LIBERTY

Cema Special Markets

S7-57737 (US)

Not With My Heart You Don't / It's Too Bad
Albums
11/1991
CD CAPITOL CDP 7 97711 2 (US)

LOVE GOES ON -

I'll Start With You / Not With My Heart You Don't / Someone I Used To Know / Love Is Never Wrong / Why Should I? / The Chain Just Broke / It's Too Bad / Where Ya Comin' From / Falling In Love For A Lifetime / Love Goes On
10/1994
CD MAJESTIC 01012 (US)

CHRISTMAS IS FOR YOU -

Christmas Is For You / First Noel / Silver Bells / Mrs. Santa Claus / Sleigh Ride / What Child Is This? / O Holy Night / Have Yourself A Merry Little Christmas / Winter Wonderland / Let It Snow! Let It Snow! Let It Snow!
02/1996
CD WillowTree 9173 (US)
REUNITED - HIGHWAY 101 & Paulette CARLSON - Where'd You Get Your Cheatin' From / Bed You Made For Me / Holdin' On / Hearts On The Run / Setting Me Up / She Don't Have The Heart To Love You / Texas Girl / All The Reasons Why / Walkin' Talkin' Cryin' Barely Beatin' / I've Got Your Number / It Must Be Love / Have You Ever Really Loved A Woman
06/2006
CD PANDEAN 7174-2 (US)
IT'S ABOUT TIME - I Knew A Good Thing When I Had It / That Old Glass Case / I Wish You Wouldn't Stand Quite So Close / Cowgirl Angel / Only In Your Dreams / My Love Is In America / He's Funny That Way / She Rides For The Brand / Twenty Years Ago / Thank You Vets / Rejoice For The Moment / It's About Time Now
© Rocky Productions 13/11/2022