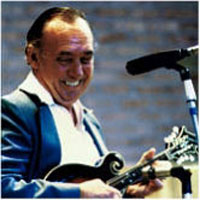 Mandoliniste Country US né Kenneth C. Burns le 10 Mars 1920 à Conasauga (Tennessee). Jethro Burns est décédé le 4 Février 1989. Il a fait partie du duo Homer & Jethro.

As the mandolinist in the classic country comedy duo Homer & Jethro, Kenneth Burns was one of the finest instrumentalists of his generation, yet many people never realized that fact. Behind the country hayseed garb, the hick patter, and the outrageous parodies of popular songs, "Jethro" Burns and guitarist Henry "Homer" Haynes were expert jazz musicians whose exaggerated hillbilly appearance and zany sendups of songs belied the cleverness of their comedy and the extraordinarily high quality of their music. From the duo's formation in 1936 to Haynes' death in 1971, Homer & Jethro were immensely popular, selling many records and becoming a fixture at the Grand Ole Opry. After Haynes' death, Burns began a solo career that abandoned comedy in favor of jazzy bluegrass and country. Jethro's music was extremely melodic and graceful, combining elements of jazz, swing, country, folk, and bluegrass, resulting in one of the most distinctive and influential mandolin styles in country music history.
Born in Conasauga, TN, but raised in Knoxville, Jethro Burns (b. Kenneth C. Burns, March 10, 1920; d. February 4, 1989) began playing mandolin when he was a child, picking up his brother Aytchie's instrument. By the age of 11, he had grown into a skilled and accomplished instrumentalist, and he and his brothers frequently entered talent contests across Tennessee. At one of the concerts they lost, the sponsoring station, WNOX, asked the brothers to join a band called the String Dusters with another losing contestant, Henry Haynes. They accepted, and the group quickly earned a following; even at this stage, Jethro's playing demonstrated jazzy influences and inflections.
By 1936, Aytchie had left the group and Burns and Haynes had created the comedic Homer & Jethro characters that brought them to popularity. The duo made a good living from these rubes, winning a Grammy in 1959, starring in Las Vegas, and appearing regularly on TV, including The Tonight Show. Although they canned the country corn occasionally (as on Playing It Straight, a 1962 album), their on-stage wit and parodies of well-known songs ranging from the opera to the Opry made them famous. Regarding his "Jambalaya" being turned into "Jam Bowl Liar," Hank Williams said you know a song's good when it's been given the Homer & Jethro treatment. Other zingers include "She Was Bitten on the Udder by an Adder," "Mama, Get the Hammer (There's a Fly on Papa's Head)," and "I've Got Tears in My Ears from Lying on My Back in Bed While I Cry Over You."
Following Haynes' death in 1971, Burns continued to perform and teach the mandolin. During that decade, he wrote two instructional books on how to play the instrument with Ken Edison, which were published by Mel Bay. During the late '70s, Jethro played with the folksinger Steve Goodman, as well as the great country guitarist Chet Atkins. He also began recording a series of jazz albums during that era, many of which featured his son John on guitar. Jethro Burns continued to perform at string music festivals and concerts until his death in 1989. In the series of swing jazz albums he released during the last decade of his career, Burns demonstrated why he was considered the best mandolin player of a generation and, in the opinion of many, the best who has ever lived.
https://en.wikipedia.org/wiki/Kenneth_C._"Jethro"_Burns
Talents : Vocals, Guitar, Mandolin
Style musical : Traditional Country, Country Comedy, Swing

https://youtu.be/J11NV3IjFug (Jethro Burns Quartet)

https://youtu.be/nBZn4S9S2CU (Homer & Jethro)
Years in activity :
| | | | | | | | | | | | |
| --- | --- | --- | --- | --- | --- | --- | --- | --- | --- | --- | --- |
| 1910 | 20 | 30 | 40 | 50 | 60 | 70 | 80 | 90 | 2000 | 10 | 20 |
DISCOGRAPHY
Singles
| | | |
| --- | --- | --- |
| 1972 | SP RCA VICTOR 74-0751 (US) | Dolly Parton's Sweet On Me / Don't Shoot The Mandolin Player |
| 1973 | SP RCA APB0-0199 (US) | Magic Fingers / Mama Was A Truck Drivin' Man |
| 1973 | SP RCA DJHO-0199 (US) (promo) | Magic Fingers [mono] / Magic Fingers [stereo] |
Albums
02/1976
LP 12" FLYING FISH

HDS 701 (US)

HDS SESSIONS - Vassar CLEMENTS, Jethro BURNS, Sam BUSH, Norman BLAKE, David HOLLAND, Butch ROBBINS & Tut TAYLOR - Sweet Georgia Brown / Sauerkraut 'n Solar Energy / The Old Brown Case / Take The "A" Train / Going Home / McKinley's Blues / Oconee / Vassar And Dave
1977
LP 12" FLYING FISH FF 042 (US)
JETHRO BURNS - Stumbling / Jitterbug Waltz / C Jam Blues / Sweet Chorus / After You've Gone / Mama Was A Truck Driving Man / Back It Up And Push / Don't Get Around Much Anymore / Sitting On Top Of The World / Don't Let Your Deal Go Down / The Tattooed Lady / Kelly Boy Rag
1978
LP 12" FLYING FISH FF 072 (US)
JETHRO LIVE - Avalon / Autumn Leave / Kelly Boy Rag / Comedy, Swing 42 / Scotland / Nuages / Comedy / C Jam Blues - One O'clock Jump
1979
LP 12" KALEIDOSCOPE 9 (US)
BACK TO BACK - Jethro BURNS, Tiny MOORE & Eldon SHAMBLIN - Back To Back / Diane / In A Mellow Tone / Real Laid Back / Flickin' My Pick / Moonlight Waltz / Jethro's Tune / Swing '39 / Out Of Nowhere / Tickle Toe Young / Tiny's Rag Moore / Groovin' Night
1982
LP 12" KALEIDOSCOPE 14 (US)
TEA FOR ONE - No Greater Love / Tea For Two / Somewhere Over The Rainbow - When You Wish Upon A Star / Nola / Willow Weep For Me / Crazy Rhythm / Deep Purple / Sophisticated Lady / Wave / Rip-Off / Mandolin Picker's Epitaph / All The Things You Are / So Long It's Been Good To Know Yuh
1983
LP 12" REBEL REB 1626 (US)
OLD FRIENDS - Jethro BURNS & Red RECTOR - Rainbow / Cielito Lindo / Back Home Again In Indiana / When I Grow Too Old To Dream / Fisher's Hornpipe / Down Yonder / Cept Old Bill / I Don't Love Nobody / Limehouse Blues / Arkansas Traveler / When You And I Were Young Maggie / Lara's Theme / Flop Eared Mule
03/1995
CD ACOUSTIC 15 (US)
SWING LOW SWEET MANDOLIN - Don STIERNBERG & JETHRO BURNS - That's A Plenty / Estrellita / Just Friends / Body And Soul / If I Had You / I'll Never Be The Same / Stella By Starlight / Fiddleobia / Golden Earrings / You Win Again / Fly Me To The Moon / Corrina Corrina / Shadow Of Your Smile / Smiles / Solitude / Swing Low Sweet Chariot
10/1997
CD ACOUSTIC 26 (US)
BYE BYE BLUES - Don STIERNBERG & JETHRO BURNS - Idaho / Laura / Lazy River / Four Leaf Clover / Bye Bye Blues / I Surrender Dear / Mood Indigo / I Never Knew / California Here I Come / Love Me Or Leave Me / Tuck Me To Sleep (In My Old 'tucky Home) / I'll Always Be In Love With You / Jeanine I Dream Of Lilac Time / Paramount Stomp / You Made Me Love You / Home / Let's Dance / Bill Bailey / Absence Never Makes The Heart Grow Fonder / I Can't Give You Anything But Love / Sunday / Idaho
11/1998
CD Freeland FRC-CD-653 (US)

The Puritan Sessions - Jethro Burns Featuring Keith Coleman - The Afternoon Sessions : Taterbug Rag / Djangology / Just A Closer Walk With Thee / Jethro's Tune / Flakey / Kelly Boy Rag / Rip-Off / Nola / Beaumont Rag / Fickle Fingers / Litterbug Waltz / Crazy Daisies / The Evening Session (Bonus Tracks) : Secret Love / Intro To "Bye Bye Blackbird" / Bye Bye Blackbird / Intro To "Blues In B Flat" / Blues In B Flat / Intro To "Solitude" / Solitude / Out Of Nowhere / Intro To "Birth Of The Blues" / Birth Of The Blues

08/2005
CD ACOUSTIC ? (US)
BACK TO BACK - Tiny MOORE & Jethro BURNS :
© Rocky Productions 2/08/2022