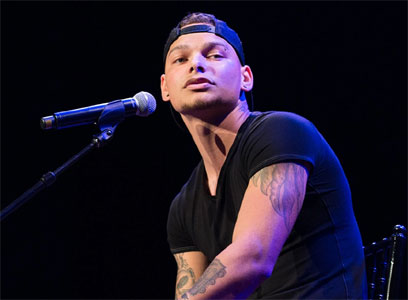 Chanteur Country US nť le 21 Octobre 1993 ŗ Chattanooga (Tennessee).

Tennessee's Kane Brown is a contemporary country singer/songwriter blessed with a rich baritone voice. Raised by a single mom, Brown grew up in Redbank, Tennessee, where he first became interested in music while in high school. Initially attracted to R&B, Brown decided to focus on country after winning an 11th grade talent contest with his rendition of Chris Young's "Gettin' You Home (The Black Dress Song)." Buoyed by that success, Brown began posting videos online of covers of songs by Brantley Gilbert, Alan Jackson, and others. He quickly developed a loyal following of viewers, a fan base that helped his own single, "Don't Go City on Me," go viral upon its release in 2014. In 2015, Brown released his debut EP, Closer, which reached the Top Ten of the Billboard Country Albums chart. Following Closer, he also released the stand-alone single "Used to Love You Sober."
In early 2016, Brown signed a recording contract with RCA/Sony Music Nashville. That December, he returned with his eponymous full-length debut, Kane Brown, featuring the singles "Ain't No Stopping Us Now" and "Thunder in the Rain." The album debuted at number one on the country charts and peaked at number ten on the Billboard 200. Two more singles, "What Ifs," featuring Lauren Alaina, and "Heaven" appeared in 2017. A third non-album track "Lose It," arrived in 2018.
https://en.wikipedia.org/wiki/Kane_Brown
Talents : Vocals
Style musical : Contemporary Country

https://youtu.be/CKULyhbACpU
Years in activity :
| | | | | | | | | | | | |
| --- | --- | --- | --- | --- | --- | --- | --- | --- | --- | --- | --- |
| 1910 | 20 | 30 | 40 | 50 | 60 | 70 | 80 | 90 | 2000 | 10 | 20 |
DISCOGRAPHY
EP
06/2015
CD Kane Brown Music (US)
CLOSER - Closer / Hit The Gas / It Turns Me On / Don't Go City On Me / Forgetting Is The Hardest Part / Lost More Than I Found (featuring : Lainey

Edwards

)
03/2016
CD RCA 531694 (US)

Chapter 1 - Wide Open / Used To Love You Sober / Last Minute Late Night / Excuses / There Goes My Everything

08/2020
CD RCA 19439-84493-2 (US)

Mixtape Vol.1 - Cool Again / Be Like That (featuring - Khalid, Swae Lee) / Worship You / BFE / Didn't Know What Love Was / Last Time I Say Sorry (featuring - John Legend) / Worldwide Beautiful
Albums
| | | | |
| --- | --- | --- | --- |
| 12/2016 | CD RCA 88985-30947-2 (US) | | KANE BROWN - Hometown / What Ifs / Learning / Thunder In The Rain / Pull It Off / Cold Spot / Ain't No Stopping Us Now / Comeback / Rockstars / Better Place / Granddaddy's Chair |
| 10/2017 | CD RCA 88985-47037-2 (US) (deluxe edition) | | KANE BROWN - Hometown / What Ifs (featuring : Lauren ALAINA) / Learning / Thunder In The Rain / Pull It Off / Cold Spot / Ain't No Stopping Us Now / Comeback / Rockstars / Better Place / Granddaddy's Chair / Setting The Night On Fire (featuring : Chris YOUNG) / What's Mine Is Yours / Found You / Heaven |
| 11/2018 | CD RCA 19075-86753-2 (US) | | Experiment - Baby Come Back To Me / Good As You / Lose It / It Ain't You It's Me / Short Skirt Weather / Homesick / Weekend / Work / One Night Only / My Where I Come From / American Bad Dream / Live Forever |
| 09/2022 | CD RCA 19349-96216-2 (US) | | Different Man - Bury Me In Georgia / Different Man (featuring - Blake Shelton) / Like I Love Country Music / Go Around / Grand / See You Like I Do / Thank God (featuring - Katelyn Brown) / Leave You Alone / Riot / One Mississippi / Drunk Or Dreaminí / Losing You / Whiskey Sour / Popís Last Name / Devil Donít Even Bother / Nothing Iíd Change / Dear Georgia |
© Rocky Productions 21/09/2022