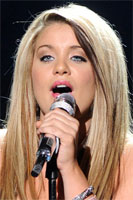 Chanteuse Country US née Lauren Alaina Suddeth, le 8 Novembre 1994 à Rossville (Georgie).

The runner-up on the 2011 season of Fox's American Idol, Lauren Alaina is a Southern singer with a bent toward contemporary country-pop. Born in 1994 in Rossville, Georgia, Alaina first began singing around age three and grew up listening to country music. Prior to American Idol, she was a cheerleader at her high school and performed regularly around Georgia, where she won the WinniSTAR youth talent contest in 2009. She competed in the finals of the tenth season of American Idol against ultimate winner Scotty McCreery -- also a young country singer -- and eventually earned the silver medal.
After wrapping Idol, Alaina released the single "Like My Mother Does," which sold over 200,000 copies during its first two months of release and helped earn her a contract with Mercury Nashville. Her full-length debut album, Wildflower, followed several months later in 2011. The album debuted at number five on the Billboard 200 and reached number two on the Billboard Top Country Albums chart. In 2013, she released the single "Barefoot and Buckwild," and returned to American Idol to perform the song.
In 2017, Alaina released her sophomore full-length album, Road Less Traveled, which featured the title track single co-written by Alaina, Meghan Trainor, and Jesse Frasure. Also included on the busbee-produced album was the single "Next Boyfriend." The album landed at number 31 on the Billboard 200 and number three on the Top Country Albums chart. Also that year, she scored a number one country hit appearing on Kane Brown's single "What Ifs." In 2019, she released the single "Ladies in the '90s." with "Run" arriving in summer 2020.
http://www.laurenalainaofficial.com/
https://en.wikipedia.org/wiki/Lauren_Alaina
Talents : Vocals
Style musical : Contemporary Country, Pop-Rock, Pop Idol

http://youtu.be/0VA0gwlwW_Y
Years in activity :
| | | | | | | | | | | | |
| --- | --- | --- | --- | --- | --- | --- | --- | --- | --- | --- | --- |
| 1910 | 20 | 30 | 40 | 50 | 60 | 70 | 80 | 90 | 2000 | 10 | 20 |
DISCOGRAPHY
singles & EP
06/2011
CD MERCURY B001580002 (US)
AMERICAN IDOL SEASON 10 HIGHLIGHTS - Like My Mother Does / Flat On The Floor / The Climb / I'm The Only One / Wild One
2011
CD MERCURY ? (US) (promo)
.

Georgia Peaches

2013
CD MERCURY ? (US) (promo)
.

Road Less Traveled

2013
CD POLYDOR ? (EUR) (promo)

Road Less Traveled

2013
CD MERCURY ? (US) (promo)
.

Barefoot And Buckwild

2015
CD MERCURY ? (US) (promo)
.

Next Boyfriend

2016

CD

MERCURY

B0024697-02 (US)

Road Less Traveled / Holding The Other / Next Boyfriend / Painting Pillows / History

2016
CD HUMP HEAD AL1 (UK) (promo)

Next Boyfriend / History

09/2020
CD MERCURY B0032483-02 (US)

Getting Over Him - Run / If I Was A Beer / Bar Back / Getting Over Him (featuring Jon Pardi) / Seen You In Your Hometown / What Do You Think Of?

2020
CD MERCURY B0031827-02 (US)

Getting Good - In My Veins / Getting Good / Somebody Else's Problem / Ladies In The '90s / Country In Me / The Other Side
Albums
10/2011
CD MERCURY B0016025-02 (US)
WILDFLOWER - Georgia Peaches / Growing Her Wings / Tupelo / The Middle / Like My Mother Does / She's A Wildflower / I'm Not One Of Them / The Locket / Eighteen Inches / One Of Those Boys / Funny Thing About Love / Dirt Road Prayer
01/2017
CD MERCURY 002622402 (US)

Road Less Traveled -

Doin' Fine / My Kinda People / Three / Road Less Traveled / Queen Of Hearts / Think Outside The Boy / Painting Pillows / Next Boyfriend / Crashin' The Boys' Club / Same Day Different Bottle / Holding The Other / Pretty
09/2021
CD MERCURY 003374202 (US)

Sitting Pretty on Top of the World - It Was Me / If The World Was A Small Town / Getting Good / Same Story, Different Saturday Night / On Top Of The World / Run / What Do You Think Of? / I'm Not Sad Anymore / Getting Over Him / Good Ole Boy / When The Party's Over / You Ain't A Cowboy / Goodbye Street / Written In The Bar / Change My Mind
© Rocky Productions 4/09/2021