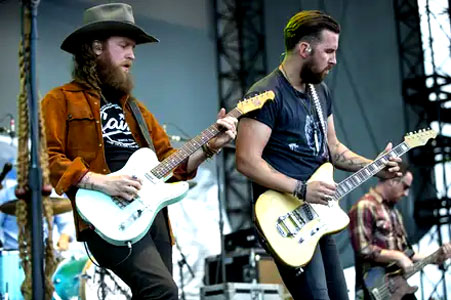 Duo Country de Deale (Maryland) composť de John et T.J. Osborne.

Nashville-based duo Brothers Osborne make earthy, passionate country-rock.
Raised in Deale, Maryland, siblings John and T.J. Osborne grew up listening to their father's country and rock records. Encouraged to write and play their own music, the brothers began to practice in a shed behind their house. By their teens they had formed the cover band Deuce & a Quarter, playing songs by Lynyrd Skynyrd, Merle Haggard, Bob Seger, and others in local bars. John eventually moved to Nashville, followed two years later by T.J., and Brothers Osborne were born.
In 2011, the brothers signed a publishing deal with Warner-Chappell/King Pen Music, and a year later they signed a record deal with Capitol. The duo's debut single, "Let's Go There," appeared in 2013, followed by the single "Rum" in 2014. A year later, they released a re-recorded version of their EP track "Stay a Little Longer." Produced by Jay Joyce (Emmylou Harris, Keith Urban, Faith Hill), the single eventually peaked at number four on Billboard's country chart and eventually went platinum, also earning the duo their first Grammy nomination.
In 2016, Brothers Osborne released their debut full-length album, the Joyce-produced Pawn Shop. The album included both "Stay a Little Longer" and "Rum," as well as subsequent charting singles "21 Summer" and "It Ain't My Fault." Industry recognition followed quickly; the brothers took home Vocal Duo of the Year at both the CMA and ACM awards, and "21 Summer" and "It Ain't My Fault" were both nominated for Grammy Awards. The duo's sophomore album, Port Saint Joe, appeared in April 2018 and included the whiskey-soaked single "Shoot Me Straight" as well as "I Don't Remember Me (Before You)." Port Saint Joe earned Brothers Osborne Grammy nominations for Best Country Album as well as two for Best Country Duo/Group Performance, for "Shoot Me Straight" in 2018 and "I Don't Remember Me (Before You)" the following year. In October 2019, the pair issued the concert LP Live at the Ryman.
http://www.brothersosborne.com/
https://www.facebook.com/BrothersOsborne/
Talents : John : Lead Guitar, Backing Vocals - T.J. : Lead Vocals, Rhythm Guitar
Style musical : Contemporary Country, Americana, Traditionalist Country, Outlaw Country

https://youtu.be/8JjDHqZpdCg
Years in activity :
| | | | | | | | | | | | |
| --- | --- | --- | --- | --- | --- | --- | --- | --- | --- | --- | --- |
| 1910 | 20 | 30 | 40 | 50 | 60 | 70 | 80 | 90 | 2000 | 10 | 20 |
DISCOGRAPHY
Singles & EP
| | | | |
| --- | --- | --- | --- |
| 2013 | CD EMI ? (US) (promo) | . | Let's Go There |
| 2014 | CD EMI B0021536-02 (US) | | Shoot From The Hip / Arms Of Fire / Stay A Little Longer (demo) / Love The Lonely Out Of You / Rum |
| 2015 | CD EMI ? (US) (promo) | . | Stay A Little Longer (radio edit) |
| 2015 | CD EMI ? (US) (promo) | . | 21 Summer (radio mix) |
Albums
01/2016
CD EMI / Universal 002236402 (US)

Pawn Shop - Dirt Rich / 21 Summer / Stay A Little Longer / Pawn Shop / Rum / Loving Me Back / American Crazy / Greener Pastures / Down Home / Heart Shaped Locket / It Ain't My Fault

08/2016
CD Munck Music 2001 (US)

RECORDED Live at THE 2016 NEW ORLEANS Jazz & HERITAGE FESTIVAL - Greener Pastures / Sippin' / The Last One / American Crazy / Hey Good Lookin' / Whiskey River / Summer / Loving Me Back / Heart Shaped Locket / La Grange / Down Home / Stay / Rum / Rocky Top / Shape / Ain't My Fault

03/2017
CD Spinefarm SPINE738513 (EUR) (deluxe edition)

Pawn Shop -

Dirt Rich / 21 Summer / Stay A Little Longer / Pawn Shop / Rum / Loving Me Back / American Crazy / Greener Pastures / Down Home / Heart Shaped Locket / It Ain't My Fault / BONUS TRACKS : Love The Lonely Out Of You / Shoot From The Hip / Arms Of Fire
2017
LP 12" EMI SPINE702561 (UK)

Pawn Shop -

Dirt Rich / 21 Summer / Stay A Little Longer / Pawn Shop / Rum / Loving Me Back / American Crazy / Greener Pastures / Down Home / Heart Shaped Locket / It Ain't My Fault / BONUS TRACKS : Shoot From The Hip / Pawn Shop (acoustic) / Stay A Little Longer (acoustic) / It Ain't My Fault (acoustic)
04/2018
CD Capitol / EMI 6737378 (US)

Port Saint Joe - Slow Your Roll / Shoot Me Straight / I Don't Remember Me (Before You) / Weed, Whiskey And Willie / Tequila Again / A Couple Wrongs Makin' It Alright / Pushing Up Daisies (Love Alive) / Drank Like Hank / A Little Bit Trouble / While You Still Can

10/2019
CD Snakefarm SNAKE 823957 (US)

Live at the Ryman - Drank Like Hank / Shoot Me Straight / I Don't Remember Me (Before You) / Weed, Whiskey And Willie / Down Home / Rum / Pushing Up Daisies (Love Alive) / Tequila Again / 21 Summer / Love The Lonely Out Of You / Stay A Little Longer / It Ain't My Fault

10/2020
CD Snakefarm 0735865 (US)

Skeletons - Lighten Up / All Night / All The Good Ones Are / I'm Not For Everyone / Skeletons / Back On The Bottle / High Note / Muskrat Greene / Dead Man's Curve / Make It A Good One / Hatin' Somebody / Old Man's Boots
© Rocky Productions 26/10/2020