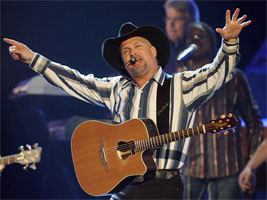 Chanteur Country US né Troyal Garth Brooks, le 7 Février 1962 à Tulsa (Oklahoma). Garth Brooks connait un succès commercial phénoménal depuis les années 1990 avec plus de 70 chansons à succès lui permettant de vendre 128 millions d'albums uniquement aux États-Unis.
Gêné par les conflits entre carrière et vie de famille, Garth Brooks annonce sa retraite en 2001 mais après plusieurs années de demandes insistantes, il accepte de reprendre sa carrière et remonte sur scène en 2009. Pendant cette absence, il continue de vendre des millions d'albums, se produit quelques fois et a même enregistré plusieurs nouveaux singles.
Le 15 novembre 2009, il annonce officiellement qu'il cessait sa retraite et signe un contrat avec une salle de spectacle à Las Vegas le Encore Hotel and Casino pour 5 ans. Plusieurs dates sont programmées chaque année. Il s'est aussi produit lors du spectacle donné en l'honneur de Barack Obama, le 18 janvier 2009. En décembre 2010, il fait aussi plusieurs concerts à Nashville pour les victimes des inondations dans le Tennessee du 2 mai 2010. Plus de 140000 billets sont vendus et 5 millions de dollars récoltés.
Cet artiste est l'un des meilleurs vendeurs de disques de tous les temps aux États-Unis, en compagnie d'Elvis Presley et de Michael Jackson. En 2010, ses ventes atteignent les 200 millions de dollars.
Il a par ailleurs sorti en 1999 un album sur le nom de son alter-égo "Chris Gaines" un greatest hits fictif d'un chanteur tout aussi fictif. (Garth Brooks in... the life of Chris Gaines) Sur ce disque il s'exprima sur un autre style musical que le son country qu'on lui reconnait.
Depuis le 10 décembre 2005, il est marié à la chanteuse country Trisha Yearwood

Garth Brooks is a pivotal figure in the history of country music, no matter how much some country purists would like to deny it. With his commercially savvy fusion of post-Merle Haggard country, honky tonk, post-folk-rock sensitive singer/songwriter sensibilities, and '70s arena rock dramatics, Brooks brought country music to a new audience in the '90s — namely, a mass audience. Before Brooks, it was inconceivable for a country artist to go multi-platinum. He shattered that barrier in 1991, when his second album, No Fences, began its chart domination, and its follow-up, Ropin' the Wind, became the first country album to debut at the top of the pop charts; No Fences would eventually sell a record-shattering 13 million copies. After Garth, country music had successfully carved a permanent place for itself on the pop charts. In the process, it lost a lot of the traditionalism that had always been its hallmark, but that is precisely why Brooks is important.
Garth Brooks is the son of Troyal and Colleen Carroll Brooks. Colleen was a country singer herself, recording a handful of records for Capitol in the mid-'50s that never experienced any chart success. As a child, Garth was interested in music and frequently sang at family gatherings, but he concentrated on athletics. He received a partial athletic scholarship at Oklahoma State University as a javelin tosser, but he wound up dropping the sport during his collegiate career. While he was at college, Brooks began singing in local Oklahoma clubs, often with lead guitarist Ty England.
After he graduated with an advertising degree in December of 1984, Garth Brooks decided to try to forge out a career as a country singer. In 1985 he traveled to Nashville with hopes of being discovered by a record label. Just 23 hours after arriving in Nashville, he returned to Oklahoma, frustrated with the industry, his prospects, and his naïve dreams. Brooks continued to perform in Oklahoma clubs, and in 1986, he married his college girlfriend, Sandy Mahl.
The couple moved to Nashville in 1987, this time with a better idea of how the music industry operated. Brooks began making connections with various songwriters and producers, and he sang on a lot of songwriter's demo tapes. Although he had made several connections within the industry and had a powerful management team, every label in town was refusing to sign him. In 1988, six weeks after Capitol Records passed on his demo, one of the label's executives saw Brooks sing at a local club. Impressed with the performance, the executive convinced the label to sign Garth.
Brooks recorded his first album with producer Allen Reynolds at the end of 1988; the self-titled debut appeared early in 1989. The album was an instant success, with its first single, "Much Too Young (To Feel This Damn Old)," climbing into the country Top Ten. Garth's debut was a success, crossing over into the pop album charts, but it was overshadowed by the blockbuster appeal of Clint Black, as well other similar new male vocalists like Travis Tritt and Alan Jackson. Within a year, Brooks would tower above them all with his surprise, widespread success.
Garth Brooks had three other hit singles — the number one "If Tomorrow Never Comes," the number two "Not Counting You," and the number one "The Dance" — but it was his second album, No Fences, that established him as a superstar. No Fences was released in the fall of 1990, preceded by the massive hit single "Friends in Low Places." No Fences spent 23 weeks at the top of the country charts and sold 700,000 copies within the first ten days of its release. Throughout 1990 and 1991, Brooks had a string of number one country hits from the album, including "Unanswered Prayers," "Two of a Kind, Workin' on a Full House," and "The Thunder Rolls." By 1993, No Fences would sell over ten million copies.
Not only did his record sales break all the accepted country conventions, but so did Garth Brooks' concerts. By the end of 1990, he was selling out stadiums within minutes and was putting on stadium-sized shows, patterned after '70s rock extravaganzas. Brooks used a cordless, headset microphone so he could run around his large stage. He had an elaborate light show, explosions, and even a harness so he could swing out above the crowd and sing to them. It was the first time any country artist had incorporated such rock & roll techniques into stage shows.
Ropin' the Wind, Brooks' third album, was released in September of 1991 and became the first country record to debut at the top of the pop charts. Ropin' the Wind matched the success of No Fences, selling over ten million copies within its first two years of release and spawning the number one hit singles "Shameless," "What She's Doing Now," and "The River."
By the end of 1991, Brooks had become a genuine popular music phenomenon — even his 1992 Christmas album, Beyond the Season, went multi-platinum — and there were no signs of his momentum slowing down. Naturally, a backlash began to develop in the fall of 1992, beginning with the release of "We Shall Be Free," the first single from his fourth album. Featuring a strong gospel underpinning, the single stalled at number 12 and many radio stations refused to play it. It was indicative of the eclectic nature of his forthcoming album, The Chase, which pushed the boundaries of contemporary country. The Chase debuted at number one upon its October 1992 release and by the end of the year, it sold over five million copies. Nevertheless, that number was half the size of the figures for his two previous albums and there was speculation in the media that Brooks' career had already peaked.
Sensing that he was in danger of losing his core audience, Brooks returned to straight country with 1993's In Pieces. The album was critically acclaimed and sold several million copies, though it was clear that Brooks would not reach the stratospheric commercial heights of No Fences and Ropin' the Wind again. Even so, he remained one of the most successful artists in popular music, one of the few guaranteed to sell millions of records with each new album, as well as sell out concerts around the world.
The Hits, which was only available for a year, was released in the fall of 1994 and would eventually sell over eight million albums. Brooks released Fresh Horses, his first album of new material in two years, in November of 1995; within six months of its release, it had sold over three million copies. Despite its promising start, Fresh Horses plateaued quickly, topping out at quadruple platinum — a healthy number for any artist, but a little disappointing considering Brooks' superstar status. Brooks decided to push his seventh album, appropriately titled Sevens, very hard to confirm his superstar status. Originally, it was scheduled to be released in August of 1997, when he would promote it with a huge concert in Central Park. Plans went awry when Capitol Records experienced a huge management shakeup, leaving many of his contacts at the label out in the cold. Upset at the new management, Brooks held back the release of Sevens until he received commitment for a major marketing push for the album. He went ahead and performed the Central Park concert, which received major coverage in the media. On the strength of the concert, Capitol acquiesced to Brooks' demands, and Sevens was released in November of 1997. Sevens catapulted to number one upon its release and quickly went multi-platinum over the holiday season.
The following spring, Brooks pulled his first six albums out of print and issued The Limited Series, a box set that contained all six records plus bonus tracks. Once all two million copies of The Limited Series were sold, the individual albums would remain out of print until their tenth anniversary, when they would be released only on DVD audio. The Double Live set followed in late 1998, and its sales were brisk but not quite as heavy as projected. In the spring of 1998, Brooks unsuccessfully tried out for the San Diego Padres pro baseball team, a major indication of his growing desire to expand his success beyond country music.
Once it became clear that professional baseball wasn't in his future, he became fascinated with film, specifically starring in The Lamb, a supposed thriller about a conflicted, tortured rock star called Chris Gaines. He was determined to win the role, and he did after extensive lobbying. Sometime in the spring of 1999, the film was given the green light with Babyface as a producer and Brooks as the star. During pre-production, Brooks decided the best way to prep for the role was to become Chris Gaines. He invented a brooding, leather-clad image and filled in holes in Gaines' back story by inventing biographies and a musical history. The most important piece in the puzzle was a collection of Gaines' "greatest hits," since it would prime audiences for the big-budget spectacular of The Lamb, scheduled for late 2000. So, Brooks jumped the gun, recording a set of 13 songs — as Chris Gaines — that would fill in the fictional singer's history.
As the Chris Gaines album was about to hit stores, Brooks' new persona was revealed to the public. Since the machinations of The Lamb were only known to music insiders and fans who religiously followed the trades, Brooks' sudden re-emergence as a slimmed-down, soul-patched, shaggy-haired soulful pop crooner was utterly bizarre to almost every observer. There was a massive PR campaign to shed light on Chris Gaines, complete with a TV special, but the details were so convoluted that it couldn't be explained easily. In the Life of Chris Gaines was released at the end of September 1999, and although it entered the charts at number two, it was a major commercial disappointment; by the time Christmas rolled around, some major stores were offering heavy discounts on the record in hopes of clearing out unsold stock. Fan bewilderment over the Gaines project also likely hurt sales of Brooks' second holiday record, Garth Brooks & the Magic of Christmas, a traditional pop-styled outing that appeared just two months later.
Brooks kept a low profile through most of 2000, as the disastrous marketplace showing of the Chris Gaines album effectively scuttled plans for The Lamb. His personal life was also in turmoil, as he and his wife announced that they were divorcing in October of 2000. By the time the divorce was finalized the following year, Brooks was on his way to retirement, choosing to retreat from music and concentrate on fatherhood. He announced that his next album, Scarecrow, would be his last and it was released to appropriate fanfare that November, debuting at number one on the Billboard pop and country charts, but failing to generate a hit single bigger than "Wrapped Up In You," which peaked at five.
After the release of Scarecrow, Brooks eased into retirement, spending the next few years quietly and not resurfacing in the public eye until he had a busy 2006. Toward the end of that year, he married country singer Trisha Yearwood on December 10, but prior to that, he struck a deal with Wal-Mart to become the exclusive retailer for his back catalog. The first release under this deal was a new box set called The Limited Series that collected all the albums he released after his first box set called The Limited Series. This second Limited Series was released in time for the holiday season of 2005 and also included a new disc of outtakes called The Lost Sessions which was later released as an individual disc in 2006. The Lost Sessions featured a duo with Yearwood called "Love Will Always Win," which climbed to 23 on the country charts in '06, a modest placing that was nevertheless his biggest hit since "Wrapped Up In You."
During the next eight years, Brooks continued to perform sporadically, including a run of weekends on the Las Vegas Strip, but did not record any new material, announcing that he would only return once his youngest daughter had gone to college. In 2013, he began to ease into his comeback, first releasing a box set of covers called Blame It All on My Roots for that year's holiday season. As he was promoting the set, Brooks revealed that he would be going on a world tour the following year. Prior to the tour's summer launch, Brooks announced that he had signed to Sony Music Nashville and would be releasing his ninth studio album in November, with another to follow in 2015. Man Against Machine was preceded by the single "People Loving People," which peaked at 25 on Billboard's country charts, and also coincided with the first-ever digital release of Brooks' back catalog. Man Against Machine debuted at number one on Billboard's country albums chart -- it went in at four on the Top 200 -- and had no Top Ten singles.
In 2016, Brooks released three albums for the holidays: the seasonal album Christmas Together with Trisha Yearwood; the box set The Ultimate Collection; and a new album, Gunslinger. A year later, Brooks released The Anthology: Pt. 1, The First Five Years, the first installment in a multi-volume memoir that was accompanied by music, including a few rarities from his early years. The Anthology: Pt. 1 hit number one Top Country Albums chart and peaked at four on the Billboard 200. The studio singles "All Day Long" and "Stronger Than Me" were released in 2018. A new live album, Triple Live (which featured three discs of music culled from his 2014-2017 world tour), was also scheduled for release that year, but was postponed.
In the spring of 2019, Brooks began his massive Stadium Tour, during which he would play shows at 30 North American stadiums over three years. He also teamed up with Blake Shelton for the duet "Dive Bar," which was promoted with a much smaller-scale tour of seven U.S. dive bars starting in Chicago that July. For the 2019 holiday season, Brooks released Legacy Collection, a box set featuring No Fences, The Chase, In Pieces, Fresh Horses, and Triple Live, available as vinyl/CD combinations in a variety of fashions.
Brooks returned with Fun, his fourteenth studio album, in November 2020.
https://en.wikipedia.org/wiki/Garth_Brooks
Talents : Vocals, Songwriter, Guitar, Actor
Style musical : Contemporary Country, Country-Pop

http://youtu.be/oeCziXv9el0
Years in activity :
| | | | | | | | | | | | |
| --- | --- | --- | --- | --- | --- | --- | --- | --- | --- | --- | --- |
| 1910 | 20 | 30 | 40 | 50 | 60 | 70 | 80 | 90 | 2000 | 10 | 20 |
DISCOGRAPHY
Singles
| | | | |
| --- | --- | --- | --- |
| 03/1989 | CD CAPITOL B-44342 (US) | . | Much Too Young (To Feel This Damn Young) / Alabama Clay |
| 06/1989 | CD CAPITOL P-B-44408 (DJ promo) (US) | . | Nobody Gets Off |
| 08/1989 | CD CAPITOL B-44430 (US) | . | If Tomorrow Never Comes / Much Too Young (To Feel This Damn Young) |
| 12/1989 | CD CAPITOL B-44492 (US) | . | Not Counting You / Cowboy Bill |
| 04/1990 | CD CAPITOL NR-44629 (US) | . | The Dance / Friends In Low Places |
| 07/1990 | CD CAPITOL NR-44647 (US) | . | Friends In Low Places (edited version) / Nobody Gets Off In This Town |
| 10/1990 | CD CAPITOL NR-44650 (US) | . | Unaswered Prayers / Alabama Clay |
| 01/1991 | CD CAPITOL NR-44701 (US) | . | Two Of A Kind Workin' On A Full House / The Dance |
| 04/1991 | CD CAPITOL NR-44727 (US) | . | Thunder Rolls (edited version) / Victim Of The Game |
| 07/1991 | CD CAPITOL NR-44771 (US) | . | Rodeo / New Way To Fly |
| 08/1991 | CD MCA MCAS7-54172 (US) | . | Like We Never Had A Broken Heart (with Trisha YEARWOOD) / + Trisha YEARWOOD |
| 09/1991 | CD CAPITOL NR-44800 (US) | . | Shameless / Against The Grain |
| 12/1991 | CD CAPITOL S7-57733 (US) | . | What She's Doin' Now / Friends In Low Places |
| 01/1992 | CD CAPITOL S7-57734 (US) | . | Papa Loved Mama / New Way To Fly |
| 02/1992 | CD CAPITOL S7-57744 (US) | . | Thunder Rolls / Shameless |
| 04/1992 | CD CAPITOL S7-57765 (US) | . | The River / We Bury The Hatchet |
| 06/1992 | CD CAPITOL S7-57784 (US) | . | What She's Doing Now / Friends In Low Places |
| 08/1992 | CD CAPITOL S7-57794 (US) | . | We Shall Be Free / The River |
| 10/1992 | CD CAPITOL S7-57824 (US) | . | Somewhere Other Than The Night / Mr Right |
| 1992 | CD CAPITOL S7-57883 (US) | . | Friends In Low Places (live) / Thunder Rolls (live) |
| 11/1992 | CD CAPITOL S7-57892 (US) | . | God Rest Ye Merry Gentleman / White Christmas |
| 11/1992 | CD CAPITOL S7-57893 (US) | . | Old Man's Back In Town / Santa Looked A Lot Like Daddy |
| 11/1992 | CD CAPITOL S7-57894 (US) | . | Go Tell It On The Mountain / Friendly Beast |
| 01/1993 | CD CAPITOL S7-56973 (US) | . | Learning To Live Again / Walking After Midnight |
| 04/1993 | CD CAPITOL S7-17324 (US) | . | That Summer / Dixie Chicken |
| 1993 | CD CAPITOL S7-17440 (US) | . | Every Now And Then / Face To Face |
| 1993 | CD CAPITOL S7-17441 (US) | . | The Dance / If Tomorrow Never Comes |
| 07/1993 | CD CAPITOL S7-17496 (US) | . | Ain't Goin' Down (Till The Sun Comes Up) / Kickin' And Screamin' |
| 08/1993 | CD CAPITOL S7-17639 (US) | . | American Honky Tonk Bar Association / Everytime That It Rains |
| 10/1993 | CD CAPITOL S7-17649 (US) | . | Silent Night / White Christmas |
| 11/1993 | CD CAPITOL S7-17802 (US) | . | Standing Outside The Fire / Cold Shoulder |
| 05/1994 | CD CAPITOL S7-17972 (US) | . | One Night A Day / Mr Blue |
| 07/1994 | CD CAPITOL S7-18136 (US) | . | Callin' Baton Rouge / Same Old Story |
| 1994 | CD CAPITOL S7-18399 (US) | . | Much Too Young / Rodeo |
| 1994 | CD CAPITOL S7-18400 (US) | . | Two Of A Kind Workin' On A Full House / Unanswered Prayers |
| 11/1994 | CD CAPITOL S7-18554 (US) | . | Red Strokes / Burning Bridges |
| 08/1995 | CD CAPITOL S7-18842 (US) | . | She's Every Woman / The Cowboy Song |
| 11/1995 | CD CAPITOL S7-18948 (US) | . | Fever / Night Will Only Know |
| 11/1995 | CD CAPITOL S7-19022 (US) | . | Beaches Of Cheyenne / Ireland |
| 08/1997 | CD MCA S7-72021 (US) | . | In Another's Eyes (with Trisha YEARWOOD) / + Trisha YEARWOOD |
| 11/1997 | CD CAPITOL S7-19581 (US) | . | Longneck Bottle / Rollin' |
| 11/1997 | CD CAPITOL S7-57892 (US) | . | God Rest Ye Merry Gentleman / White Christmas |
| 11/1997 | CD CAPITOL S7-57893 (US) | . | Santa Looked A Lot Like Daddy / Old Man's Back In Town |
| 11/1997 | CD CAPITOL S7-57894 (US) | . | Go Tell It On The Mountain / Friendly Beast |
| 03/1998 | CD CAPITOL S7-? (US) | | Two Pina Coladas / To Make You Feel My Love |
| 1998 | CD CAPITOL S7-57994 (US) | . | We Shall Be Free / Night Rider's Lament |
| 04/1998 | CD CAPITOL S7-58716 (US) | . | Burnin' The Roadhouse Down (with Steve WARINER) / + Steve WARINER |
| 1998 | CD CAPITOL 7087-6-12355-2-4 (US) (promo) | | Burnin' The Roadhouse Down (with Garth BROOKS) |
| 08/1998 | CD MCA MCAS7-72070 (US) | . | Where Your Road Leads (with Trisha YEARWOOD) + Trisha YEARWOOD |
| 08/1999 | CD CAPITOL S7-58788 (US) | | Lost In You / It Don't Matter To Sun |
| 01/2000 | CD CAPITOL S7-58845 (US) | . | Do What You Gotta Do / Friend To Me |
| 05/2000 | CD CAPITOL S7-58878 (US) | . | Katie Wants A Fast One (with Steve WARINER) / I Just Do (with Steve WARINER) |
| 11/2000 | CD CAPITOL S7-58899 (US) | . | It's The Most Wonderful Time Of The Year / Sleigh Ride |
| 10/2001 | CD CAPITOL 77678 (US) | . | 'Zat You Santa Claus / Mary Had A Little Lamb |
| 10/2001 | CD CAPITOL 77699 (US) | | Call Me Claus / Zat You Santa Claus |
| 2007 | CD PEARL 0102 (US) | . | Workin' For A Livin' / Workin' For A Livin' / Workin' For A Livin' |
| 2008 | CD PEARL / BIG MACHINE 0103 (US) | . | Midnight Sun / Midnight Sun / Midnight Sun |
Albums
04/1989
CD LIBERTY 90897 (US)
GARTH BROOKS - Not Counting You / I've Got A Good Thing Going / If Tomorrow Never Comes / Everytime That It Rains / Alabama Clay / Much Too Young / Cowboy Bill / Nobody Gets Off In This Town / I Know One / The Dance.
08/1990
CD LIBERTY 93866 (US)
NO FENCES - The Thunder Rolls / New Way To Fly / Two Of A Kind, Workin' On A Full House / Victim Of The Game / Friends In Low Places / Wild Horses / Unanswered Prayers / Same Old Story / Mr. Blue / Wolves.
09/1991
CD LIBERTY 96330 (US)
ROPIN' THE WIND - Against The Grain / Rodeo / What She's Doing Now / Burning Bridges / Papa Loved Mama / Shameless / Cold Shoulder / We Bury The Hatchet / In Lonesome Dove / The River
08/1992
CD LIBERTY 98742 (US)
BEYOND THE SEASON - Go Tell It On The Mountain / God Rest Ye Merry Gentlemen / The Old Man's Back In Town / The Gift / Unto This Night / White Christmas / The Friendly Beasts / Santa Looked A Lot Like Daddy / Silent Night / Mary's Dream / What Child Is This ?
09/1992
CD LIBERTY 98743 (US)
THE CHASE - We Shall Be Free / Somewhere Other Than The Night / Mr. Right / Every Now And Then / Walking After Midnight / Dixie Chicken / Learning To Live Again / That Summer / Something With A Ring To It / Night Rider's Lament / Face To Face.
08/1993
CD LIBERTY 80857 (US)

| | |
| --- | --- |
| | IN PIECES - Standing Outside The Fire / The Night I Called The Old Man Out / American Honky-Tonk Bar Association / One Night A Day / Kickin' And Screamin' / Ain't Going Down / Anonymous / The Red Strokes / Callin' Baton Rouge / The Night Will Only Know / The Cowboy Song. |

12/1994
CD LIBERTY 29689 (US)
THE HITS - Ain't Going Down / Friends In Low Places / Callin' Baton Rouge / The River / Much Too Young / The Thunder Rolls / American Honky-Tonk Bar Association / If Tomorrow Never Comes / Unanswered Prayers / Standing Outside The Fire / Rodeo / What She's Doing Now / We Shall Be Free / Papa Loved Mama / Shameless / Two Of A Kind, Workin' On A Full House / That Summer / The Dance.
11/1995
CD CAPITOL 32080 (US)
FRESH HORSES - The Old Stuff / Cowboy And Angels / The Fever / That Ol' Wind / Rollin' / The Change / Beaches Of Cheyenne / To Make You Feel My Love / It's Midnight Cinderella / She's Every Woman / Ireland.
11/1997
CD CAPITOL 56599 (US)
SEVENS - Longneck Bottle / How You Ever Gonna Know / She's Gonna Make It / I Don't Have To Wonder / Two Pinia Colodas / Cow Boy Cadillac / Fit For A King / Do What You Gotta Do / You Move Me / In Another's Eyes / When There's No One Around / A Friend To Me / Take The Keys To My Heart / Belleau Wood.
05/1998
6 CD CAPITOL 94572 (US)
THE LIMITED SERIES (6 Disc Box Set) :

DISC 1 : Not Counting You / I've Got A Good Thing Going / If Tomorrow Never Comes / Uptown Down-Home Good Ol' Boy / Everytime That It Rains / Alabama Clay / Much Too Young / Cowboy Bill / Nobody Gets Off In This Town / I Know One / The Dance
DISC 2 : The Under Rolls / New Way To Fly / Two Of A Kind, Workin' On A Full House / Victim Of The Game / Friends In Low Places / This Ain't Tennessee / Wild Horses / Unansweded Prayers / Same Old Story / Mr. Blue / Wolves
DISC 3 : Against The Grain / Rodeo / What She's Doing Now / Burning Bridges / Which One Of Them / Papa Loved Mama / Shameless / Cols Shoulder / We Bury The Hatchet / In Lonesome Dove / The River
DISC 4 : We Shall Be Free / Somewhere Other Than The Night / Mr. Right / Every Now And Then / Walkin' After Midnight / Dixie Chicken / Learning To Live Again / That Summer / Something With A Ring Ti It / Night Rider's Lament / Face To Face
DISC 5 : Standing Outside The Fire / The Night I Called The Old Man Out / American Honky Tonky Bar Association / One Night A Day / Kickin' And Screamin' / Anonymous / Ain't Goin' Down / The Red Strokes / Callin' Baton Rouge / The Night Will Only Know / The Cowboy Song
DISC 6 : The Old Stuff / Cowboys And Angels / The Fever / That Ol' Wind / Rollin' / The Change / The Beaches Of Cheyenne / To Make You Feel My Love / It's Midnight Cinderella / She's Every Woman / Ireland

11/1998
2 CD CAPITOL 97424 (US)
DOUBLE LIVE :

DISC 1 : Callin' Baton Rouge / Two Of A Kind, Workin' On A Full House / Shameless / Papa Loved Mama / The Thunder Rolls / We Shall Be Free / Unanswered Prayers / Standing Outside The Fire / Longneck Bottle / It's Your Song / Much Too Young / The River / Tearin' Up
DISC 2 : Ain't Goin' Down / Rodeo / The Beaches Of Cheyenne / Two Pina Colodas / Wild As The Wind / To Make You Feel My Love / That Summer / American Honky-Tonk Bar Association / If Tomorrow Never Comes / The Fever / Friends In Low Pieces / The Dance

09/1999
CD CAPITOL 20051 (US)
IN THE LIFE OF CHRIS GAINES - That's The Way I Remember It / Lost In You / Snow In July / Driftin' Away / Way Of The Girl / Unsigned Letter / It Don't Matter To The Sun / Right Now / Main Street / White Flag / Digging For Gold / Maybe.
11/1999
CD CAPITOL 23550 (US)
THE MAGIC OF CHRISTMAS - SONGS FROM CALL ME CLAUS - Call Me Claus / It's The Most Wonderful Time Of The Year / Have Yourself A Merry Little Christmas / Let It Snow / Winter Wonderland / Mary Had A Little Lamb / The Christmas Song / Baby Jesus Is Born / Sleigh Ride / Silver Bells / Home For The Holidays / 'Zat You, Santa Claus ? / The Wise Man's Journey / O Little Town Of Bethlehem.
03/2000
CD CHROME TALK 13215 (US)
MAXIMUM GARTH BROOKS - THE UNAUTHORISED BIOGRAPHY OF GARTH BROOKS - Introduction / Fun House / Man In The Looking Glass / Human Jukebox / Music City / Sante Fe / Hardships / Break / Big Friendly Cowboy / Dance / Big Heart
11/2001
CD CAPITOL 31330 (US)
SCARECROW - Why Ain't I Running / Beer Run / Wrapped Up In You / The Storm / Thicker Than Blood / Big Money / Squeeze Me In / Mr. Midnight / Pushing Up Daisies / Rodeo Or Mexico / Don't Cross The River / When You Come Back To Me Again
2002
CD CAPITOL 35624 (US)
THE MAGIC OF CHRISTMAS - SONGS FROM CALL ME CLAUS - Call Me Claus / It's The Most Wonderful Time Of The Year / Have Yourself A Merry Little Christmas / Let It Snow Let It Snow Let It Snow / Winter Wonderland / Mary Had A Little Lamb / Christmas Song / Baby Jesus Is Born / Sleigh Ride / Silver Bells / Home, 'Zat You Santa Claus / Wise Men's Journey / O Little Town Of Bethlehem
2005
CD PEARL 1084 (US)
THE LOST SESSIONS - Good Ride Cowboy / Allison Miranda / Love Will Always Win (with Trisha YEARWOOD) / Good Ride Cowboy / Allison Miranda / Love Will Always Win / She Don't Care About Me / That Girl Is A Cowboy / Fishin' In The Dark / For A Minute There / I'd Rather Have Nothing / Cowgirl's Saddle / Under The Table / American Dream / I'll Be tTe Wind / Meet Me In Love / You Can't Help Who You Love / Please Operator (Could You Trace This Call) / My Baby No Esta Aqui / Last Night I Had The Strangest Dream
02/2007
CD PEARL 1102 (US)
GARTH BROOKS - Not Counting You / I've Got A Good Thing Going / If Tomorrow Never Comes / Uptown Down-Home Good Ol' Boy / Everytime That It Rains / Alabama Clay / Much Too Young / Cowboy Bill / Nobody Gets Off In This Town / I Know One / The Dance
08/2007
CD PEARL 1213 (US)
THE ULTIMATE HITS - Much Too Young / If Tomorrow Never Comes / The Dance / Friends In Low Places / Unanswered Prayers / Two Of A Kind / The Thunder Rolls / Rodeo / Shameless / Papa Loved Mama / What's She Doing Now / The River / We Shall Be Free / Learning To Live Again / That Summer / Somewhere Other Than The Night / Standing Outside The Fire
08/2007
2 CD + 1 DVD PEARL 85420-6001-213-02 (US)
THE ULTIMATE HITS :

CD 1 : Ain't Going Down ('Til The Sun Comes Up) / Friends In Low Places / Shameless / Two Of A Kind, Workin' On A Full House / The Beaches Of Cheyenne / If Tomorrow Never Comes / Papa Loved Mama / More Than A Memory / Good Ride Cowboy / In Another's Eyes (with Trisha YEARWOOD) / The Fever / Midnight Sun / Learning To Live Again / Longneck Bottle (with Steve WARINER) / To Make You Feel My Love / We Shall Be Free / The Dance
CD 2 : Callin' Baton Rouge / Two Piña Coladas / The Thunder Rolls / That Summer / The River / Beer Run (with George JONES) / Unanswered Prayers / Much Too Young (To Feel This Damn Old) / Workin' For A Livin' (with Huey LEWIS) / What She's Doing Now / When You Come Back To Me Again

[From Frequency]

/ Standing Outside The Fire / American Honky-Tonk Bar Association / The Change / Rodeo / Wrapped Up In You / Leave A Light On
DVD : Much Too Young (To Feel This Damn Old) / If Tomorrow Never Comes / The Dance / Friends In Low Places / Unanswered Prayers / Two Of A Kind, Workin' On A Full House / The Thunder Rolls / Rodeo / Shameless / Papa Loved Mama / What She's Doing Now / The River / We Shall Be Free / Learning To Live Again / That Summer / Standing Outside The Fire / Ain't Going Down ('Til the Sun Comes Up) / Callin' Baton Rouge / American Honky-Tonk Bar Association / The Fever / To Make You Feel My Love / The Beaches Of Cheyenne / The Change / Two Piña Coladas / Longneck Bottle (with Steve WARINER) / In Another's Eyes (with Trisha YEARWOOD) / Wrapped Up In You / Beer Run (with George JONES) / When You Come Back To Me Again / Good Ride Cowboy / More Than A Memory / Workin' For A Livin' (with Huey LEWIS) / Midnight Sun

11/2013
6 CD + 2 DVD PEARL 6001 (US)

Blame It All on My Roots - Five Decades of Influences :

CD 1 : Garth B

rooks

feat: The

Nashville String Machine :

Great Balls Of Fire / After The Fire Is Gone (feat: Trisha

Yearwood

) / Act Naturally / Tonight The Bottle Let Me Down / Amos Moses / Fishin' In The Dark / Unwound / Good Ole Boys Like Me / White Lightnin' / Don't Close Your Eyes / Jambalaya
CD 2 : Garth B

rooks

feat: The

Nashville String Machine :

Black Water / Mrs. Robinson / Maggie May / Who'll Stop The Rain / Wild World / Doctor My Eyes / The Weight / Amie / Operator (That's Not The Way It Feels) / You Ain't Goin' Nowhere / Don't Let Me Be Lonely Tonight
CD 3 : Against The Wind / Superstition / Sweet Home Alabama / Life In The Fast Lane / Somebody To Love / Bad Company / Midnight Rider / All Right Now / Don't Let The Sun Go Down On Me / Addicted To Love / Goodnight Saigon
CD 4 : I Heard It Through The Grapevine / Midnight Train To Georgia / Hold On, I'm Coming / Ain't No Sunshine / Drift Away / Stand By Me / Shout / I Never Loved Someone The Way I Love You / Sitting On The Dock Of The Bay / Lean On Me / What'd I Say
CD 5 : Ain't Going Down ('Til the Sun Comes Up) / Friends In Low Places / Shameless / Two Of A Kind, Working On A Full House / The Beaches Of Cheyenne / If Tomorrow Never Comes / Papa Loved Mama / More Than A Memory / Good Ride Cowboy / In Another's Eyes (Garth

Brooks

feat: Trisha

Yearwood

) / The Fever / Midnight Sun / Learning To Live Again / Longneck Bottle (Garth

Brooks

feat: Steve W

ariner

) / To Make You Feel My Love / We Shall Be Free / The Dance
CD 6 : Callin' Baton Rouge / Two Piña Coladas / The Thunder Rolls / That Summer / The River / Beer Run (Garth

Brooks

feat: George Jones) / Unanswered Prayers / Much Too Young (To Feel This Damn Old) / Workin' For A Livin' (Garth B

rooks

feat: Huey L

ewis

) / What She's Doing Now / When You Come Back To Me Again / Standing Outside The Fire / American Honky-Tonk Bar Association / The Change / Rodeo / Wrapped Up In You / [Untitled] / [Untitled] / Leave A Light On
DVD 1 :

Live At the Wynn

DVD 2 : Much Too Young (Too Feel This Damn Old) / If Tomorrow Never Comes / The Dance / Friends In Low Places / Unanswered Prayers / Two Of A Kind, Workin' On A Full House / The Thunder Rolls / Rodeo / Shameless / Papa Loved Mama / What She's Doing Now / The River / We Shall Be Free / Learning To Live Again / That Summer / Standing Outside The Fire / Ain't Going Down ('til The Sun Comes Up) / Callin' Baton Rouge / American Honky-Tonk Bar Association / The Fever / To Make You Feel My Love / The Beaches Of Cheyenne / The Change / Two Piña Coladas / Longneck Bottle / In Another's Eyes / Wrapped Up In You / Beer Run / When You Come Back To Me Again / Good Ride Cowboy / More Than A Memory / Workin' For A Livin' / Midnight Sun

11/2014
CD Sony 88875011352 (US)

Man Against Machine -

Man Against Machine / She's Tired Of Boys / Cold Like That / All-American Kid / Mom / Wrong About You / Rodeo And Juliet / Midnight Train / Cowboys Forever / People Loving People / Send 'em On Down The Road / Fish / You Wreck Me / Tacoma
11/2014
CD RCA 504649 (US) [Limited Black Edition]

Man Against Machine -

Man Against Machine / She's Tired Of Boys / Cold Like That / All-American Kid / Mom / Wrong About You / Rodeo And Juliet / Midnight Train / Cowboys Forever / People Loving People / Send 'em On Down The Road / Fish / You Wreck Me / Tacoma
11/2016
CD Gwendolyn / PEARL 85420-6001-305-3 (US)

Christmas Together -

Garth

Brooks

& Trisha

Yearwood

- I'm Beginning To See The Light / Ugly Christmas Sweater / Santa Baby / Feliz Navidad / What Are You Doing New Year's Eve? / Marshmallow World / Merry Christmas Means I Love You / Hard Candy Christmas / Baby, It's Cold Outside / The Man With The Bag / What I'm Thankful For (The Thanksgiving Song)
11/2016
2 CD Gwendolyn / PEARL 85420-6001-305-1 (US) (limited edition)

Gunslinger / Christmas Together :

CD 1 : GUNSLINGER - Garth

Brooks

: Honky-Tonk Somewhere / Weekend / Ask Me How I Know / Baby, Let's Lay Down And Dance / He Really Loves You / Pure Adrenaline / Whiskey To Wine / Bang! Bang! / Cowboys And Friends / 8Teen
CD 2 :

Christmas Together -

Garth

Brooks

& Trisha

Yearwood

: I'm Beginning To See The Light / Ugly Christmas Sweater / Santa Baby / Feliz Navidad / What Are You Doing New Year's Eve? / Marshmallow World / Merry Christmas Means I Love You / Hard Candy Christmas / Baby, It's Cold Outside / The Man With The Bag / What I'm Thankful For (The Thanksgiving Song) (& James TAYLOR)

11/2016
CD PEARL 1541 (US)

Gunslinger -

Honky-Tonk Somewhere / Weekend / Ask Me How I Know / Baby, Let's Lay Down And Dance / He Really Loves You / Pure Adrenaline / Whiskey To Wine / Bang! Bang! / Cowboys And Friends / 8Teen
11/2017
BOOK + 5 CD PEARL ? (US)

Anthology, Pt. I - The First Five Years :

CD 1 : Not Counting You [master] / I've Got A Good Thing Going [master] / If Tomorrow Never Comes [day-write] / If Tomorrow Never Comes [master] / Everytime That It Rains [master] / Alabama Clay [master] / Much Too Young (To Feel This Damn Old) [first take] / Much Too Young (To Feel This Damn Old) [master] / Cowboy Bill [master] / The Dance [tony Arata day-write] / The Dance [master]
CD 2 : The Thunder Rolls [day-write] / The Thunder Rolls [master] / Two Of A Kind, Workin' On A Full House [master] / Victim Of The Game [master] / Unanswered Prayers [day-write] / Unanswered Prayers [master] / Same Old Story [Tony

Arata

day-write] / Same Old Story [master] / Which One Of Them [demo] / Which One of Them [master]
CD 3 : Against the Wind [master] / Miss Rodeo [Joanne

Stephen

demo] / Rodeo [master] / What She's Doing Now [day-write] / What She's Doing Now [master] / Burning Bridges [master] / Shameless [master] / We Bury The Hatchet [master] / In Lonesome Dove [master] / The River [demo] / The River [master]
CD 4 : Sometimes You Need The Rain [demo] / Somewhere Other Than The Night [master] / Mr. Right [demo] / Mr. Right [master] / Dixie Chicken [master] / That Summer [first take] / That Summer [master] / Night Rider's Lament [master] / Face To Face [Tony

Arata

day-write] / Face To Face [master]
CD 5 : Standing Outside the Fire [master] / One Night A Day [master] / Kickin' And Screamin' [Tony

Arata

day-write] / Kickin' And Screamin' [master] / The Red Strokes [master] / Leon [demo] / Tomorrow And Today [demo] / I Guess You Had To Be There [Trisha

Yearwood

demo] / Like We Never Had A Broken Heart [day-write] / The Cowboy Song [master]

11/2018
BOOK + 5 CD PEARL 854206001770 (US)

Anthology, Pt. III - LIVE :

CD 1 : Callin' Baton Rouge / Two Of A Kind, Workin' On A Full House / Shameless / Papa Loved Mama / More Than A Memory / The Thunder Rolls (The Long Version) / We Shall Be Free / Unanswered Prayers / Standing Outside The Fire / Longneck Bottle (guest : Steve

Wariner

) / It's Your Song / Much Too Young (To Feel This Damn Old) / The River / Tearin' It Up (And Burnin' It Down)
CD 2 : Ain't Goin' Down ('Til The Sun Comes Up) / Rodeo / The Beaches Of Cheyanne / Two Pina Coladas / Wild As The Wind (featuring : Trisha

Yearwood

) / To Make You Feel My Love / That Summer / American Honky-Tonky Bar Assosication / If Tomorrow Never Comes / The Fever / Friends In Low Places (the long version) / The Dance
CD 3 : The Thunder Rolls (the extended concert version) / That Summer / Ask Me How I Know / Fishin' In The Dark / In Another's Eyes (featuring : Trisha

Yearwood

) / Rodeo / Mom / Papa Loved Mama / Guy Goin' Nowhere
CD 4 : Friends In Low Places (the extended concert version) / Two Of A Kind (Workin' On A Full House) / Unanswered Prayers / People Loving People / Shameless / Ain't Going Down ('Til The Sun Goes Up) / Tacoma / Standing Outside The Fire
CD 5 : Callin' Baton Rouge / The River / The Beaches Of Cheyenne / The Fireman / More Than A Memory / Two Pina Coladas / Whiskey To Wine (featuring : Trisha

Yearwood

) / We Shall Be Free / The Dance

2020
3 CD PEARL 1916-C (US)

Triple Live Deluxe :

CD 1 : Friends In Low Places (extended concert version) / Two Of A Kind (Working On A Full House) / Unanswered Prayers / People Loving People / Much Too Young (Too Feel This Damn Old) / Shameless / Ain't Going Down (Til The Sun Comes Up) / Tacoma / Standing Outside The Fire
CD 2 : The Thunder Rolls (The extended concert version) / That Summer / Ask Me How I Know / Fishin' In The Dark / In Another's Eyes / Rodeo / All-American Kid / Mom / Papa Loved Mama / Guy Goin' Nowhere
CD 3 : Callin' Baton Rouge / The River / The Beaches Of Cheyenne / The Fireman / More Than A Memory / Dive Bar (featuring Blake

Shelton

) / Two Piña Coladas / Cold Like That / Whiskey To Wine (featuring Trisha

Yearwood

) /

We Shall Be Free / The Dance

11/2020
CD PEARL 1879-2 (US)
FUN - The Road I'm On / That's What Cowboys Do / All Day Long / Shallow (featuring Trisha

Yearwood

) / Dive Bar (featuring Blake

Shelton

) /

Amen / The Courage Of Love / I Can Be Me With You / Message In A Bottle / Stronger Than Me / (A Hard Way To Make An) Easy Livin' / Where The Cross Don't Burn (featuring Charley

Pride

) /

Party Gras (The Mardi Gras Song) / Sometimes You've Got To Die To (Live Again)
© Rocky Productions 21/11/2020