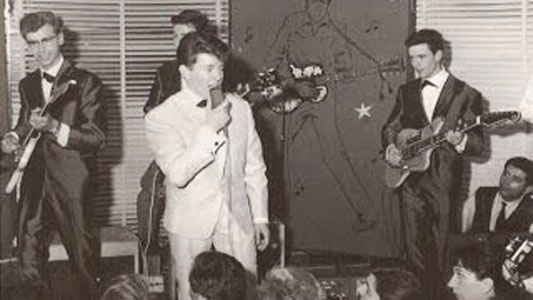 Chanteur Rock 'n' Twist Français né Jean-Marc Bridge, le 17 Décembre 1945 à Cherbourg (Manche). Au tout début des années 1960, Billy Bridge est remarqué par Kurt Mohr, qui travaille pour les disques Odéon. Il publie, sous ce label, son premier disque Surboum en 1962, où il bénéficie de l'apport du guitariste américain Mickey Baker. La même année, il popularise en France la danse américaine le Madison. Il connait plusieurs succès avec Le grand M, Madison Flirt… Il est surnommé alors « Le Petit Prince du Madison. Il se produit en septembre 1962 à l'Olympia de Paris, avec son groupe Les Mustangs, en première partie du groupe anglais The Shadows. Il apparaît dans un film anglais Just for fun (1963), de Gordon Flemyng.
Billy Bridge connaît une éclipse et disparaît, sous son nom, des hit-parades dès 1964. Il se consacre alors à l'écriture de chansons pour les autres (Karen Cheryl, Stone, J-N Dupré, Cliff Richard, Dick Rivers et connaît à nouveau le succès, notamment avec Philippe Lavil.
En 1969, sous le pseudonyme de Michel Sorel, il sortit sans succès quelques chansons.
Billy Bridge relance sa carrière en Angleterre. En 1971, sous le pseudonyme de Black Swan, il vend un million d'exemplaires de sa chanson Echoes And Rainbows. Il termine sa vie en donnant, en France, des concerts qui cultivent la nostalgie de ses débuts.
Billy Bridge est décédé le 21 Novembre 1994 à Paris.

French Rock 'n' Twist singer born Jean-Marc Bridge, on 17 December 1945 in Cherbourg (Manche). In the early 1960s, Billy Bridge was noticed by Kurt Mohr, who works for the Odéon records. He released his first record Surboum in 1962, where he enjoyed the contribution of American guitarist Mickey Baker. In the same year, he popularized in France the American dance the Madison. He has had several successes with Le Grand M, Madison Flirt ... He is nicknamed then "The Little Prince of Madison. He performed at the Olympia in Paris in September 1962, with his group Les Mustangs, in the first part of the English group The Shadows. He appears in an English film Just for fun (1963), directed by Gordon Flemyng.
Billy Bridge has an eclipse and disappears under the name of the charts since 1964. He devotes himself to the writing of songs for others (Karen Cheryl, Stone, J-N Dupré, Cliff Richard, Dick Rivers and knows again the success, notably with Philippe Lavil.
In 1969, under the pseudonym of Michel Sorel, he left without success a few songs.
Billy Bridge relaunches his career in England. In 1971, under the pseudonym Black Swan, he sold a million copies of his song Echoes And Rainbows. He ends his life by giving concerts in France that nostalgize his beginnings.
Billy Bridge died on November 21, 1994 in Paris.
https://fr.wikipedia.org/wiki/Billy_Bridge
Talents : Vocals, Guitar, Songwriter
Style musical : Rock 'n' Twist, Pop

https://youtu.be/A92eDPDtixg
| | |
| --- | --- |
| Surboum (1962) | |
Years in activity :
| | | | | | | | | | | | |
| --- | --- | --- | --- | --- | --- | --- | --- | --- | --- | --- | --- |
| 1910 | 20 | 30 | 40 | 50 | 60 | 70 | 80 | 90 | 2000 | 10 | 20 |
DISCOGRAPHY
Singles & EP
1962
EP ODEON 7 MOE 2321 (F)
Surboum / Triple Twist / Viens Twister Avec Moi / Mon Coeur Est Dans Votre Main
1962
SP ODEON 7 SO 10057 (F)
.
Mon Coeur Est Dans Votre Main

/

Surboum
1962
EP ODEON 7 MOE 2326 (F)

Le Madison Par Billy Bridge -

Le Grand M - Pt. 1 / Le Grand M - Pt. 2 /

ç

a C'Est L'Madison / En Twistant Le Madison
1962
SP ODEON 7 SO 10064 (F)
Le Grand M (1) / Le Grand M

(2)

1962
SP ODEON 7 SO 10065 (F)
.

ç

a C'Est L'Madison /

En Twistant Le Madison
1962
SP ODEON 7 SO 10073 (F)
.
Madison Flirt / Ce Qui Me Vient De Vous
1962
SP ODEON 7 SO 10074 (F)
.

Quand Je Suis Loin De Toi / Petite Catherine

1962
SP ODEON 7 SO 10077 (F)
.
Lydia / Ne Dis Plus Rien
1962
EP ODEON 7 MOE 2332 (F)
Madison Flirt / Ce Qui Me Vient De Vous / Quand Je Suis Loin De Toi / Petite Catherine
1963
EP CBS ‎CG 145 002 (F)

Notre Amour Renaîtra - Notre Amour Renaîtra / Ne Compte Plus Sur Moi / N'Oublie Jamais / Cours Mon Cœur (Night Rider)

1963
SP CBS 141 001 (F)
.
N'Oublie Jamais / Ne Compte Plus Sur Moi
1963
SP CBS 141 002 (F)
.
Notre Amour Renaîtra / Cours Mon Cœur
1963
EP CBS ‎EP 5516 (F)

Les Teen-Agers / Lydia / On Est Heureux A 16 Ans / Gna Gna Gna

1964
EP CBS EP 5646 (F)
Une Lettre Pour Vous / Fâchée / Ne La Fais Pas Souffrir / Donne-moi Cette Nuit
1964
EP CBS EP 5863 (F)

Bye Bye Johnny / Demain, tu pars en vacances / Quand tu danses contre moi / Si ton cœur a pitié

1968
SP Riviera 121 178 (F)

Michel SOREL - C'était Là Là Là / Ma Douce Amie

1968
EP Riviera 231 323 (F)
Michel SOREL - C'

é

tait Là Là Là / Au Delà Du Mur / Ma Douce Amie / Hey Missis Loving
1968
EP Riviera 231 330 (F)
Michel SOREL - Comment Te Dire Tout

ç

a / Petit Chat / Nuit D'Amour Dans Un Château Hanté / Je Te Disais Quoi
1968
SP Riviera 121 194 (F) (promo)
.
Michel SOREL - Comment Te Dire Tout

ç

a /

Nuit D'Amour Dans Un Chateau Hanté

1971
SP POLYDOR 2056 074 (F)
Black SWAN - Echoes And Rainbows / Belong Belong
03/1971
SP Durium DE 2755 (I)
Black SWAN - Echoes Rainbows / Belong Belong
04/1971
SP EMBER EMBS 303 (UK)
Black SWAN - Echoes And Rainbows / Belong Belong
07/1971
SP ARIOLA 10 287 AT (GER)
Black SWAN - Echoes And Rainbows / Belong Belong
1971
SP MCA MCS 2508 (NL)
Black SWAN - Echoes And Rainbows / Belong Belong
1971
SP OPALO OPL 1-10 (S)
Black SWAN - Echoes Rainbows / Belong Belong
1971
SP POLYDOR 2056 123 (F)
Black SWAN - Da Ga De Li Da / Go Where The Rain Goes
1971
SP MCA MC 5394 (B)
Black SWAN - Da Ge De Li Da / Go Where The Rain Goes
1971
SP Durium DE 2774 (I)
Black SWAN -

Dagedelida / Go Where The Rain Goes

1971
SP AMI 86 018 (F)
Black SWAN - Gimme Lovin' / Imagination
1972
SP RCA 54.4090 (B)
Black SWAN - Gimme Lovin' / Imagination
1972
SP AMI 86034 (F)
Black SWAN -

Carolyne / We Can Do It Too

1973
SP AMI 86 046 (F)
Black SWAN -

Mamma Goes / Loving Man

1974
SP Sonopresse ‎MR 45 120 (F)
Black SWAN - Karma / Comme

si j'avais vécu avant

1977
SP Sonopresse ‎40.273 (F)
Black SWAN -

Come Fly Me (version chantée) / Come Fly Me (version orchestrale)

1981
SP Carrere ‎49.854 (F)

Fille Des Années 60 / Astrologie
Albums
1962
LP 10" ODEON ‎OS 1283 (F)
BILLY BRIDGE - Lydia / Ne Dis Plus Rien / Madison Flirt / Le Grand M / Ce Qui Me Vient De Vous / Quand Je Suis Loin De Toi / Viens Twister Avec Moi / En Twistant Le Madison / A Tout Casser
1971
LP 12" Durium D. 30223 (I)

"1st" -

Echoes & Raimbows / River Girl / Walking My Monkey / Dagedelida / Go Where The Rain Goes / Need Your Loving / Life Goes On / Lady Love / Leah / Hourglass
1971
LP 12" MCA MAPS 5666 (B)
BLACK SWAN - Echoes And Rainbows / Walking My Monkey / Gotta Find Me A Woman / Life Goes On / River Girl / The Hour Glass / Da Ge De Li Da / Sugar Hill Georgia / I Need Your Loving / Leah / Lady Love Is Back In Town / Go Where The Rain Goes
1972
LP 12' POLYDOR 2393 028 (F)

Da Ga De Li Da - Echoes And Rainbows -

Da Ga De Li Da / Lady Love / Life Goes On / Sugar Hill Georgia / Belong Belong / Walking My Monkey / Echoes And Rainbows / Go Where The Rain Goes / Leah / River Girl / I Need You / The Hourglass
1994
CD Action 132008 (F)

Je M'invite En Vous -

BEST OF BILLY BRIDGE - Je M'Invite En Vous (inédit) / Le Grand M / Surboum / Bye Bye Johnny / Fille Des Années 60 / Rock & Roll Story / Souvenirs / Karma / Bonne Année Rock & Roll (inédit) / Un Manteau Pour L'Hiver (inédit) / Comme L'Amour (inédit) / Echoes And Rainbows / Go Where The Rains Goes / Leah / Dague Delida / We Can Do It Too / Mama Goes / Imagination / Loving Man / Gimme Lovin' / Have You A Winter Coat To Give (inédit)
2000
2 CD MAGIC MAM 102 (F)
BILLY BRIDGE & LES MUSTANGS :

CD 1 : Surboum / Triple Twist / Viens Twister Avec Moi / My Heart Is In Your Hand / Le Grand M (Parts 1 & 2 ) /

ç

a C'Est Le Madison / En Twistant Le Madison / Madison Flirt / Anything That's Part Of You / Quand Je Suis Loin De Toi / Petite Catherine / Lydia (1ère version) / Ne Dis Plus Rien / A Tout Casser / Notre Amour Renaitra / Ne Compte Plus Sur Moi / N'Oublie Jamais / Night Rider / Sad Sad Boy / Lydia (2ème version)
CD 2 : Happy Birthday Sweet Sixteen / Gna Gna Gna (du Film "Venez Les Copains") / Une Lettre Pour Vous / Ne La Fais Pas Soufrir / Fachée / Donne-Moi Cette Nuit / Bye Bye Johnny / Demain Tu Pars En Vacances / Quand Tu Dances Contre Moi / Si Ton Coeur A Pitié / La Main Du Diable / Rinky Dink / Sur La Plage / !-2-3-4 / Drums / Hully Gully Limonad / Theme Du Lac Des Cygnes / Le Neghev
© Rocky Productions 5/03/2017