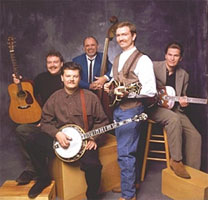 Groupe Bluegrass US comprenant Tim Stafford, Rob Ickes, Shawn Lane, Wayne Taylor et Jason Burleson.

The five experienced members of progressive bluegrass group Blue Highway have played in the bands of such notable artists as Alison Krauss & Union Station, Ricky Skaggs, Larry Sparks, and Doyle Lawson. Guitarist and vocalist Tim Stafford played on the Grammy-winning album Every Time You Say Goodbye by Alison Krauss & Union Station, while dobro player Rob Ickes earned one for his contribution to the various-artists project The Great Dobro Sessions and another for his playing on I Know Who Holds Tomorrow, the collaborative album project by Krauss and the Cox Family.
Other Blue Highway members include Shawn Lane on tenor Vocals, mandolin, and fiddle; bassist, vocalist, and songwriter Wayne Taylor; and Jason Burleson on banjo, mandolin, and Vocals. The Tennessee-based group has been nominated for four International Bluegrass Music Association Awards, including 1996 Album of the Year for its debut release, It's a Long, Long Road, with both the title track single and album staying at number one on the national bluegrass chart for five months. After 1996's Wind to the West, in 1998 Blue Highway issued Midnight Storm; the following year, the band's self-titled fourth album appeared. The group's next four albums were all released on Rounder Records, Still Climbing Mountains in 2001, Wondrous Love in 2003, Marbletown in 2005 and Through the Window of a Train in 2008. The Game appeared in 2014, the 20th anniversary year of the group's formation.
http://www.bluehighwayband.com/
https://en.wikipedia.org/wiki/Blue_Highway
Talents : Tim Stafford : Guitar, Vocals - Rob Ickes : Dobro - Shawn Lane : Tenor Vocals, Mandolin, Fiddle - Wayne Taylor : Bass, Vocals, Songwriter - Jason Burleson : Banjo, Mandolin, Vocals
Style musical : Bluegrass

http://youtu.be/j6RXtpxuvyk
Years in activity :
| | | | | | | | | | | | |
| --- | --- | --- | --- | --- | --- | --- | --- | --- | --- | --- | --- |
| 1910 | 20 | 30 | 40 | 50 | 60 | 70 | 80 | 90 | 2000 | 10 | 20 |
DISCOGRAPHY
Albums
07/1995
CD BLIND PIG 1719 (US)
IT'S A LONG, LONG ROAD - It's A Long, Long Road / Lonesome Pine / Canadian Bacon / Before The Cold Wind Blows / Blue Ridge Mountain Girl / Farmer's Blues / The One I Left Behind / In The Gravel Yard / England's Motorway / Flannery's Dream / Lord, Won't You Help Me / (Say) Won't You Be Mine
07/1996
CD REBEL 1731 (US)
WIND TO THE WEST - Wind To The West / Howling Wind / I Can Stand The Truth / Good Time Blues / Two Coats / The Rounder / I Let A Good Woman Go / Clear Cut / God Moves In A Windstorm / Horseshoe Bend / West Virginia's Last Hand Loader / Huntsville / Between The Rows
01/1998
CD REBEL 1746 (US)
MIDNIGHT STORM - I'd Rather Be A Lonesome Pine / Pikeville Flood / Some Day / Midnight Storm / Kenn Mountain Prison / Getting Over You / Last Dollar Blues / He Walked All The Way Home / Cold Frosty Morn / Find Me Out On A Mountain Top / Whither Thou Go / May Your Life Be Sweet And Simple
07/1999
CD CEILI MUSIC 2002 (US)
BLUE HIGHWAY - Born With A Hammer In My Hand / Troubles Up And Down The Road / Lonesome Hearted Blues / Clay And Ottie / Man Of Constant Sorrow / I Am Near The Gate / I Hung My Head / Don't Come Out Of The Hole / Lonely Old Town / It Wasn't You / That Could Be You / Father I Know Why
09/2001
CD ROUNDER 610489 (US)
STILL CLIMBING MOUNTAINS - Still Climbing Mountains / Monrobro / Mountain Of The Lord / Boulder City Dam / Riding The Danville Pike / Life Without You / Union Man / Only A Thought Away / Buck Hill / This Ain't The First Time I've Walked In These Shoes / Uncle Fred / The Seventh Angel (introduction) / The Seventh Angel / Goodbye For A While
06/2003
CD ROUNDER 610524 (US)
WONDROUS LOVE - Wondrous Love / Traveling Preacher / Wicked Path Of Sin / I'm Asking You / Live On Down The Line / Chasing After The Wind / Seven Sundays In A Row / This World Is Not My Home / Ahead Of The Storm / Old Brush Arbors / The Ground Is Level At The Foot Of The Cross / It Won't Be Long / The Old Rugged Cross
06/2005
CD ROUNDER 610558 (US)
MARBLETOWN - Marbletown / Lazarus / Nothing But A Whippoorwill / Tears Fell On Missouri / I Used To Love Parades / Three-Finger Jack / Message From The Wind / Quarter Moon / Wild Urge To Ramble / No Home To Go Home To / Wild Bill / Endless Train
04/2006
CD REBEL 117512 (US)
LONESOME PINE - In The Gravel Yard / Lonesome Pine / He Walked All The Way Home / Blue Ridge Mountain Girl / Some Day / Cold Frosty Morn / Before The Cold Wind Blows / The Rounder / Between The Rows / Flannery's Dream / Last Dollar Blues / Two Coats / It's A Long, Long Road
02/2008
CD ROUNDER 610594 (US)
THROUGH THE WINDOW OF A TRAIN - Life Of A Travelin' Man / Through The Window Of A Train / Sycamore Hollow / Homeless Man / Where Did The Morning Go? / Two Soldiers / The North Cove / A Week From Today / My Ropin' Days Are Done / Blues On Blues / V-Bottom Boat / Just Another Gravel In The Road
03/2009
CD ROUNDER 11661-0633-2 (US)

SOME DAY - THE FIFTEENTH ANNIVERSARY COLLECTION -

Cold And Lowdown Lonesome Blues / Through The Window Of A Train / Bleeding For A Little Peace Of Mind / Monrobro / Some Day / Still Climbing Mountains / The Seventh Angel / Elzic's Farewell / Sycamore Hollow / Seven Sundays In A Row / Wild Urge To Ramble / Marbletown / Wondrous Love
08/2011
CD ROUNDER 11661-9107-2 (US)

Sounds of Home -

I Ain't Gonna Lay My Hammer Down / Sounds Of Home / Bluebird Days / Restless Working Man / Heather And Billy / Storm / Roaring Creek / Only Seventeen / If You've Got Something To Say / My Heart Was Made To Love You / Nobody's Fault But Mine / Drinking From A Deeper Well
01/2014
CD ROUNDER 11661-9170-2 (US)
THE GAME - The Game / Remind Me Of You / Dogtown / All The Things You Do / A Change Of Faith In Tennessee / Talk Is Cheap / Church Bell Wedding Blues / Where Jasmine Grows / My Last Day In The Mine / Just To Have A Job / Funny Farm / Hicks's Farewell
09/2016
CD ROUNDER 1166100108 (US)

Original Traditional - Don't Weep For Me / If Lonesome Don't Kill Me / Water From The Stone / Last Time I'll Ever Leave This Town / Alexander's Run / Hallelujah / What You Wanted / Story Of My Life / Wilkes County Clay / Long Row To Hoe / She Ain't Worth It / Top Of The Ridge

08/2019
CD ROUNDER 1166100620 (US)

Somewhere Far Away - Both Ends Of The Train / Somewhere Far Away / Dear Kentucky / In Texas Tonight / Cochise County / Orville's Webb / Ain't No Better, Ain't No Worse / A Place I've Never Seen / I Already Do / Life Song / I Can't Think Of One / That Sounds More Like Heaven To Me
© Rocky Productions 11/05/2022