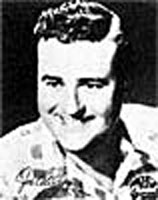 Chanteur Country, DJ et personnalité TV US né Joe Marion Allison, le 3 Octobre 1924 à McKinney (Texas). Joe Allison est décédé le 2 Août 2002 à Nashville (Tennessee).

Although he is best-known to country fans — if he is known at all — as the writer of hits by Jim Reeves, Tex Ritter and Faron Young, Joe Allison contributed immeasurably to country music's birth as an urban phenomenon during the 1950s and '60s. He began as a deejay in Texas, but worked his way up during the '50s — as a TV presenter, producer and record executive — to influence the spread of country and its impact on the nation. Born in McKinney, TX, on October 3, 1924, Allison entered the business performing on a Tex Ritter tour in 1945. He returned to his home state that same year and began to work as a deejay in San Antonio. A song he wrote for Ritter, "When You Leave Don't Slam the Door," hit the Country Top Five in October 1946.
With a bit of fame to his name, Joe Allison worked in Memphis radio during the late '40s. In 1949, he moved to Nashville to host a daily show on WSIX and WSM that became a springboard for future stars such as the Everly Brothers, Chet Atkins and Brenda Lee. After a move to Los Angeles in 1952, Allison balanced radio and songrwriting careers; he replaced Tennessee Ernie Ford at KXLA and wrote hits — some co-written by his first wife, Audrey — for Faron Young ("Live Fast, Love Hard, Die Young" and "It's a Great Life [If You Don't Weaken]") and Tommy Sands ("Teenage Crush"). Joe Allison's most important songwriting credit came in 1960, when Jim Reeves took "He'll Have to Go" to the top of the Country chart for 14 weeks. The single reached number two on the pop charts also.
Also in 1960, Allison moved to an executive post for Liberty Records: developing and running the first specifically Country department at a record label. During the '60s, Allison was influential in spreading commercial country radio to big urban markets and he was also involved in the founding of the Country Music Association, enough to earn their achievement award in 1964. By 1967, he had moved into independent producing and worked on material by Hank Thompson, Roy Clark, Tex Ritter and Willie Nelson. In the late '70s, he was inducted into both the D.J. Hall of Fame and the Nashville Songwriters Hall of Fame.
https://en.wikipedia.org/wiki/Joe_Allison
Talents : Vocals, Songwriter, Deejay, TV Personality, Scriptwriter, Record Producer, Industry Executive
Style musical : Traditional Country
Years in activity :
| | | | | | | | | | | | |
| --- | --- | --- | --- | --- | --- | --- | --- | --- | --- | --- | --- |
| 1910 | 20 | 30 | 40 | 50 | 60 | 70 | 80 | 90 | 2000 | 10 | 20 |
DISCOGRAPHY
78 t. & Singles
06/1950
78 t. CAPITOL 1067 (US)

Joe Allison & His Nashville Boys - Roses I Picked For Our Wedding / Two Hearts Are Better

06/1950
SP CAPITOL F1067 (US)
Joe

Allison

& His

Nashville Boys

-

Roses I Picked For Our Wedding / Two Hearts Are Better

07/1950
78 t. CAPITOL 1122 (US)
Joe

Allison

& His

Nashville Boys

-

Goodnight Irene / Let Your Conscience Be Your Guide

07/1950
SP CAPITOL F1122 (US)
Joe

Allison

& His

Nashville Boys

-

Goodnight Irene / Let Your Conscience Be Your Guide

08/1950
78 t. CAPITOL 1172 (US)
Joe

Allison

& His

Nashville Boys

- Lose Your Blues / (Remember Me) I'm The One Who Loves You
08/1950
SP CAPITOL F1172 (US)
Joe

Allison

& His

Nashville Boys

- Lose Your Blues / (Remember Me) I'm The One Who Loves You
12/1950
78 t. CAPITOL 1308 (US)
Joe

Allison

& His

Nashville Boys

-

It Is No Secret / Statue In The Bay

12/1950
SP CAPITOL F1308 (US)
Joe

Allison

& His

Nashville Boys

-

It Is No Secret / Statue In The Bay

03/1951
78 t. CAPITOL 1414 (US)
Joe

Allison

& His

Nashville Boys

-

Heartbreak Avenue / T-V Blues

03/1951
SP CAPITOL F1414 (US)
Joe

Allison

& His

Nashville Boys

-

Heartbreak Avenue / T-V Blues

05/1951
78 t. CAPITOL 1553 (US)
Joe

Allison

& His

Nashville Boys

- Let Me Give You A Clue / Domino Gal
05/1951
SP CAPITOL F1553 (US)
Joe

Allison

& His

Nashville Boys

- Let Me Give You A Clue / Domino Gal
12/1951
78 t. CAPITOL 1899 (US)

Joe Allison & His Nashville Boys - What Happened To Our Summer Love / A Brand New Broom

12/1951
SP CAPITOL F1899 (US)
Joe

Allison

& His

Nashville Boys

- What Happened To Our Summer Love / A Brand New Broom
04/1952
78 t. CAPITOL 2052 (US)
Joe

Allison

& His

Nashville Boys

-

Doodlin' / Thanks For Loving Me

04/1952
SP CAPITOL F2052 (US)
Joe

Allison

& His

Nashville Boys

-

Doodlin' / Thanks For Loving Me

02/1958
SP DOT 45-15714 (US)
Foggy River / Baby Doll
© Rocky Productions 14/02/2021