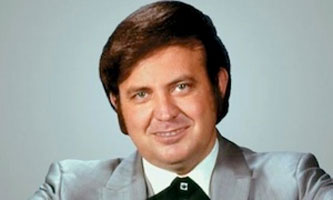 Chanteur Country US né le 18 Mai 1936 à Covington (Georgie). Leon Ashley est décédé le 20 Octobre 2013 à Hensersonville (Tennessee).

Leon Ashley has a small place in country music history as the first artist to write, record, release, distribute, and publish his own material. That record, "Laura (What's He Got That I Ain't Got)," is also part of Ashley's legacy, becoming a country standard of the '60s and '70s, as it was recorded by a variety of artists, including Marty Robbins and Kenny Rogers. In fact, Ashley had more influence as a songwriter, not a performer. Nevertheless, he had a modestly successful performing career as a country-pop singer that lasted through the '60s and '70s.
Ashley began performing at an early age. When he was nine, he performed on a Covington, GA, radio station, and by the time he was 11, he had his own show. In 1960, he recorded his first single, "He'll Never Go." Released on Goldband, the record didn't gain much attention. He signed with Imperial the following year, releasing "Teen Age Angel" and "It's Alright Baby" to a similar lack of attention. In 1962, he returned to Goldband and recorded one more single, "Not Going Home." Dot Records released his "You Gave Me Reason to Live" in 1964.
Leon Ashley was paired with Margie Singleton to record "How Can We Divide These Little Hearts" in 1966. The following year, the duo married; they continued working together for the rest of their marriage.
The year 1967 was significant for Ashley for another reason — he founded his own record label, Ashley. Surprisingly, Ashley's self-owned and operated record label was more successful for his career than any of the more-established labels he had previously recorded for. "Laura (What's He Got That I Ain't Got)," the third release on Ashley, rocketed to number one on the country charts, and was followed by two other lesser hits later that year (a duo with Margie called "Hangin' On" and "Anna, I'm Taking You Home"). Ashley had two more hits in 1968 — the Top 15 "Mental Journey" and the duo "You'll Never Be Lonely Again" — and 1969 brought three more hits, "While Your Lover Sleeps," "Back to Birmingham," and "Ain't Gonna Worry." However, that was the end of his brief period of chart success. Ashley had one more minor hit single, "Ease Up" in 1972. For the remainder of the decade, he toured with Margie and their manager, Linda G. Denny, and the Country Music Spectacular. Although he no longer had hits, other performers regularly recorded Leon Ashley's songs, including many co-written with Margie.
Leon Ashley died on October 20, 2013 in Hensersonville, Tennessee.
https://en.wikipedia.org/wiki/Leon_Ashley
Talents : Vocals, Songwriter, Guitar
Style musical : Traditional Country, Country-Pop
Years in activity :
| | | | | | | | | | | | |
| --- | --- | --- | --- | --- | --- | --- | --- | --- | --- | --- | --- |
| 1910 | 20 | 30 | 40 | 50 | 60 | 70 | 80 | 90 | 2000 | 10 | 20 |
DISCOGRAPHY
Singles
1960
SP GOLDBAND G 1104 (US)
.
He'll Never Go / If I Were King Of The Universe
06/1961
SP IMPERIAL X 5759 (US)
.
Teenage Angel / The Longest Walk
11/1961
SP IMPERIAL X 5795 (US)
.
It's Alright Baby / Court Of Two Sisters
1962
SP GOLDBAND G 1124 (US)
.
Not Going Home / You Win Again
07/1964
SP DOT 45-16649 (US)
.
You Gave Me The Reason To Live / You've Got A Heartbreak
01/1967
SP MONUMENT 45-990 (US)
.
Leon ASHLEY & Margie SINGLETON - How Can We Divide These Little Hearts / If Love Has Died
1967 ?
SP ASHLEY A 100 (US)
.
Our Old Love Song / She Picked Me Up
1967 ?
SP ASHLEY A 702 (US)
.
Leon ASHLEY & Margie SINGLETON - Watching Your Memory Grow / Can You Live With The Way
1967
SP ASHLEY A 764 (US)
.
Most Men / Weakness Of A Man
1967
SP ASHLEY A 768 (US)
.
Before You Were Mine / Su Sow
07/1967
SP ASHLEY A 2003 (US)
.
Laura (What He's Got I Ain't Got) / With The Help Of The Wine
1967
SP GUSTO 2041 (US)
.
Laura, What's He Got That I Ain't Got

/ Flower Of Love

10/1967
SP ASHLEY A 2015 (US)
.
Leon ASHLEY & Margie SINGLETON - Hangin' On / Four O'Clock
11/1967
SP ASHLEY A 2025 (US)
.
Anna I'm Taking You Home / Courtain Of Sadness
02/1968
SP ASHLEY A 2075 (US)
.
Mental Journey / All I Can Stand
04/1968
SP ASHLEY A 3000 (US)
.
Leon ASHLEY & Margie SINGLETON - You'll Never Be Lonely Again / Parting Of The Waves
07/1968
SP ASHLEY A 4000 (US)
.
Flower Of Love / Prayers Can't Reach Me
12/1968
SP ASHLEY A 7000 (US)
.
While Your Lover Sleeps / That's Alright
02/1969
SP ASHLEY A 7000 (US)

Leon ASHLEY & Margie SINGLETON - Love Me Or Leave Me For Love To Find / Here We Go Again

03/1969
SP ASHLEY A 9000 (US)
.
Walking Back To Birmingham / It's All Over But The Crying
07/1969
SP ASHLEY A 22 (US)
.
Ain't Gonna Worry / Illusions Of Life
1969
SP ASHLEY A 350 (US)
.
Leon ASHLEY & Margie SINGLETON - If Love Has Died / How Can We Divide These Little Hearts
02/1970
SP ASHLEY 45-35001 (US)
.
Life For A Wife / Bees Are Making Honey
02/1970
SP ASHLEY 45-35002 (US)
.
Leon ASHLEY & Margie SINGLETON - All That Love Is Gone / Blindness Of The Wife
06/1970
SP ASHLEY 45-35003 (US)
.
Brace Up And Face It / Tell Him Daddy Said Hello
06/1970
SP ASHLEY 45-35004 (US)
.
Leon ASHLEY & Margie SINGLETON - Happy Loving You / Love Me Or Leave Me
1970
SP ASHLEY 45-35005 (US)
.
Mama's Ten / Keeping Her Memory Alive
1971
SP ASHLEY 45-35008 (US)
.
There Ain't No Easy Way / Losing Man
1972
SP ASHLEY 45-35010 (US)
.
Ease Up / Until Dawn
1972
SP ASHLEY 45-35011 (US)
.
There's Not A Single Thing About Me / Before The Next Teardrops Fall
1973
SP ASHLEY 45-35013 (US)
.
Love Fits Me Better / Off And Running
197?
SP ASHLEY 7600 (US)
.
I'll Be There / If I Could See Over The Mountain
197?
SP ASHLEY 7876 (US)
.
Losing Man / There Ain(t No Easy Way
197?
SP ASHLEY 7996 (US)
.
There's Not A Single Thing / Before The Next Teardrop Falls
1980
SP ASHLEY 5258 (US)
.
Look What Loving Me Has Done To You / Bar Room In Dallas
1980
SP ASHLEY 5323 (US)
.
Dear Willie (A Letter From Luckenbach) / Laura
????
SP TICTOC 111 (US)
.
You've Got A Heartbreak / Give Me The Reason To Live
Albums
| | | | |
| --- | --- | --- | --- |
| 1967 | LP 12" RCA VICTOR LSP 3900 (US) | | LAURA - Laura (What He's Got That I Ain't Got) / Tell Him Daddy Said Hello / Curtain Of Sadness / Jungle Of Life / Most Men / With The Help Of The Wine / When Loneliness Moves In / Keeping Her Memory Alive / Little More Hurt / Before You Were Mine / Today's The Day After / Branded Man |
| 1969 | LP 12" ASHLEY ALPS 3695 (US) | | A NEW BRAND OF COUNTRY - LEON & MARGIE - Leon ASHLEY & Margie SINGLETON - Ode To Billie Joe / Four O'Clock In The Morning / Petal From A Rose / She Picked Me Up / Parting Of The Ways / Hangin' On / Big Boys Don't Need Mamas / Illusions Of Life / Wanderin' Mind / You'll Never Be Lonely Again |
| 1969 | LP 12" HILLTOP JS 6066 (US) | | ODE TO BILLIE JOE - Leon ASHLEY & Margie SINGLETON - Ode To Billie Joe / Four O'Clock In The Morning / Petal From A Rose / She Picked Me Up / Parting Of The Ways / Hanging On / Big Boys Don't Need Mamas / Illusions Of Life / Wanderin' Mind / You'll Never Be Lonely Again |
| 10/1969 | LP 12" HILLTOP JS 6069 (US) | | FLOWER OF LOVE - Flower Of Love / Too Much Living In Too Little Time / To Choose The Bad / At The Risk Of Losing You / Baby I'm Coming Home / Rocking And Unpacking / It's All Over But The Crying / She Still Comes Around (To Love What's Left Of Me) / You Gave Me Reason To Live |
| 1970 | LP 12" ASHLEY ALPS 3700 (US) | | MENTAL JOURNEY - Mental Journey / Honey, As Much As I Can Stand / I Wannna Live / You're What I Need / Another Place Another Time / Flower Of Love / Prayers Can't Reach Me / Somewhere In The Closet / Anna I'm Taking You Home / You're Just In Time / Jungle Of Life |
| 10/1970 | LP 12" ASHLEY AYS 54001 (US) | | THE BEST OF LEON ASHLEY - Brace Up And Face It / Laura (What He's Got That I Ain't Got) / Mental Journey / Flower Of Love / To Love What's Left Of Me / While Your Love Steps / It's All Over But The Crying / Walking Back To Birmingham / Anna I'm Taking You Home / What Is To Be Will Be / With The Help Of The Wine |
| 1972 | LP 12" ASHLEY ALS 3750 (US) | | EASE UP AND BY SPECIAL REQUEST - Leon ASHLEY - Margie SINGLETON - Ode To Billy Joe (Margie SINGLETON) / Before The Next Teardrop Falls (Leon ASHLEY) / Laura (Leon ASHLEY) / With The Help Of The Wine (Leon ASHLEY) / Jesus Is My Pusher (Margie SINGLETON) / Curtain Of Sadness (Leon ASHLEY) / Anna, I'm Taking You Home (Leon ASHLEY) / Make It On Your Own (Leon ASHLEY & Margie SINGLETON) / Flower Of Love (Leon ASHLEY) / Happy Loving You (Margie SINGLETON + Leon ASHLEY) / I Guess I've Just Loved You Too Long (Margie SINGLETON) / Ease Up (Leon ASHLEY) |
| 19?? | 2 LP 12" PICKWICK PTP-2025 US) | | ODE TO BILLIE JOE - HARPER VALLEY PTA - Leon ASHLEY & Margie SINGLETON - Ode To Billie Joe / Big Boys Don't Need Mamas / O'Clock In The Morning / Hanging On / Parting Of The Ways / Wanderin' Mind / A Petal From A Rose / You'll Never Be Lonely Again / Illusions Of Life / She Picked Me Up / Harper Valley PTA / Cheaters Win / A Long, Long Way To Go / So Far No Good / Talking My Heart Out Of Love / The Little Girl I Didn't Have The Courage To Keep / It Seemed You've Never Been Gone / Well's Not Dry / The Next Heart You Break / If You Call That Love |
| 2007 | CD GUSTO 691 (US) | | LAURA (WHAT'S HE GOT THAT I AIN'T GOT) - Laura (What's He Got That I Ain't Got?) / Mental Journey / Flower Of Love / Walking Back To Birmingham / Anna, I'm Taking You Home / Ain't Gonna Worry / While Your Lover Sleeps / Four O'Clock / With The Help Of The Wine / Most Men / Honey Lean On Me / Ease Up |
© Rocky Productions 3/03/2017