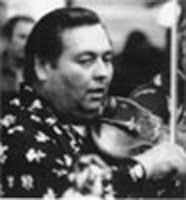 Fiddler Bluegrass US né Donald Lee Anthony, le 20 Décembre 1935 à Lincolnton (Caroline du Nord). Chubby Anthony a joué avec les Stanley Brothers. Il est décédé le 5 Février 1980 à Gainesville (Floride).

Donald (Fiddlin' Chubby) Anthony was born in Lincolnton, North Carolina, in 1935. He moved to Florida in 1958 and became one of the state's greatest bluegrass talents, capturing the Florida State Fiddling Championship three times. Until several months before his death, he lived in Wellborn, Florida, in the northern part of the state.
Raised in Shelby, N.C., Anthony began playing music at the age of seven, winning the North Carolina fiddling championship at 12, and got his biggest break in the early 1950s, when he became the fiddler for the legendary Stanley Brothers. He played fiddle for the Stanleys until 1961.
The Stanleys started recording for Mercury Records in 1954, and music historian Bob Artis descibed Chubby's work with them as "one of the high-water marks of early bluegrass.".
After the Stanleys came to Florida in 1958, they moved to the Starday label. With Anthony's unmistakable fiddling, they recorded some of their best-known compositions, including the famous Rank Strangers.
After a short hiatus from the music business, in the late-60s - early 70s, Chubby became one of the most popular performers on the festival circuit within Florida and across the nation.
In the early 1970s, Anthony played, with Robert McDougal and Kiel Brown, in the popular Tall Timber Bluegrass. Later, the band's name was changed to Big Timber, and along with guitarist, Bill Pruett and Banjo picker, Jimmy Fee, it was the band with which he performed until illness intervened.
Anthony had a unique style and set new standards for such classics as Orange Blossom Special and Maiden's Prayer. In his hands, the same fiddle that one would swear must be smoking after he played Fire on the Mountain could bring tears to the eyes with his interpretation of the delicate strains of Come Walk With Me.
Just as respected fiddlers flocked to his shows to watch his techniques, men who made their living with banjos could learn by observing his masterful use of that instrument. Before going on stage, he was once heard to tell his band that he would "do a couple of fiddle numbers, then I'll get the guitar and we'll raise hell."
When Anthony became ill in the summer of 1979, bluegrass fans and musicians throughout Florida rallied to help him by putting on benefit shows, but he finally succumbed to acute renal failure on February 5th, 1980, in Gainesville, Florida.
http://www.clinchmountainecho.co.uk/cmbs/canthony.php
Talents : Fiddle, Banjo, Guitar, Vocals
Style musical : Bluegrass

https://youtu.be/-mOfjBSMKQ4
Years in activity :
| | | | | | | | | | | | |
| --- | --- | --- | --- | --- | --- | --- | --- | --- | --- | --- | --- |
| 1910 | 20 | 30 | 40 | 50 | 60 | 70 | 80 | 90 | 2000 | 10 | 20 |
DISCOGRAPHY
Albums
1978
LP 12" OLD HOMESTEAD OHS-90085 (US)

FIDDLIN' CHUBBY ANTHONY -

Twinkle Little Star / Listen To The Mockingbird / Patty On The Turnpike / Come Walk With Me / Me And My Fiddle / Tennessee Wagoneer / Leather Britches / Cacklin' Hen / Lee Highway / Maiden's Prayer / Bully Of The Town / Sally Johnson
1979
LP 12" OLD HOMESTEAD OHS-90116 (US)

THE BEST OF BLUEGRASS - CHUBBY ANTHONY & BIG TIMBER

BLUEGRASS

-

Tall Timber / Our Last Goodbye / Lonely River / What About You / Stormy Horizons / Old Old House / Chubby's Ride / Home In Old Tennessee / Huskie's Fiddle / This Morning At Nine / Nobody's Love Is Like Mine / Foolish Heart
1980
LP 12" OLD HOMESTEAD OHS-90121 (US)

LOVE AND LIFE -

CHUBBY ANTHONY & BIG TIMBER BLUEGRASS -

Dear One / Baby I'm Georgia Bound / Somehow Tonight / Foothills Of Home / Our Final Goodbye / I've Tried So Hard / Hold Back The Waters / Lost Without You / Brews Fiddle / I'm Leaving I'm Going / If That's The Way You Feel / Biar's Den
05/1980
2 LP 12" CMH CMH-9023 (US)

Bluegrass Cardinals Live And On Stage - Chubby Anthony, Don Reno, Buddy Spicher - Introduction by Chuck Webster / Bluegrass Cardinals: : Pretty Red Wing / Ramblin' Fever / The Day I Lose My Mind / Eighteen Wheels / A Tribute To Lester Flatt / Leather Britches / Hand Full Of Stitches / Don't Come Running / Sing A Family Song / The Old Fashioned Preacher / Chubby Anthony & Big Timber : Come Walk With Me / Carry Me Back To Old Tennessee / I Know You're Married But I Love You Still / Lee Highway Blues / Introduction by Chuck Webster / Don Reno & The TeNnessee Cutups - Riverdale Flash / Somewhere Tonight / Mansion On The Hill / Take Your Shoes Off, Moses / Feudin' Banjos / I Love You Because / Banjo Signal / Introduction by Lance Leroy / Buddy Spicher : Time Changes Everything / East Tennessee Blues / Draggin' The Bow / Dear Old Dixie / Village Bells Hornpipe / Goodbye, Liza Jane / Earl's Breakdown / Home In San Antone / Uncle Pen

1982
LP 12" A & O AO 900 (US)

CHUBBY ANTHONY'S LAST TRIBUTE (

PLAYING COUNTRY AND BLUES) - Maggie Blues / If I Could Only Win Your Love / A Lonesome Road Blues / Ashes Of Love / John Hardy / Ode To Linda Ann / Help Me Make It Through The Night / Forty Miles To Macon / Limehouse Blues / Walk Through This World With Me / Little Liza Jane / Huskie's Fiddle
© Rocky Productions 26/03/2012