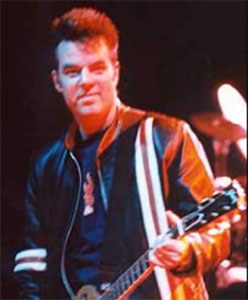 Guitariste et producteur US né Eric "Roscoe" Ambel le 20 Août 1957 à Batavia (Illinois).

One of the leading lights of the roots rock movement, Eric "Roscoe" Ambel has been making a name for himself since the late '70s with his fiery guitar work, witty but passionate songwriting, and no-nonsense approach to rock & roll as both a sideman and a producer.
Born in Batavia, IL, Ambel's career in music began while he was studying at the University of Wyoming. A fan of straight-ahead rock who wasn't much impressed with disco or corporate rock, Ambel had his ears opened up in 1978 by a Ramones/Dictators double bill and soon met up with three like-minded rock fans to form a punk group called the Dirty Dogs. The band cut a self-released single, "Sorority Girl"/"Eric's Move," and gigged frequently around Wyoming and Colorado before changing their name to the Accelerators and relocating to Los Angeles in 1979. While they failed to make a major impact in California, Ambel did score a gig with Joan Jett, who was putting together a new band after the breakup of the Runaways. Ambel toured and recorded as a member of Joan Jett & the Blackhearts until 1981, when he moved to New York and joined forces with former Dictators guitarist Scott "Top Ten" Kempner to form the Del Lords. A regional success on the East Coast and a favorite with critics, the Del Lords released four studio albums and a live set between 1984 and 1990, when Ambel left the band shortly before they called it quits.
In 1988, while the Del Lords were on a break, Ambel cut his first solo album, named for the informal band he'd put together for small-club jams, Roscoe's Gang, which featured guest spots from Syd Straw, Peter Holsapple, and Skid Roper. Ambel cut a follow-up Roscoe's Gang set in 1994, the somber but hard-edged Loud & Lonesome. While working on Loud & Lonesome, Ambel began collaborating on songs with Dan Baird (ex-Georgia Satellites) and Terry Anderson; with Keith Christopher rounding out the quartet, they became the Yayhoos, and after touring for a spell as Baird's backing band, they cut a handful of songs which appeared on compilations and soundtrack sets, but due to a puzzling lack of major-label interest they wouldn't release an album until Bloodshot Records unleashed Fear Not the Obvious in 2001. That same year, Ambel signed on as guitarist with Steve Earle's backing band the Dukes, and after touring with Earle in support of the album Transcendental Blues, he appeared on Jerusalem and Just an American Boy.
In 1990, Ambel began putting his longtime interest in recording to use when he started producing singles for the Brooklyn-based "rig rock" label Diesel Only Records. Ambel's artist-friendly, no-frills approach to record-making clicked with roots-oriented acts, and he's since produced sessions for the Bottle Rockets, Nils Lofgren, the Blood Oranges, Blue Mountain, the Backsliders, Freedy Johnston, and many more. In 1999, Ambel opened his own 24-track recording studio in Brooklyn, Cowboy Technical Services, and when he's not otherwise occupied, he programs the jukebox at Lakeside Lounge, a bar and performance venue that Ambel co-owns in New York's East Village. The club also lent its name to a record label Ambel launched in 2004 with the reissue of the two Roscoe's Gang discs as well as an odds-and-sods collection titled Knucklehead. In 2013, Ambel reunited with the Del Lords to cut a new album, Elvis Club, and the group toured the United States and Europe in support. Between his busy schedule as a producer and his commitments as a sideman, it wasn't until 2016 that Ambel found time to cut a new solo album, Lakeside, which was produced by Jimbo Mathus.
https://en.wikipedia.org/wiki/Eric_Ambel
Talents : Vocals, Guitar, Producer
Style musical : Country Rock, Roots Rock

https://youtu.be/Q2Kl5bYmpHU
Years in activity :
| | | | | | | | | | | | |
| --- | --- | --- | --- | --- | --- | --- | --- | --- | --- | --- | --- |
| 1910 | 20 | 30 | 40 | 50 | 60 | 70 | 80 | 90 | 2000 | 10 | 20 |
DISCOGRAPHY
Albums
1988
LP 12" ENIGMA 7 73329-1 (US)

Roscoe's Gang - If You Gotta Go, Go Now / Total Destruction To Your Mind / The Girl That I Ain't Got / Forever Came Today / 30 Days In The Workhouse / Power Lounger Theme / Don't Wanna Be Your Friend / I Waited For You / Next To The Last Waltz / Loose Talk / You Must Have Me Confused / Vampire Blues

1988
CD ENIGMA 7 73329-2 (UK)

Roscoe's Gang -

If You Gotta Go, Go Now / Total Destruction To Your Mind / The Girl That I Ain't Got / Forever Came Today / 30 Days In The Workhouse / Power Lounger Theme / Don't Wanna Be Your Friend / I Waited For You / Next To The Last Waltz / Loose Talk / You Must Have Me Confused / Vampire Blues / Power Lounger Theme Part 2 (Guitar)
© Rocky Productions 1/08/2022