| | |
| --- | --- |
| | |
| | |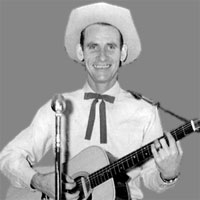 Chanteur Rockabilly US né le 14 Septembre 1918 à Covington (Tennessee), Malcolm Yelvington a débuté à la fin des années quarante en formant les "Stars Rhythm Boys". Il fait son premier enregistrement en 1955 à la Sun Records. Depuis la mort de son pianiste en 1958, Malcolm avait pris une retraite prématurée pourtant il est revenu dans les studios, d'abord en 1971 sans résultat concret, puis en 1974 pour Shelby Country, en 1976 pour Barrelhouse et en 1980 pour US Rockabilly Records. Malcolm est décédé le 21 Févier 2001 d'un cancer de la prostate à Memphis (Tennessee).

Like the second man to fly the Atlantic solo, or the second guy to orbit the Earth, Malcolm Yelvington stands somewhat in the shadow of history -- he's there, but he's eclipsed by his predecessor. He had the good fortune to be signed to Sun Records in 1954, but the bad luck to get the spot on the release roster one record after Elvis Presley's debut 45, "That's All Right." Yelvington is one of those artists signed to Sun Records who never made it as big as Elvis Presley, Johnny Cash, Jerry Lee Lewis, or Carl Perkins -- but whose music and abilities were still impressive, enough that he made a decent living performing in and around Memphis for years while he couldn't chart a record. The man never made it to national television, much less the national charts, but Yelvington today is highly regarded in Memphis as a living piece of the city's musical transformation of the country.
Yelvington was born in Covington, a rural enclave close to Memphis, and was playing guitar and singing locally at age 14. He developed a good baritone voice that brought him some listeners and engagements into his early 20s. One of the few models he had for his music was Ernest Tubb, himself a baritone who was just rising to national prominence at the time with "Walkin' the Floor Over You." Yelvington mastered a honky tonk sound similar to Tubb's. Strangely enough, despite being influenced by Tubb, and working within hailing distance of Memphis, Yelvington and his music were separated by a wide gulf from the blues. His sound came from hillbilly music, and he was scarcely aware of the presence of players like Furry Lewis or Frank Stokes in nearby Memphis.
During World War II, Yelvington was rejected for military service for health reasons. After the war, Yelvington met Reece Fleming and Respers Townsend, who had already recorded together for RCA-Victor, at a series of impromptu performances at the Gem Theater. Through these informal gigs at the Gem Theater, he eventually joined Reece Fleming's band, a western swing outfit called the Tennesseeans, who played all kinds of gigs, including school dances and honky-tonks, in the vicinity of Covington. They broke up in 1952, but Yelvington and the core players joined up with the Star Rhythm Boys, a local outfit, and landed a daily spot on a radio station. Most of the bandmembers were older men with families, and limited their work to local gigs in Covington. Yelvington, however, lived in Memphis and faced the reverse problem -- he began playing in Memphis as much as possible even as he continued with the band, playing with them on weekends. The band's gigs were always in the vicinity of Memphis, most notably at a honky-tonk called the Clover Club, north of Covington, where they played for three years, built up a huge following, and made a good living just from the door receipts. Yelvington and lead guitarist Gordon Mashburn began looking into the idea of recording, to build on what they'd accomplished locally, and heard about Sam Phillips and Sun Records, which had already recorded the Ripley Cotton Choppers.
Yelvington and Phillips first met late in 1953, and their initial contact was less than promising. The band played country music, and western swing, and Phillips wasn't interested in recording either. He did like the band, however, and got them to audition a huge part of their repertory, whatever they brought in, among them a song called "Yakety-Yak" (no, not the Coasters' song), but it was all too country for Phillips. They finally struck gold with a number called "Drinkin' Wine Spo-Dee-O-Dee," by blues singer Sticks McGee. That got Phillips' attention -- the mix of black and hillbilly music was compelling to the label owner, who ran out of the control room, found out what the song was, and had the band cut it right there. Ironically, Yelvington had learned the song from a member who was no longer in the band, steel guitarist Carey Busey, and had played rhythm behind it so many times that he ultimately adopted the song himself, even though Busey had originally sung on it. With background Vocals provided by Reece's wife and another singer, the number had a freewheeling honky tonk feel, and had its feet planted in country music with the prominent use of a steel guitar, but it also had just enough of the energy of its black source material to stand out from the country material of the day. That made it special, but it also proved to be the record's undoing, on another level. Unfortunately for Yelvington and his band, around that same time Phillips also recorded a young Memphis-based, Mississippi-born singer named Elvis Presley, and his debut, "That's All Right," eclipsed "Drinkin' Wine Spo-Dee-O-Dee."
Yelvington and the Star Rhythm Boys took responsibility for promoting their own single, a frustrating process that required them to approach radio stations directly, one at a time, and leave copies of the 45. They found out then that, despite its inherent drive and the mix of black and country influences, their record was still pegged as a country release, due to the presence of a steel guitar. The record died, labeled neither fish nor fowl -- too black for country stations, and too country for the deejays playing more rhythm-oriented songs.
Sun never released another record by Yelvington or his band, and they next turned up on the Bihari Brothers'-owned competitor, Meteor Records, cutting music under the name "Mac Sales and the Esquire Trio" to avoid a lawsuit by Phillips, who still held their contract. Their Meteor re-recording of "Yakety-Yak" failed to sell, and the Star Rhythm Boys were back, under their own name, at Sun in 1955, where they tried releasing some rockabilly-style material in the guise of "Rockin' With My Baby."
Neither Yelvington -- who was nearing 40 at the time -- nor his fellow bandmembers (who were even older) were entirely comfortable with rockabilly as a sound, and never took to it as naturally as the 20-year-old Presley. The group finally broke up in 1958, after six years of steady gigs and no luck in the recording studio. Yelvington gave up music after trying to play on his own, in order to devote his attention to a family of five children. In the mid-'80s, however, Yelvington would suddenly find a new music career, ironically enough, as an original rockabilly star -- more than 25 years after his rockabilly records were passed over as too country-ish.
Histories of Sun Records mentioned him and the Star Rhythm Boys, and people started looking for him, as one of Sun's original roster of rockabilly players. He was initially approached by European concert promoters, catering to a still huge and dedicated audience who loved American music, and who got him over there to play a series of shows. He was back at Sun the following year, to record again, which led to the making of his first album, released in 1997, when he was 69-years-old. By that time, he was a living part of Memphis history, and a respected elder statesman in country music and, yes, rockabilly -- although in his heart, he'll always consider himself a country musician.
https://en.wikipedia.org/wiki/Malcolm_Yelvington
Talents : Vocals, Guitar
Style musical : Rockabilly, Traditional Country, Western Swing, Honky Tonk
DRINKIN' WINE SPO-DEE-O-DEE (1955)

ROCKIN' WITH MY BABY (1956)

It's Me Baby (1956)

Have Myself A Ball (1956) (Sun unissued)

TRUMPET (1957) (Sun unissued)
Years in activity :
| | | | | | | | | | | | |
| --- | --- | --- | --- | --- | --- | --- | --- | --- | --- | --- | --- |
| 1910 | 20 | 30 | 40 | 50 | 60 | 70 | 80 | 90 | 2000 | 10 | 20 |
DISCOGRAPHY
Singles & EP
Unissued Tracks
| | | |
| --- | --- | --- |
| 1955 | SUN unissued | Yakety Yak [alt. vers.] |
| 1956 | SUN unissued | Have Myself A Ball |
| 1956 | SUN unissued | Rock & Roll With My Baby |
| 1956 | SUN unissued | Rockin' With My Baby [alt. vers.] |
| 1957 | SUN unissued | Goodbye Marie [vers. 1] |
| 1957 | SUN unissued | I've Got The Blues (Way Down Blues) |
| 1957 | SUN unissued | Mr. Blues [vers. 1] |
| 1957 | SUN unissued | My First And Last Love |
| 1957 | SUN unissued | Trumpet [vers. 1] |
| 195? | Unissued | Gal Named Joe [alt. vers.] |
| 195? | Unissued | Goodbye Marie [vers. 4] |
| 195? | Unissued | It's Me, Baby [alt. vers.] |
| 195? | Unissued | Mr. Blues [vers. 2] |
| 195? | Need info | Goodbye Marie [vers. 2] |
Albums
| | | | |
| --- | --- | --- | --- |
| 1974 | LP 12" BARRELHOUSE BH-011 (US | | DRINKIN' WINE SPO-DEE-OH-DEE! - MARCUS VAN STORY - (Malcolm YELVINGTON (Vocals) - Charlie & Bubba FEATHERS (Guitar) - Milkcow Blues Boogie / Shim Sham Shimmy / Shot Gun Boogie / My Baby Left Me / Drinkin' Wine Spo-Dee-Oh-Dee / I Forgot To Remember To Forget / Blue Suede Shoes / Memphis Blues / Mystery Train / Hound Dog / Tutti Frutti / The Signifyin' Monkey |
| 1987 | LP 12" P-Vine Special ‎PLP-330 (JAP) | | Memphis Rockin' Country - Malcolm Yelvington / Johnny Bernero - Malcolm YELVINGTON : Drinkin Wine Spo-Dee-O-Dee / Yakety Yak / Just Rolling Along / Way Down Blues / Rockin' With My Baby / Mr. Blues / It's Me Baby / Trumpet / Johnny BERNERO : Cotton Pickin' Boogie / Rockin' At The Woodchopper's Ball / It Makes No Difference Now / Bernero's Boogie / I Don't Mind / Red Hair And Green Eyes / How Do You Think I Feel |
| 1988 | LP 12" Sun LP-1010 (EUR) | | Gonna Have Myself A Ball - Drinkin' Wine Spo De O-Dee / Just Rollin' Along / Yakety Yak / Blues In The Bottom Of My Shoes / Yakety Yak / A Gal Named Jo / It's Me Baby / Rockin' With My Baby / Gonna Have Myself A Ball / Rockin' With My Baby / It's Me Baby / Goodbye Marie / First And Last Love / Mr. Blues / Did I Ask You To Stay / Trumpet / Ocean/Let The Moon Say Goodnight |
| 1997 | CD COLLECTOR CLCD 4403 (NL) | | A TENNESSEE SATURDAY NIGHT WITH MALCOM YELVINGTON - Introduction / Move It On Over / (Gonna) Have Myself A Ball / Goodbye Marie / Disapointed / Trumpet / Hey Good Lookin' / Tennessee Saturday Night / Drinkin' Wine Spo Dee O Dee / Mr. Blues / A Gal Named Joe /Yakety Yak / It's Me Baby / With Me Baby / Drinkin' Wine Spo Dee O Dee / Yakety Yak / I'll Fly Away (with Teddy REDELL on piano and harmony vocal) |
| 06/2006 | CD BEAR FAMILY BCD 16757 (GER) | | IT'S ME BABY - THE SUN YEARS PLUS - Drinkin' Wine Spo-Dee-O-Dee / Just Rollin' Along / Yakety Yak / Gal Named Jo / Rockin' With My Baby / It's Me Baby / I've Got The Blues (Blues In The Bottom Of My Shoes) / Yakety Yak / Gonna Have Myself A Ball / Rockin' With My Baby / It's Me Baby / It's My Trumpet (And I'm Gonna Blow It) / Mr Blues / Did I Ask You To Stay / First & Last Love / It's My Trumpet (And I'm Gonna Blow It) / Goodbye Marie / Ocean (Goin' To The Sea) / Let The Moon Say Goodnight / I've Got The Blues (Blues In The Bottom Of My Shoes) / Yakety Yak / Goodbye Marie / It's My Trumpet (And I'm Gonna Blow It) / Mr Blues / Did I Ask You To Stay / Rockin' With My Baby (demo) / It's Me Baby (demo) / Rockin' With My Baby |
| 05/2010 | CD SNAPPER SROLLCD833 (UK) | | ROCKIN' WITH MY BABY - Drinkin' Wine Spo-Dee-O-Dee / Just Rolling Along / Yakety Yak [alternate take 2] / I've Got The Blues (Blues In The Bottom Of My Shoes) [alternate take 2] / Gonna Have Myself A Ball / Rockin' With My Baby / It's Me, Baby / First And Last Love / Mr. Blues [alternate take 1] / I Ask You To Stay [alternatetake 1] / Trumpet [alternate take 3] / Goodbye Marie [alternate take 2] / Goin' To The Sea (Ocean) / Let The Moon Say Goodbye / Yakety Yak [alternate take 1] / I've Got The Blues (Blues In The Bottom Of My Shoes) [alternate take 1] / Rockin' With My Baby [alternate take 1] / It's Me, Baby [alternate take 1] / Mr. Blues [alternate take 2] / I Ask You To Stay [alternate take 2] / Trumpet [alternate take 1] / Goodbye Marie [alternate take 1] / Rockin' With My Baby [alt. 2] / Trumpet [alternate take 2] / It's Me, Baby [home demo] / Rockin' With My Baby [home demo] |
| 01/2015 | CD 706 70397 (UK) | | There's A Little Life Left In This Old Boy Yet - Intro / Yakety Yak / It's Me Baby / One Rose / Fast Living / Disappointed / Rocking With My Baby / Chattanooga Shoeshine Boy / Make Yourself A Home In My Heart / Love Me Tender / Born To Be A Hillbilly Rocking Man / There's A Little Life Left In This Old Bo Yet / My Happiness / Smoke Smoke Smoke / Little Girl Of Four / Walk Talk Sing / I'm Thankful / Interview |
© Rocky Productions 28/10/2020