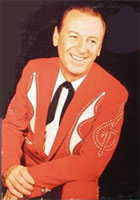 Chanteur Country US né John Robert Wright, le 13 Mai 1914 à Mt Juliet (Tennessee). Il fit parti, avec Jack Anglin du duo Johnnie & Jack et a épousé Kitty Wells. Johnny Wright est décédé le 27 Septembre 2011.

Singer/songwriter Johnny Wright spent much of his career working with Jack Anglin in the popular duo Johnnie & Jack, and was also the husband of Kitty Wells. He was born in Mount Juliet, Tennessee, and first performed with Anglin in 1936. They teamed up full-time in the 1940s and, except for the time Anglin spent overseas during the war, remained together for over two decades. In 1952, the duo and Wells were invited to join the Grand Ole Opry, where they remained for 15 years. Following Anglin's death in 1963, Wright continued performing and making records. In 1964, he and his Tennessee Mountain Boys had a Top 25 hit with "Walkin', Talkin', Cryin', Barely Beatin' Broken Heart." The following year, he had success with "Hello Vietnam," a number one hit. In 1968, he and Wells recorded an autobiographical duo, "We'll Stick Together," and continued playing live shows together through the early '80s, when they left music to run a souvenir shop. In 1992, the couple and their son Bobby began playing together again.
Johnny Wright died on September 27, 2011.
https://en.wikipedia.org/wiki/Johnnie_Wright
Talents : Vocals, Guitar, Songwriter
Style musical : Traditional Country, Bluegrass
Years in activity :
| | | | | | | | | | | | |
| --- | --- | --- | --- | --- | --- | --- | --- | --- | --- | --- | --- |
| 1910 | 20 | 30 | 40 | 50 | 60 | 70 | 80 | 90 | 2000 | 10 | 20 |
DISCOGRAPHY
Singles
| | | |
| --- | --- | --- |
| 09/1963 | SP DECCA 31537 (US) | What's Gonna Happen To Me / Sweet Snow Dear |
| 02/1994 | SP DECCA 31593 (US | Johnny Wright & The Tennessee Mountain Boys - Walkin', Talkin', Cryin', Barely Beatin' Broken Heart / They're All Goin' Home But One |
| 10/1964 | SP DECCA 31679 (US) | Don't Give Up The Ship / Guitar Lessons |
| 02/1965 | SP DECCA 31740 (US) | Blame It On The Moonlight / Rest In Peace |
| 07/1965 | SP DECCA 31821 (US) | Hello Vietnam / Mexico City |
| 12/1965 | SP DECCA 31875 (US) | Keep The Flag Flying / You're Over There (And I'm Over Here) |
| 03/1966 | SP DECCA 31927 (US) | Nickels, Quarters And Dimes / Is Love Worth All The Heartaches |
| 08/1966 | SP DECCA 32002 (US) | I'm Doing This For Daddy / Racing Man |
| 11/1966 | SP DECCA 32061 (US) | Mama's Little Jewel / Nothing From Nothing |
| 05/1967 | SP DECCA 32133 (US) | Why / Ole Honky Tonk |
| 07/1967 | SP DECCA 32162 (US) | American Power / Settle Back Down To Earth |
| 10/1967 | SP DECCA 32216 (US) | Music To Cry By / Cheaters Can't Win |
| 02/1968 | SP DECCA 32267 (US) | Go Get It / Atlanta Georgia Baby |
| 03/1968 | SP DECCA 32294 (US) | Kitty WELLS & Johnny WRIGHT - We'll Stick Together / Heartbreak Waltz |
| 10/1968 | SP DECCA 32402 (US) | (They Always Come Out) Smellin' Like A Rose / One Little Taco |
| 03/1969 | SP DECCA 732466 (US) | Love Ain't Gonna Die (I'm Gonna Have To Kill It) / Wabash Cannon Ball |
| 1969 | SP DECCA 32564 (US) | Sing A Song About Love / If You Don't Swing, Don't Ring |
| 11/1969 | SP DECCA 732604 (US) | There Won't Be Any Tree This Christmas (Kitty WELLS & Johnny WRIGHT) / White Christmas (Kitty WELLS) |
| 02/1970 | SP DECCA 32627 (US) | A Dear John Letter / Rainbow In The Clouds |
| 06/1970 | SP DECCA 32704 (US) | Mama Set The Table / Love Everybody |
| 12/1970 | SP DECCA 32770 (US) | Where The Heart Aches Hang Around / Something To Come Home To |
| 02/1971 | SP DECCA 32799 (US) | Old Honky Tonk / She's Gone Gone Gone |
| 05/1971 | SP DECCA 32832 (US) | High Cost Of Livin' / Let Jesus Turn You On |
| 09/1971 | SP DECCA 32883 (US) | Going To The Country / South In New Orleans |
| 09/1972 | SP DECCA 33012 (US) | Doo-Hickey / Hoping That You're Hoping |
| 01/1973 | SP DECCA 33053 (US) | Dont Let The Stars Get In Your Eyes / Dont Let The Stars Get In Your Eyes |
| 01/1973 | SP MCA MCA-40138 | They're Writing Her Name (On The Wall) / Ode To A Country Bar |
| 1975 | SP CAPRICORN CPS 0232 (US) | Wild, Passionate Lover / Chicken Pickin' Hillbilly Band |
| 1976 | SP RUBOCCA 123 (US) | I Never Told Him I Loved You / Old Milwaukee's Talking |
| 05/1980 | SP RUBOCCA 213 (US) | Pressure / Harry Truman |
| 1982 | SP Dan The Man 1003 (US) | Just A Simple Bouquet / Our Love It Will Not Fade |
| 1984 | SP Dan The Man 1004 (US) | The King Went On A Journey / Telephone Gossip |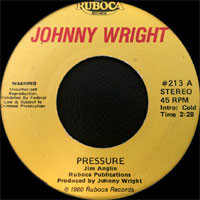 Albums
10/1965
LP 12" DECCA DL-4698 (mono) / DL-74698 (stereo) (US)

| | |
| --- | --- |
| | HELLO VIETNAM - Hello Vietnam, She's Gone Gone Gone, Dear John Letter, Bright Lights And Country Music, Sweet Snow Dear, Blame It On The Moonlight, Pretty Little Vietnamese, Rainbow At Midnight, Walkin' Talkin' Cryin' Barely Beatin' Broken Heart, Soldier's Last Letter, Nexico City, Don't Give Up The Ship |

06/1966
LP 12" DECCA DL-4770 (mono) / DL-74770 (stereo) (US)

| | |
| --- | --- |
| | COUNTRY MUSIC SPECIAL - Is Love Worth All The Heartaches, Waitin' In Your Welfare Line, Tiger Woman, Keep The Flag Flying, What Kinda Deal Is This, Ballad Of The Green Berets, May The Bird Of Paradise Fly Up Your Nose, Giddy Up Go, You're Over There (And I'm Over Here), Southbound Train, Bombs And Missiles, Nickels Quarters And Dimes |

06/1967
LP 12" DECCA DL-4846 (mono) / DL-74846 (stereo) (US)

| | |
| --- | --- |
| | COUNTRY... THE WRIGHT WAY - Think Of Me / I'm Doing This For Daddy / Swinging Doors / Racing Man / I'mmune To Love / The Shoes Goes On The Other Foot Tonight / Mama's Little Jewel / Making Ends Meet / Drinking Beer And Shedding Tears / Open Up Your Heart / The Devil's Own / Nothing From Nothing |

1968
LP 12" DECCA DL-5019 (mono) / DL-75019 (stereo) (US)
JOHNNY WRIGHT SINGS COUNTRY FAVORITES - Music To Cry By, Wild Side Of Life, Settle Back Down To Earth, Cheaters Can't Win, Why, Go Get It, Old Honky Tonk, Mama Tried, Atlanta Georgia Baby, Wabash Cannonball, Stop The World (And Let Me Off).
07/1968
LP 12" DECCA DL-5026 (mono) / DL-75026 (stereo) (US)
WE'LL STICK TOGETHER - Kitty WELLS & Johnny WRIGHT - We'll Stick Together / We Must Have Been Out Of Our Minds / One By One / Happiness Means You / Living As Strangers / I Can't Stop Loving You / Holding On To Nothin' / Heartbreak Waltz / Ashes Of Love / You And Me / My Elusive Dreams
01/1972
LP 12" DECCA DL-75325 (US)
HEARTWARMING GOSPEL SONGS - Kitty WELLS & Johnny WRIGHT - How Great Thou Art / Wait For The Light To Shine / My Bible / Did You Let Your Light Shine / Heaven Will Be My Home / Jesus Take A Hold / God Put A Rainbow In The Clouds / Precious Memories / There's A Big Wheel / Singing His Praise / We Owe Good For Everything
1980
LP 12" RUBOCCA ARR-2001 (US)
JOHNNY WRIGHT - Froggies Return, Ashes Of Love, Sweet Lovin' Woman, Humming Bird, Pressure, Chicken Picken Hillbilly Band, As Long As I Live, Poison Love, We'll Stick Together, Wild Passionate Lover
© Rocky Productions 12/10/2020