| | |
| --- | --- |
| | |
| | |

Chanteur Rock 'n' Roll US né Jerry Eugene Woodard, le 25 Mai 1941 à Anniston (Alabama). Jerry Woodard est mort le 9 Août 1980.

Jerry Eugene Woodard was born in Anniston, Alabama on May 25, 1941. His father was a minister who did not approve of rock 'n roll and tried to steer the kids away from the "devil's music".
Jerry formed the Esquires consisting of Dinky Harris on guitar, Doc Watson on bass, Barry Beckett on piano, Ronnie Eads on sax, and Johnny Carter on drums.
Moving his family to Pensacola in 1961, Jerry played the Sahara Club there for two years. Following this success, he then started Jerry Woodard's Cock Rouge club which burned to the ground devastating Jerry financially. Friends helped him start another club two weeks later and the Flaming Cock Rouge club flourished with Jerry performing to huge crowds until an IRS audit left Jerry in financial ruin once again. At this point, in 1967 Jerry and his family moved back to Birmingham and with help from brother Wayne released a record on the Chantain label. In 1968, he also had some success with a soul-flavored record on the Chant label.
Jerry died on August 9, 1980 from the toll his body had taken from the many years of performing – lack of sleep, hectic schedules, and the health effects caused by alcohol and drugs needed to keep up with such a life.
http://www.birminghamrecord.com/brc/hall_of_fame/jerry-woodard/
Talents : Vocals, Guitar
Style musical : Rock 'n' Roll
Years in activity :
| | | | | | | | | | | | |
| --- | --- | --- | --- | --- | --- | --- | --- | --- | --- | --- | --- |
| 1910 | 20 | 30 | 40 | 50 | 60 | 70 | 80 | 90 | 2000 | 10 | 20 |
DISCOGRAPHY
Singles
05/1958
SP FAD 45-901 (US)
.
Six Long Weeks / Blue Broken Hearts
06/1958
SP FAD 45-902 (US)
.
Jerry WOODARD & The CAVALEERS / Instrumental all by The FADS - Downbeat / Our Love And Romance
12/1958
SP REED RR1017 (US)
.
Jerry WOODARD & The CO'S with The CHORDAIRES - Who's Gonna Rock My Baby / Don't Make Me Lonely
02/1959
SP REED RR-605 (US)
.

Don't Make Me Lonely (Jerry Woodard with Bobby Mizzell And The Co's) / Atomic Fallout (Bobby Mizzell With Jerry Woodard And The Co's)

08/1959
SP REED RR1026 (US)
.
Who's Gonna Rock My Baby / She's A Housewife, That's All
10/1959
SP RCA VICTOR 47-7616 (US)
.
Who's Gonna Rock My Baby / She's A Housewife, That's All
1960
SP COLVIN 778 (US)
You Just Wait / New Love
10/1960
SP CENTURY LTD. 45-603 (US)
.
You Just Wait / Long Tall Texan
1961
SP HEART HR-3225/6 (US)
.
Speedway Rock (Jerry WOODARD & The GLEN LAYNE COMBO) / Modified-Sportsman Blues (Bobby MIZZELL & The GLEN LAYNE COMBO)
1961
SP FAD FR-903 (US)
.
Jerry WOODARD & PAPPY'S BAND - Pappy's Club / Where Will I Go
08/1961
SP HEART HRC-336 (US)
.
Romeo And Juliet (Jerry

Woodard

& The

Nuggets

) / Lonely Man (Jerry WOODARD & His ESQUIRES)
03/1962
SP HEART HRC-341 (US)
.
Jerry WOODARD & His ESQUIRES - Open The Door / Romeo And Juliet
03/1963
SP ARGO 5435 (US)
.
Jerry WOODARD & The ESQUIRES - With A Feeling / Boat Of Love
12/1963
SP DIAL 45-3017 (US)
.

I May Never Get To Heaven / Lying's Just A Habit, John

06/1964
SP DIAL 45-3021 (US)
.

Down / I Betcha Gonna Like It

06/1965
SP DIAL 45-4014 (US)
.

Schoochie Doochie Doo Ah / A Fallen Star

196?
SP FAD 301 (US)
.

Jerry WOODARD & His ESQUIRES - Where Is Judy / Old Time Lovers

196?
SP CHANTAIN NR 324 (US)
.

I Gotta Go / Big Louie

1970
SP CHANT 518 (US)
.

Sweet Sweet Woman / Something I Ain't Never Had

1971
SP CHANT 524 (US)
.

Yonder Comes A Sucker / Patches Of Heaven

19??
SP ALLSTATE 4600 (US)
.

She's Just A Housewife, That's All / Empty Arms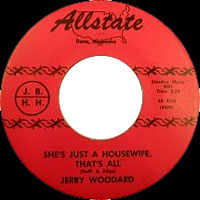 Unissued Tracks
| | | |
| --- | --- | --- |
| 1956 | Unissued - (White Label LP 8833 (#6)) | Our Love And Romance |
| 1956 | Unissued - (Classics CD 706 (#7) / White Label LP 8833 (#1)) | You Are My Sunshine |
| 1956 | Unissued - (White Label LP 8833 (#2)) | You Don't Love Me |
| 1958 | Unissued - (White Label LP 8833 (#4)) | Mean Woman Blues |
| 1958 | Unissued - (White Label LP 8833 (#8)) | Who's Gonna Rock My Baby [alt. vers.] |
| 1959 | Unissued - (Classics CD 706 (#17)) | The One You Put Down |
| 1959 | RCA unissued - (Classics CD 706 (#8) / Classics CD 720 (#19) / Lost Gold CD 2100 (#28) / Yeaah! CD 7 (#28) / Yeaah! CD 501 (#28)) | Woe Is Me |
| 1960-61 | Unissued - (Classics CD 706 (#18)) | The Elevator |
| 19?? | Unissued - (Collector CD 4440 (#3)) | Downbeat [alt. vers.] |
| 19?? | Unissued - (Lost Gold CD 2100 (#12) / Yeaah! CD 7 (#12) / Yeaah! CD 501 (#12)) | I Cried |
Albums
| | | | |
| --- | --- | --- | --- |
| 1981 | LP 12" WHITE LABEL WLP8833 (NL) | | More Primitive Sound - Jerry WOODARD : You Are My Sunshine / You Don't Love Me / Downbeat / Mean Woman Blues / Six Long Weeks / Our Love And Romance / Who's Gonna Rock My Baby / Who's Gonna Rock My Baby [alt. vers.] / Wayne NEWMAN : Midnight Train / Rita-Juanita / Jimmie DAVIS : Enie Menie Miney Mo / Rebel DAVIS : Free Ride (instr.) / Hunter WATTS : Big Daddy Rock / Bill DUNCAN : Whirlin Twerlin Rock / Roy LETT : Rosalie / Tommy BOYER : Big Fat Papa |
| 1998 | CD Classics 706 (SWE) | | Who's Gonna Rock My Baby? - Jerry WOODARD : Six Long Weeks / Speedway Rock / Downbeat / Who's Gonna Rock My Baby? / Long Tall Texan / You Just Wait / You Are My Sunshine / Woe Is Me / Blue Broken Heart / Pappy's Club / Down / Bobby MIZZELL : Same Thing / Jerry WOODARD : She's A Housewife, That's All / Boat Of Love / Who's Gonna Rock My Baby / Don't Make Me Lonely / The One You Put Down / The Elevator / Live From Big Hearted Eddie Show |
© Rocky Productions 24/09/2020