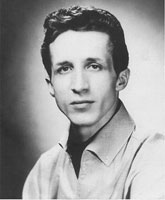 Chanteur Rock 'n' Roll US né le 25 Janvier 1941 à New Albany (Mississippi).

US Rock 'n' Roll singer born January 25, 1941 in New Albany (Mississippi).
A former member of one of the most successful studio groups ever, the 827 Thomas Street Band, keyboardist Bobby Wood has been influential in both Memphis and Nashville, playing on some of the most vital soul and country records ever released, as well as writing several number one country hits.
Heavily influenced by Jerry Lee Lewis early on in his career, Wood moved to Memphis in 1960 in hopes of becoming an actor (acting? In Memphis?). In any case, the young keyboardist was befriended by Sun Records engineer Stan Kesler who fostered Wood's talent, eventually helping him release the 1964 hit "If I'm a Fool for Lovin' You" on Joy Records. It was while touring in support of "Fool" that Wood was injured in a car crash that laid him up for over half-a-year, effectively ending his career as a solo performer. Yet in retrospect, the setback turned out to be a positive one as Wood began devoting more time to studio work. When he was one of a half-dozen top players chosen by producer Chips Moman to form the American Studios House Band, Wood embarked on not only one of the most creative periods of his life, but of the music industry as well. Between 1967 and 1971, American Studios was responsible for 120 hits. Among the artists Wood backed were Elvis Presley, Dusty Springfield, Herbie Mann, Wilson Pickett, and the Sweet Inspirations.
After Moman relocated to Atlanta, Wood made the move to Nashville and started playing country sessions. Because of his exceptional talent and track record with American Studios, Woods soon found himself in the list of Nashville's "A" musicians, playing on sessions by Kris Kristofferson, George Jones, and Tammy Wynette. In the early '70s, Wood also began writing and penned the hit "Still Thinkin' About You" for Billy Craddock in 1974. Since then he has written, or co-written, several hits including "What's Your Name, What's Your Number," "Talkin' In Your Sleep," and "Half the Way." In 1989, through mutual friend Allen Reynolds, Wood and Garth Brooks met and formed a musical partnership. Wood has played keyboards on all of Brooks' releases and, in turn, the singer has recorded one of Wood's compositions to date.
Talents : Vocals, Piano, Keyboard, Songwriter
Style musical : Rock 'n' Roll
Years in activity :
| | | | | | | | | | | | |
| --- | --- | --- | --- | --- | --- | --- | --- | --- | --- | --- | --- |
| 1910 | 20 | 30 | 40 | 50 | 60 | 70 | 80 | 90 | 2000 | 10 | 20 |
DISCOGRAPHY
Singles
| | | | |
| --- | --- | --- | --- |
| 10/1961 | SP SUN 369 (US) | . | |
| 1962 | SP PEN 113 (US) | . | The Day After Forever / Everybody's Searching |
| 08/1962 | SP CHALLENGE 9160 (US) | . | Everybody's Searchin' / The Day After Forever |
| 06/1963 | SP JOY 45K-277 (US) | . | You're Gonna See / I Still Hurt Just The Same |
| 08/1963 | SP JOY 45K-279 (US) | . | That's All I Need / Do Darlin' (Do Remember Me) |
| 04/1964 | SP JOY 45K-285 (US) | . | If I'm A Fool For Loving You / (My Heart Went) Boing! Boing! Boing! |
| 1964 | SP SONET T 7608 (SWE) | | If I'm A Fool For Loving You / Boing! Boing! Boing! |
| 09/1964 | SP JOY 45K-288 (US) | . | That's All I Need To Know / This Time |
| 12/1964 | SP JOY 45K-291 (US) | . | So Cruel / (With All My Heart) I'd Do It Again |
| 03/1965 | SP JOY 45K-295 (US) | . | Bed Of Roses / Show Me |
| 06/1965 | SP JOY 45K-298 (US) | . | Human Emotions / When A Lonely Boy Meets A Lonely Girl |
| 09/1965 | SP JOY 45K-301 (US) | . | Fool's Paradise / What Am I Gonna Tell Myself? |
| 04/1966 | SP MALA 526 (US) | . | My Special Angel / I'd Rather Forgive You |
| 05/1967 | SP MGM K 13729 (US) | . | My Last Date (With You) / Everybody's Baby |
| 10/1967 | SP MGM K 13797 (US) | . | Break My Mind / This Thing Called Love |
| 03/1968 | SP MGM K 13912 (US) | . | Say It's Not You / Is That All There Is To It |
| 06/1968 | SP MGM K 13952 (US) | . | Mary (Don't Read Between The Lines) / The Big Buildup |
| 04/1969 | SP MGM K 14051 (US) | . | (Margie's At) The Lincoln Park Inn / I'm The Name Of Her Game |
| 1973 | SP LUCKY ELEVEN LE 361 (US) | . | One Day Behind / Sound Of Sadness |
| 02/1974 | SP CINNAMON C-790 (US) | . | If I'm A Fool For Loving You / Secret Love Affair |
Albums
10/1964
LP 12" JOY JL-1001 (US)

Bobby Wood - Miss You / That's All I Need To Know / I'd Do It Again / Until You Go / I'm Your Used To Be / So Cruel / Lavender Blue / Human Emotions / Cry, Cry, Cry / This Time / Out In The Cold Again / If I'm A Fool For Loving You

04/2019
2 CD RPM

retro d

1002 (UK)

If I'm A Fool For Loving You - The Complete 1960s recordings :

CD 1 : Everybody's Searching / Human Emotions / The Day After Forever / Everybody's Searching / I Still Hurt Just The Same / You're Gonna See / Do Darlin' Do Remember Me / That's All I Need / If I'm A Fool For Loving You / My Heart Went Boing! Boing! Boing! / This Time / That's All I Need To Know / Miss You / Until You Go / I'm Your Used To Be / Lavender Blue (Dilly Dilly) / Human Emotions / Cry, Cry, Cry / Out In The Cold Again / So Cruel / (With All My Heart) I'd Do It Again / Bed Of Roses / Show Me / When A Lonely Boy Meets A Lonely Girl / Fool's Paradise / What Am I Gonna Tell Myself?
CD 2 : My Special Angel / I'd Rather Forgive You / Who's The Fool Now / What Am I Gonna Tell Myself / When A Lonely Boy Meets A Lonely Girl / Bed Of Roses / Show Me / What Am I Gonna Tell Myself / My Last Date With You / Everybody's Baby / Break My Mind / This Thing Called Love / Say It's Not You / Is That All There Is To It / Mary (Dont Read Between The Lines) / The Big Buildup / (Margie's At) The Lincoln Park Inn / I'm The Name Of Her Game
© Rocky Productions 20/09/2020