| | |
| --- | --- |
| | |
| | |

Chanteur US né le 26 Février 1926 à Memphis (Texas). Billy Jack Wills est le plus jeune des frères de Bob Wills. Il a débuté en 1946 dans les "Texas Playboys" de son illustre frère. En 1950, il créé son propre groupe en compagnie de Gary Cummings. Ils deviennent bientôt très populaires dans la région de Sacramento (Californie). Spécialisés dans le Western Swing, Billy Jack et ses "Western Swing Band" ont enregistré dès 1952. Il est décédé le 2 Mars 1991.

Perhaps the most underrated Western swing bandleader ever was Billy Jack Wills, the youngest brother of Bob, whose Western Swing Band broke new ground for the genre in the early '50s. Born February 26, 1926, in Memphis, Hall County, TX, Billy Jack was exposed at an early age to the music of his famous brother, as well as his father, champion fiddler John Wills. After beginning his professional career in brother Johnnie Lee Wills' Tulsa band in the early '40s, Billy Jack went to California to work as a bassist and drummer for the Texas Playboys. In that group, he played a significant role both as a Vocalsist and songwriter, lending his bluesy voice to "Cadillac in Model A" and providing lyrics to the massive hit "Faded Love."
After six years as a member of the Texas Playboys, Billy Jack got his chance as a leader when Bob moved his base of operations from the Wills Point Ballroom in Sacramento to Oklahoma City. Tired of touring, mandolinist Tiny Moore stayed behind to manage Wills Point. Needing a new band to fill the void left by Wills' departure, Moore suggested Billy Jack. Bob agreed, and Moore and Billy Jack assembled a band that included trumpeter and bassist Dick McComb, fiddler/bassist Cotton Roberts, rhythm guitarist Kenny Lowery, and steel guitarist Tommy Varner. The group, dubbed Billy Jack Wills & His Western Swing Band, began broadcasting over Sacramento's KCRA radio in 1950, soon moving to the considerably larger KFBK.
The band truly came into being, however, after the start of the Korean War. Looking to replace the drafted Varner, Wills hired a local teenager named Vance Terry, a disciple of Noel Boggs whose crisp, driving style added the final element to the group's adventurous sound.
The enormous age difference (20 years) between Billy Jack and Bob meant that the younger's musical interests were considerably more advanced. While Bob had drawn inspiration from the primitive blues and jazz of the 1910s and '20s, Billy Jack's muse lay in the developing genres of jump blues, R&B, and be-bop. These fixations gave his group a progressiveness that was found nowhere else, characterized by its hard-swinging jazz rhythms and bluesy, shouted Vocalss, which drew heavily from the styles of Wynonie Harris and Roy Brown. Between 1950 and 1954, the group enjoyed a strong Northwest following, touring and building up an eclectic repertoire of radio transcriptions. They covered many of the popular black hits of the time, including Ruth Brown's "Teardrops From My Eyes" and Larry Darnell's "For You, My Love." In 1953, the group cut a version of Roy Brown's "There's Good Rocking Tonight"; later that year, they turned in a rollicking arrangement of Bill Haley's first hit, "Crazy, Man, Crazy."
The group's success, however, was short-lived. In 1954, Bob Wills disbanded the Texas Playboys and returned to Sacramento to perform with Billy Jack. The idea was to increase business at Wills Point, but the results were disastrous. Bob quickly took charge of the group and against the wishes of most involved, immediately set off on tour, at which point Tiny Moore quit to host a children's television show.
Out on the road, energies were soon sapped. Under Wills' control, the boldness that had characterized the band's radio broadcasts began to fold, channeled into what was by now the rather stale sound of the Texas Playboys. That and the emerging television craze effectively ended the group. Vance Terry quit to enroll in college; he later joined Jimmie Rivers and the Cherokees. Tiny Moore went on to play with Merle Haggard & the Strangers. Billy Jack struggled on without success until 1960, when he retired from music. He died on March 3, 1991.
Talents : Singer, Songwriter, Bass, Drums, Guitar
Style musical : Western Swing

https://youtu.be/8Za-NE0xMjo
Years in activity :
| | | | | | | | | | |
| --- | --- | --- | --- | --- | --- | --- | --- | --- | --- |
| 1910 | 20 | 30 | 40 | 50 | 60 | 70 | 80 | 90 | 2000 |
DISCOGRAPHY
78 t. & Singles
| | | |
| --- | --- | --- |
| 1951 | 78 t. 4 STAR X-11 (US) | Roped And Tied (Billy Jack WILLS & His WESTERN SWING BAND / Vocals By Billy Jack WILLS) / Water Baby Boogie [instr.] (Billy Jack WILLS & His WESTERN SWING BAND) |
| 1951 | 78 t. 4 STAR X-18 (US) | Billy Jack WILLS & His WESTERN SWING BAND / Vocals By Billy Jack WILLS - Tobacco Chewing Boogie / Lilly Dale |
| 09/1951 | 78 t. 4 STAR 1575 (US) | Billy Jack WILLS & His WESTERN SWING BAND - Lily Dale / Down In Old Mexico |
| 09/1951 | SP 4 STAR 45-1575 (US) | Billy Jack WILLS & His WESTERN SWING BAND - Lily Dale / Down In Old Mexico |
| 01/1952 | 78 t. 4 STAR 1589 (US) | Billy Jack WILLS & His WESTERN SWING BAND - Cattle Call / Now That We Have Said Goodbye |
| 01/1952 | SP 4 STAR 45-1589 (US) | Billy Jack WILLS & His WESTERN SWING BAND - Cattle Call / Now That We Have Said Goodbye |
| 09/1954 | 78 t. MGM 11807 (US) | Billy Jack WILLS & His WESTERN SWING BAND - Out Of Gas / I Don't Want To Live Alone |
| 09/1954 | SP MGM K11807 (US) | Billy Jack WILLS & His WESTERN SWING BAND - Out Of Gas / I Don't Want To Live Alone |
| 01/1955 | 78 t. MGM 11907 (US) | Billy Jack WILLS & His WESTERN SWING BAND - Teardrops On A Diary / For The Children's Sake |
| 01/1955 | SP MGM K11907 (US) | Billy Jack WILLS & His WESTERN SWING BAND - Teardrops On A Diary / For The Children's Sake |
| 04/1955 | 78 t. MGM 11966 (US) | Billy Jack WILLS & His WESTERN SWING BAND - There's Good Rockin' Tonight / Red Mittens |
| 04/1955 | SP MGM K11966 (US) | Billy Jack WILLS & His WESTERN SWING BAND - There's Good Rockin' Tonight / Red Mittens |
| 07/1955 | SP MGM K12034 (US) | Billy Jack WILLS & His WESTERN SWING BAND - Hey Lula / Four Beers And Forty Tears |
| 01/1956 | SP MGM K12172 (US) | Billy Jack WILLS & His WESTERN SWING BAND - All She Wants To Do Is Rock / When A New Love Is Born |
| 07/1956 | SP MGM K12302 (US) | Billy Jack WILLS & His WESTERN SWING BAND - My Shoes Keep Walkin' Back To You / Will You Miss Me |
| 03/1957 | SP MGM K12444 (US) | Billy Jack WILLS & His WESTERN SWING BAND - Hey Mr. Mailman / I Loved And Lost |
| 09/1957 | SP MGM K12559 (US) | Billy Jack WILLS & His WESTERN SWING BAND - Troubles (Those Lonesome Kind) / Not Very Long |
| | |
| --- | --- |
| | |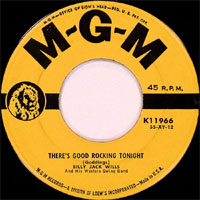 Albums
1982
LP 12" WESTERN WS-2002 (US)

Billy Jack Wills And His Western Swing Band Featuring Tiny Moore ‎– Sacramento 1952-1954 - Lonesome Hearted Blues / Dipsy Doodle / Johnson Rag / Mr. Cotton Picker / Air Mail Special / Basin Street Blues / I Don't Know / Woodchopper's Ball / Teardrops From My Eyes / Tuxedo Junction / Twin Guitar Special / St. Louis Blues / Blue Guitar Stomp / Summit Ridge Drive / Rock City Boogie / C Jam Blues

1982
LP 12" WESTERN WS-2004 (US)
CRAZY, MAN, CRAZY - 1952-54 - Billy Jack WILLS & His WESTERN SWING BAND - Cadillac Model 'A' / Blues For You, My Love / Jelly Roll Blues / Skiddle Dee Boo / Rock-A-Bye-Baby Blues / Sugar Blues / Stardust / Slow Drive / Crazy, Man, Crazy / Milk Cow Blues / Sweet Georgia Brown / Kentucky Means Paradise / Kissin' Bug Boogie / Jazz Me Blues / Steel Guitar Stomp / Rock-A-Bye-Baby Blues (instr.)
11/1996
CD JOAQUIN 2503 (US)

Billy Jack Wills And His Western Swing Band Featuring Tiny Moore ‎– Sacramento 1952-1954 -

Lonesome Hearted Blues / Dipsy Doodle / Johnson Rag / Mr. Cotton Picker / Air Mail Special / Basin Street Blues / I Don't Know / Woodchopper's Ball / Teardrops From My Eyes / Tuxedo Junction / Twin Guitar Special / St. Louis Blues / Blue Guitar Stomp / Summit Ridge Drive / Rock City Boogie / C Jam Blues / Get Along Home, Cindy / Steel Guitar Stomp / Caravan
1996
CD Hound TRG-505105 (UK)

There's Good Rockin' Tonight - Billy Jack WILLS & His WESTERN SWING BAND - Rock-A-Bye Baby Blues / Bottle Baby Boogie / She's A Quarter Horse Type (Of A Gal] [with Bob Wills] / Cadillac In Model "A" [with Bob Wills] / Out Of Gas / I Don't Want To Live Alone / Teardrops On A Diary / For The Childrens Sake / There's Good Rockin' Tonight / Red Mittens / Hey Lula (Hey Lu-La) / Four Beers And Forty Tears / Hey Mr. Mailman / I Loved And Lost / My Shoes Keep Walkin' Back To You / Will Miss Me When I'm Gone / Troubles (Those Lonesome Kind) / Not Very Long / Cadillac In Model "A" / Blues For You My Love / Lonesome Hearted Blues / Rock-A-Bye Baby Blues / Milkcow Blues / Lonesome Hearted Blues / Roped And Tied

02/1999
CD JOAQUIN JR 2505 (US)
CRAZY, MAN, CRAZY - 1952-1954 - Billy Jack WILLS & His WESTERN SWING BAND - Cadillac In Model "A" / For You, My Love / Jelly Roll Blues / Skiddle Dee Boo / Rock-A-Bye Baby Blues / Sugar Blues / Stardust / Slow Drive / Crazy, Man, Crazy / Milk Cow Blues / Sweet Georgia Brown / Kentucky Means Paradise / Kissin' Bug Boogie / Jazz Me Blues / I Laugh How I Think How I Cried Over You / Take Me Back To Tulsa / Rock-A-Bye-Baby Blues (instrumental playout)
© Rocky Productions 23/08/2020