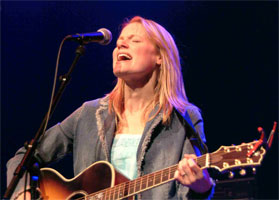 Chanteuse Country US née le 2 Octobre 1968 à Annandale (Virginie). Kelly Willis est la femme de Bruce Robison.

Although the work of new traditionalist singer/songwriter Kelly Willis earned widespread critical acclaim, she found little in the way of comparable commercial success; her sound, a smart hybrid of country and rock, simply assimilated both musical styles too well to gain acceptance in either camp. Born in Oklahoma and raised in the Washington, D.C., area, she began performing in her boyfriend (and future husband) Mas Palermo's band at the age of 16. Her powerhouse Vocals were so popular with club audiences that soon the group was renamed Kelly & the Fireballs in her honor. After Willis graduated high school, the band moved to Austin, Texas, only to break up six months later.
As a result, Willis began learning to play guitar while drummer Palermo honed his songwriting chops. The duo started a new band, Radio Ranch, with guitarist David Murray, steel player Michael Hardwick, and bassist Michael Foreman. One of Radio Ranch's performances so impressed singer Nanci Griffith that she began lobbying her label, MCA, to sign to group, leading to Willis' 1990 debut, Well-Travelled Love. In an attempt to capitalize on Willis' stunning looks, she was marketed as a girl-next-door type, and despite the presence of the full band, only her name appeared on the album jacket. Despite the glowing reviews, the LP fared poorly, and so, for her 1991 sophomore effort, Bang Bang, she was depicted as a coquettish pinup. Again, however, the good publicity the record received did not translate to radio airplay, let alone chart sales.
For her third album, comprised largely of her own songs, Willis joined forces with pop producer Don Was; the self-titled 1993 effort suffered the same fate as its predecessors, however, and she was dropped by MCA shortly after its release. Following a few years of relative inactivity, she resurfaced in 1995 duetting with Son Volt's Jay Farrar on the Red Hot & Bothered compilation, and after issuing a 1996 independent label EP, Fading Fast, announced plans for a 1997 LP on A&M. In late 1996, she married fellow Austin musician Bruce Robison.
As the '90s drew to a close, Willis inked a deal with Rykodisc. Her fourth album, What I Deserve, appeared in 1999 and it was a breakthrough hit for Willis. Time Magazine hailed the album as "the smartest, most consistently worthwhile country CD" to have been released that year. Three years later, Willis returned to the scene with Easy, which included collaborative efforts with Vince Gill, Union Station's Dan Tyminski, and Nickel Creek's Chris Thile. Willis tossed her hat into the crowded yuletide scene in 2006 with the amiable Happy Holidays, followed by her seventh album, the Chuck Prophet-produced Translated from Love in 2007. In 2008, Willis announced she was taking some time off from the road. She made only sporadic appearances, usually as a guest with Robinson, but otherwise kept a low profile. She finally emerged from her long silence with Cheater's Game, a collaborative album with her husband. The set featured songs by Dave Alvin, Robert Earl Keen, Hayes Carll, and others; it was released in in time for Valentine's Day in 2013. Critical and popular reception of the recording proved so promising, the two decided to collaborate on another duets collection with the same producer. Our Year was released in the spring of 2014. In 2018, Willis released her first solo effort since 2007; Back Being Blue included ten songs, six written by Willis, with Robison serving as producer.
https://en.wikipedia.org/wiki/Kelly_Willis
Talents : Vocals, Guitar, Songwriter
Style musical : Contemporary Country, Traditional Country

http://youtu.be/by9LIwwevhQ
Years in activity :
| | | | | | | | | | | | |
| --- | --- | --- | --- | --- | --- | --- | --- | --- | --- | --- | --- |
| 1910 | 20 | 30 | 40 | 50 | 60 | 70 | 80 | 90 | 2000 | 10 | 20 |
DISCOGRAPHY
Singles & EP
| | | | |
| --- | --- | --- | --- |
| 02/1990 | SP MCA 53807 (US) | . | I Don't Want To Love You / Drive South |
| 02/1990 | SP MCA MCA-79002 (US) | . | I Don't Want To Love You (But I Do) / Drive South |
| 06/1990 | SP MCA 75053 (US) | . | River Of Love / Red Sunset |
| 10/1990 | SP MCA MCAS7-53944 (US) | . | Looking For Someone Like You / I'm Just Lonely |
| 04/1991 | SP MCA MCAS7-54050 (US) | . | Baby Take A Piece Of My Heart / Standing By The River |
| 10/1991 | SP MCA MCAS7-54198 (US) | . | Heart That Love Forgot / Too Much Too Ask |
| 01/1992 | SP MCA MCAS7-54251 (US) | . | Settle For Love / Bang Bang |
| 06/1993 | SP MCA MCAS7-54678 (US) | . | Whatever Way The Wind Blows / World Without You |
| 09/1993 | SP MCA MCAS7-54733 (US) | . | Heaven's Just A Sin Away / Get Real |
| 1996 | CD A & M 31458 1851 2 (US) | | FADING FAST - Fading Fast (LP version) / What World Are You Living In? / He Don't Care About Me / Aren't I True |
| 1998 | CD RYKODISC VRCD-0458 (US) (promo) | | Take Me Down / When My Baby's Beside Me |
| 1999 | CD RYKODISC VRCD 0458-2 (US) (promo) | | Not Forgotten You |
Albums
05/1990
CD MCA MCAD-6390 (US)
WELL TRAVELLED LOVE - My Heart's In Trouble Tonight / Hole In My Heart / Don't Want To Love You (But I Do) / Looking For Someone Like You / Don't Be Afraid / River Of Love / I'm Just Lonely / One More Time / Drive South / Well Travelled Love / Red Sunset
04/1991
CD MCA MCAD-10141 (US)
BANG BANG - I'll Try Again / Too Much To Ask / Heart That Love Forgot / Sincerely (Too Late To Turn Back Now) / Baby Take A Piece Of My Heart / Bang Bang / Hidden Kings / Not Afraid Of The Dark / Standing By The River / Settle For Love
1993
CD MCA MCAD-10789 (US)
KELLY WILLIS - Take It All Out On You / Heaven's Just A Sin Away / One More Night / That'll Be Me / Whatever Way The Wind Blows / Get Real / I Know Better Now / Up All Night / World Without You / Shadows Of Love
02/1999
CD RYKODISC RCD-10458 (US)
WHAT I DESERVE - Take Me Down / What I Deserve / Heaven Bound / Talk Like That / Not Forgotten You / Wrapped / Cradle Of Love / Got A Feelin' For Ya / Time Has Told Me / Fading Fast / Happy With That / They're Blind / Not Long For This World
1999
CD RYKODISC RCD 10458 ADV (US) (promo)
WHAT I DESERVE - Take Me Down / What I Deserve / Heaven Bound / Talk Like That / Not Forgotten You / Wrapped / Cradle Of Love / Got A Feelin' For Ya / Time Has Told Me / Fading Fast / Happy With That / They're Blind / Not Long For This World
09/2000
CD MCA 088 170 153-2 (US)
ONE MORE TIME - Looking For Someone Like You / River Of Love / Don't Want To Love You (But I Do) / Sincerely (Too Late To Turn Back Now) / Baby Take A Piece Of My Heart / Heart That Love Forgot / I'll Try Again / Hidden Things / Little Honey / Heaven's Just A Sin Away / Get Real / Take It All Out On You / I Know Better Now / Whatever Way The Wind Blows
08/2002
CD RYKODISC RCD-10622 (US)
EASY - If I Left You / Easy (As Falling Apart) / What Did You Think / You Can't Take It With You / Getting To Me / Don't Come The Cowboy With Me Sonny Jim / Wait Until Dark / Find Another Fool / Not What I Had In Mind / Reason To Believe
2002
CD RYKODISC P2A 310622 (US) (promo)
EASY - If I Left You / Easy (As Falling Apart) / What Did You Think / You Can't Take It With You / Getting To Me / Don't Come The Cowboy With Me Sonny Jim / Wait Until Dark / Find Another Fool / Not What I Had In Mind / Reason To Believe
10/2003
CD Boar's Nest 33 (US)
HAPPY HOLIDAYS - KELLY WILLIS & BRUCE ROBISON - Santa Baby / A Winter's Tale / In The Bleak Midwinter / Baby, It's Cold Outside / The Christmas Waltz / Please Daddy, Don't Get Drunk / Have Yourself A Merry Little Christmas
02/2005
CD GEEZINSLAW GEEZ CD 2004-01 (US)
THE ECLECTIC HORESMEN - The GEEZINSLAWS with WIllie NELSON & Kelly WILLIS & Kinky FRIEDMAN) - Put Another Log On The Fire / Big Harlan Taylor / Stairway To Heaven / I Gave Her My Ring / Doo Wacka Doo / My Way / It's In The Freezer / Thank You Miss Audrey (For Breaking Hanks Heart) / Copenhagen / Jesus Was A Capricorn / Marilyn & Joe / Twirl / Here Comes That Rainbow Again / If No News Is Good News
08/2006
CD RYKODISC RCD-10882 (US)
HAPPY HOLIDAYS - KELLY WILLIS & BRUCE ROBISON - Santa Baby / Winter's Tale / In The Bleak Midwinter / Baby, It's Cold Outside / Christmas Waltz / Please Daddy, Don't Get Drunk / Blue Christmas / Shut In At Christmas / Santa Looked A Lot Like Daddy / Have Yourself A Merry Little Christmas / Oklahoma Christmas
06/2007
CD RYKODISC RCD-10886 (US)
TRANSLATED FOR LOVE - Nobody Wants To Go To The Moon Anymore / Sweet Little One / Don't Know Why / Teddy Boys / Losing You / Too Much To Lose / The More That I'm Around You / Sweet Sundown / Success / Stone's Throw Away / I Must Be Lucky / Translated From Love
02/2013
CD PREMIUM / THIRTY TIGERS 499093 (US)
CHEATER'S GAME - KELLY WILLIS & BRUCE ROBISON -

Cheater's Game / Border Radio / We're All The Way / Long Way Home / 9,999,999 Tears / Leavin' / But I Do / No Kinda Dancer / Lifeline / Ordinary Fool / Born To Roll /

Waterfall /

Dreamin'

02/2013
LP 12" & CD PREMIUM ? (US)
CHEATER'S GAME - KELLY WILLIS & BRUCE ROBISON :

LP : Cheater's Game / But I Do / We're All The Way / 9,999,999 Tears / Lifeline / Long Way Home / Border Radio / Leavin' / Dreamin' / Born To Roll / No Kinda Dancer
CD : Cheater's Game / Border Radio / We're All The Way / Long Way Home / 9,999,999 Tears / Leavin' / But I Do / No Kinda Dancer / Lifeline / Ordinary Fool / Born To Roll / Waterfall / Dreamin'

05/2014
CD PREMIUM 225593 (US)

Our Year -

BRUCE ROBISON - KELLY WILLIS - Departing Louisiana / Motor City Man / Carousel / Lonely For You / A Hangin' On / Shake Yourself Loose / Harper Valley PTA / Anywhere But Here / I'll Go to My Grave Loving You / This Will Be Our Year
05/2018
CD PREMIUM 34245CD (US)

Back Being Blue - Back Being Blue / Only You / Fool's Paradise / Modern World / Freewheeling / Afternoon's Gone Blind / What The Heart Doesn't Know / I'm A Lover (Not A Fighter) / We'll Do It For Love Next Time / Don't Step Away

06/2019
CD The Next Waltz ‎MTM-002

(US)

Beautiful Lie

- BRUCE ROBISON & KELLY WILLIS -

If I Had A Rose / Astrodome / Nobody's Perfect / One Dime At A Time / Beautiful Lie / Can't Tell Nobody Nothin' / Coming Down / Lost My Best / Brand New Me / Heartache To Houston
© Rocky Productions 19/08/2020