Groupe US de Doo Wop originaire de Lancaster (Caroline du Sud). "Maurice Williams & The Zodiacs" ont débuté en 1955 sous le nom de "Royal Charms", puis ils deviennent les "Gladiolas"pour Excello Records en 1957. Puis avec leur nom définitif, ils enregistrent pour Herald (59). Le groupe était composé de Maurice Williams, Wiley Bennett, Henry Gaston, Wiley Bennett, Charles Thomas, Albert Hill et Little Willie Morrow. En 1963, ils se séparent, Maurice Williams continuant en solo chez Atco, Scepter et Veep Records.

This R&B vocal group from Lancaster, South Carolina, USA, was led by Maurice Williams (b. 26 April 1938, Lancaster, South Carolina, USA; pianist/songwriter). The hit record 'Stay', which went to number 3 R&B and number 1 pop in 1960, immortalized the Zodiacs as a one-hit-wonder group. (In the UK 'Stay' went to number 14 in 1961.) Williams, however, had a long history before and after the hit, forming his first group, the Gladiolas, in 1955. Besides Williams, the group comprised Earl Gainey (tenor), William Massey (tenor/baritone), Willie Jones (baritone), and Norman Wade (bass). Their one hit for the Nashville-based Excello Records was 'Little Darlin'', which went to number 11 R&B and number 41 pop in 1957. The record was covered with greater success by the Canadian group, the Diamonds. In 1960 Williams formed the Zodiacs, comprising Wiley Bennett (tenor), Henry Gaston (tenor), Charles Thomas (baritone), Albert Hill (double bass), and Little Willie Morrow (drums).
After the unforgettable 'Stay' the group honoured themselves with many outstanding compositions, most notably 'I Remember' (number 86 pop in 1961), 'Come Along' (number 83 pop in 1961), and 'May I' (1966), but nothing close to a hit resulted. The latter song was re-recorded in 1969 by Bill Deal And The Rhondels who had a Top 40 national hit with it. The most frequently remade Williams song was 'Stay', which the Hollies in the UK (1963), the Four Seasons (1964), and Jackson Browne (1978) all placed on the charts. Its timeless lyric of teenage lust and angst has been passed through the decades: 'Well your mama don't mind, well your papa don't mind', leading to the punch line, 'Oh won't you stay, just a little bit longer'. During subsequent decades Williams sustained a career with a new group of Zodiacs, playing their classic catalogue to the Beach Music club circuit in the Carolinas.
https://en.wikipedia.org/wiki/Maurice_Williams_and_the_Zodiacs
Talents : Maurice Williams : Lead, Piano, Songwriter - Wiley Bennett : Tenor - Henry Gaston : Tenor - Charles Thomas : Baritone - Albert Hill : Double Bass - Little Willie Morrow : Drums
Style musical : Doo Wop, Rhythm 'n' Blues

https://youtu.be/2RRPGmA_9Eo
Years in activity :
| | | | | | | | | | | |
| --- | --- | --- | --- | --- | --- | --- | --- | --- | --- | --- |
| 1910 | 20 | 30 | 40 | 50 | 60 | 70 | 80 | 90 | 2000 | 10 |
DISCOGRAPHY
Singles & EP
05/1959
SP SELWYN 5121 (US)
.
09/1959
SP COLE C-101 (US)
.

Lover (Where Are You) / She's Mine

08/1960
SP HERALD H-552 (US)
.

Stay / Do You Believe

12/1960
SP HERALD H-556 (US)
.
03/1961
SP HERALD H-559 (US)
.

Come Along / Do I

05/1961
EP TOP RANK JKP 3006 (UK)

Stay with Maurice Williams And The Zodiacs - Stay / Little Mama / I Love You Baby / I Remember / The Winds / Come Along

07/1961
SP HERALD H-563 (US)
.

Come And Get It / Some Day

08/1961
SP HERALD H-565 (US)
.

High Blood Pressure / Please

1961
SP RICORDI RP 500031 (F)

Stay / Do You Believe

1961
EP RICORDI 45 M 144 (F)
Stay / Do You Believe / Always / The Winds
1961
EP TOP RANK TEP 164 (SW)

Stay / So Fine / I Remember / Do You Believe

1961
EP RICORDI 45 M 150 (F)
I Remember / Running Around / Come Along / We're Lovers
03/1965
SP FLASHBACK 7 (US)
.

Stay / Do You Believe

09/1965
SP

Sphere Sound

SSR 707 (US)
.

So Fine / The Winds

1968
SP DEESU 318 (US)
.

Live In Concert, Stay '68 / Live In Concert Dance, Dance

12/1968
SP VEEP V 1294 (US)
.

The Four Corners / My Reason For Livin'

06/1970
SP 440/Plus FF45-4401 (US)
.

I'd Rather Have A Memory Than A Dream / Try

1977
SP JANUS 6.12 144 (GER)

Oldies But Goldies - Let The Little Girl Dance (Billy BLAND) / Stay (Maurice Williams & The Zodiacs)

197?
SP LOST-NITE LN-413 (US)

Stay / Do You Believe

1980
SP R & M ? (US)
.

Forever Beach / First Love

1981
SP RIPETE R-104 (US)
.

Miss Grace (TYMES) / May I (Maurice WILLIAMS & ZODIACS)

1981 ?
SP RIPETE R45-122 (US)
.

Little Darling (The Gladiolas with Maurice Williams) / Stay (Maurice Williams & The Zodiacs)

1983
SP ERIC 271 (US)
.

Stay / May I

1984
SP RIPETE R45-145 (US)
.

Island Of Dreams / Emily

12/1987
SP RCA 5363-7-R (US)

She's Like The Wind (Patrick Swayze featuring Wendy Fraser) / Stay (Maurice Williams & The Zodiacs)

03/1988
SP RCA PB 49565 (UK)
She's Like The Wind (Patrick

Swayze

featuring Wendy

Fraser

) / Stay (Maurice

Williams

& The

Zodiacs

)
1990
SP RIPETE R45-2015 (US)
.

Sweetheart, Please Don't Go / Let's Do It Again

1992
SP RCA PB 49597 (US)
She's Like The Wind (Patrick

Swayze

) / Stay (Maurice

Williams

& The

Zodiacs

)
19??
SP INTRIGUE ? (US)
.

Emily / Love Line

19??
SP Liah-Mia 45-1000 (US)
.

Let's Do It Again / Sweetheart Please Don't Go

19??
SP COLLECTABLES COL 1483 (US)
.

Stay / Do You Believe

19??
SP COLLECTABLES COL 4048 (US)
.
Stay (Maurice

Williams

& The

Zodiacs

) / Guitar Boogie Shuffle (VIRTUES)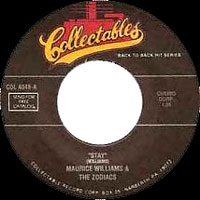 Albums
09/1960
LP 12" HERALD

HLP 1014

(US)
STAY - Stay / Nearness Of You / I Remember / Running Around / We're Lovers / But Not For Me / So Fine / Always / The Winds / Little Mamma / Do You Believe / Come Along / I Love You Baby / I Got A Woman
1965
LP 12"

Sphere Sound

SSR 7007 (US)
STAY - Stay / Nearness Of You / I Remember / Running Around / We're Lovers / But Not For Me / So Fine / Always / The Winds / Little Mamma / Do You Believe / Come Along / I Love You Baby / I Got A Woman
1965
LP 12" Not On Label ‎5-5586A (US)

At The Beach - THE ZODIACS - In Crowd / Stubborn Kind Of Fellow / Somethign You've Got / Stay / Soldier Boy / Lollipop / Twist & Shout / It's Not Unusual / You've Lost That Loving Feeling / Sherry / Every Beat Of My Heart / If I Had A Hammer

1979
LP 12" RELIC 5017 (US)

The Best Of Maurice Williams & The Zodiacs - Stay / Do You Believe / We're Lovers / I Remember / Always / The Winds / I Love You Baby / Do I / Come Along / Someday / High Blood Pressure / Running Around / Little Mama / But Not For Me / Please / The Nearness Of You / Come And Get It / It's Alright / So Fine / I Got A Woman / Here I Stand

1979 ?
LP 12" HERALD 5017 (US)

The Best Of Maurice Williams & The Zodiacs -

Stay / Do You Believe / We're Lovers / I Remember / Always / The Winds / I Love You Baby / Do I / Come Along / Someday / High Blood Pressure / Running Around / Little Mama / But Not For Me / Please / The Nearness Of You / Come And Get It / It's Alright / So Fine / I Got A Woman / Here I Stand
1982
LP 12" Brylen BN 4459 (US)

Hi-Heel Sneakers - Stay / Mustang Sally / Spanish Harlem / Little Darlin' / So Fine / I Remember / This Feeling / Corrina Corrina / Up On The Roof / Hi-Heel Sneakers

1992
LP 12" LOST-NITE / COLLECTABLES COL-LN 5021 (US)

The Best Of Maurice Williams & The Zodiacs - Stay / Come Along / We're Lovers / Running Around / Always / High Blood Pressure / Someday / Do I / I Remember / Do You Believe / Come And Get It / May I

1992
CD COLLECTABLES COL-CD-5021 (US)

The Best Of Maurice Williams & The Zodiacs -

Stay / Do You Believe / We're Lovers / I Remember / Always / The Winds / I Love You Baby / Do I / Come Along / Running Around / But Not For Me / The Nearness Of You
1992
CD RELIC RELIC 7004 (US)

STAY - The Best Of Maurice Williams & The Zodiacs -

Stay / Do You Believe / We're Lovers / I Remember / Always / The Winds / I Love You Baby / Do I / Come Along / Someday / Dearest Baby / High Blood Pressure / Running Around / Little Mama / But Not For Me / Please / The Nearness Of You / Come And Get It / It's Alright / So Fine / I Got A Woman / Here I Stand
1993
CD CLASSIC SOUND CLASSIC 7586 (US)

Stay - Hi Heel Sneakers / Bare Footin' / Spanish Harlem / Up On The Roof / On Broadway / Corrina Corrina / Driftaway / Save The Last Dance For Me / Raindrops Keep Falling On My Head / Mustang Sally / Running Around / Little Darlin' / This Feeling / Stay

1995
CD Night Train International ‎NTICD7020 (US)

At The Beach - THE ZODIACS -

In Crowd / Stubborn Kind Of Fellow / Somethign You've Got / Stay / Soldier Boy / Lollipop / Twist & Shout / It's Not Unusual / You've Lost That Loving Feeling / Sherry / Every Beat Of My Heart / If I Had A Hammer
1995
SP RIPETE 2162 (US)

Anthology - Maurice WILLIAMS & The GLADIOLAS : Little Darlin' (altnerate version) / Maurice WILLIAMS & The ZODIACS : Stay (original version) / Do You Believe / Maurice WILLIAMS : May I / Maurice WILLIAMS & The ZODIACS : So Fine / Maurice WILLIAMS : Oo Poo Pah Doo / Maurice WILLIAMS & The ZODIACS : Lollipop / I Remember / Do I / Stay (altnerate version with organ) / Girl Of Mine / What Can A Man Do / Look My Way / Maurice WILLIAMS, with Gladys KNIGHT & The PIPS : Return / Maurice WILLIAMS & The ZODIACS : Being Without You / The In Crowd (recorded live 1965) / Stubborn Kind Of Fellow (recorded live 1965) / Sherry (recorded live 1965) / It's Not Unusual (recorded live 1965) / Emily / Sweetheart Please Don't Go (new version) / Let's Do It Again / Forever Beach / Please Accept My Love / Island Of Dreams

1996
CD Metro 960822 (US)

Let This Night Last - Stay / Come Out Tonight / Hideaway Places / Still In My Heart / Judy Please / Heartbreaker / Let This Night Last / You're A Winner / Open Your Heart / Island Of Dreams / Faithfully (For My Mama) / Love Is Here / Where Did It Go / Cheration / Stay (reprise)

1996
CD Javelin ‎HADCD120 (UK)

Maurice Williams & The Zodiacs - Hi Heel Sneakers / Bare Footin' / Spanish Harlem / Up On The Roof / On Broadway / Corrina Corrina / Driftaway / Save The Last Dance For Me / Raindrops Keep Falling On My Head / Mustang Sally / Running Around / Little Darlin' / This Feeling / Stay

1997
CD AIM AIM 2016 CD (AUS)

Stay - Carolina Beach Music - Best Of Maurice Williams & The Zodiacs - Stay / Come Along / Little Darlin' / Don't You Ever Leave Me / Golly Gee / Do I / Return / So Fine / Barefootin' / My Baby's Gone / Running Around / Up On The Roof / Mustang Sally / Hi Heel Sneakers / Surely / Oop Oop Pah Doo / On Broadway / Corinna Corinna / Drift Away / Raindrops Keep Falling On My Head / Save The Last Dance For Me / Spanish Harlem

2000
CD EMN EMN 3300 (US)

Back To Basics - Little Darlin' / Stay / Young Blood / Sexy Ways / Sweet Bobbie Jean / One Mint Julep / Trying' To Live My Life Without You / Unchained Melody / May I / Talk To Me / Against The Wind / If You Gotta Make A Fool Of Somebody / Any Day Now / Brothers / Hey Girl

2002
CD COLLECTABLES COL-CD-7510 (US)

The Original Master Tapes Collection - Stay / Come Along (45 version) / We're Lovers / I Remember / Always / So Fine / The Winds / Do I / But Not For Me / It's Alright / Do You Believe / Here I Stand / The Nearness Of You / Please / Dearest Baby / High Blood Pressure / Running Around / Come Along (LP version) / I Love You Baby / Little Mama / Someday / Come And Get It / I Got A Woman

2002
CD Classic World CWP 1141 (CAN)

Stay - Legends Of Soul - The Best of Maurice Williams & The Zodiacs - Stay / Corrina, Corrina / Little Darlin' / Save The Last Dance For Me / This Feeling / Barefootin' / Running Around / Mustang Sally / On Broadway / Raindrops Keep Falling On My Head

2005
CD Black Tulip 39227 (GER)

Maurice Williams And The Zodiacs And The Gladiolas - Little Darling / Sweetheart Please Don't Go / Little Darling (outtake) / Run Run Little Joe / Coming Home To You / Hey Little Girl / I Wanta Know / Shoop Shoop / Say You'll Be Mine / Be Bop Girl / College Girl / Say Yeah / "T" Town / Golly Gee / Lover (Where Are You) / She's Mine / Stay / May I / Lollipop / This Feeling / Surely / Don't Ever Leave Me / Stay ('68 version) / Dance, Dance / I Know / Nobody Knows / Loneliness / Funny / Try / Another Little Darling / Lita / Little Sally Walker / Anything

03/2008
CD Acrobat Music ‎ACMCD4250 (UK)
STAY - Stay / Do You Believe / Always / I Remember / Do I / Come Along / Someday / Come And Get It / High Blood Pressure / Please / Its Alright / Here I Stand / Nearness Of You / Running Around / Were Lovers / But Not For Me / So Fine / The Winds / Little Mama / I Love You Baby / I Got A Woman / Dearest Baby /

Bonus Tracks :

(Maurice

Wiliams

& The

Gladiolas

) : Little Darlin / Sweetheart Please Don't Go
10/2011
CD ESSENTIAL MEDIA ? (US)
GOLDEN OLDIES - Raindrops Keep Falling On My Head / Mustang Sally / Stay / This Feeling / Corrine, Corrina / Save The Last Dance For Me / On Broadway / Little Darlin' / Barefootin' / Running Around
Date Unknown
| | | | |
| --- | --- | --- | --- |
| 19?? | LP 12" STAY 301 (SCAN) | | Little Darlin' - Maurice Williams & The Gladiolas, Maurice Williams & The Zodiacs - Little Darlin' / Be Bop Girl / Hey Little Girl / She's Mine / Sweetheart Please Don't Go / Comin' Home To You / "T" Town / Another Little Darlin' / Dearest Baby / Run Run Little Joe / Golly Gee / College Girl / Say You'll Be Mine / I Wanna Know / Lover (Where Are You?) / Shoop Shoop |
© Rocky Productions 30/07/2020