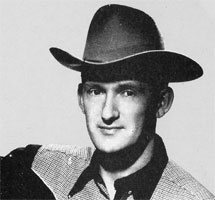 Chanteur Country US né le 24 Juillet 1922 à Troy (Tennessee. Lawton Williams est décédé le 26 Juillet 2007 à Fort Worth (Texas).

Songwriter Lawton Williams remains best remembered for Bobby Helms' "Fraulein," a crossover smash that topped the country charts in the spring of 1957. Born July 24, 1922, in Troy, TN, Williams was the son of a sharecropper who moonlighted as a fiddle player with local string bands. A devout fan of radio's Grand Ole Opry, he worshiped Roy Acuff and Gene Autry, and as a teen taught himself guitar. While stationed in Houston during World War II, Williams befriended country singer Floyd Tillman, whose insight and advice were instrumental in nurturing his latent songwriting skills. Williams also began performing, and in the late '40s cut a handful of little-noticed singles for labels including Sultan and Fortune. He spent much of the decade to follow co-starring on Dallas radio station KRLD's legendary Big D Jamboree, with unheralded stints on labels including Four Star, Coral, and Imperial. "Fraulein," written following Williams' ill-fated engagement to "a little blonde-headed German girl that [he] had met during World War II," not only launched his career but rocketed Helms to national stardom, topping the country charts for four consecutive weeks and earning Country Song of the Year honors at the 1957 Billboard and Cashbox Awards.
A sequel, "Geisha Girl," hit number four for Hank Locklin, and in 1958 "Color of the Blues" proved a huge hit for co-writer George Jones. Williams also continued recording as a solo act, signing to the Fort Worth-based Le Bill label for 1960's "Mama Doll." His straightforward, defiantly traditional country approach fared poorly in the post-rockabilly era, however, and outside of the 1963 novelty "Everything's OK on the LBJ," cut during a brief tenure with RCA Victor, he remained a stranger to radio. Williams' songs continued enjoying success via other artists, however, and in 1962 Bobby Bare scored with "Shame on Me," followed a year later by Jim Reeves' "Señor Santa Claus" — other compositions of note include Gene Watson's "Farewell Party" and Locklin's "Paper Face." In the autumn of his life, Williams founded his own label, TIMA, and in 2003 issued the LP Mending Fences. He also reunited with Tillman to record the classic "It Just Tears Me Up" for the Tillman tribute LP The Influence. Williams died of respiratory illness on July 26, 2007, just two days after his 85th birthday.
Talents : Singer, Guitar, Songwriter
Style musical : Traditional Country, Country-Pop
Years in activity :
| | | | | | | | | | |
| --- | --- | --- | --- | --- | --- | --- | --- | --- | --- |
| 1910 | 20 | 30 | 40 | 50 | 60 | 70 | 80 | 90 | 2000 |
DISCOGRAPHY
Singles
| | | |
| --- | --- | --- |
| 19?? | SP RCA VICTOR 20-7105 (US) | Don't Burn The Bridge Behind You / Foreign Love |
| 19?? | SP RCA VICTOR 20-7188 (US) | If You're Waitin' For Me / The Casino On The Hill |
| 1959 | SP RCA VICTOR 47-7580 (US) | Lightning Jones / Moon Joe |
| 1959 | SP DECCA 30709 (US) | Texas vs Alaska / Don't Let Anybody Tell You |
| 1959 | SP DECCA 30839 (US) | Iron Curtain / House Full Of Love |
| 1960 | SP D 1120 (US) | I Don't Care Who Knows / Satan's Bell |
| 07/1960 | SP LE BILL 304 (US) | Mama Doll / Farewell Party |
| 09/1960 | SP ALLSTAR 7212-45 (US) | Mama Doll / Farewell Party |
| 1961 | SP MERCURY 71780 (US) | John And Mary Doe / The Big Fire |
| 1961 ? | SP GROOVE 58-0011 (US) | Mama Pinch A Penny / Carpetbaggers |
| 1962 | SP KING 5626 (US) | Shame On Me / Lucky Heart |
| 02/1963 | SP RCA VICTOR 47-8142 (US) | Rock Of Gibraltar / Don't Destroy Me |
| 1963 | SP RCA VICTOR 47-8300 (US) | Squawlein / It Looks Like You Love Me |
| 1964 | SP RCA VICTOR 47-8359 (US) | Stay On The Ball / I'm Not All Here |
| 1965 | SP RCA VICTOR 47-8514 (US) | War On Poverty / Power Of Love |
| 1971 | SP MEGA 615-0035 (US) | Asphalt Cowboy / Cold, Cold Hands |
Albums
| | | | |
| --- | --- | --- | --- |
| 1985 | LP 12" BEAR FAMILY BFX 15178 (GER) | | LIGHTNING JONES - Blue Grass Skirt / Foreign Love / I'll Still Love You / Casino On The Hill / Train Of Thought / If You're Waiting On Me / Don't Burn The Bridge Behind You / Rhinelander Waltz / Moon Joe / Lightning Jones / Carpetbaggers / Squawlein / Stay On The Ball / Mama Pinch A Penny / Everything's OK On The L.B.J., Pts. 1 & 2 |
| 10/2005 | CD TIMA ? (US) | | MENDING FENCES - Mending Fences / The Last Trumpet / Lord, Forgive / The Mcnairy Country Sheriff / Golden Cigarette Lighter / The Sun's Gonna Shine Again / Neon Nights / Adam And Everett / World / Don't Play Angel With Me / Every Little Bit Hurts / Mockingbird Mansion |
© Rocky Productions 24/10/2008