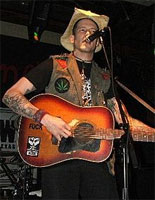 Chanteur Country US né Shelton Hank Williams III, le 12 Décembre 1972 à Nashville Tennessee. Il est le petit fils de Hank Williams et le fils de Hank Williams Jr.

Shelton Hank Williams III was born December 12, 1972, in Nashville, TN. As the grandson of Hank Williams and the son of HankWilliams Jr., he was country music royalty before he ever sang a note. But he didn't immediately follow his forebears musically, choosing instead to bang around the Southeast, playing drums in punk and hardcore combos and smoking prodigious amounts of weed. It was the outlaw spirit of his lineage, alive and unwell and floating in the bong water. By 1996, steep child support payments and his thirst for Mother Nature had forced Hank III onto to the straight and narrow, and he signed a contract with Music City giant Curb. The label issued Three Hanks: Men with Broken Hearts, which brought the voices of all three generations of Williams men together via the ghastly miracles of modern technology. It was about as far from what Hank III wanted as he could get and signaled the beginning of his stormy relationship with Curb.
Williams was in a tight spot. While his name, face, and uncanny Vocals resemblance to his grandfather almost guaranteed him a thriving country audience, he had no patience for Nashville's squareness and rigid control. He and his Damn Band could wow a crowd with a spot-on set of gorgeous country balladry and spirited honky tonk. But III could just as easily shift gears into screeching, Black Flag-style punk rock with his hard-rocking combo Assjack. He was the kind of anomaly enormous record companies couldn't stand — eminently marketable, yet defiantly unpredictable.
Curb issued Hank III's proper debut in September 1999. Entitled Risin' Outlaw, it presented 13 rough-hewn country numbers colored by Hank's honky tonking Vocals. And while he played his share of "country" gigs to support it, Williams also appeared at the 2001 Vans Warped Tour alongside punks like Rancid. The irascible III also dismissed Outlaw as a label-controlled fiasco almost immediately after its release. After a few years of touring and trying like mad to be released from his Curb contract, III returned to wax in early 2002 with Lovesick, Broke & Driftin'. While Outlaw had featured material from outside writers, the new LP was all Hank III but for a previously released cover of Bruce Springsteen's "Atlantic City." He also produced, recorded, and mixed it by his lonesome in just two weeks.
At this point Hank's relationship with Curb became even more strained. The label refused to release his appropriately named This Ain't Country LP, which featured songs like "Life of Sin" and "Hellbilly." At the same time, it refused to grant Hank III the rights to issue it on his own. He and the record company reached an impasse, which III only exacerbated with the "F*** Curb" T-shirts he sold through his thriving website. Thrown Out of the Bar, his third honky tonk album, was scheduled for release in 2003, as was the long-awaited This Ain't Country. Additionally, III issued extremely limited-edition releases through his website (often in quantities of 100 or less) and continued to play bass in Superjoint Ritual, the brutal side project of Pantera frontman Phil Anselmo. The double-disc Straight to Hell was released March 2006 on Bruc Records (the fledgling rock division of Curb). The first CD contained songs with elements of traditional country warped to fit Hank III's rebel attitude, while the second disc boasted only one song that featured just Williams, his guitar, ambient noises, and a slight story that those coming down from drugs might enjoy. Ever in the outlaw mode, Williams released Damn Right, Rebel Proud in 2008. His fourth and supposedly final album for Curb, The Rebel Within, followed in the spring of 2010. And in a move that hardly pleased Hank III, Curb next repackaged This Ain't Country, the oft-bootlegged project that started the acrimony between III and the label in the first place, with additional unreleased material thrown in, as Hillbilly Joker in 2011. Curb managed to get an eighth album out of a lapsed six-album contract by releasing another set of previously unreleased material, Long Gone Daddy (mostly outtakes from 1999's Risin' Outlaw and 2002's Lovesick, Broke & Driftin') in 2012. In October 2013, Hank III released the two-disc country album Brothers of the 4x4, alongside the hardcore cowpunk release A Fiendish Threat.Curb Records, meanwhile, continued to keep ill will flowing between themselves and their former artist; Ramblin' Man, a 27-minute album of country-oriented tracks Hank III primarily recorded for various tribute albums, was released in the spring of 2014, and a year later Curb (using the Bruc alias) dropped a punk and metal-leaning set, Take as Needed for Pain, which was similarly pieced together from tribute albums and studio outtakes. As he had done with Curb's previous post-contract albums, Hank III encouraged his fans not to buy the albums in messages on his website and social media accounts, suggesting they burn copies borrowed from friends instead. Continuing to mine Williams' back catalog, Curb issued a Hank III Greatest Hits collection in September 2017.
https://en.wikipedia.org/wiki/Hank_Williams_III
Talents : Vocals, Guitar, Bass, Drums, Keyboards, Mandolin, Banjo
Style musical : Contemporary Country, Traditional Country, Americana, Honky Tonk, Cowpunk, Psychobilly

http://youtu.be/LijJw-0GITk
Years in activity :
| | | | | | | | | | | | |
| --- | --- | --- | --- | --- | --- | --- | --- | --- | --- | --- | --- |
| 1910 | 20 | 30 | 40 | 50 | 60 | 70 | 80 | 90 | 2000 | 10 | 20 |
DISCOGRAPHY
Singles
2002
CD CURB ? (US) (promo

Mississippi Mud

2006
CD CURB D-1960 (US) (promo)

Louisiana Stripes

2006
SP Tribulation Recording ? (US)

Hank III / Those Poor Bastards - Pills I Took (HANK III) / Pills I Took (THOSE POOR BASTARDS)

2006
SP TKO TKO 157 (US) (limited edition, picture disc)

Hank III / Antiseen - Ruby Get Back To The Hills (HANK III) / F.T.K. (ANTISEEN)

06/2013
SP 10" H

ank

3 ? (US)

The Outlaw Ways (David Allan COE & HANK3) / Day By Day (HANK3)
Albums
09/1996
CD CURB D2-77868 (US)
THREE HANKS - (Hank WILLIAMS III, Hank WILLIAMS JR. & Hank WILLIAMS SR.) - I'll Never Get Out Of This World (avec Hank WILLIAMS & Hank WILLIAMS III) / Move It On Over (avec Hank WILLIAMS & Hank WILLIAMS III) / Never Again / I'm A Long Gone Daddy (avec Hank WILLIAMS & Hank WILLIAMS III) / Honky Tonk Blues (avec Hank WILLIAMS & Hank WILLIAMS III) / I Won't Be Home No More (avec Hank WILLIAMS & Hank WILLIAMS III) / Where The Soul Of Man Never Dies (avec Hank WILLIAMS & Hank WILLIAMS III) / Hand Me Down / Men With Broken Heart (avec Hank WILLIAMS & Hank WILLIAMS III).
07/1999
CD CURB D2-77949 (US)
RISIN' OUTLAW - I Don't Know / You're The Reason / If The Shoe Fits / 87 Southbound / Lonesome For You / What Did Love Ever Do To You / On My Own / Honky Tonk Girls / Devil's Daughter / Cocaine Blues / Thunderstorms And Neon Signs / Why Don't You Leave Me Alone?

[live]

/ Blue Devil
2001
CD CURB ? (US) (promo)

LOVESICK, BROKE & DRIFTIN' - Atlantic City / Long Gone Daddy / 7 Long Months And 39 Days / Lovin' & Huggin' / Cecil Brown / Whiskey, Weed & Women / Mississippi Mud / Sun Comes Up / One Horse Town / Nighttime Ramblin' Man / 5 Shots Of Whiskey / Walkin` With Sorrow / Lovesick, Broke And Driftin` / Callin` Your Name

01/2002
CD CURB D2-78728 (US)
LOVESICK, BROKE & DRIFTIN' - 7 Months, 39 Days / Broke, Lovesick & Driftin' / Cecil Brown / Lovin' & Huggin' / One Horse Town / Mississippi Mud / Whiskey, Weed, & Women / Trashville / Walkin' With Sorrow / 5 Shots Of Whiskey / Nighttime Ramblin' Man / Callin' Your Name / Atlantic City
02/2006
2 CD BRUC D2-78869 (US)
STRAIGHT TO HELL :

CD 1 : Satan Is Real - Straight To Hell / Thrown Out Of The Bar / Things You Do To Me / Country Heroes / D. Ray White / Low Down / Pills I Took / Smoke & Wine / My Drinkin Problem / Crazed Country Rebel / Dick In Dixie / Not Everybody Likes Us / Angel Of Sin
CD 2 : Louisiana Stripes

08/2008
4 CD CURB 79050 (US)
HANK III - COLLECTOR'S EDITION :

CD 1 : 7 Months, 39 Days / Broke, Lovesick & Driftin' / Cecil Brown / Lovin' & Huggin' / One Horse Town / Mississippi Mud / Whiskey, Weed & Women / Trashville / Walkin' With Sorrow / Shots Of Whiskey / Nighttime Ramblin' Man / Callin' Your Name / Atlantic City (with Bruce SPRINGSTEEN)
CD 2 : I Don't Know (with Randy HOWARD) / You're the Reason (with Bobby EDWARDS) / If The Shoe Fits (with Shelton WILLIAMS) / 87 Southbound (with Wayne HANCOCK) / Lonesome For You (with Buddy MILLER) / What Did Love Ever Do To You (with KOSTAS) / On My Own (with Shelton WILLIAMS) / Honky Tonk Girls (with KOSTAS) / Devil's Daughter (with KOSTAS) / Cocaine Blues (with T.J. ARNALL) / Thunderstorms & Neon Signs (with Wayne HANCOCK) / Why Don't You Leave Me Alone(with Wayne HANCOCK) / Blue Devil (with Shelton WILLIAMS)
CD 3 : Satan Is Real - Straight To Hell (with Charlie LOUVIN) / Thrown Out Of The Bar / Things You Do To Me / Country Heroes / D Ray White / Low Down / Pills I Took (with Wyatt G. HELLICKSON) / Smoke & Wine / My Drinkin' Problem (with Randy HOWARD) / Crazed Country Rebel / Dick In Dixie / Not Everybody Likes Us / Angel Of Sin
CD 4 : Louisiana Stripes / Smoke & Wine - Alone & Dying - Back By My Side - What's His Name - Down In Hous

10/2008
CD SIDEWALK D2-79027 (US)

DAMN RIGHT, REBEL PROUD -

The Grand Ole Opry / Wild & Free / Me & My Friends / Six Pack Of Beer / I Wish I Knew / If You Can't Help Your Own / Candidate For Suicide / H8 Line / Long Hauls And Close Calls / Stoned & Alone / P.F.F. / 3 Shades Of Black / Workin' Man
05/2010
CD SIDEWALK D2-79179 (US)
REBEL WITHIN - Getting' Drunk And Fallin' Down / Rebel Within / Lookin' For A Mountain / Gone But Not Forgotten / Drinkin' Ain't Hard To Do / Moonshiner's Life / #5 / Karmageddon / Lost In Oklahoma / Tore Up And Loud / Drinkin' Over Mama
04/2011
LP 12" CURB D1-78728 (US)
LOVESICK, BROKE & DRIFTIN' - 7 Months, 39 Days / Broke, Lovesick & Driftin' / Cecil Brown / Lovin' & Huggin' / One Horse Town / Mississippi Mud / Whiskey, Weed, & Women / Trashville / Walkin' With Sorrow / 5 Shots Of Whiskey / Nighttime Ramblin' Man / Callin' Your Name / Atlantic City /

Unmentioned Bonus Track

:
05/2011
CD CURB D2-79233 (US)
HILLBILLY JOKER - Hillbilly Joker / I'm Drunk Again / Life Of Sin / 10 Feet Down / Pistol Packin' / Tennessee Driver / M.F.J. / Now He's Dead / Drink It, Drug It / Hellbilly
09/2011
2 CD HANK 3 H 301 (US)
GHOST TO A GHOST / GUTTERTOWN :

CD 1 : GHOST TO A GHOST : Gutter Town / Day By Day / Ridin The Wave / Don't Ya Wanna / Ray Lawrence Jr. / The Devil's Movin In / Time To Die / Troopers Hollar / Outlaw Convention / Cunt Of A Bitch / Ghost To A Ghost
CD 2 : GUTTERTOWN : Goin To Gutter Town / Gutter Stomp / The Dirt Road / Musha's / The Dream Of Before / Dyin Day / I Promised / Chord Of The Organ / Move Them Songs / The Low Line / I'll Be Gone / Troopers Chaos / Chaos Queen / Thunderpain / Fadin Moon / The Round / I'll Save My Tears / It's Goin Down / With The Ship

09/2011
CD HANK 3 H 303 (US)

Attention Deficit Domination -

In The Camouflage / I Feel Sacrificed / Bend / Make A Fall / Livin Beyond Doom / Demon's Mark / Aman / Get Str8 / Goats "n" Heathans
2012
CD CURB D2-79299 (US)
LONG GONE DADDY - I'm A Long Gone Daddy / Sun Comes Up / The Bottle Let Me Down / Wreck Of The Old '97 / 'Neath A Cold Gray Tomb Of Stone / The Wind Blew Cold / Good Hearted Woman / This Ain't Montgomery / What They Want Me To Be / If The Shoe Fits [shuffle mix]
10/2013
2 CD H

ank

3 H 304 (US)

Brothers of the 4X4 :

CD 1 : Nearly Gone / Hurtin For Certin / Brothers Of The 4X4 / Farthest Away / Held Up / The Outdoor Plan / Deep Scars / Looky Yonder Commin / Ain't Broken Down / Overdrive / Loners 4 Life / Dread Full Drive
CD 2 : Gettin Dim / Possum In A Tree / Broken Boogie / Toothpickin

10/2013
CD H

ank

3 H 305 (US)

A Fiendish Threat -

Can I Rip U / Different From The Rest / There's Another Road / Broke Jaw / Watchin U Suffer / Breakin Free / Facedown / New Identity / Feel The Sting / Fight My Way / Full On / Your Floor / A Fiendish Threat
04/2014
CD CURB D2-79382 (US)
Ramblin' Man - Ramblin' Man (Hank W

illiams

III feat: M

elvins

) / Fearless Boogie (Hank W

illiams

III feat: M

elvins

) / Okie From Muskogee (Hank W

illiams

III feat: M

elvins

) / I'm The Only Hell (My Mamma Ever Raised) / On My Own [full length version] / Marijuana Blues / Hang On / Runnin' And Gunnin'
04/2015
CD Bruc / CURB D2-79404 (US)

Take as Needed for Pain - Get Outta My Life / Ruby, Get Back To The Hills / Torn Between Suicide & Breakfast / No Values / Gotta Buy Paw A Truck / Take As Needed For Pain / White Trash / King Cartel

09/2017
CD CURB

D2-79466 (US)

Greatest Hits -

Straight to Hell - Satan Is Real / Country Heroes / Crazed Country Rebel / Mississippi Mud / Pills I Took / Cocaine Blues / 3 Shades Of Black / Low Down / D Ray White / My Drinkin' Problem / Six Pack Of Beer / Thrown Out Of The Bar / I Don't Know / Cecil Brown / Smoke & Wine
© Rocky Productions 20/07/2020