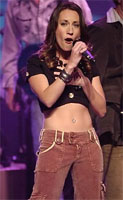 Chanteuse Country Canadienne née le 17 Janvier 1982. Amanda Wilkinson fait parti du trio "The Wilkinsons".

Amanda Wilkinson is a Canadian country artist and television star. Amanda was born January 17, 1982, and from the age of six she sang with her father, Steve, and her brother, Tyler. In 1997, when Amanda was 15 years old, the family trio was signed to a record deal after a small gig in a Nashville club. As a member of The Wilkinsons, Amanda was heard on five albums between 1998 and 2007: Nothing But Love, Here and Now, Shine, Highway, and Home. Unfortunately, only the first album produced highly successful singles: "26 Cents" and "Fly" both reached number one on the Canadian country charts, but other singles failed to match the success of the trio's early work. Still, they have earned nine Canadian Country Music Awards, a Juno Award, and two Grammy nominations.
In 2005, Amanda opted to go solo, recording and releasing her self-titled debut album on Universal South Records. The album spawned four singles, but only three of them managed to reach the Canadian country charts. The most successful was "It's Okay to Cry," which was a Top Ten hit for Wilkinson. In addition, Wilkinson is a television star; along with her immediate family (five members in total), she stars on the Canadian CMT network in a television show entitled The Wilkinsons, which is a scripted reality television-style program focusing on the family's move back to a small town. The show ran for two seasons, but has since played in syndication. Alone, Wilkinson has been nominated four times at the Canadian Country Music Awards, for Single of the Year, CMT Video of the Year, Female Artist of the Year, and Album of the Year.
https://en.wikipedia.org/wiki/Amanda_Wilkinson
Talents : Vocals
Style musical : Contemporary Country, Country-Folk, Traditional Country

https://www.youtube.com/watch?v=cTIzcKdhsTY
Years in activity :
| | | | | | | | | | | | |
| --- | --- | --- | --- | --- | --- | --- | --- | --- | --- | --- | --- |
| 1910 | 20 | 30 | 40 | 50 | 60 | 70 | 80 | 90 | 2000 | 10 | 20 |
DISCOGRAPHY
Singles
| | | | |
| --- | --- | --- | --- |
| 2003 | CD Universal South ‎UNSR-02480-2 (US) (promo) | | Gone From Love Too Long / Gone From Love Too Long / Gone From Love Too Long |
| 2005 | CD Universal South UNSR-02535-2 (US) (promo) | | No More Me And You / No More Me And You / No More Me And You |
Album
| | | | |
| --- | --- | --- | --- |
| 01/2007 | CD UNIVERSAL / MCA 000107802 (US) | | AMANDA WILKINSON - Walk Away / It's Okay To Cry / Pontiacs / Something Else / Hearts Open Slowly / Gone From Love Too Long / Life Is A Beautiful Thing / No More Me And You / A Man To Me / The Art Of Letting Go |
© Rocky Productions 11/06/2020