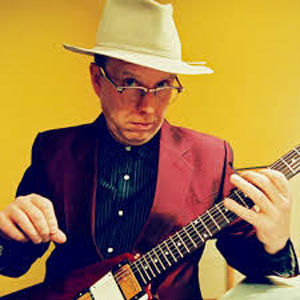 Chanteur et guitariste Rock 'n' Roll US, né John Webb McMurray, le 19 Mai 1954 à Hattiesburg (Mississippi).

Webb Wilder (born John Webb McMurray, May 19, 1954, Hattiesburg, Mississippi) is a musician who mixes the sounds of country, surf guitar and rock & roll into a style known as "swampedelic". His first album, It Came From Nashville, was released in 1986.
Wilder frequently works with writer/producer/multi-instrumentalist R.S. Field, and early reviews (including one in Trouser Press) speculated Field and Wilder were the same person. Though this rumour was disproven years ago, Field and Wilder still occasionally have to answer questions about their respective identities.
Wilder also produced an award-winning collection of short films under the title of Corn Flicks. Wilder's Corn Flicks consists of three stories: Private Eye, Horror Hayride and Aunt Hallie.
He currently resides in Nashville, Tennessee.
Talents : Vocals, Guitar
Style musical : Roots Rock, Blues-Rock

http://www.youtube.com/watch?v=FXXwUOxNKnA
Years in activity :
| | | | | | | | | | | |
| --- | --- | --- | --- | --- | --- | --- | --- | --- | --- | --- |
| 1910 | 20 | 30 | 40 | 50 | 60 | 70 | 80 | 90 | 2000 | 10 |
DISCOGRAPHY
Albums
1986
CD WATERMELON 1018 (US)
IT CAME FROM NASHVILLE - How Long Can She Last (GoingThat Fast) / Horror Hayride / I'm Burning / Is This All There Is? / The Devil's Right Hand / Move On Down The Line / One Taste Of The Bait / I'm Wise To You / It Gets In Your Blood / Poolside / Ruff Rider (Dedicated To Broderick Crawford 1911-86) / Keep It On Your Mind / Rock & Roll Ruby / Samson And Delilah's Beauty Shop / Cactus Planet / Dance For Daddy
1989
CD ISLAND 422-842372-2 (US)
HYBRID VIGOR - Hittin' Where It Hurts / Human Cannonball / Do You Know Something (I Don't Know) / Cold Front / Safe Side / Wild Honey / What's Got Wrong With You? / Ain't That A Lot Of Love? / Skeleton Crew / Louisiana Hannah
07/1991
CD VOLCANO 31010 (US)
DOO DAD - Hoodoo Witch / Tough It Out / Meet Your New Landlord / Sittin' Pretty / Big Time / Sputnik / Run With It / King Of The Hill / Everyday (I Kicked Myself) / The Rest (Will Take Care Of Itself) / Baby Please Don't Go / I Had Too Much To Dream (Last Night)
02/1995
CD WATERMELON 1032 (US)
TOWN & COUNTRY - Webb WILDER and The NASHVEGANS - Stay Out Of Automobiles / Nashville Bum / Slow Death / I'm A Lover Not A Fighter / To The Loving Public / Honky Tonk Hell / My Mind's Eye / Too Many Rivers / Goldfinger / Hissy-Fit / Talk Talk / Streets Of Laredo (The Cowboy's Lament) / Short On Love / I Ain't Living Long Like This / Original Mixed-Up Kid / Rockin' Little Angel
05/1996
CD WATERMELON 1033 (US)
ACRES OF SUEDE - Olde Elephant Man / No Great Shakes / Loud Music / Fall In Place / Flat Out Get It / Soul Mate / Scattered, Smothered And Covered / Tell Me Why Charlie / Why Do You Call? / Carryin' The News To Mary / Lost In The Shuffle / Rocket To Nowhere
03/2005
CD LANDSLIDE LDCD1030 (US)

ABOUT TIME - Down On The Farm / I Just Had To Laugh / You Might Be Lonely For A Reason / Miss Missy From Ol' Hong Kong / If Your Looking For A Fool / Tell The World / Jimmy Reed Is The King Of Rock And Roll / Scattergun / Battle Of The Bands / Old Copper Penny / Mary Lou / Move It / The Only One / Little Boy Sad / Scattergun (instr.)

05/2005
CD VARESE SARABANDE 066649 (US)
SCATTERED, SMOTHERED AND COVERED - A WEBB WILDER OVERVIEW - How Long Can She Last (Going Fast) / Horror Hayride / Poolside / One Taste Of The Bait / Ruff Rider / Is This All There Is? / Scattered, Smothered And Covered / Flat Out Get It / Stay Out Of Automobiles / Slow Death / Fall In Place / Loud Music / The Webb Wilder Credo / Honky Tonk Hell / My Minds Eye / Rocket To Nowhere / I Ain't Living Long Like This / Carryin' The News To Mary / No Great Shakes
08/2005
CD + DVD LANDSLIDE 9001 (US)
TOUGH IT OUT :

CD : Tough It Out / Stay Out Of Automobiles / Baby Please Don't Go / You Might Be Lonely For A Reason / One Taste Of The Bait / Human Cannonball / If You're Looking For A Fool / Sputnik / Big Time / No Great Shakes / Miss Missy From Old Hong Kong / Poolside / How Long Can She Last / Louisiana Hannah / I Just Had To Laugh
DVD : Flat Out Get It

/

If You're Looking For A Fool

/

I Just Had To Laugh

/

Sputnik

/

One Taste Of The Bait

/

Big Time

/

You Might Be Lonely For A Reason

/

Human Cannonball

/

Poolside

/

The Rest Will Take Care Of Itself

/

Down On The Farm

/

No Great Shakes

/

Miss Missy From Old Hong Kong

/

Louisiana Hannah

/

How Long Can She Last

/

Stay Out Of Automobiles

/

Tough It Out

/

Baby Please Don't Go

/

bonus material

03/2007
CD DIXIEFROG 8621 (F)
IT'S LIVE TIME! -

Tough It Out / Stay Out Of Automobiles / Baby Please Don't Go / You Might Be Lonely For A Reason / One Taste Of The Bait / Human Cannonball / If You're Looking For A Fool / Sputnik / Big Time / No Great Shakes / Miss Missy From Ol' Hong Kong / Poolside / How Long Can She Last / Louisiana Hannah / I Just Had To Laugh

01/2008
CD BLIND PIG 485120 (US)
BORN TO BE WILDER - Tough It Out / Stay Out Of Automobiles / Baby Please Don't Go / You Might Be Lonely For A Reason / One Taste Of The Bait / Human Cannonball / If You're Looking For A Fool / Sputnik / Big Time / No Great Shakes / Miss Missy From Ol' Hong Kong / Poolside / How Long Can She Last / Louisiana Hannah / I Just Had To Laugh
04/2009
CD BLIND PIG 485129 (US)
MORE LIKE ME - Ju Ju Man / Too Cool For Love / Don't Slander Me / She's Not Romantic / Honky Tonkin' (In Mississippi) / Pretty Is As Pretty Does / Sudden Stop / She Said Yeah / Come Around / Still Water Runs Deep / More Like Me / Changing Colors
05/2010
2 CD FLOATING WORLD 6047 (US)
TOWN & COUNTRY / ACRES OF SUEDE :

CD 1 : Stay Out Of Automobiles / Nashville Bum / Slow Death / I'm A Lover Not A Fighter / To The Loving Public / Honky Tonk Hell / My Mind's Eye / Too Many Rivers / Goldfinger / Hissy-Fit / Talk Talk / Streets Of Laredo (The Cowboy's Lament) / Short On Love / I Ain't Living Long Like This / Original Mixed-Up Kid / Rockin' Little Angel
CD 2 : Olde Elephant Man / No Great Shakes / Loud Music / Fall In Place / Flat Out Get It / Soul Mate / Scattered, Smothered And Covered / Tell Me Why Charlie / Why Do You Call? / Carryin' The News To Mary / Lost In The Shuffle / Rocket To Nowhere
© Rocky Productions 19/03/2011