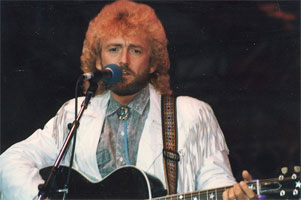 Chanteur Country US né Jesse Keith Whitley, le 1er Juillet 1955 à Sandy Hook (Kentucky). Keith Whitley est décédé le 9 Mai 1989 à Nashville (Tennessee).

Keith Whitley's legacy loomed large over the country music landscape of the '90s. A talented new country singer and songwriter, Whitley was just beginning to emerge as a superstar at the time of his death in 1989. Throughout the next decade, his reputation as both a performer and writer continued to grow, as other artists had hits with his songs and posthumous recordings climbed into the Top Ten.
Born and raised in Kentucky, Whitley began singing as a child, winning a talent contest at the age of four. When he was eight years old, he learned how to play guitar and within a year he was singing on a Charleston, WV-based radio station. Whitley formed his first band at the age of 13, playing nothing but straight bluegrass. A few years later, he formed the Lonesome Mountain Boys with his high school friend, Ricky Skaggs. The Lonesome Mountain Boys primarily played Stanley Brothers songs and soon became a popular attraction.
In the late '60s, Ralph Stanley was looking to re-form his band after the death of his brother and partner, Carter. He was so impressed with Whitley and Skaggs, he asked them to join his Clinch Mountain Boys group. The duo accepted the offer immediately and began appearing with the band in 1970. Whitley stayed with the Clinch Mountain Boys for two years, recording a total of seven albums, including 1971's Crying From the Cross, which was named the Bluegrass Album of the Year.
In 1973, Whitley left the group. For two years, he drifted through various other bands, including acts that played country, not bluegrass. He returned to the Clinch Mountain Boys in 1975 and stayed with them for another two years. During his second tenure with the band, he made five albums. In 1978, Keith joined J.D. Crowe's band the New South. Whitley recorded three albums with the New South between 1978 and 1982, which vacillated between bluegrass and straight country (the highlights of this era were re-released on CD as Sad Songs & Waltzes in 2000).
Whitley began a full-fledged solo career after leaving the New South in 1982. Signing with RCA Records, he released his debut album, Hard Act to Follow, in 1984. A record of pure honky tonk, it didn't attract much of an audience. The following year, he released L.A. to Miami, a more commercial affair which spawned the number 14 single "Miami, My Amy." After that single peaked early in 1986, he had three back-to-back Top Ten hits: "Ten Feet Away," "Homecoming '63," and "Hard Livin'." Late in 1986, he married Lorrie Morgan.
Although L.A. to Miami was a success, its slick production didn't please Whitley. In 1987, he recorded a follow-up to the record that sounded exactly the same as its predecessor. Unsatisfied with the musical direction of his new effort, Whitley convinced RCA to shelve the completed album and have him work on another record with a new producer, Garth Fundis. Don't Close Your Eyes was the result. Released in the spring of 1988, the album solidified Whitley's commercial standing. The first three singles from Don't Close Your Eyes — "Don't Close Your Eyes," "When You Say Nothing at All," and "I'm No Stranger to the Rain" — were all number one hits.
Things may have been going smoothly on the surface for Keith Whitley, but behind the scenes he was being torn apart by alcoholism. On May 9, 1989, he suffered from a fatal case of alcohol poisoning; he was 34 at the time of his demise. Just before his death, he completed his fourth album, I Wonder Do You Think of Me. The record was released shortly after his death and its first single, which was the title track, reached number one, as did its follow-up, "It Ain't Nothin"; another single from the album, "I'm Over You," reached number three in 1990. During the '90s, RCA repackaged and re-released many of Whitley's recordings — including several unreleased songs — in various compilations. Lorrie Morgan recorded an electronic duo, "'Til a Tear Becomes a Rose," with her late husband in 1990; it peaked at number 13. In 1994, a tribute album to Whitley was released.
http://www.keithwhitleyblvd.com/
Talents : Singer, Songwriter, Guitar
Style musical : New Traditionalist, Neo-Traditionalist Country, Contemporary Country, Progressive Bluegrass, Progressive Country, Bluegrass

https://www.youtube.com/watch?v=m-Nub5gWCKY
Years in activity :
| | | | | | | | | | | |
| --- | --- | --- | --- | --- | --- | --- | --- | --- | --- | --- |
| 1910 | 20 | 30 | 40 | 50 | 60 | 70 | 80 | 90 | 2000 | 10 |
DISCOGRAPHY
Singles
1984
SP RCA VICTOR JK-13810 (US)

Turn Me To Love / ?

1984
SP RCA VICTOR JK-13967 (US)

Don't Our Love Look Natural / ?

1985
SP RCA VICTOR JK-13996 (US)

A Hard Act To Follow / ?

1985
SP RCA VICTOR JK-14173 (US)

I've Got The Heart For You / ?

1985
SP RCA VICTOR JK-14285 (US)

Miami, My Amy / ?

1986
SP RCA VICTOR JK-14363 (US)

Ten Feet Away / ?

1986
SP RCA 5013-7 (US)

Homecoming '63 / ?

1986
SP RCA 5050-7 (US)

A Christmas Letter / ?

1987
SP RCA 5116-7 (US)

Hard Livin' / ?

1987
SP RCA 5237-7 (US)

Would These Arms Be In Your Way / ?

1987
SP RCA 5326-7 (US)

Some Ole Side Road / ?

1988
SP RCA 6901-7 (US)

Don't Close Your Eyes / ?

1988
SP RCA 8637-7 (US)

When You Say Nothing At All / ?

1988
SP RCA 8797 (US)

I'm No Stranger To The Rain

/ ?
1989
SP RCA 8940 (US)

I Wonder Do You Think Of Me / ?

1989
SP RCA 9059 (US)

It Ain't Nothin' / ?

1990
SP RCA 9122 (US)

I'm Over You / ?

1990
CD RCA 2619 (US)
'Til A Tear Becomes A Rose (with Lorrie MORGAN) / ?
1991
CD RCA 62037 (US)
Brotherly Love (with Earl Thomas CONLEY) / + Earl Thomas CONLEY
1991
CD RCA 62166 (US)

Somebody's Doin' Me Right / ?

04/1995
SP BNA 64277-7 (US)
When You Say Nothing At All (Alison

Krauss & Union Station

) /

Charlotte's In North Carolina (Keith

Whitley

)
1995
CD BNA 64424 (US)

Wherever You Are Tonight / ?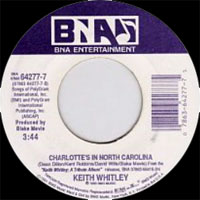 Albums
| | | | |
| --- | --- | --- | --- |
| 1971 | LP 12" JALYN 129 (US) | | TRIBUTE TO THE STANLEY BROTHERS - (Ricky SKAGGS & Keith WHITLEY) - We'll Be Sweethearts In Heaven / Mother No Longer Awaits Me At Home / White Dove / Our Last Goodbye / Lonesome River / I Love No One But You / Angels Are Singing In Heaven Tonight / It's Never Too Late / Loving You Too Well / Little Glass Of Wine / I Long To See The Old Folks |
| 1972 | LP 12" REBEL 1504 (US) | | SECOND GENERATION BLUEGRASS - (Ricky SKAGGS & Keith WHITLEY) - Don't Cheat In Our Hometown / Dream Of A Miner's Child / Memories Of Mother / Poor Monroe / Daybreak In Dixie / All I Ever Loved Was You / My Deceitful Heart / Son Of Hobert / Sea Of Regret / Those Two Blue Eyes / Wildwood Flower / This Weary Heart You Stole Away |
| 1984 | LP 12" RCA VICTOR MHL1 8525 (US) | | A HARD ACT TO FOLLOW - Turn Me To Love / Living Like There's No Tomorrow / If A Broken Heart Could Kill / If You Think I'm Crazy Now / Don't Our Love Look Natural / Hard Act To Follow |
| 1985 | LP 12" RCA VICTOR AHL1 7043 (US) | | L.A. TO MIAMI - Miami My Amy / I've Got The Heart For You / I Get The Picture / On The Other Hand / Hard Livin' / Ten Feet Away / That Stuff / Nobody In Bhis Right Mind Would Have Left Her / Homecoming '63 / Quitting Time / I Wonder Where You Are Tonight |
| 1988 | CD RCA 6494 (US) | | DON'T CLOSE YOUR EYES - Flying Colors / It's All Coming Back To Me Now / Lucky Dog / Don't Close Your Eyes / Birmingham Turnaround / Some Old Side Road / Would These Arms Be In Your Way / I'm No Stranger To The Rain / I Never Go Around Mirrors / When You Say Nothing At All / Day In The Life Of A Fool / Honky Tonk Heart |
| 08/1989 | CD RCA 9809 (US) | | I WONDER DO YOU THINK OF ME - Talk To Me Texas / Between An Old Memory And Me / It Ain't Nothin' / I'm Over You / Turn This Thing Around / Lady's Choice / Brother Jukebox / Tennessee Courage / Heartbreak Highway / I Wonder Do You Think Of Me |
| 07/1990 | CD RCA 2277 (US) | | GREATEST HITS - Don't Close Your Eyes / I'm No Stranger To The Rain / Miami My Amy / When You Say Nothing At All / It Ain't Nothin' / I'm Over You / I Wonder Do You Think Of Me / Ten Feet Away / Talk To Me Texas / Till A Tear Becomes A Rose / Tell Lorrie I Love Her |
| 09/1991 | CD RCA 3156 (US) | | KENTUCKY BLUEBIRD - Buddy Starcher Show / Going Home / Lucky Dog / That's Where I Want To Take Our Love / Somebody Doing Me Right / Brotherly Love / I Never Go Around Mirrors / Backbone Job / Would These Arms Be In Your Way / Between An Old Memory And Me / I Want My Rib Back / Kentucky Bluebird |
| 06/1993 | CD RCA 66244 (US) | | THE BEST OF KEITH WHITLEY - Brother Jukebox / That Stuff / I Wonder Do You Think Of Me / Day In The Life Of A Fool / On The Other Hand / Lady's Choice / Some Old Side Road / Turn This Thing Around / I've Got The Heart For You |
| 08/1994 | CD REBEL 1504 (US) | | SECOND GENERATION BLUEGRASS - (Keith WHITLEY & Ricky SKAGGS) - Don't Cheat In Our Hometown / Dream Of A Miner's Child / Memories Of Mother / Poor Monroe / Daybreak In Dixie / All I Ever Loved Was You / My Deceitful Heart / Son Of Hobert / Sea Of Regret / Those Two Blue Eyes / Wildwood Flower / This Weary Heart You Stole Away |
| 10/1995 | CD RCA 66762 (US) | | WHEREVER YOU ARE TONIGHT - I'm Losing You All Over Again / Daddy Loved Trains / Tell Me Something I Don't Know / Blind And Affraid Of The Dark / Buck / Light At The End Of The Tunnel / I'm Not Easy To Forget / Just How Bad Do You Wanna Feel Good / Leave Well Enough Alone / Wherever You Are Tonight |
| 05/1996 | CD RCA 66850 (US) | | SUPER HITS - Miami My Ami / Ten Feet Away / I'm No Stranger To The Rain / Homecoming '63 / It Ain't Nothin' / I Wonder Do You Think Of Me / Some Old Side Road / When You Say Nothing At All / Don't Close Your Eyes / Hard Livin' |
| 06/1996 | CD RCA 66853 (US) | | ESSENTIAL - Turn Me To Love / Living Like There's No Tomorrow (Finally Got To Me Tonight) / Hard Act To Follow / If A Broken Heart Could Kill / If You Think I'm Crazy Now (You Should've Seen Me When I Was A Kid) / Don't Our Love Look Natural / I Wonder Where You Are Tonight / I've Got The Heart For You / Ten Feet Away / Miami My Amy / Hard Livin' / Homecoming / Don't Close Your Eyes / I'm No Stranger To The Rain / Would These Arms Be In Your Way / When You Say Nothing At All / It Ain't Nothin' / I'm Over You / I Wonder Do You Think Of Me / I'm Losing You All Over Again |
| 04/1998 | CD BMG 44677 (US) | | REMEMBERED - Brother Jukebox / Miami My Amy / Honky Tonk Heart / I Wonder Do You Think Of Me / I'm No Stranger To The Rain / When You Say Nothing At All, Hard Livin' / Tell Lorrie I Love Her / Till A Tear Becomes A Rose / Turn Me To Love |
| 04/1998 | CD MADACY 5336 (US) | | DOUBLE BARREL COUNTRY - THE LEGENDS OF COUNTRY MUSIC - I'm No Stranger To The Rain / When You Say Nothing At All / I Wonder Do You Think Of Me / Brotherly Love / Turn Me To Love / + Vince GILL |
| 09/2000 | CD ROUNDER 610399 (US) | | SAD SONGS AND WALTZES - I Never Go Around Mirrors / Honky Tonk Crazy / To Be Loved By A Woman / Where Did You Learn To Love Like That / I Would Have Loved You All Night Long / Somewhere Between / Girl From The Canyon / Does Fort Worth Ever Cross Your Mind / I Don't Know You Well Enough To Say Goodbye / Dance With Me Molly / Where Are All The Girls The Used To Cheat With / Sad Songs And Waltzes / Another Town / Long Black Limousine / Family Tree |
| 03/2002 | CD RCA 65103 (US) | | RCA COUNTRY LEGENDS - Some Old Side Road / Day In The Life Of A Fool / Ten Feet Away / I Never Go Around Mirrors / Birmingham Turnaround / Homecoming '63 / Hard Livin' / Don't Close Your Eyes / When You Say Nothing At All / I'm No Stranger To The Rain / I Wonder Do You Think Of Me / Lucky Dog / Brotherly Love / Pick Me Up On Your Way Down / Quittin' Time / Till A Tear Becomes A Rose |
| 09/2003 | CD RCA 55165 (US) | | PLATINUM AND GOLD COLLECTION - Turn Me To Love / On The Other Hand / When You Say Nothing At All / Some Old Side Road / I'm No Stranger To The Rain / Brother Jukebox / Till A Tear Becomes A Rose / I'm Over You / It Ain't Nothin' / I'm Gonna Hurt Her On The Radio / Brotherly Love / Somebody's Doin' Me Right |
| 10/2005 | CD CMG 40731 (US) | | ALL AMERICAN COUNTRY - If You Think I'm Crazy Now (You Should Have Seen Me When I Was A Kid) / A Hard Act To Follow / Wherever You Are Tonight / Some Old Side Road / Don't Close Your Eyes / Talk To Me Texas / It Ain't Nothin' / I'm Over You / Brotherly Love (with Earl Thomas CONLEY) / Somebody's Doin' Me Right |
| 04/2006 | CD RCA 78247 (US) | | THE HITS - 16 BIGGEST HITS - Don't Close Your Eyes / When You Say Nothing At All / I'm No Stranger To The Rain / Miami, My Amy / Brotherly Love / Some Old Side Road / I Wonder Do You Think Of Me / 'Til a Tear Becomes A Rose / Ten Feet Away / It Ain't Nothin' / Homecoming '63 / Hard Livin' / I'm Over You / Somebody's Doin' Me Right / Turn Me To Love / Would These Arms Be In Your Way |
| 05/2006 | CD SONY / BMG 82876820432 (US) | | KEITH WHITLEY - Miami, My Amy / Ten Feet Away / I'm No Stranger To The Rain / Homecoming 63 / It Ain't Nothin' / I Wonder Do You Think Of Me / Some Old Side Road / When You Say Nothing At All / Don't Close Your Eyes / Hard Livin' |
© Rocky Productions 25/08/2010