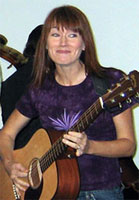 Chanteuse Country US née Lari Michele White, le 13 Mai 1965 à Dunedin (Floride). Lari White est décédée le 23 Janvier 2018.

Most contestants on televised talent shows never are able to forge a lasting career, but Lari White is the exception that proves the rule. After winning on the Nashville Network's You Can Be A Star, White went on to become one of the most popular female new country singers of the mid-'90s, breaking through into the big time in 1994.
Born and raised in Dunedin, FL, Lari White began performing when she was a child, singing in a gospel group with her parents and brother. The group, called the White Family Singers, sang at local church and community gathering. After a while, the children began working pop music into the act, most notably Elvis Presley. As a teenager, Lari sang show tunes at talent contests and sang with a local rock & roll band. She earned a scholarship to the University of Miami, where she studied vocals and music engineering. After a while, she began writing her own songs, singing in local clubs at night and taking professional singing jobs. Upon graduating from college, she travelled around the United States, looking at various local music scenes. In 1988, she decided to move to Nashville and try to become a professional.
Later in 1988, she appeared on the Nashville Network's You Can Be a Star and won the first prize. The award led to a record contract with Capitol. Before the end of the year, she had released a single on Capitol, "Flying Above the Rain," which became a regional hit in the South but failed to break into the big time. Later that same year, she joined Ronnie Milsap's publishing house and began taking acting lessons. For the next few years, White continued in this vein, choosing to hone her talent, sing in local dinner theaters and wait for another break. That break arrived in 1991, after an ASCAP showcase revived interest in her talents. Following the showcase, Rodney Crowell asked her to sing backup vocals in his live band. In 1992, White signed a record contract with RCA and Crowell produced her debut album, Lead Me Not, which was released the following year.
Lead Me Not received strong reviews and produced three minor hit singles: "What a Woman Wants," "Lead Me Not," and "Lay Around and Love You." Wishes, White's second album, became her breakthrough release, producing the Top Ten singles "That's My Baby," "Now I Know," and "That's How You Know (When You're in Love)." Don't Fence Me In, White's third album, wasn't quite as successful as its predecessor, but it continued her success. Stepping Stone followed in 1998. In 2004, after a lenghty hiatus that found the artist building her own home studio, White released the self-produced Green Eyed Soul on the UK based Mesmerizing Records.
https://en.wikipedia.org/wiki/Lari_White
Talents : Vocals, Songwriter, Guitar, Piano, Record Producer, Actress
Style musical : Contemporary Country

https://youtu.be/y9ML95rnLY0
Years in activity :
| | | | | | | | | | | | |
| --- | --- | --- | --- | --- | --- | --- | --- | --- | --- | --- | --- |
| 1910 | 20 | 30 | 40 | 50 | 60 | 70 | 80 | 90 | 2000 | 10 | 20 |
DISCOGRAPHY
Singles & EP
10/1988
SP CAPITOL B-44251 (US)
.

Flying Above The Rain / Good In Blue

01/1993
SP RCA 07863 62420-7 (US)
.

What A Woman Wants / Good, Good Love

04/1993
SP RCA 07863 62511-7 (US)
.

Lead Me Not / Anything Goes

08/1993
SP RCA 07863 62622-7 (US)
.

Lay Around And Love You / Don't Leave Me Lonely

03/1994
SP RCA 07863 62764-7 (US)
.

That's My Baby / Where The Lights Are Low

07/1994
SP RCA 07863 62896-7 (US)
.

Now I Know / It's Love

11/1994
SP RCA 07863 64233-7 (US)
.

That's How You Know / If I'm Already Crazy

12/1995
SP RCA 07863 64455-7 (US)
.

Before You Walk Out Of My Life / Ready Willing And Able

04/1996
SP RCA 07863 64520-7 (US)
.

Wild At Heart

/ Do It Again
1997
SP COLLECTABLES COL-4757 (US)
.

Should've Asked Her Faster (Ty ENGLAND) / Now I Know (Lari WHITE)

04/1998
SP Lyric Street HL-64019-7 (US)
.

Stepping Stone / Tired

04/1998
CD Lyric Street HL-64019-2 (US)

Stepping Stone / Tired

2004
CD Skinny White Girl ? (UK) (promo

)

Nothing But Love / Eden before the fall / Right here right now / Bare
Albums
04/1993
CD RCA 07863-66117-2 (US)
LEAD ME NOT - Itty Bitty Single Solitary Piece Of My Heart / Just Thinking / Lay Around And Love On You / Lead Me Not / Made To Be Broken / What A Woman Wants / Anything Goes / Where The Lights Are Low / Don't Leave Me Lonely / Good Good Love
1993
CD RCA ADV66117-2 (US) (promo)
WHITE ON WHITE - Itty Bitty Single Solitary Piece Of My Heart / Just Thinking / Lay Around And Love On You / Lead Me Not / Made To Be Broken / What A Woman Wants / Anything Goes / Where The Lights Are Low / Don't Leave Me Lonely / Good Good Love
06/1994
CD RCA 07863-66395-2 (US)
WISHES - That's My Baby / Somebody's Fool / Wishes / Now I Know / If I'm Not Already Crazy / That's How You Know (When You're In Love) / When It Rains / Go On / It's Love / If You Only Knew
1994
CD RCA RADV 66395-2 (US) (promo)
WISHES - That's My Baby / Somebody's Fool / Wishes / Now I Know / If I'm Not Already Crazy / That's How You Know (When You're In Love) / When It Rains / Go On / It's Love / If You Only Knew
02/1996
CD RCA 07863-66742-2 (US)
DON'T FENCE ME IN - Don't Fence Me In / Wild At Heart / Ready Willing And Able / Ghost Of A Chance / Test / Ain't Gonna Worry About Love No More / Next To Love / Something Blue / Do It Again / I've Been Waiting For Your Love / Soul Searching Blues / Woman Of The World / Don't Fence Me (reprise)
01/1997
CD RCA 07863-66994-2 (US)
BEST OF LARI WHITE - Amazing Grace / Itty Bitty Little Single Solitary Piece Of My Heart / Lay Around And Love On You / Lead Me Not / What A Woman Wants / Wild At Heart / Just Thinking / That's My Baby / That's How You Know / Now I Know / Ready Willing And Able / I've Been Waiting For Your Love / Helping Me Get Over You (with Travis TRITT)
07/1998
CD Lyric Street HL-65001-2 (US)
STEPPING STONE - John Wayne Walking Away / Stepping Stone / That's What You Do / You Can't Go Home Again / Only God Could Stop Me Loving You (with Toby KEITH) / On A Night Like This / You Can't Take That From Me / This Is Love / Take Me / Tired / Look Homeward Angel
1998
CD Lyric Street PRCD-65001-2 (US) (promo)
STEPPING STONE - John Wayne Walking Away / Stepping Stone / That's What You Do / You Can't Go Home Again / Only God Could Stop Me Loving You (with Toby KEITH) / On A Night Like This / You Can't Take That From Me / This Is Love / Take Me / Tired / Look Homeward Angel
2001
CD Skinny White Girl SWG-CD-0013 (US)
GREEN EYED SOUL - Nothing But Love / Eden Before The Fall / Right Here Right Now / Loved Right / Let's Keep It Together / High; One More Time / Because I'm A Woman / We Got It Goin' On / Groove With em Baby / Bare
05/2004
CD Skinny White Girl MESMCD 001 (UK)
GREEN EYED SOUL - Nothing But Love / Eden Before The Fall / Right Here Right Now / Loved Right / Let's Keep It Together / High; One More Time / Because I'm A Woman / We Got It Goin' On / Groove With em Baby / Bare / Amazing Grace
04/2007
CD Skinny White Girl ? (US)

My First Affair... - Please Be Kind - Gotta Have Me Go wWth You / There's A Terrific Band / Doatsy Mae / Minor Changes / Museums / Forgiveness' Embrace / Love Me Or Leave Me / Falling In Love With Love - A Cockeyed Optimist / Over And Over / It Ain't My Business / Where Is It Written - No Wonder - A Piece Of Sky / It's A New World

02/2017
2 CD Skinny White Girl ? (US)

Old Friends, New Loves :

CD 1 : OLD FRIENDS : Wishes / That's My Baby / Lead Me Not / Now I Know / That's How You Know / If You Only Knew / Eden Before The Fall / Bare
CD 2 :

NEW LOVES : Who's To Blame / Kisses And Wine / Maybe It's Love / Moonshine / In God's Hands / Down So Low / Champagne
© Rocky Productions 21/04/2020