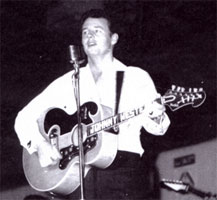 Chanteur Country US né le 28 Octobre 1934 à Two Harbor (Minnesota), Johnny Western est d'abord Disc-Jockey avant de se produire dans les rodéos en compagnie des "Sons Of The Pioneers" au début des années cinquante. Il a enregistré pour la Columbia Records.

A lover of the Old West and its mythos from childhood, Johnny Western was one of the finest and most impassioned exponents of cowboy songs; a successor to both Gene Autry and Marty Robbins whose career paved the way for the work of Michael Martin Murphey, Ian Tyson, and the Riders In the Sky, all of whom owed him a debt for carrying cowboy music into and beyond the 1960s. He was born in Twin Harbors, MN, on October 28, 1934, and raised at various Civilian Conservation Corps camps (where his father was an officer and instructor) and Indian reservations along the Canadian border. The turning point in his life came on his fifth birthday, when his parents took him to see a 1936 Western called Guns and Guitars starring Gene Autry; Johnny knew then and there that he wanted to be exactly like the man on the horse, strumming a guitar and singing a song.
For his 12th birthday, Western was given a guitar; hardly a year had gone by when he was invited to turn professional. He'd been recorded at the local 4-H Club singing Gene Autry's "Riding Down the Canyon" and other songs, which resulted in an invitation to join a collegiate singing trio. He mostly played rhythm guitar, but also got to sing, and when the group recorded an audition tape for KDHL in Faribault, MN, Johnny was asked to sing one solo number. He chose "(Ghost) Riders in the Sky," and ended up getting a weekly radio spot, which then became three days a week, and finally six days each week. In addition to singing, he acted as a DJ and host, introducing live and recorded country & Western music. He also earned a mention in Billboard magazine as the youngest DJ and singer on American radio. By the age of 16, he was playing on bills with his one-time idols the Sons of the Pioneers.
Soon after graduation, he made the jump from radio to television, becoming a singing cowboy on KMMT-TV, and landed a recording contract with a small Minnesota-based record label called JOCO. He and his fellow guitarist John Fields cut a handful of singles, including "The Violet & the Rose" and "Let Old Mother Nature Have Her Way," which received good airplay locally and in Iowa, Wisconsin, and the Dakotas. Johnny Western's television show, which allowed him to sing to his young audience before introducing the day's Western movie, lasted for two years. During this period, he got to play concerts with Western stars such as Rex Allen and Tex Ritter, and had them as guests on his show. In 1954, however, he gave up the program, heading for Hollywood to pursue his real goal to be a movie cowboy.
This was the hardest jump of all, because they weren't making many Westerns in Hollywood anymore, or looking for singing cowboys. It was years before he got to work in front of a movie camera; in the meantime, he earned a place in Gene Autry's band, replacing Johnny Bond as a guitarist and singer. After Autry retired from performing, Western did a pilot for a series called Pony Express which, in turn, led to appearances in more than 30 other television shows (including Gunsmoke) and several feature films, including The Dalton Girls, Fort Bowie, and Gunfight at Dodge City. In 1957, a new series called Have Gun, Will Travel went into production; Western was cast in a small role in one episode, and while working on the show he composed a song about the series' hero, Paladin. "The Ballad of Paladin" was adopted as the show's closing theme, and Johnny Western was signed to the CBS network's record division, Columbia Records.
He was soon either acting in or singing on the music tracks of several series, including Pony Express, Boots and Saddles, Tales of Wells Fargo, and Bat Masterson, and his performing and singing careers were suddenly revived. Under Columbia Records producer Don Law (who also produced Johnny Cash), he recorded dozens of sides, including the singles "Only the Lonely" (1959), "Della's Gone" (1960), "Darling Corey" (1961), "Gunfighter" (1962), and "Kathy Come Home," along with an album, Have Gun, Will Travel (1962). He was also asked by Johnny Cash to join his band as a singer/guitarist. He remained a member of Cash's band for six years, playing rhythm guitar on recordings such as "Johnny Yuma, The Rebel," "The Little Drummer Boy," and "Lorena," among many others. During his years at Columbia, Western was also befriended by Marty Robbins, who later participated in Western's recordings of "(Ghost) Riders in the Sky" and the redone "Ballad of Paladin." When he wasn't on tour with Cash, Western was playing shows on his own and working with ex-members of Ernest Tubb's and Porter Wagoner's bands.
At the end of 1963, he left Columbia Records and moved to Philips, where he had a very brief, unsuccessful stay. Johnny Western was a popular draw in Las Vegas, however, and also began making the rounds of Western shows. He continued to record for various labels, including Hep ("The Violet & The Rose," 1967), and he made the acquaintance of Waylon Jennings, then a songwriter and aspiring country star. He recorded "The Streets of Dodge City" for the 1970 film Dodge City, Kansas, and also wrote the music for a documentary film, Rodeo -- A Matter of Style, released in 1976 as part of the country's Bicentennial celebration. Western also record numerous sides for Johnny Cash's House of Cash label, which became the basis for a retrospective album. During most of this period, he played 200 shows a year. In 1986, he resumed his radio career with a series in Wichita, KS. In 1993, Western began work on a new album, a sort of cowboy super-session, with the Sons of the Pioneers, Rex Allen, Rex Allen, Jr., Red Steagall, and Michael Martin Murphey, entitled Johnny Western and the Sons of the Pioneers and Friends. Health problems intervened, however, when Western was incapacitated by a bypass operation, and the album went unreleased.
https://johnnywesterntouring.com/
https://en.wikipedia.org/wiki/Johnny_Western
Talents : Vocals, Guitar, Songwriter, Actor
Style musical : Contemporary Country, Traditional Country

http://youtu.be/PYlEGIT81vw
Years in activity :
| | | | | | | | | | | | |
| --- | --- | --- | --- | --- | --- | --- | --- | --- | --- | --- | --- |
| 1910 | 20 | 30 | 40 | 50 | 60 | 70 | 80 | 90 | 2000 | 10 | 20 |
DISCOGRAPHY
78 t. & Singles
1952
78 t. JOCO 301 (US)
.
Johnny

Western

(The Rainbow Rider) with The Guitars of Johnny

Fields

- Give Me More, More, More / A Violet And A Rose
1952
SP JOCO 45-301 (US)
.
Johnny

Western

(The Rainbow Rider) with The Guitars of Johnny

Fields

- Give Me More, More, More / A Violet And A Rose
1952
78 t. JOCO 302 (US)
.

Johnny Western (The Rainbow Rider) with The Guitars of Johnny Fields - Let Old Mother Nature Have Her Way / Little Buffalo Bill

1952
SP JOCO 45-302 (US)
.
Johnny

Western

(The Rainbow Rider) with The Guitars of Johnny

Fields

- Let Old Mother Nature Have Her Way / Little Buffalo Bill
1952
78 t. JOCO 303 (US)
.

Johnny Western (The Rainbow Rider) with The Guitars of Johnny Fields - Fa-Hoolin' Around / Ten Easy Lessons

1952
SP JOCO 45-303 (US)
.
Johnny

Western

(The Rainbow Rider) with The Guitars of Johnny

Fields

- Fa-Hoolin' Around / Ten Easy Lessons
1952
78 t. JOCO 304 (US)
.
Johnny

Western

(The Rainbow Rider) with The Guitars of Johnny

Fields

- Love Me Love Me / Honey, How Sweet Can You Be
1952
SP JOCO 45-304 (US)
.
Johnny

Western

(The Rainbow Rider) with The Guitars of Johnny

Fields

- Love Me Love Me / Honey, How Sweet Can You Be
08/1958
SP COLUMBIA 4-41260 (US)
.
The Ballad Of Paladin / The Guns Of Rio Huerto (with Richard BOONE)
10/1959
SP COLUMBIA 4-41500 (US)
.
Ten Years / Only The Lonely
04/1960
SP COLUMBIA 4-41652 (US)
.
Delia's Gone / Don't Cry, Little Girl
05/1960
SP COLUMBIA LL 233 (JAP)

The Ballad Of Paladin (Johnny WESTERN) / Big Iron (Marty ROBBINS)

12/1960
SP COLUMBIA 4-41921 (US)
.
Darlin' Corey / Willowgreen
09/1961
SP COLUMBIA 4-42161 (US)
.
The Ballad Of Paladin [1960 version] / The Echo Of Your Voice
08/1962
SP COLUMBIA 4-42525 (US)
.
Gunfighter / Cowpoke
07/1963
SP COLUMBIA 4-42818 (US)
.
Just For The Record / Kathy Come Home
10/1964
SP PHILIPS 40231 (US)
.
Light The Fuse / Tender Years
04/1967
SP HEP 2938 (US)
.
Ruby (Don't Take Your Love To Town) / The Violet And The Rose
Albums
05/1962
LP 12" COLUMBIA CL-1788 (mono) / CS-8588 (stereo) (US)
HAVE GUN, WILL TRAVEL - Ballad Of Paladin / Searchers / Cowpoke / Rollin' Dust / Hannah Lee (High Are The Gallows) / Streets Of Laredo / Long Tall Shadow / Lillies Grow High / Cottonwood Tree / Nineteen Men / Lonely Man / Last Round-Up
11/1981
LP 12" BEAR FAMILY / CBS BFX 15081 / LSP 15184 (GER)
THE GUNFIGHTER - The Ballad Of Paladin / The Guns Of Rio Muerto / The Lonely Man / Rollin' Dust / Hannah Lee / The Long Tall Shadow / Nineteen Men / The Searchers / The Gunfighter / Geronimo / The Echo Of Your Voice / Ten Years / Uh Huh ! / Stranger, Drive Away / All By My Lonesome / Time Has Run Out On Me
1982
LP 12" JRC 007 (US)

ARIZONA MORNING -

Last Time I Saw Phoenix / Whoever Finds This, I Love You / Hustler / Singin' Man / Forty Shades Of Green / Mr. Rodeo Cowboy / You Wouldn't Know Love / I'll Try Hard To Forget You If I Can / Used To / Arizona Morning
1984
LP 12" AMERICANA AR-0001 (US)

JOHNNY WESTERN SINGS 20 GREAT CLASSICS AND LEGENDS -

Ghost Riders In The Sky / Gunfight At O.K. Corral / Gunfighter / Don't Take Your Guns To Town / Ringo / Hangin' Tree / Cross The Brazos At Waco / Medley: Johnny Yuma The Rebel - Bonanza - Ballad Of Paladin / Rawhide / Searchers / High Noon / Song Of The Bandit / Hannah Lee / Lillies Grow High / Ballad Of Boot Hill / Medley: Cheyenne - Wyatt Earp - Bat Masterson
1989
CD BEAR FAMILY BCD 15429 (GER)
GUNFIGHT AT O.K. CORRAL - (Ghost) Riders In The Sky / Gunfight At O.K. Corral / The Gunfighter / Don't Take Your Guns To Town / Ringo / The Hangin' Tree / Cross The Brazos At Waco / The Rebel - Johnny Yuma - Bonanza - Ballad Of Paladin / Rawhide / The Searchers / High Noon / Song Of The Bandit / Hannah Lee (High Are The Gallows) / The Lillies Grow High / The Ballad Of Boot Hill / Cheyenne - Wyatt Earp - Bat Masterson
1991
3 CD BEAR FAMILY BCD 15552 (GER)
HEROES AND COWBOYS :

CD 1 : The Ballad Of Paladin / The Guns Of Rio Muerto

[with Richard BOONE] /

The Gunfighter / Geronimo / The Ballad Of Paladin / The Lonely Man / Hannah Lee (High Are The Gallows) / The Streets Of Laredo / Cowpoke / The Lilies Grow High / Cottonwood Tree / Rollin' Dust / The Searchers / Nineteen Men / The Long Tall Shadow / The Last Roundup / The Ballad Of Paladin / The Streets Of Old Dodge City / Mr. Rodeo Cowboy / The Singin' Man / The Big Battle / Forty Shades Of Green / Violet And A Rose / Give Me More, More, More (Of Your Kisses) / Let Old Mother Nature Have Her Way / Little Buffalo Bill / Love Me, Love Me, Love Me / Honey, How Sweet Can You Be
CD 2 : Echo Of Your Voice / Ten Years / Uh Huh! / Delia's Gone / Time Has Run Out On Me / Willowgreen / Don't Cry Little Girl / Darling Corey / Stranger, Drive Away / I Love You More / All By My Lonesome / Just For The Record / Kathy Come Home / Only The Lonely / Light The Fuse / Tender Years / Turn Around And Look At Me / Sincerely Your Friend / Violet And A Rose / Ruby, Don't Take Your Love ToTown / Used To / I'll Try Hard To Forget You If I Can / Whoever Finds This, I Love You / The Last Time I Saw Phoenix / The Hustler / Forty Shades Of Green / You Wouldn't Know Love / Arizona Morning
CD 3 : Stay A Little Longer, Stay All Night (theme) / The Ballad Of Paladin / Lonely Street / You Weren't Ashamed To Kiss Me Last Night / Rollin' Dust / John Henry / Remember Me (I'm The One Who Loves You) / The Wayward Wind / Gotta Travel On / Cowpoke / (Ghost) Riders In The Sky / I Still Miss Someone / Only The Lonely / I Take A Country Girl For Mine (Texas Bill STRENGHT) / Delia's Gone / I Walk The Line / The Lilies Grow High / Stay A Little Longer, Stay All Night (theme)
© Rocky Productions 26/03/2020