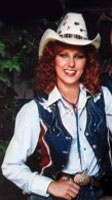 Chanteuse Country US née le 23 Mai 1958 à Cleveland (Ohio). Shelly West est la fille de Dottie West.

The daughter of the legendary Dottie West and her first husband Bill, a noted steel guitar player, Shelly West was a popular singer of pop-flavored country tunes during the 1980s.
Shelly got her start at age 17 touring with her mother's show; she started out singing backup, but was soon given lead Vocals chores. While touring, she fell in love with her mother's lead guitarist Allen Frizzell; they married and left the band in 1977 to move to California. Allen was the little brother of Lefty and David Frizzell, the latter of whom had a regular gig in a neighboring town. The newlyweds soon joined his band and played with him for a few months. They toured the Southwest, and upon their return, David began looking for a record label. A demo of the duo "Lovin' on Borrowed Time" featuring West and her brother-in-law impressed record producer Snuff Garrett, who signed them both to Casablanca West. Unfortunately, Polygram took over the label and dumped the duo, who unsuccessfully tried their luck in Nashville. Garrett still believed the two had potential and eventually played their song and its follow-up "You're the Reason God Made Oklahoma" to actor Clint Eastwood, who had just founded his own record label, Viva. Eastwood liked the latter song and added it to his film Any Which Way You Can, and the song hit number one on the country charts in early 1981.
Their next four songs, beginning with the Top Ten hit "A Texas State of Mind," were also successful, and the duo's considerable success continued through 1985, when they split up. (They cited a lack of good duo songs as their main reason; the fact that West and her husband had just divorced may also have been a factor). West made her solo debut in 1983 with "Jose Cuervo," which hit number one and provided a sales boost for the tequila company. Her solo follow-up "Flight 309 to Tennessee" made the Top Five. Between 1984 and 1986, West had a string of solo successes that included "Somebody Buy This Cowgirl a Beer" and "Don't Make Me Wait on the Moon." Later that year she had one more mid-range hit, "Love Don't Come Any Better Than This," and then faded from the charts. She basically stopped recording after remarrying, but did reunite with David Frizzell for a few shows in the late '80s.
https://en.wikipedia.org/wiki/Shelly_West
Talents : Vocals, Songwriter, Guitar
Style musical : Contemporary Country, Country-Pop

https://youtu.be/U7EZ9V6F9yo
Years in activity :
| | | | | | | | | | | | |
| --- | --- | --- | --- | --- | --- | --- | --- | --- | --- | --- | --- |
| 1910 | 20 | 30 | 40 | 50 | 60 | 70 | 80 | 90 | 2000 | 10 | 20 |
DISCOGRAPHY
Singles
| | | |
| --- | --- | --- |
| 01/1981 | SP WARNER BROS. / VIVA WBS-49650 (US) | David FRIZZELL & Shelly WEST - You're The Reason God Made Oklahoma / That's Where Lovers Go Wrong |
| 05/1981 | SP WARNER BROS. / VIVA WBS-49745 (US) | David FRIZZELL & Shelly WEST - A Texas State Of Mind / Let's duo |
| 09/1981 | SP WARNER BROS. / VIVA WBS-49825 (US) | David FRIZZELL & Shelly WEST - Husbands And Wives / Yours For The Asking |
| 11/1981 | SP WARNER BROS. BACK TO BACK HITS / VIVA GWB 0414 (US) | David FRIZZELL & Shelly WEST - You're The Reason God Made Oklahoma / A Texas State Of Mind |
| 01/1982 | SP WARNER BROS. / VIVA WBS-50007 (US) | David FRIZZELL & Shelly WEST - Another Honky Tonk Night On Broadway / Three Act Play |
| 06/1982 | SP WARNER BROS. / VIVA 7-29980 (US) | David FRIZZELL & Shelly WEST - I Just Came Here To Dance / Our Day Will Come |
| 11/1982 | SP WARNER BROS. / VIVA 7-29850 (US) | David FRIZZELL & Shelly WEST - Please Surrender / Being A Man Being A Woman |
| 01/1983 | SP WARNER BROS. / VIVA 7-29778 (US) | Jose Cuervo / Country Lullaby |
| 02/1983 | SP WARNER BROS. / VIVA 7-29756 (US) | David FRIZZELL & Shelly WEST - Cajun Invitation / Yesterday's Lovers |
| 05/1983 | SP VIVA 7-29597 (US) | Flight 309 To Tennessee / Sexy Song |
| 08/1983 | SP VIVA 7-29544 (US) | David FRIZZELL & Shelly WEST - Pleasure Island / Betcha Can't Cry Just One |
| 09/1983 | SP VIVA 7-29461 (US) | Another Motel Memory / Suite Sixteen |
| 01/1984 | SP VIVA 7-29404 (US) | David FRIZZELL & Shelly WEST - Silent Partners / Confidental |
| 02/1984 | SP VIVA 7-29353 (US) | Now I Lay Me Down To Cheat / Let's Make A Little Love Tonight |
| 05/1984 | SP VIVA 7-29265 (US) | Somebody Buy This Cowgirl A Beer / Small Talk |
| 08/1984 | SP VIVA 7-29187 (US) | David FRIZZELL & Shelly WEST - It's A Be Together Night / Straight From The Heart |
| 12/1984 | SP VIVA 7-29106 (US) | Now There's You / I'll Still Be Loving You |
| 03/1985 | SP VIVA 7-29048 (US) | David FRIZZELL & Shelly WEST - Do Me Right / Easy Soft And Slow |
| 05/1985 | SP VIVA 7-28997 (US) | Don't Make Me Wait On The Moon / Let's Stay The Way We Were Tonight |
| 08/1985 | SP VIVA 7-28909 (US) | I'll Dance The Two Step / Why Must The Ending Be So Sad |
| 11/1985 | SP VIVA 7-28857 (US) | If I Could Sing Something In Spahish / Hold Tight |
| 02/1986 | SP VIVA 7-28769 (US) | What Would You Do / Why Must The Ending Be So Sad |
| 08/1986 | SP VIVA 7-28648 (US) | Love Don't Come Any Better Than This / My Heart Feels Like Dancing Again |
| | |
| --- | --- |
| | |
Albums
04/1981
LP 12" WARNER BROS. BSK-3555 (US)
CARRYIN' ON THE FAMILY NAMES - David FRIZZELL & Shelly WEST - Carryin' On The Family Names / Texas State Of Mind / You're The Reason God Made Oklahoma / Darling Will You Marry Me Again / Yours For The Asking / Three Blind Hearts / Love And Only Love / Lefty / Husbands And Wives / We're Lovin' On Borrowed Time
01/1982
LP 12" VIVA BSK-3643 (US) (US)
THE DAVID FRIZZELL AND SHELLY WEST ALBUM - David FRIZZELL & Shelly WEST - Wasn't That Love / Two Sides / Another Honky Tonk Night On Broadway / Just Before Dawn / I Just Came Here To Dance / Three Act Play / Being A Man Being A Woman / Our Day Will Come / Dark Side Of The Moon / Breaking Up A Good Thing
11/1982
LP 12" VIVA 1-23754 (US)

OUR BEST TO YOU - David FRIZZELL & Shelly WEST - Wrapped Around Your Finger / Cajun Invitation / My Best To You / Please Surrender / When You Wish Upon A Star / Missing You All By Myself / You'll Always Be Special To Me / Another Dawn Breaking Over Georgia / Lovin' Naturally / Jukebox Serenade

03/1983
LP 12" VIVA 1-23775 (US)
WEST BY WEST - Flight 309 To Tennessee / Someone's Been Sleeping In Our Bed / Jose Cuervo / Our Love / Me On The One Side / Don't Let Her Hurt You / Sexy Song / Ask Me No Questions (Promise Me No Ties) / When He Kisses Me / I'll Still Be Loving You
11/1983
LP 12" VIVA 23983 (US)
RED HOT - Good And Lonesome / Now I Lay Me Down To Cheat / Somebody Buy This Cowgirl A Beer / Again / Another Motel Memory / Small Talk / Love Me Again / Suite Sixteen / Let's Make A Little Love Tonight / Dance Away
12/1983
LP 12" VIVA 1-23907 (US)
IN SESSION - David FRIZZELL & Shelly WEST - Pleasure Island / Silent Partners / Wild Side Of Life - It Wasn't God Who Made Honky Tonk Angels / You're My Better Half / Straight From The Heart / You Still Do It For Me / Forever And Always / Confidential / I Just Fall In Love Again / Betcha Can't Cry Just One
08/1984
LP 12" VIVA 1-25148 (US)
GOLDEN DUETS - David FRIZZELL & Shelly WEST - You're The Reason God Made Oklahoma / Texas State Of Mind / Husbands And Wives / Another Honky Tonk Night On Broadway / I Just Came Here To Dance / Please Surrender / Cajun Invitation / It's A Be Together Night / Silent Partners / Do Me Right
12/1984
LP 12" VIVA 1-25189 (US)
DON'T MAKE ME WAIT ON THE MOON - Now There's You / I'll Dance The Two Step / If I Could Sing Something In Spanish / Don't Make Me Wait On The Moon / Dance Me Into Falling In Love / Do I Have To Say Goodbye / Why Must The Ending Be So Sad / How It All Went Wrong / Hold Tight / Let's Stay The Way We Are Tonight
05/1994
CD K-TEL 3231-2 (US)
ALONE AND TOGETHER - David FRIZZELL & Shelly WEST - You're The Reason God Made Oklahoma / Flight 309 To Tennessee / I'm Gonna Hire A Wino To Decorate Our Home / Another Motel Memory / Texas State Of Mind / I Just Came Here To Dance / Lost My Baby Blues / Jose Cuervo / Where Are You Spending Your Nights These Days / Another Honky Tonk Night On Broadway
06/2009
CD VARESE FONTANA 066970 (US)
THE VERY BEST OF DAVID FRIZZELL & SHELLY WEST - David FRIZZELL & Shelly WEST - You're The Reason God Made Oklahoma / A Texas State Of Mind / Carryin' On The Family Names / Husbands And Wives / Another Honky-Tonk Night On Broadway / Our Day Will Come / I Just Came Here To Dance / Please Surrender / You'll Always Be Special To Me / Cajun Invitation / Pleasure Island / Silent Partners / Medley: The Wild Side Of Life - If It Wasn't God Who Made Honky Tonk Angels

[medley]

/ I Just Fell In Love Again / Do Me Right / It's A Be Together Night
11/2009
CD VARESE 066988 (US)
THE VERY BEST OF SHELLY WEST - Jose Cuervo / Dark Side Of The Moon / I'll Still Be Loving You / Flight 309 To Tennessee / Sexy Song / Someone's Been Sleeping In Our Bed / Suite Sixteen / Another Motel Memory / Now I Lay Me Down To Cheat / Somebody Buy This Cowgirl A Beer / If I Could Sing Something In Spanish / I'll Dance The Two Step / Now There's You / Don't Make Me Wait On The Moon
01/2014
CD Morello MRLL 28 (EUR)

Carryin' On the Family Names + The David Frizzell & Shelly West Album - David FRIZZELL & Shelly West - Carryin' On the Family Names : Carryin' On the Family Names / A Texas State Of Mind / You're The Reason God Made Oklahoma / Darling, Will You Marry Me Again / Yours For The Asking / Three Blind Hearts / Love And Only Love / Lefty / Husbands And Wives / We're Lovin' On Borrowed Time / The David Frizzell & Shelly West Album : Wasn't That Love / Two Sides / Another Honky-Tonk Night On Broadway / Just Before Dawn / I Just Came Here To Dance / Three Act Play / Being A Man, Being A Woman / Our Day Will Come / Dark Side Of The Moon / Breaking Up A Good Thing

01/2014
CD Morello MRLL 30 (EUR)

West By West + Red Hot - WEST BY WEST : Flight 309 To Tennessee / Someone's Been Sleeping In Our Bed / Jose Cuervo / Our Love / Me On The One Side / Don't Let Her Hurt You / Sexy Song / Ask Me No Questions (Promise Me No Ties) / When He Kisses Me / I'll Still Be Loving You / RED HOT : Good And Lonesome / Now I Lay Me Down To Cheat / Somebody Buy This Cowgirl A Beer / Again / Another Motel Memory / Small Talk / Love Me Again / Suite Sixteen / Let's Make A Little Love Tonight / Dance Away
© Rocky Productions 21/03/2020