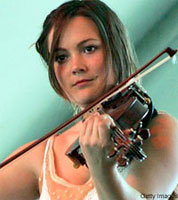 Chanteuse et violoniste US née Sara Ullrika Watkins, le 8 Juin 1981 à Santa Monica (Californie). Sara Watkins fut membre du groupe Nickel Creek.

Sara Watkins first came to prominence as a member of Nickel Creek, the progressive bluegrass which also featured her brother Sean and childhood friend Chris Thile. Once the group gained momentum in Americana circles in the 2000s, Watkins began playing sessions, appearing on records from rockers and country artists alike, establishing herself as a presence outside of the group. Sara Watkins launched her solo career in 2009, after Nickel Creek entered an indefinite hiatus, and from that point on, she easily moved between the folk and adult alternative scenes, a versatility highlighted by the Watkins Family Hour shows she and Sean held at the hipster venue the Largo in Los Angeles and her founding of the singer/songwriter supergroup I'm with Her, who released their debut album in 2018.
Born on June 8, 1981 in Vista, California, Sara began playing music as a child, learning fiddle as her older brother Sean studied mandolin. Sean met Chris Thile through their mutual tutor and soon the trio formed Nickel Creek in 1989, the year Sara turned eight. Following a debut appearance in Carlsbad, California, the trio became fixtures at bluegrass festivals in the '90s. As they built an audience, they self-released Little Cowpoke in 1993 and Here to There in 1997. They won over Alison Krauss, who helped them get a record deal with Sugar Hill and produced their eponymous debut for the label. Released in 2000, Nickel Creek was an immediate hit in bluegrass and Americana circles, and over the next few years, they steadily built their fan base. This expansion of their audience was helped by sessions and side projects, such as the Mutual Admiration Society, a group featuring all three members of Nickel Creek, Glen Phillips of Toad the Weet Sprocket and John Paul Jones, the bassist for Led Zeppelin. The Mutual Admiration Society recorded an album which they supported with a tour in 2004.
Nickel Creek's prominence in modern bluegrass and Americana circles helped Sara Watkins land a solo deal with Nonesuch Records in 2008. John Paul Jones produced her self-titled debut, which appeared in April 2009. Although she had gone solo, she hadn't abandoned her Nickel Creek bandmates -- she and her brother Sean often played as the Watkins Family Hour at the Largo in Los Angeles -- nor did she shy away from collaborative work, frequently playing sessions and sharing the stage with all manners of folk, country, and rock musicians.
Sun Midnight Sun, her second solo album, was released in September 2011; it was produced by Blake Mills. Nickel Creek reunited for the 2014 album A Dotted Line, which was followed the next year by an official Watkins Family Hour album. Watkins moved to New West Records for 2016's Young in All the Wrong Ways.
In 2017, Watkins united with fellow singer/songwriters Aoife O'Donovan and Sarah Jarosz to form I'm with Her, who released their debut album See You Around in February 2018.
https://en.wikipedia.org/wiki/Sara_Watkins
Talents : Vocals, Fiddle, Guitar, Songwriter
Style musical : Contemporary Country, Bluegrass, Progressive Bluegrass

http://youtu.be/hTkFu6nVjrU
Years in activity :
| | | | | | | | | | | | |
| --- | --- | --- | --- | --- | --- | --- | --- | --- | --- | --- | --- |
| 1910 | 20 | 30 | 40 | 50 | 60 | 70 | 80 | 90 | 2000 | 10 | 20 |
DISCOGRAPHY
Singles & EP
2009
CD NONESUCH PRO 17251 (UK) (promo)
Too Much
04/2012
SP WARNER BROS. 530526-7 (US)
You're The One I Love (Sara WATKINS featuring Fionna

Apple

) / You're The One I Love (EVERLY BROTHERS)
2012
CD NONESUCH ? (UK) (promo)

You And Me

2012
EP DAYTROTTER ? (US)
.

June 15, 2012 New Monkey Studio, van Nuys, CA - Welcome To Daytrotter / The Foothills / Lock and Key / Take Up Your Spade / You And Me

05/2015
SP SUGAR HILL SUG-LP-7218 (US)
.
Sara WATKINS - Sarah

Jarosz

- Aoife

O'Donovan -

Crossing Muddy Waters / Be My Husband
Albums
04/2009
CD NONESUCH 516987 (US)
SARA WATKINS - All This Time / Long Hot Summer Days / My Friend / Freiderick / Same Mistakes / Any Old Time / Pony / Lord Won't You Help Me / Jefferson / Give Me Jesus / Bygones / Too Much / Will We Go / Where Will You Be
05/2012
CD NONESUCH 7559796204 (US)
SUN MIDNIGHT SUN - The Foothills / You And Me / You're The One I Love / When It Pleases You / Be There / I'm A Memory / Impossible / The Accord / Lock & Key / Take Up Your Spade
07/2016
CD New West NW 6351 (US)

Young in All the Wrong Ways -

Young In All The Wrong Ways / The Love That Got Away / One Last Time / Move Me / Like New Year's Day / Say So / Without A Word / The Truth Won't Set Us Free / Invisible / Tenderhearted
03/2021
CD New West NW 6505CD (US)

Under the Pepper Tree - Pure Imagination / The Second Star To The Right / Blue Shadows On The Trail / Edelweiss / Moon River / Under The Pepper Tree / When You Wish Upon A Star / Night Singing / La La Lu / Tumbling Tumbleweeds / Blanket For A Sail / Beautiful Dreamer / Stay Awake / You'll Never Walk Alone / Good Night
© Rocky Productions 27/03/2021